Champions & #1 contenders
The Austrailian Mudslide is Back.
Sat Apr 21, 2018 6:20 am by Softsquad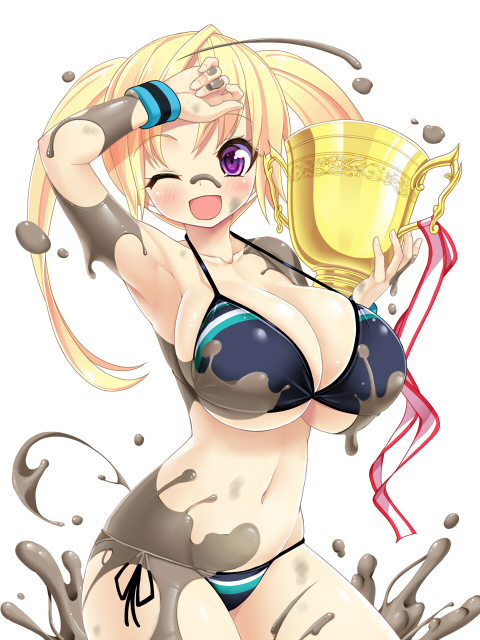 Granted that most of you won't know me or remember me, but I've had a few matches here and there some time ago. Well I think its time to become a regular around here and try to have some fun again, but at the same time keep coming back. Anyway I think its time to jump into some matches with Zoe Taylor, my mud wrestling character from Australia and get her back into the squared circle. Furthermore I will update my characters as I think some proper changes need to happen.
So if anyone would …
[
Full reading
]
Comments: 4
Looking for debut thread.
Sat May 12, 2018 9:28 pm by Hedgehawk
Hello All.
I am looking for a debut for my girl Trinity (http://www.afwrpg.com/t18107-trinity-cordova#495678).
This doesn't have to be a match, it could be a gym battle, interview or anything else. I just want something to help get Trinity off the ground. If you wanna plot feel free to reply to this message or fire me a PM.
Many thanks in advance and thank you for reading my message,
Hedge
Comments: 0

Standard Match
Wining Conditions: Pinfall, Submission or Knockout!

In the blink of an eye, the entire arena seemed to go completely pitch black—like the calm before the oncoming storm.

It wasn't long, however, before the eruption of silver pyrotechnics illuminated the stadium and its hushed audience just as Rise Against's, Prayer of the Refugee, soon resounded across the arena in spectacular fashion. Aelia soon appeared in equal grandeur, carrying herself casually along the ramp with all of her disarming grace and beauty. Long and sandy-blonde locks of hair bounced and cascaded, almost shimmering in the light, as they framed a beautiful visage and its composed, elegant, smile. Clad in what would become her [url=http://i198.photobucket.com/albums/aa160/avenginghime/aeliaafw.jpg:tdzf5s3m]official wrestling attire[/url:tdzf5s3m], the woman's figure alone was an open testament to her dedication and, perhaps, her meticulous nature—each muscle and curve seemly sculpted in harmony of elegance and strength. Naturally, though it was her debut in AFW, the crowds reaction was only expected; adoration.

Of course, it would be awhile before she won them over completely. Luckily, patience truly was a virtue Aelia possessed and, perhaps, more than a handful of vices to clash with it...

In all of her stunning charm, the orchid eyed beauty eventually made her way to the ring before her lengthy legs, along with the stylized shorts that futility tried to contain them, brought Aelia to stand within the squared circle. Against the cheers and the flurry of flashing cameras, Aelia only offered a seemly modest, wispy, smile as she brought a hand to flip back a few stray strands of her sandy hair. Tonight was obviously a special night. It would be her first match and, by all means, Aelia intended it to be a match to remember; the thought made Aelia's smile grow ever so slightly—though that once gentle smile was hinted with something dark, if only for a moment.

I hope you're watching Father. I would truly hate for you to miss this...

Aelia settled quietly in her corner of the ring as the thought of her father transpired. It was hardly of the endearing nature, however. No, she hoped her father would get to witness the example she intended to make tonight first hand. A buzz of excitement touched Aelia now as she awaited her opponent's entrance. One way or another, they would all get to see just how far Aelia's ambitions would take her once and for all.
Last edited by 897 on Fri Apr 02, 2010 12:40 am; edited 2 times in total
_________________
Friction:
| Toph's Backstage Pass!
It was her first time in a veeeery long time. The main reason why she had to stay away from wrestling for so long was because of Shizuka's accident, as she was the one who had to take care of her. After watching her purple haired friend fight for two months now, she wanted to return already! After all, Shizuka was alright now. There was nothing to worry about! She could do the things that gave her joy: wrestling! That's why she asked the general manager to put her in any match she could. No matter who her opponent was, she was willing to take anybody on!

The pink haired girl was standing before a mirror in the backstage, looking at herself wearing the attire she had made for herself during her little vacation: a light pink frilled leotard with an attached aluminum star attached to it, right between her not-so-big breasts. She was also wearing pink knee-high boots and elbow gloves that matched with the rest of her outfit just perfect. "Nnhh... It looked awesome when I made it... but now.... it turns out to be a lot more revealing than I had thought..." Yui murmured to herself, adjusting the strap of her leotard before giving herself a weak and quick slap across the face to get those thoughts out of her head. "Theree's no time to be whining about it! I've got a match to win!" She told herself and turned around, heading for the backstage exit.

The people in the crowd was wondering what the hell happened to her. Why was she taking so long to appear? Maybe she was too scared to show up? No one could tell. I mean, Yui was a very shy girl by nature, so it was pretty possible she had decided to quit before the battle could even begin. None of them was right! The girl was just waiting for the right moment of the song to make her appearance.

"I'll never love again, my world is ending....~"

She sung along as she stepped out of the backstage. Right then, two explosions on the sides of the entrance filled a good part of the place with some white smoke. The pink haired schoolgirl started to run down the ramp with a very determined look on her eyes, proof enough that she was ready to fight. As the time passed, the smoke started to fade, allowing the people in the crowd to see the School Dreamer make her way to the ring.

As soon as she reached the 'squared circle', Yui leapt off the ground and slid under the bottom rope, rolling inside the ring and quickly hopping back up to her feet. "Here is the School Dreamer!" The pink haired girl announced, placing one hand on her hip as she stared at her opponent from her side of the ring. "Hi theeere~! I'm Yui Kanno. Pleased to meet you!" She politely introduced herself, bowing a bit.
_________________
[url=http://afwrpg.informe.com/forum/members-blogs-f42/jessica-s-crew-t2115.html:2wqwu7zy][size=150:2wqwu7zy]
Jessica's Maids
[/url:2wqwu7zy]
Aelia soon found herself receiving quite a delightful surprise. Her opponent, Yui Kanno, was simply adorable—the girl's enthusiastic and charming entrance into the ring brought a pleasant smile to Aelia's lips; an expression she wore so well. With an air of limitless patience and grace, Aelia watched her cute opponent's antics and her enviable introduction before she finally spoke with a gentle and melodic tone.

" Aelia Rosewood. It's a pleasure to meet you, Ms. Kanno, though it hardly seems fair we have to fight now that I've laid eyes upon you. "

The orchid eyed beauty offered a pleasant and captivating smile—that seemed to never betray her intent—as her arms came to cross, lightly, just under her chest and bosom, before she continued, " I'd hate to think of the consequences on my conscience if I were to accidentally hurt you too badly, my dear... "

The woman's alluring eyes would come to close only for a moment to emphasize the pretty, almost endearing, smile Aelia had cast down to her spunky, pink haired, opponent. The ring of the bell soon resounded, interrupting the pairs pleasantries—and, in result, brought a rather displeased sigh from Aelia's lips. The woman's tall figure would begin to step forward; each step of those lengthy legs bringing her closer to her cute opponent, though nothing in the graceful woman's motions or posture gave the slightest indication that she planned on attacking. Quite on the contrary, that disarming and wispy smile remained on Aelia's lips as she came to stand only a few, nonthreatening, feet away from Yui.

" Well, it seems we have no choice then. Let's give them a show they soon shall not forget, hm? " The words rolled off the woman's lips so invitingly—like the enthralling song of the siren as she led sailors to their inevitable doom. Likewise, Aelia maintained that captivating smile as she offered and held out an open hand to Yui; hoping her opponent would acknowledge the respectful gesture and shake her hand before their match truly would begin.

Yes, a siren.

That was certainly a suitable metaphor at least for the time being, Aelia couldn't help but acknowledge. Would Yui be charmed by her beautiful and treacherous song?...
Last edited by 897 on Fri Apr 02, 2010 6:15 am; edited 6 times in total
_________________
Friction:
| Toph's Backstage Pass!
After such an awesome entrance, Yui was pretty sure she had managed to win some more people's hearts. Besides, her outfit was just lovely! ...And revealing as well. While she was convinced that they were cheering for her, half of the crowd was only celebrating because they were able to see the pink haired girl's butt... again. Yeah, she was still too young to understand "the dark side of the mind of guys - and some girls". She liked her new outfit, and that's all that she cared about! They could laugh - or touch themselves - all they wanted, but they'd never ruin her "I've got a new outfit! Yaay~!" mood.

"Dont worry about thaat, silly~! I'm reaally struuuung~!" The pink haired girl said, smirking widely at her opponent. Aelia definitely looked strong, though she wasnt intimidated at all. Why? Because she was smiling. And bad people usually dont have such an adorable smile. And such a cute face. And such a beautiful voice. She could keep naming good things about her opponent, but the ring of the bell interrupted her, bringing her back to the real world.

"It seems so~! Alright, lets do our best, yes? May the better woman win!" She said, just about to bow again when she noticed her opponent coming at her. She assumed a pretty basic wrestling stance, her arms above her head and her legs a bit apart from each other. Then, Aelia stood in front of her. There didnt seem to be any attacking intent behind the other girl, so she just dropped her guard. "Oh, right!" She said, giggling nervously as she rubbed the back of her head with one hand and extended her arm in front of her and grabbed Aelia's hand, gladly accepting to shake hands with the orchid-eyed girl before the real fight could begin.
_________________
[url=http://afwrpg.informe.com/forum/members-blogs-f42/jessica-s-crew-t2115.html:2wqwu7zy][size=150:2wqwu7zy]
Jessica's Maids
[/url:2wqwu7zy]
Aelia's hold on Yui's hand was gentle, even tender, at first—even if her intent was not. It was perfection, the most subtle of gestures had already brought Yui into grave peril and the poor girl was seemly oblivious to it all. Aelia wispy smile grew just a bit as her fingers began to curl a bit more firmly around Yui's dainty, little, hand. The young girl's cute expression and general naivety almost brought a pang of guilt to the elegant beauty.

Almost.

" Forgive me, but this moment has reminded me of the words of a truly wise man, " Aelia's orchid hues seemed to gleam softly in the moment as her harmonious voice continued, her grasp on Yui's hand suddenly becoming quite firm, " All warfare is based on deception. "

Aelia recalled and spoke the words deliberately, her beautiful smile never fading as she emphasized the last word and, in that moment, suddenly gave a fierce tug on Yui's hand—yanking her cute opponent forward, forcefully. Given the sheer difference in their sizes, pulling the smaller girl forward would hardly be a challenge especially if she had been caught off guard. Of course, that was just the beginning—suddenly pulled forward, Yui would find herself stumbling right into a rather harsh welcome from Aelia's knee. Bringing her free hand to grasp firmly at the back of Yui's head as the young girl stumbled forward, the orchid eyed beauty would launch her knee with considerable force—the strength in Aelia's legs being nothing to scoff at—directly into her cute opponent's exposed stomach just as their forms came to meet. Even after issuing her punishment, a solid grasp was kept on Yui's captured hand along with her head—Aelia's fingers eagerly coming to grasp at the hair along the back of her opponent's pink, little, head. Of course, all of this was to keep the girl close and, most of all, make sure the first knee didn't allow her to simply topple over to the mat.

After all, she wasn't finished. Considering she had caught Yui with her first knee, and understandably stunned the poor girl, Aelia wouldn't hesitate in the slightest as her thigh was swung upward once more, driving her knee mercilessly into the girl's tummy once again.

And the soft smile touching Aelia's lips would not fade even for a moment...
Last edited by 897 on Sat Apr 03, 2010 9:48 pm; edited 3 times in total
_________________
Friction:
| Toph's Backstage Pass!
It was nice to finally meet a respectable opponent. And by respectable, she means those who looked strong and werent thinking of raping her in front of an audience. In that moment, memories of her match with Aya Kirinmaru came to her head, remembering that night where she had to bring her opponent to an orgasm for the victory. She managed to win, though she wasnt very comfortable with that setting from the beggining. She was only thankful that she didnt have to fight with some sadistic raper under those conditions. It could have been like, the most horrible experience in her entire life!

...Of course, she had no idea of what was going to happen to her now. At first, Aelia looked like the nicest and most polite person she has ever met, but then, she felt her opponent's grip on her hand tightening more than what it should. It even started to hurt her, to the point of making her try to pull her girly arm away from the other girl. "Nnnhh... You're hurting mee..." She complained, one of her eyes closing as she clenched her teeth together. She lifted her head up just enough to notice Aelia's smile growing wider and wider - what a terrible mistake she had made!

Aelia was no angel, and what she did next left it pretty clear. The pink haired girl was pulled right to her opponent, only to get the other woman's knee knocking the air right out of her as it hit her right in the belly. Yui's eyes went wide open. Her weak spot no! She felt like if she was going to let all of her inner organs out through her mouth while her eyes popped out of her cranium. Yui tried to go down to the floor, but her merciless opponent wasnt willing to let her. Which meant... there was more punishment waiting for her.

Yui started coughing heavily, also gasping desperately for the air that has just been taken away from her. She'd be interrupted though, by Aelia's second knee blow. Cant she get a break? This time, she was even lifted off the mat a little bit, and now she was coughing a bit of blood. Both of her arms moved to clutch her stomach tightly, feeling terribly hurt. "S-S-S-Stop... Pleasee..." She murmured, her voice was very weak. Now she knew, Aelia's legs were truly strong. Better try to avoid them as much as she can!
_________________
[url=http://afwrpg.informe.com/forum/members-blogs-f42/jessica-s-crew-t2115.html:2wqwu7zy][size=150:2wqwu7zy]
Jessica's Maids
[/url:2wqwu7zy]
Yui's pleas were truly precious. Unfortunately, they would come to fall on deaf ears.

" Oh, my. It seems I've already found a bit of sensitive area on you. Tsk, tsk. "

The brutal beauty's tone was suddenly gentle but firm, speaking as if she were playfully scolding a child; the look in those uncaring, orchid, eyes only enhanced the woman's aura of insensitivity towards Yui's pain though, at the same time, nothing about the woman's being spoke of the malicious intent she so readily displayed. Regardless, a sharp tug was given to the youth's pretty, pink, hair as Aelia yanked her opponent's head upward none too gently; forcefully bringing Yui's gaze to her own once more.

" This kind of neglect for one's body is quite shameful, " That scolding and playful tone was maintained though Aelia's voice had become softer. Peering down at Yui's pain stricken face, she would pause a moment to to slide a finger gently over the girl's lips and mouth—wiping away and smearing some of the blood that marred them—before she seemed to continue, " Such a weakness could prove to be truly disastrous for you in the future. "

With that captivating smile at her lips, Aelia would begin to elaborate on her words as she maneuvered one leg to the side of Yui's form before swinging it up briefly—and then down, harshly—looking to catch the back and side of her cute opponent's knee with more than enough force to drop her down; forcing her to kneel along the mat. In thorough succession, Aelia would seize Yui's right arm swiftly before raising it up against one side of her head. Almost in the same motion, Aelia would swing her right leg up and over her kneeling opponent's shoulder; allowing her thigh to settle over Yui's petite shoulder, pressing the crotch of her jean shorts partially in the kneeling girl's face.

With her setup complete, not wasting even a second, Aelia's form would have simply toppled backwards; Aelia's legs finally locking together as the refined beauty's thighs would now wrap around not only Yui's neck and head but also the trapped arm that had been lifted up into the hold—effectively completing her triangle choke takedown. Falling backwards and hitting the mat to lay on her back effortlessly, Aelia would maintain a solid grasp on her opponent's notably soft hair, pulling the girl's head and face downward—forcefully—against her own arm and Aelia's hips; ultimately forcing the girl's neck further between Aelia's constricting thighs. Yui's trapped arm would be allowed to lay idly along Aelia's abdomen—the position of the triangle choke mostly rending the limb useless in leverage and motion.

Those orchid colored eyes would already tinkle with amusement as Aelia's wispy smile settled at her lips; her gaze peering down at Aelia's cute, trapped, head. No words were offered now, however. Aelia seemed content for the moment in watching the young girl simply suffer.
Last edited by 897 on Sun Apr 04, 2010 11:37 pm; edited 1 time in total
_________________
Friction:
| Toph's Backstage Pass!
Yui still couldnt understand why her opponent changed so suddenly. Was it all part of her strategy to make her drop her guard? Or did she really mean all she said? Whatever it was, it surely worked well. The pink haired schoolgirl was someone who always tried to see the bright side of things, the good side of people, the good things about them, not their flaws. But if there was something she hated were lies. I mean, why would you lie about something? Does that give you an advantage? -Well, in this case, yeah.- Still, it wasnt something Yui liked very much. Especially when it was someone she actually respected who did that to her. Just... despicable.

Still defenseless, her opponent didnt give her a single moment to recover. The next thing she saw were Aelia's eyes when she pulled her head up by the hair, Yui's own eyes halfly open. She groaned lightly, looking at the blonde woman in the eyes for a second. Where did the nice, respectful person she met just a minute ago go? The adorable smile from just a few moments ago looked so much more wicked, now to the point it scared the crap out of Yui. The little girl blushed as her opponent's finger softly touched her lips, wiping some blood away. Her arms hung from her shoulders as the poor schoolgirl growled lowly.

From there, she was taken down to her knees by a quick movement of her opponent's leg. Next thing she knew, her arm was being held up by the blonde woman. She didnt offer much resistance though, still trying to find a moment to rest. Since she didnt do anything, Aelia wouldnt have much of a trouble placing her right leg over the little girl's shoulder and locking her in the strong triangle chokehold.

The result, her head and arm locked between her opponent's thighs, her cheek pressing against Aelia's mound as she blushed darkly. She was still on her knees, and now thanks to the blonde woman's hold, she was forced to stick her butt out to crowd, almost feeling like if the fans were eating her with the stare. In a very perverted way, you know. "N-Nyaah..." She whimpered softly against her opponent's thigh, weakly struggling against her to try and force her way out of the hold before it really started to hurt.
_________________
[url=http://afwrpg.informe.com/forum/members-blogs-f42/jessica-s-crew-t2115.html:2wqwu7zy][size=150:2wqwu7zy]
Jessica's Maids
[/url:2wqwu7zy]


Similar topics
---
Permissions in this forum:
You
cannot
reply to topics in this forum