Champions & #1 contenders
The Austrailian Mudslide is Back.
Sat Apr 21, 2018 6:20 am by Softsquad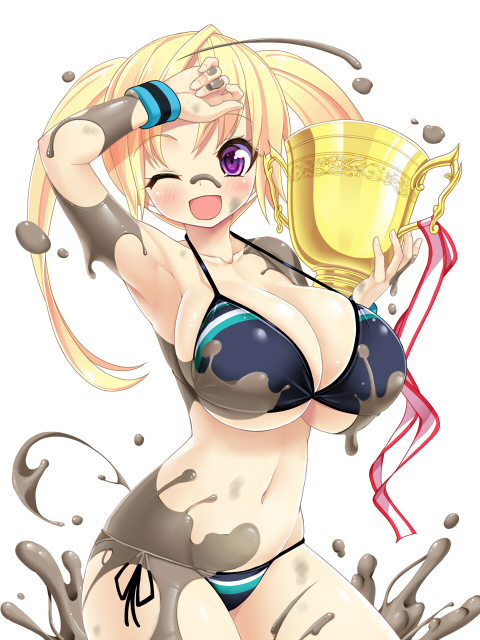 Granted that most of you won't know me or remember me, but I've had a few matches here and there some time ago. Well I think its time to become a regular around here and try to have some fun again, but at the same time keep coming back. Anyway I think its time to jump into some matches with Zoe Taylor, my mud wrestling character from Australia and get her back into the squared circle. Furthermore I will update my characters as I think some proper changes need to happen.
So if anyone would …
[
Full reading
]
Comments: 4
Looking for debut thread.
Sat May 12, 2018 9:28 pm by Hedgehawk
Hello All.
I am looking for a debut for my girl Trinity (http://www.afwrpg.com/t18107-trinity-cordova#495678).
This doesn't have to be a match, it could be a gym battle, interview or anything else. I just want something to help get Trinity off the ground. If you wanna plot feel free to reply to this message or fire me a PM.
Many thanks in advance and thank you for reading my message,
Hedge
Comments: 0
Page 11 of 13 •

1, 2, 3 ... 10, 11, 12, 13


Ciara's thrashing and screaming was no use against Katsumi's iron grip. She might have been able to stagger them across the mat or resist until the sumo's arm muscles were sore, but the soldier wasn't getting out of this hold any time soon. Realizing this, Ciara slowly began to halt her efforts, falling deathly silent even as Sarah called for her blood. Katsumi sighed in extreme relief as the steely muscles in the soldier's body began to relax, then her mood turned concerned as she gave Ciara's body a once-over.

Her sparring bouts with the raven-haired fighter had been less brawling and more grappling and crushing, so naturally, they weren't nearly as bloody. But still, this was pushing it to a disturbing degree. Almost everywhere she could see, Ciara's body was visibly injured in some way. She was horrified and impressed at the same time. This Sarah Gatt had to be a brutally effective opponent just to push the soldier this far, but how far did they really have to go? Not this far, that was certain.

Ciara mumbled something under her breath almost sullenly, and Katsumi leaned over to hear what it was, inadvertently loosening her hold on her friend at the same time. "Ciara? You okay? I didn't hear you there-" Ciara turned her head to the left to look the sumo in the eye, her glare still filled to the brim with rage and malevolence and stated in an even voice, "She's not dead yet."

Katsumi's eyes widened in shock as she realized her grim mistake, but it was far too late. Ciara surged forward, ripping her left arm loose, launching a vicious headbutt backwards into the poor girl's face, then ramming her left elbow into the side of her cheek. Katsumi gave a cry of pain and instinctively staggered back from the savagery of the blow, and Ciara was free. Howling with bloodlust, she charged forward, aiming to tear ruthlessly into the first thing between her and her prey: Rika. If the poor girl turned, she would see a terrifyingly feral and bloody fighter hurtling towards her with both arms outstretched to rip her apart.

Ciara never touched her. A tall, lean blonde in a well-cleaned business jacket and pants appeared between predator and prey before anyone could register exactly who she was or how she got there. Her sleeves were rolled up and there was a grim look on her face, the right eye unblocked by her blonde locks gleaming a determined blue-green.

In a lightning-fast display, the woman had seized Ciara's right arm with her left, hauling it out to the side and cupped the crazed veteran's neck with her other hand. Whirling around Ciara in a circular motion, the blonde forcibly pulled the she-wolf around and off of her original path. Ciara turned her head and snarled at the woman, not realizing who it was underneath a haze of red. But as she began to lunge at the new intruder, she gagged as the firm grip on her neck changed to a brutal iron claw sinking into her throat. Then she was sent sprawling to the floor as the blonde newcomer hooked her left leg around the inside of Ciara's right and delivered a hard straight left into the Spec Ops girl's jaw.

Lysandra Tremaine scowled down at the dazed Ciara and shook her head in anger and disappointment. "Insufferably idiotic, but I keep to the promises I make, Ciara. You went out of control and I halted your stupidity. Besides, if I could stun you that easily, you wouldn't have been fighting for much longer, anyways." She turned to the recovering Katsumi. "Help Akashi and Rika put some distance between Sarah and this lout. I'll take care of things here."
Last edited by 883 on Thu Apr 08, 2010 9:48 pm; edited 2 times in total
_________________

Friction
[url=http://afwrpg.informe.com/forum/friction-roster-f10/katsumi-sadaji-daughter-of-the-dohyo-t2307.html:1qlmd9jt]Katsumi Sadaji[/url:1qlmd9jt], [url=http://afwrpg.informe.com/forum/friction-roster-f10/ciara-austerlitz-she-wolf-of-the-one-four-one-t2308.html:1qlmd9jt]Ciara Austerlitz[/url:1qlmd9jt]
Akashi struggled against Sarah's rough treatments. With her own injuries, it made it even worse to endure Sarah's viscious punches. but she knew she had to and she wasn't going to let Sarah up no matter what. "It's too much!" Se shouted back, grunting against the struggle. "It's too much Sarah-San!" She repeated.

Suddenly she felt a weight on top of her and glanced backwards. "Rika-chan!" She exclaimed. "How did it get this bad!?" She then felt stupid for asking. With Sarah, it was easy to get out of hand.

"Calm down Sarah-San!" She exclaimed. "I'll knock you out and drag you out of here if I have to!" She said looking down seriously at Sarah. In Sarah's raging state, it would be a nigh impossible task but Akashi would do it and She did have Rika with her as well.
"YOU WANT TO DIE NEXT, FAT ASS?!? GET THE FUCK OFF ME!!!" Sarah continued to scream and use every curse word she knew at Akashi and Rika, still struggling against them but she was getting tired while doing so. She couldn't even budge the combined weight of the two.

"Sarah, please calm down!" Rika shouted to get over the volume of Sarah's own voice. "You're gonna get really hurt if you keep going like this! You're already covered in blood!"

"MOST OF IT IS HER"S!!! LET ME GOOOO!!!" Sarah resumed her struggles in eanest, and Rika actually had to hold tightly to Akashi's shoulders to prevent being backed off. That's when Rika noticed that while they had been keeping Sarah down, her opponant had gotten free. Rika's eyes widened in horror at the sight of the bloodied and half-crazed Ciara charging at her, and she screamed in alarm. Then suddenly she waws saved, by a woman she had never seen before, and she took down Ciara so easily that Rika was left slack jawed.

"WHAT!? WHAT THE FUCK IS HAPPENING!?" Sarah shouted, unable to see the goings on with Akashi's body blocking her view.
Katsumi, still shaking off some of the dazedness and pain from Ciara's ferocious attack, walked over and around until Sarah could clearly see her by looking up. "I would advise you not to struggle anymore, Gatt-san. It is very unlikely you would be able to prevail against all three of us to get at Ciara, and even if you did, you would have to go through Lysandra." She knelt down and placed both of her hands firmly on Sarah's shoulders, pinning her to the mat with her muscle and weight. "I already know you are an incredible fighter, judging by how far you pushed Ciara, but you're tired, and frankly, even in top form, taking on Akashi and me at the same time is pushing it, even for you."

Meanwhile, Ciara was struggling to her feet, growling and glaring at Lysandra as she did so. "TREMAINE! Get out of the way. There's a scalp that still needs collecting. Move or it'll be yours!" Lysandra rolled her eyes and curled her lip in distaste. "I thought you would know better by now, Ciara. And snarling my last name won't make me any more intimidated than I'm already NOT. By the way, if you ruin this suit, it's own your head."

Ciara roared and launched herself at Lysandra again, and even with her battered and tired state, fired off a barrage of surprisingly fast punches, trying to knock Lysandra senseless. But the blonde newcomer had actually seen so many of Ciara's fighting before and countered it even when she was fresh, so much that weaving between a tired and sloppier version of the soldier's attacks was naught but child's play for her. Ducking under one of Ciara's staggering hooks, Lysandra suddenly shook her arms, like she was trying to dislodge an insect, and an object slid down from each sleeve, a cylindrical object in her right hand and a more rectangular object in her left. When the vicious Ciara stepped back in for another attack, Lysandra flashed the full beam of a military-grade CQC flashlight into her eyes. The bloodied fighter staggered back, clutching at her eyes and screaming in alarm and confusion, then her cries were cut to a gurgle as the latest model Argus Taser manufactured by ICEPS arced around and the blonde newcomer planted the device squarely in her ribs.

Ciara was senseless before she even hit the ground. She fell forward, and for a moment it seemed as if Lysandra would catch her, but suddenly the blonde stepped back and to the side in one graceful, fluid motion, and let the raven-haired soldier slump unceremoniously to the canvas. She turned to the three girls holding Sarah down and spoke in a businesslike manner. "I'll talk to this fool when she comes to, but first you three take away that half-sensible brawler to the locker room or something. Get her washed off, a good ice-cold shower should bring her back. With Katsumi helping you, it shouldn't be much of a problem to strong-arm this self-proclaimed Queen to some nice cold water."
Last edited by 883 on Sat Feb 19, 2011 11:45 am; edited 2 times in total
_________________

Friction
[url=http://afwrpg.informe.com/forum/friction-roster-f10/katsumi-sadaji-daughter-of-the-dohyo-t2307.html:1qlmd9jt]Katsumi Sadaji[/url:1qlmd9jt], [url=http://afwrpg.informe.com/forum/friction-roster-f10/ciara-austerlitz-she-wolf-of-the-one-four-one-t2308.html:1qlmd9jt]Ciara Austerlitz[/url:1qlmd9jt]
Akashi could feel the tension and hear the loud racket of the others, but over Sarah's yelling, she could hardly make out what was going on. With Rika's added cries, she wondered even more, but the task befoe her was a mighty one and she struggled to keep Sarah down. After a bit of commotion, she saw Katsumi hold down Sarah's shoulders. She let out a sigh and looked down at the furious brawler.

Akashi could probably send punches all day and night at Sarah and not put her out, but there was one thing that should do the trick not matter who it was. "Sorry Sarah-San, but it's nap time..." She then pushed herself forward and pressed her ample ches over Sarah's mouth and face to smother her into unconsciousness. Sarah would most likely be even more furious from Akashi's method but to get Sarah the attention she needed would be far easier to do with the brawler unconscious. "Rika-chan..." She called out. "Once she's unconscious go prepare a shower. Katsumi-chan and I can carry her there and we can clean her up. Call the staff doctor... Well call as many as are available, ok?"
Sarah glared up at the sudden appearence of the woman who looked like a second Akashi, meaning another sumo wrestler, and as she held her down Sarah started shouting all over gain. "Is that a challenge, bitch? Cause I'll take on everyone of you in fuckin' SPADES!! And then I'll rip that slut's head off. NOW GET OFF!!!"

Sarah then stopped struggling for a moment when Akashi spoke to he, and raised an eyebrow in confusion. "What? What the fuck do you mean- MMMPPPHHH!!!" Sarah's airways were completely cut off in the air tight seal that was Akashi's loud chest. Her screams and protest were muffled, and she struggled fiercly with all she had, but she could not break free, far too exausted from her fight with Ciara. It only proved to make her tired, costing her more precious oxygen, and soon her struggles slowed down and her screams became almost silent. After a short while Sarah's eyes started to close, and stopped moving completely, going limp underneath Akashi as she blacked out between her breasts.

Rika winced in sympathy as she watched the scene. That was quite the way to go out, one she wouldn't wish on her worst enemy. "Uh, right. Shower," Rika stammered, getting up off Akashi. She climbed out of the ring and ran off to the shower rooms to do as instructed.
Katsumi sighed. This was not the way she had expected to meet Sarah, not the way she had expected her first trip to the gym with Ciara would go. Her match with Akashi was wonderful, but this whole turn of events put a severe damper on things. Her eyes widened partially in amusement as Akashi's breast smother put out the Queen of Brawl, but she nodded in serious agreement with Lysandra's instructions. She wrapped Sarah's left arm around her shoulders, leaving the right for Akashi so they could both lift the battered girl and take her to the locker rooms where she could get some proper attention and a good wash. She looked back sadly at the unconscious Ciara. Only a short while ago, they had been bantering and joking with one another and now only Katsumi had an outcome she could truly be happy with. It was enough to make a girl feel guilty.

Lysandra could generally tell what Katsumi was thinking about, but her main focus was on the matters at hand. She rolled her eyes in exasperation and made a shoo'ing motion with her hand, already tucking away her portable combat tech. As soon as the other girls left with Sarah, she leant against the corner post farthest from Ciara's prone form, waiting patiently for her to wake up.

The young Sadaji turned back to Sarah and Akashi. "Well, um, help lead the way, Akashi-chan. I know how to get to the lockers, but the showers are another matter..."
_________________

Friction
[url=http://afwrpg.informe.com/forum/friction-roster-f10/katsumi-sadaji-daughter-of-the-dohyo-t2307.html:1qlmd9jt]Katsumi Sadaji[/url:1qlmd9jt], [url=http://afwrpg.informe.com/forum/friction-roster-f10/ciara-austerlitz-she-wolf-of-the-one-four-one-t2308.html:1qlmd9jt]Ciara Austerlitz[/url:1qlmd9jt]
Akashi held her impressive chest against Sarah until she felt Sarah no longer strugle. Leaving herself on her for just a moment longer, she stood up and let a relieved sigh escape her. She lifted up Sarah and looked at her with a frown. "I've been wanting to do that for a while, but not under these circumstances." trying to lighten the atmosphere a little.

She guided Sarah with Katsumi to where the shower was. She could help clean Sarah up until proper care could be administered. Getting to the shower, she wuld tell Katsumi to where Rika was and set her close by. When Sarah was down, Akashi would look at Katsumi. "Rika-chan and I can take care of the rest. You should be with Austerlitz-San for now. When we have everything taken care of here, I will come find you to see how things are."
While the sumos gathered up Sarah Rika had been preparing for their arrival, mostly by threatening everyone in the shower room to get lost before sheknocks their teeth out. When Akashi and Katsumi came in with Sarah Rika motionedthem to lay her down on a bench. "She's gonna kill us when she wakes up," Rika said worriedly, her eyes kept on Sarah as if she was going to spring to life at any moment.
Katsumi looked down ruefully at Sarah's unconscious form, then back at Akashi as the other sumo spoke. She sighed once Akashi was finished and responded. "It flatters me that you consider my bond with Ciara to be enough to placate her when she wakes, but frankly, this is a matter for Lysandra to handle. If my sister says she's going to take care of things somewhere, she won't accept any help, otherwise. She'll be absolutely fine, and I actually haven't known Ciara nearly as long as she has. In all honesty, my presence may make things even worse, though the same may be likely for me staying here. There's some things that need saying that I could never be even prepared to say, and my sister is the one to do it."

The young Sadaji shrugged, then made to leave for another area of the locker room. "I'm off to find the showers and wash off myself. If you need any help, you two will know where to find me. When Sarah-san comes to, give her my compliments on being able to push Ciara so far for so long. Despite the obvious bloodiness of the match, her extent of her willpower and strength were obvious."
_________________

Friction
[url=http://afwrpg.informe.com/forum/friction-roster-f10/katsumi-sadaji-daughter-of-the-dohyo-t2307.html:1qlmd9jt]Katsumi Sadaji[/url:1qlmd9jt], [url=http://afwrpg.informe.com/forum/friction-roster-f10/ciara-austerlitz-she-wolf-of-the-one-four-one-t2308.html:1qlmd9jt]Ciara Austerlitz[/url:1qlmd9jt]
Page 11 of 13 •

1, 2, 3 ... 10, 11, 12, 13



Similar topics
---
Permissions in this forum:
You
cannot
reply to topics in this forum