Champions & #1 contenders
I'm Back
Fri Sep 22, 2017 11:57 am by RadiantKarna332
Alright, after a few days of hiatus, I'm back. I'm sorry for my absence, for those who have threads with me here.

Comments: 1
Looking for a match.
Wed Sep 20, 2017 9:27 am by Silentcoins
As the title says, I'm looking for a match up.
I can do just about any kind of match up, though I prefer one with some hentai elements mixed into it. Wonder if there's anyone interested in a match of any kind?
Comments: 0
Taking a Few Days Off
Sun Sep 17, 2017 3:46 pm by RadiantKarna332
Well, I'm kind of burned out these days, so I'll be taking a break from RPing for a while. Maybe a few days? Sorry for the inconvenience, guys.

Comments: 16
Name: Angela Murray
Age: 20
Eyes: Grey
Hair: Black
Height: 6'2
Weight: 175 lbs
Nationality: American
Entrance music
Some kind of opera score... for some reason.
Wrestler Type
Uh... just read her moves list...
Favored moves
Chest Punch v.1- Angela places a firm grip on her own boobs squeezing them so the fronts become slightly rounder then slams the boobs in the opponent's face.
Chest Punch v.2- Angela simply plants her boobs in an opponent's face without any special preparation.
Chest Bat- Angela swings her boobs into an opponent like a baseball bat.
Chest Torture- Angela wraps her arms around an opponent and proceeds to ram the opponent's head hard into her boobs, causing pain to the opponent's face.
Finishing Move
Sexual Suplex v.1- Angela shoves an opponent's head between her boobs in order to distract the opponent then leans backward while the opponent is hopefully too dazed to respond. She then either releases the opponent's head, lifting the opponent up a bit so the head hits the ground first or if she doesn't feel confident enough, leans her own head back just enough for the top of the opponent's head to hit the mat first, the opponent's face still smothered by her chest.
Sexual Suplex v.2- Angela wraps her arms around an opponent from behind, rubbing her large boobs up against the opponent's back in an attempt to drop the opponent's guard. She then proceeds to perform a suplex on the hopefully dazed opponent.
Sexual Soffocation- Angela shoves the opponent's head between her boobs, but rather than using a suplex, she simply holds the opponent in place until her chest causes the opponent's air circulation to cut off, then releases the opponent once she's unconscious.
Match Preferences
Anything as long as the opponent's hot.
Physical Appearance
Personality
Despite her obvious fetish for young females, Angela treats everything seriously, always keeping a soffisticated look on her face. You can do whatever you want to her and she'll never once blush, scream, cry in terror or anything like that. Even when she moves her body in a very, VERY sexual way she still has a look of soffistication on as if to hide the fact that she's turned on by it all. Outside of battle, she does all she can to hide her deep attraction towards other girls, taking on very business-like behavior as if the very idea of sexually harassing an opponent is unacceptable in her eyes. There is only one thing that will make her lose her calm exterior and start acting the exact opposite, and that is another girl sexually harassing her in any way-shape-or-form. In other words, she can dish it out, but she sure can't take it. I guess you could say she likes being the alpha-ma... sorry... Alpha-FEMALE!
Background
Having grown up attending an all-girls school, Angela discovered her true sexuality and developed an unhealthy attraction to women around her age. She joined friction to find an excuse to get close to these women and do with them as she pleased.
Attire
What she wears in the picture.
Record:
Hina- X (Forfeit)
Last edited by 383 on Fri Apr 30, 2010 1:27 pm; edited 1 time in total
_________________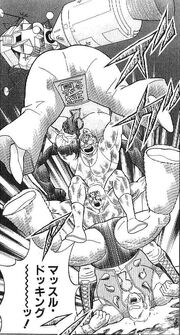 MUSCLE DOCKING!!!!!



Posts

: 1489


Join date

: 2009-02-10




Similar topics
---
Permissions in this forum:
You
cannot
reply to topics in this forum