Champions & #1 contenders
Just so y'all know
Thu Jun 22, 2017 3:27 am by LtLukas
I am going to a wedding, and will be traveling for the next few days. Sadly, I will not be able to post. But do not worry, I shall return. Sorry to all the people I am delaying.
Comments: 0
Not dead! Sorry!
Wed Jun 21, 2017 5:02 am by veritech892
Sorry for the recent slowed responses and disappearing act! Life, work, all that stuff, kind of got the jump on me! I'm back now though, promise - or I really hope I'm back now at least. I'll be replying to all the threads I have now, and hopefully I'll be around more now that things seem to (hopefully) be slowing down a bit.
Comments: 0
Does anyone feel up for an open thread bar?
Tue Jun 20, 2017 10:05 pm by Ragdoll_Jobbers
Hi guys, um well...considering I've been gone for a few months contemplating on life and death, uh that's dark, I was wondering, any body up for an open thread bar? I have some ideas but was wondering, well, if I open a bar thread, I would need "customers". Thoughts?
Comments: 3
Name: Maya Vice
Sex: Female
Age: 18
Eyes: Green
Hair: Purple
Height: 5'6
Weight: 110
Nationality: American
Favored moves: Slams,Strikes and a few submissions Maya mostly makes use of her legs as they are very powerful. She has given herself the title of strongest kicks of all the kawaii. Though this may or may not be true it is something she will more than gladly test that theory out if one of her opponents want to.
Finishing move/s: Not one yet.
Entrance music: I don't wanna stop by Ozzy
Kawaii Difficulty: Medium-Hard
Standard: Easy-medium
Rpg Style Spread: (I'll try this for her.)
Endurance:★★★
Strength:★★(with arms) ★★★★ (with legs)
Speed:★★★
Defense:★★
Technique:★★
Appearance: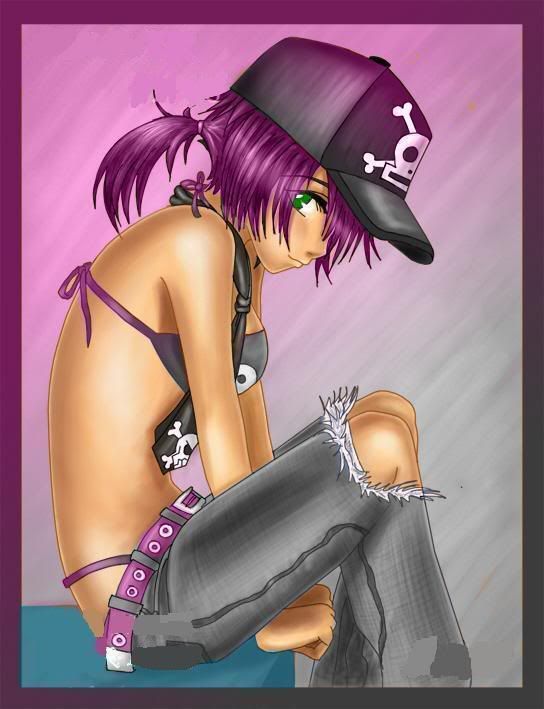 Personality: Maya can either come off quite nice or quite mean depending on the person and how they act. She is very outgoing and talkative to people trying to get to know everyone though if she continues to talk to them depends on their first impressions. If one does take the time to know her they will see she is quite intelligent and has very deep insight to people themselves. Even though is she very outgoing she is quite timid when it comes to anything sexual she's actually quite in experienced when it comes to that. So if she gets the chance she'd take a regular match but she would also have no qualms in being in a hentai match or in one like that. In most normal circumstances though Maya might sometimes come off as the girl who wants to have a good throw down when she is really amped up. When like that she is quite dangerous especially if she gets a brutal match having no qualms on using very brutal maneuvers and attacks to take someone out. Still though there are times when she is actually nervous match those usually being a more sexual match and losing is actually conceivable notion if she can't get out of her nervous state.
Past: Maya grew up in a house with one sibling but she made a few friends who helped her get over being timid which has made her very outgoing. When she got out of high school she found out that she didn't have any money for college. Her friend Alex a.k.a Itzal said he would help pay for her college but she would refuse to except his money which would inevitably end up with her joining the AFW along with Alex and Brandon. She found the AFW who agreed to bring her in seeing as she had some knowledge in wrestling itself. Now she has joined in and is quite unsure of herself but is looking forward to getting into matches.
Attire: same as in pic.
Friends: Momoko
Yatori
Brandon Strike
Itzal
Mina Vice
Rivals:Momoko
Enemies:none at the moment.



Posts

: 1691


Join date

: 2008-05-07




Similar topics
---
Permissions in this forum:
You
cannot
reply to topics in this forum