Champions & #1 contenders
Seeking new matches
Wed Oct 18, 2017 6:14 am by GrandAkumaShogun
I've been absent from here for a good while so I want to get back into the swing of things. If you have any interest in taking on either Takeichi Mori or Takeshi Kawai get in touch.
Comments: 2
My apologies for the small hiatus
Wed Oct 18, 2017 5:20 pm by Vcom7418
Apologies to all who have threads with me, but my midterms hit me hard. Thought I could balance stuff out while I revised...buuuut I failed. I will be back to posting either tomorrow or on Friday.
Good day, everyone

Comments: 0
Will be offline next 2 weeks
Tue Oct 17, 2017 7:51 pm by peek6
Hi all. I've been enjoying all the great threads I've been having on here with many of you. I need to take a short break and go dark for the next 2 weeks or so. Apologies in advance for leaving threads hanging. See you in November!
Comments: 2
Name: Ada "Pink Ice" Wiley
Sex: Female
Age: 23
Eyes: Pink
Hair: Pink
Height: 5â€
6"
Weight: 150lbs
Nationality: American
Entrance music: [url=http://www.youtube.com/watch?v=kx6FV2qR2TY:75r5b0pb]Clutch - "Electric Worry"[/url:75r5b0pb]
Wrestling Information
Strategy: Sheâ€
s fast, and can take a lot of punishment. Since she can out last most opponents, she will slowly erode away their strengths while moving quickly to avoid taking too much herself.
Style: Unbalancing. She uses open hand strikes to various portions of the body to keep her opponent from being able to mount a proper offense.
Preferred Matches: Standard, Hardcore, Handicap, Tables
Preferred Rings: Standard
Endurance: ★★★★
Strength: ★★★
Speed: ★★★★★
Defense: ★★
Technique: ★★
Favored moves:
Clotheslines and shoulder tackles. Rarely will she willingly enter into a grapple match with someone if she can help, unless they are showing exhaustion and general weakness of spirit.
Finishing move:
Ring Out! Knock Out!: A standing but dazed opponent will be charged and slammed with a shoulder tackle, quickly wrapping her hands around her opponent. Sheâ€
ll lift them bodily and continue the run towards the ropes, hitting them at full speed. Momentum carries her opponent flipping backwards to fall upon their head outside the ring, usually ending with their feet resting on the edge of the ring. If they are knocked out properly, sheâ€
ll get her bucket of ice water and dump it down onto them to make them wake back up.
Alaskan Crab: Simple and sweet, she initiates a Boston crab maneuver on a fully exhausted opponent, but rather than sitting upon her opponent, sheâ€
ll actually stand to give the crowd a great view of her opponentâ€
s upside down body. If she has enough time to prepare, she will procure a prepared bucket of ice and water upon her opponent before initiating the maneuver.
Critical Finisher:
Dire Crab: As with the Alaskan Crab, except she will actually begin maneuvering backwards and downwards, until either her opponent snaps in half backwards or her opponentâ€
s toes touch her ears… whichever comes first.
Hentai Finisher:
Feel the Freeze: She gets the same bucket of ice water (as mentioned in above finishers) and sets it beside her stomach down opponent. Sheâ€
ll pull her opponent in a Boston crab, and pick up a thumb sized cube of ice, rubbing it along all the parts of her opponent exposed from the Boston crab.
Characteristics
Visual Appearance:
When she enters off the stage, her music is loud, and so is she. Even if sheâ€
s up against an opponent she has zero chance of winning against, sheâ€
s shoutinâ€
and roarinâ€
at the stands.
Physical Appearance: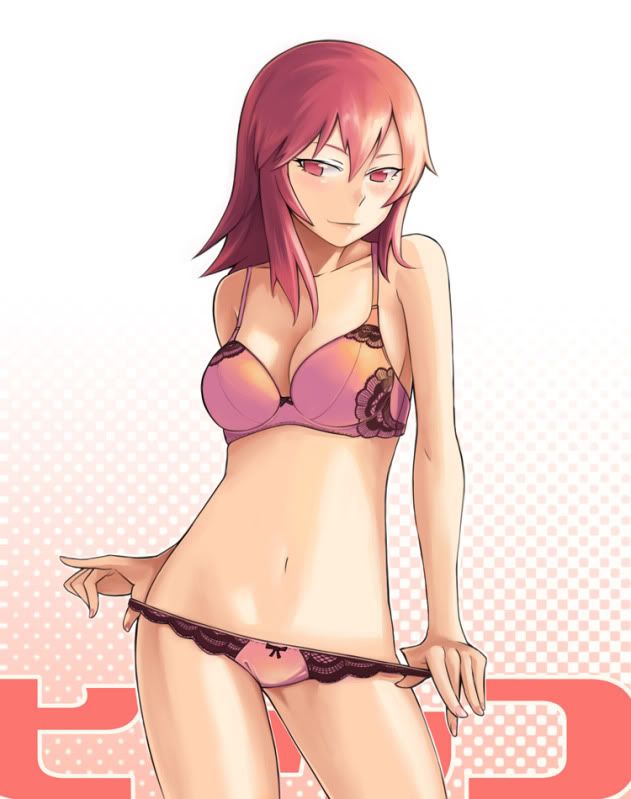 Personality:
Ada is extremely intense. There is little she cannot accomplish when she sets her mind to it. She says she once stopped a kidnapper by slamming her car into theirs.
Past/History:
She obviously lived someplace a lot colder than where Friction is staged, as she treats her time here as something as a perpetual summer vacation.
Wrestling Attire:
As shown above.
Fun Facts:
She loves to eat anything that once lived under the water. Now living in Japan (seafood capital of the world, she says) sheâ€
s quite excited.
She doesnâ€
t speak much of her life before AFW. Itâ€
s not some huge secret with national secrets and intrigue. She finds the details of it extremely dull when juxtaposed to her new life as a wrestler!
AFW Information
Record:
Wins:
Losses:
Draws:
Championships/Accomplishments:
Friends:
Allies:
Rivals:
Enemies:
Crushes:
Last edited by 677 on Thu Feb 11, 2010 1:48 am; edited 2 times in total

_________________
I'm not new. I'm back.



Posts

: 760


Join date

: 2009-10-12



---
Permissions in this forum:
You
cannot
reply to topics in this forum