Champions & #1 contenders
Serious apologies to everyone....
Mon Mar 19, 2018 1:59 am by Cy_Man
To those who I RP with, I just want to say that I am terribly sorry for all my delays that I constantly do. I just have been SO unbelievably busy as of late that I hardly have any free time to be able to attempt to make posts to our threads. I really needed to get his off my chest badly, and it makes me feel like a complete piece of shit for doing this all the time. If you don't want to RP with me, I completely understand, there should be no reason or excuse for me to have to keep you waiting …
[
Full reading
]
Comments: 2
Explanations and Apologies
Sun Mar 18, 2018 10:02 pm by acuya
Okay, so.
As some of you may have noticed, the Entropy Title Match from last year's Summer Splash has come to an abrupt conclusion.
The reason for this is because my match with Lies was taking too long, and with the next Summer Splash coming up, the Entropy Belt needed to be put in play for this year.
I won't get into the specifics of WHY that happened, suffice to say it ultimately comes down to my fault, I think. For those who haven't been here long, back in the day, I had a problem with …
[
Full reading
]
Comments: 1
A match for Takeichi
Mon Mar 12, 2018 7:31 am by GrandAkumaShogun
Since both Imai and Takeshi are currently involved in matches I was wondering if anyone is interested in taking on my first wrestler I made for here, Takeichi Mori. His profile says he's a jobber but I intend to change that and hoping a match can help with that. Anyone interested please get in touch with me on here in a pm.
Comments: 1

Name: Kiku Shiori
Sex: Female
Age: 18
Eyes: Brown
Hair: Short brown
Height: 4'10'
Weight: 95lbs
Nationality: Japanese
Alignment: Face
Entrance music: "Yume Musubi no Ame" by Konno Hiromi
Wrestling Information
Strategy: Using speed and strength to compensate for size
Style: Sumo
Type: Offensive
Endurance:**
Strength:***
Speed:****
Defense:***
Technique:***
Favored moves: Strikes and grapples
Finishing moves:
"Cherry Meteor" - Kiku stands in front of her opponent. She grabs the opponent by an arm or by their clothes, and pull them in. At the same time, she rears her free hand, then sends a palm strike at the opponent's chin (or the chest, if the opponent is much bigger than her), keeping her grip on them afterwards. Kiku ends the move by pushing the opponent forward with all her strength, letting them fall to the mat.
"Gekokujou" (Hentai) - Kiku grabs her opponent's shoulders and moves backward, trying to pull the opponent down to the mat. Once they're on their hands or knees, Kiku covers their body with her own, grabbing the underside of their belly to keep pusing them down. Laying over her opponent, she then uses her free hand and mouth to pleasure the opponent's private parts.
Physical Appearance: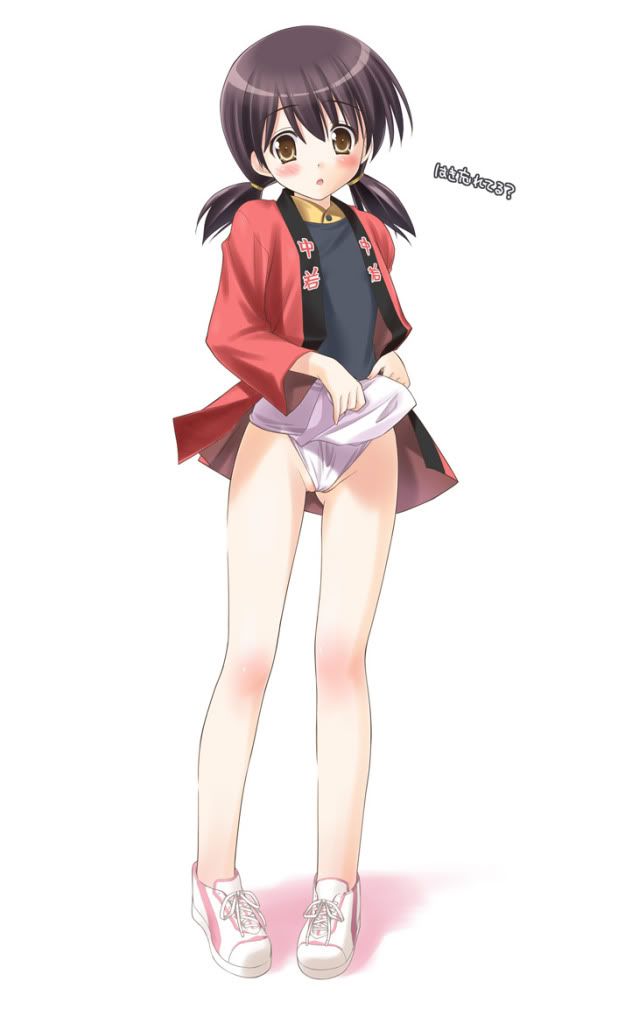 Attire: A sleeveless blue vest and a white fundoshi, though she feels more comfortable without the vest and will go topless when possible.
Personality: Kiku is very quirky and competitive, and normally tries to get things done for herself. She befriends others extremely quickly, but she's also fast to get into trouble. Kiku never says "no" to anything, and will hardly refuse a request, especially if it's made by a friend. She occasionally tries to bite more than she can actually chew.
Past/History: Since early on, Kiku's one and only passion was Sumo. Her dream was to become a true wrestler, participating in the national professional tournaments. Obviously, she faced a lot of difficulties, namely her gender, her size, and her lack of expertise. Defying all odds, when she entered high school she found enough people to form an amateur Sumo club, and she started to train. Due to daily exercise, she was able to build up a considerable strength for a kawaii, but her size was still an obstacle: she simply couldn't get bigger, no matter how much she ate or exercised. However, her size and her training gave her an advantage in agility that is rare in more traditional Sumo wrestlers.
Eventually, her clubmates started getting bigger and bulkier than herself, and it was difficult to keep up with them. When she left high school, she had gotten a lot better, but her hopes had gone down a bit. However, when she heard of AFW's Kawaii division, she flared up with excitement again and joined it, wanting to become stronger and face opponents who weren't twice as heavy as herself.
Fun Facts:
- Unlike other girls at her age, Kiku isn't concerned with excess, but lack of body mass. She finds it difficult to get bigger due to her quick metabolism, but this doesn't stop her from trying. She eats and eats until her body or her wallet can't stand it anymore.
- Strangely, Kiku doesn't mind getting into the ring wearing only a traditional fundoshi, but gets very shy when wearing swimsuits - or any ocidental revealing attire, for that matter.



Posts

: 1210


Join date

: 2009-06-14


Location

: Hard Knocks University





Similar topics
---
Permissions in this forum:
You
cannot
reply to topics in this forum