Who is online?
In total there are
60
users online :: 5 Registered, 0 Hidden and 55 Guests :: 2 Bots
acuya
,
Daaharu
,
killcarrion
,
Link-mon
,
peek6
Most users ever online was
390
on Tue Jan 02, 2018 2:02 pm
Champions & #1 contenders
Serious apologies to everyone....
Mon Mar 19, 2018 1:59 am by Cy_Man
To those who I RP with, I just want to say that I am terribly sorry for all my delays that I constantly do. I just have been SO unbelievably busy as of late that I hardly have any free time to be able to attempt to make posts to our threads. I really needed to get his off my chest badly, and it makes me feel like a complete piece of shit for doing this all the time. If you don't want to RP with me, I completely understand, there should be no reason or excuse for me to have to keep you waiting …
[
Full reading
]
Comments: 2
Explanations and Apologies
Sun Mar 18, 2018 10:02 pm by acuya
Okay, so.
As some of you may have noticed, the Entropy Title Match from last year's Summer Splash has come to an abrupt conclusion.
The reason for this is because my match with Lies was taking too long, and with the next Summer Splash coming up, the Entropy Belt needed to be put in play for this year.
I won't get into the specifics of WHY that happened, suffice to say it ultimately comes down to my fault, I think. For those who haven't been here long, back in the day, I had a problem with …
[
Full reading
]
Comments: 1
A match for Takeichi
Mon Mar 12, 2018 7:31 am by GrandAkumaShogun
Since both Imai and Takeshi are currently involved in matches I was wondering if anyone is interested in taking on my first wrestler I made for here, Takeichi Mori. His profile says he's a jobber but I intend to change that and hoping a match can help with that. Anyone interested please get in touch with me on here in a pm.
Comments: 1
Page 1 of 2 • 1, 2


I am sick and tired off making threads and never comleting them since none of you can remeber which fights you are in. I reminded you all and you reply once. If you aren't going to reply then I am leaving. Heck a couple of you started a match and then can't remeber it even though I gave you the fucking link and you still don't reply. Fuck you all cya.
I think what Lobo means to say is, we're sorry this has happened to you, I don't really know you but I'm still saddened this happened but to be honest, there's no reason in quitting because of that. It happened to me a few times aswell, just ignore them back, it's their loss, not yours.
That actually isnt what I meant... But I'll keep my thoughts to myself... Like a Bawss....
- Spinkicks. - Shut up and apologize.
OWW!!! *Runs Away* The choice is hers Raiye!!! Just like my choice to tuck tail and RUUUNNNNnnnn....
First of all, this post is actually very offensive. "Fuck you all, cya" Wow... very respectful right there. Okay, I understand where you're coming from Luna, but really, you act as if you're the only one whose dealt with this. I once waited a whole week for a single post for a match and it didn't go anywhere from there until a few more days later. Granted, unlike you, I did eventually finish that match, but you get the point. I don't normally send pms to people unless it's really taken too long and I'm certain there won't be an update.

There are also people I asked long ago for a match and they told me they were busy but would be sure to come back to me when they're done their matches. None of those have happened, but I try to move on from it. Also, I remember sending a pm asking for a match, like, last year and it's still in my unread sent messages box.

I guess I can't honestly say I truly feel your pain because so far for me, I've finished all my matches and have even been in quite a lot despite all the times I kinda lost the rp spirit here. Nonetheless, Raiye has a point: That's not the best reason to leave here. Group rps are like this all the time, you know, members leaving without explanation despite the fact that they all have "Tell me if you're leaving" as a rule. Nonetheless, Lobo also has a point: it is your decision to leave. Still, you could have been nicer about it instead to throwing a fit like that of a 12-14 year old. As annoying as it can get, the people here have been some of the nicest people I've met on any site. I'm sure they're not trying to be mean. Hell, some of the people here have college and work to deal with. Just had to get that out.
_________________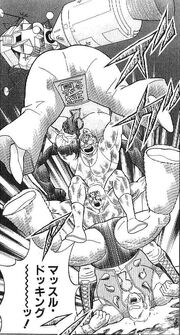 MUSCLE DOCKING!!!!!



Posts

: 1489


Join date

: 2009-02-10



I would not be as angry with them if they were not here. But I see them every fucking day on here replying to posts and ignoring my pms. I feel like a fucking outsider. If they are going to ignore me then fuck you all. And it's been months since any of them posted. I reminded them too. If they are going to make me like an outsider and ignore me I will go elsewhere and give you all a big fuck you before I go.
.. It's still december. I'm holding back. I will not insult you.. 200 Other members you can RP with.. If 3 don't talk to you.. That's fine.. 197 members left.. .. ..
I don't care about the other 197 members. I don't think anyone wants to rp with me after what I said. And I don't really care if they don't want too. This is just like my cell phone company. Not giving a damn until I leave, And by that time it is too late.
Page 1 of 2 • 1, 2



Similar topics
---
Permissions in this forum:
You
cannot
reply to topics in this forum