Champions & #1 contenders
The Austrailian Mudslide is Back.
Fri Apr 20, 2018 11:20 pm by Softsquad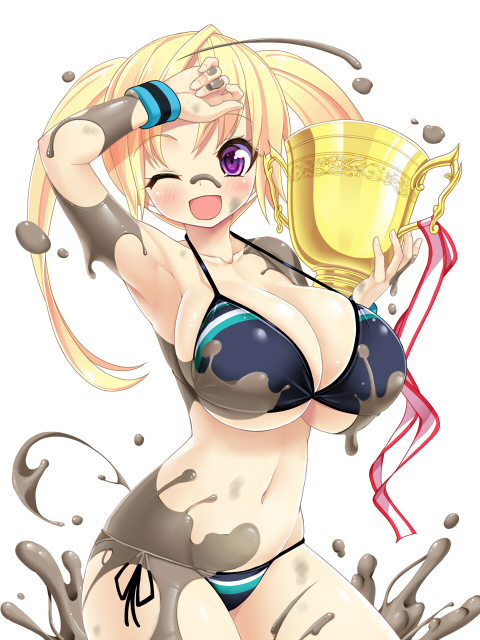 Granted that most of you won't know me or remember me, but I've had a few matches here and there some time ago. Well I think its time to become a regular around here and try to have some fun again, but at the same time keep coming back. Anyway I think its time to jump into some matches with Zoe Taylor, my mud wrestling character from Australia and get her back into the squared circle. Furthermore I will update my characters as I think some proper changes need to happen.
So if anyone would …
[
Full reading
]
Comments: 4
Looking for debut thread.
Sat May 12, 2018 2:28 pm by Hedgehawk
Hello All.
I am looking for a debut for my girl Trinity (http://www.afwrpg.com/t18107-trinity-cordova#495678).
This doesn't have to be a match, it could be a gym battle, interview or anything else. I just want something to help get Trinity off the ground. If you wanna plot feel free to reply to this message or fire me a PM.
Many thanks in advance and thank you for reading my message,
Hedge
Comments: 0
Page 1 of 6 • 1, 2, 3, 4, 5, 6


(ooc note: Yatori originally started thread but deleted first post to redo hers, just clearing that up)
Just as Daisuke left the locker room, Kei gave her a visit. They spoke for a minute, talking softly incase they were being watched and Kei finished by saying "I'll try to keep it short." They smile and Dai goes back inside for a moment.
Martyr No More cues up and out comes Kei Maxwell. She isn't dressed to wrestle, but is wearing something a tad different that what she usually does ( see it here
http://gallery.minitokyo.net/view/283928
)
She gets in the ring and asks for the mic from the ring announcer. "I know there's a match coming up, but before it happens I have to get something off my chest. Not too long ago we saw the crowning of a new champion. As much as I want to congratulate the new champ on w, I mean, being handed the belt, I feel like I should remind her of something. There is a big difference between being number one contender and being an actual champion. When the former champ handed over the belt, the second it left her hand, the second it lost all credibility. So you feel bad about holding the belt because of the out come of some matches not being to your liking, what gives you the right to hand pick the next one? So she's the number one contender? I mean, I agree that she deserves to be number one contender but as I said there is a huge different between being the next in line for a title shot than being championship material. You could have done this the old fasion way, put the title up in a one night mini tournament or a big battle royal, either way when you passed the belt along you threw not only your own and the new champ's credibility in the garbage, you also spit in the faces of everyone else in the locker room, and in all my 20 some odd years in the spot I have never seen such disrespect. Now, I don't know if she still has the title not, I could care less, for just like Terry Bollea and the (ooc: as coined by Vince Russo) Hulk Hogan Memorial Belt, that belt (AFW title) don't mean shit."
She looks around for a moment before continuing as the fans were being volcal on who they think should be champion, which she smirked. "A lot of those names I do agree with as ones who are worthy of getting a title sot but at least lets give them something of importance to fight for. I'm sure our general manager Cassandra would agree that there is a lot deserving gals on roster that deserve the chance and I wouldn't mind meeting with her later and going over a little something I have in mind." She gives a little grin before continuing.
"As for right now, I think I'll sit back and watch two up and comers that I" before she can finish, Riding on the Wind (Fozzy remake by Desperate Oasis) plays and Sion comes out, she gives him a grin 'this should be good.' she hands him the stick.
"I know what you're going to say so I'll say it for you, two that you know are more championship material than the current 'champion.' Though only is slightly more than the other, and I think you know who I'm talking about."
He tosses the mic back to the ring announcer as OLP's Whatever starts up. Daisuke comes out, having avoiding the attention of Yatori just barely. She gets in the ring and looks in Kei's direction and Kei gives her a smirk as she gets out of the ring and takes a seat at the announcers table.
"And we're joined by veteran Kei Maxwell, as Daisuke Kamiya and her manager Sion prepare for her match tonight. Daisuke victorious in her debut, this should be a great contest." One of the announcers said as she said down and put a head set on.
"You're right about that, though I wouldn't mind seeing Sion and Yatori's manager getting involved and making it a tag match, bet they'd add a lil something special to the match, but that's just me, this should still be great even if it is one on one."
Meanwhile Lita and Rebecca watch on from a monitor. Lita seemed to agree with what was said, Rebecca didn't seem to care.
Last edited by 589 on Fri Jan 22, 2010 10:35 pm; edited 1 time in total
_________________
Quick roster info:
Want more detailed information and maybe unlock hidden characters?:
Yatori came in with a rather grim and resigned look on her face. I sign up for the hentai division and plan to stay there to avoid blood feuds, but blood feuds don't want to avoid me...

She clambered into the ring without her usual jacket. Instead she carried a microphone. Damian knew what she needed.

Yatori agreed to this match because her opponent's surname interested her. What was Kamiya Daisuke's relation to one Kamiya Tai of Sex Wars?

But now another matter had come up. Best to deal with it now.

"Kei-san," Yatori began, "I understand you are entitled to your opinions. But Masane-san is going through a lot of stress." She frowned. "Maybe you think that makes her a weak wrestler. But that weak wrestler put me in a coma for several days. I'm not the toughest or strongest wrestler around, but I didn't lie down for her to just pin as she pleased. That's for my hentai matches, of course," she chuckled before turning serious again.

"You've had your time in the spotlight, Kei-san. So you understand full well that the spotlight doesn't always stay on you. And that it's hot like you wouldn't believe. Heatstroke's a nasty thing. Maybe you need to cool down a little."

Yatori huffed as she flicked the mike off. It was her first ring announcement, not her best but fine by her. She threw the mike into the crowd, where she knew Damian lurked. Thinking of him made her smile. She'd heard the announcers joke about him and Daisuke's manager Sion joining the match. Sion wouldn't stand a chance against Damian, not even with Daisuke and Kei.
_________________
ACTIVE:
Friction:
Momoko "The Sumo Fan" Hanayama
INACTIVE
Friction:
Yatori;
Kawaii:
Haruka, Ort;
Alternative:
Harumi;
Tension:
Shizuka, Rena, Taka
RETIRED
Nina & Anna
Kei listens to what Yatori said and smirked at the part Yatori mentioned about heatstroke and in the tv headset she had on (which the arena crow could not hear) "It beats having to deal with the snow back home." Daisuke wondered if she should say something but Sion wasn't one to stay quiet as he got the one that Kei had earlier when she was in the ring.

"I will agree with you on one thing, she has had her time in the spotlight, but at least a little stress won't get in her way. If you ask me, Masane is just a lady version of Shawn Michaels (ooc: if mentioning of actual wrestlers is fround upon feel free to say some other person's name was mentioned, but I think you know what he is mentioning, if not the 'lost his smile' thing), one who doesn't want to wrestle the number one contender because she's affraid she'll lose. It makes what happened in 94 with the NWA title look like nothing. I would compare this to when Andre Roussimoff won a world title then took a pay off to hand it over to some one else, but I know there's more to this Masane/Kirin thing than what the world saw when the hot potato was passed. I will say this though."

He then glances over at Kei then looks in her direction. "I have a feeling I know what you want to suggest to Cassandra, and by some chance it's not, it won't matter. But don't worry, unlike some people around here I too care about the tradition this sport has and what it means to become a champion. Getting a belt handed to you and being told your the top dog, it's a toss up at best, but winning it and proving your the top dog, that's what it means, and since people like to go around naming people whatever, I'd like to take this moment and declare myself the manager of champions. Yeah those who I do manage so far don't have any yet, but it's just a matter of time before they do."

Daisuke grins but then takes the mic from him. "I know you mean well Sion, and you're right, some day Lita and/or me will win gold here, but when it happens I'd like to after proving that we can contend for it rather than just go for it right off the bat just to prove a point that the current champion still has to prove herself."

"Yeah, you're right Dai."

"No, we both are. Do you know why we came here? The AFW, from what I was told about, is a really 'unique' place, a bit fucked up at times, but full of fighters that want to make a statement, and that's how I like things. If I wanted things that were dull, boring and predictable I'd go somewhere else but this is where the action is and I want in on the fun. While there did happen to be some controversy before we got here, it just makes things more intereting, don't you think?"

She then looks over at Yatori.

"One thing I have learned while training was to never underestimate your opponent. I know you have changed from since you started after your coma, but something tells me while you still know how to dance. While some people told me you'd be a push over and an easy win, no, I know you're more than that, even if it's not something you've been for a while, I know it still lurks deep inside you, something like that would catch an average opponent off gaurd. My first match here that I won, it wasn't easy, and I know this won't be either. So how about it, show me whatcha got? She tosses the mic back to Sion, almost hitting him in the face and she holds her hand out to her smiling.



After Yatori decides to accept it or not, Have Some Fun plays. Sion and Dai both take their eyes off of Yatori and wonder what's going on, while Kei seems to find this amusing. "Never a dull moment here it seems, always something going on."

It finishes playing once and as it loops around someone can be spotted walking down from one of the sections of the lower part of the crowd, and going with a purpose. When she gets down to the floor level she hops the part that seperates the floor area from the section that would elevate upwards. She then walks through the floor part of the crowd, not taking her eye off the ring. Without even looking away she snatches the mic that Yatori tossed into the crowd earlier from whoever caught it and looks at all who's in the ring. She stops at wear the crowd barrier is, still looking at them. She does appear to have somewhat of a cult following-like crowd support. Not all of them but those that know could make it seem like everyone's doing it.

One of the announcers is able to see who it is. "This should be interesting. Rebecca Welsh hasn't had a match yet, but she has been seen getting very close looks at a few matches lately. Could she finally brake her silence?"

"If she does good thing I came prepared." Kei jokes as she pulls out some ear plugs. "If she's as loud on the mic here as she is when she sings I don't want to damage my hearing. She's good at it but sometimes these kids go too hard."


At that point Rebecca was in the ring after hoping over. "For awhile now I've sat amungest the people, I've seen titles being handed around, I've seen good matches, I've seen decent matches, I've seen shitty matches, I've even seen something called sex wars. I've seen you (looking at Dai) put my old teacher to shame by using your head." Daisuke does turn to Yatori and does softly tell her that even she admits it was an extremely closely fought win as Rebecca continues and looks at Yatori "I've seen you dropped on your head, (she then looks at Kei) I've seen you waving your head" she then looks at sion "I've seen you giving head."

Daisuke looks like she's going to fall over laughing as Sion doesn't like what was said. "The point is I finished my little evaluation of the place, and what do I think? Well, I think it kinda sucks. Former AFW Champion and current afw champion talking about who should be champion, maybe making out behind closed doors for all I know. A former world champion" glancing at kei slightly "reminding us about tradition. Her son who wants to escape his mommy's shadow by managing future champions, and two girls who you can't pay me to watch in a porno." She looks at Dai "You got lucky" she then looks at Yatori "and you just flat out suck. Hell I could beat both of you at once."

The one announcer is about to comment but then sees Kei is looking at what is going on in the ring but now for some reason is eating popcorn.
"Where did you get that?" Kei looks over and points to the popcorn guy that selling some near by. "Did you want some? I don't mind sharing."
_________________
Quick roster info:
Want more detailed information and maybe unlock hidden characters?:
Yatori frowned as Daisuke and Sion's reply. And this is what I get from taking things seriously, she scolded herself. Even though I wasn't even interested in a serious fight tonight. Ya-chan, you should stop letting your Sicilian temper get the better of you...

Rebecca's attempt at rap (Yatori had no idea what genre her opponent was supposed to be from) didn't lighten up the Mafiosi's mood. "I didn't get dropped on my head," she corrected almost pedantically. "I got my head driven into the mat."

But it was Becky's "you just flat out suck" statement that truly irked. Yatori sighed deeply. "And this is why I migrated to the Hentai Division," she told the ceiling in a long-suffering tone. She gave Rebecca a long look, a small smile and a "Just for that, I'll make you cum in front of all these people. Okay?"
_________________
ACTIVE:
Friction:
Momoko "The Sumo Fan" Hanayama
INACTIVE
Friction:
Yatori;
Kawaii:
Haruka, Ort;
Alternative:
Harumi;
Tension:
Shizuka, Rena, Taka
RETIRED
Nina & Anna
"I'd like to see you try. I'll just drop you on your head and the hentai division can have its way with you, or how about I small it (holding a guitar) upside it instead?" Rebecca doesn't look amused, though Daisuke gets an idea. "Since you mentioned it, how about try you luck against us two?"

Kei looks then stands and turns a switch on so hear headset gets connected to arena speakers. "As much as I like the sound of both thoses things, I've got a better idea, let's have a good old fashion battle royale, you three, let's toss the guys in as well, and one other person, doesn't matter who just to make even numbers. Well the only other person I see here is" before she can finish the referee hides behind Sion, remembering how Kei picked on him the the last time she had a match, and the other announcer that she is with shakes his head quickly, also not wanting to get involved."Awwww, well I guess a 5 man will do fine."

Rebecca rolls her eyes then looks back at Yatori "I honestly don't give a fuck. I don't care if it's here or out in the parking lot. Your ass is mine."

Daisuke looks a bit confused now "Uhm, I though we were suppose to have a one on" Rebecca shoves her down by palming her face and forcing her down."Nobody asked you."
_________________
Quick roster info:
Want more detailed information and maybe unlock hidden characters?:
Yatori rolled her eyes at Rebecca's hot rejoinder. She'd seen far scarier things out of Damian when he was being subtle. The guitar would be trouble, but she was sure Damian could steal it while everyone was busy ogling their nearly-naked bodies.

"Look, Becky-chan," she told Rebecca, "Can you get in line? Dai-sama-" She had to grin. Great Master fit Daisuke well. "-and I go first. Come back- oh, say, two weeks from now, but after the battle royal."

Though not one for schaudenfroia, Yatori was going to so enjoy the looks on these people when they finally saw her often-invisible manager.

"Just remember," she told Rebecca, "Your pussy is going to be mine. Mine, mine, mine."

Temper, Yatori, temper...
Last edited by 123 on Fri Jan 29, 2010 9:34 am; edited 1 time in total (Reason for editing : I spaced out. Corrected it.)
_________________
ACTIVE:
Friction:
Momoko "The Sumo Fan" Hanayama
INACTIVE
Friction:
Yatori;
Kawaii:
Haruka, Ort;
Alternative:
Harumi;
Tension:
Shizuka, Rena, Taka
RETIRED
Nina & Anna
Daisuke gets up and doesn't look too trilled with what's going on and before Rebecca and respond "Get room then!" she yelled at(not holding a mic, fell to ground when she got knocked over) them before before leaving, having some regrets of coming here. Rebecca sees Dai leave then looks back at Yatori. "Dorry, I don't swing that way. Go suck your boyfriend's 2 inch dick if you're going to be so horny." She drops her stick and starts to head out as well. Sion sighs as Rebecca touched the floor leaving it just him and Yatori. 'Does this mean I have to fight her now?' she asked himself and sighed.

Kei doesn't like what just took place. "If those two girls were my kids I'd spank em back to the stoneage for their mouth...... Wait on second though not Yatori, she might like it." She was half joking half serious.

"Well which ever the case may be it looks like we'll be waiting a bit longer to see Daisuke and Yatori get it on." The other one mentioned.
Last edited by 589 on Sat Jan 23, 2010 5:56 am; edited 1 time in total
_________________
Quick roster info:
Want more detailed information and maybe unlock hidden characters?:
Yatori grimaced. First Daisuke left. No fault of Yatori's, though she felt otherwise. Then Rebecca, good riddance. There went the match. All that was left was-

"If those two girls were my kids I'd spank em back to the stoneage for their mouth...... Wait on second though not Yatori, she might like it."

"I heard that!" Yatori returned with much the same mixed bag of emotions. "And I don't like spanking!"

"Well which ever the case may be it looks like we'll be waiting a bit longer to see Daisuke and Yatori get it on."

Yatori eyed Sion rather... plaintively. "Can you sub in for Dai-sama?" she asked. "It's for the fans." After gesturing, she clasped her hands together. "I promise I won't do hentai..."
_________________
ACTIVE:
Friction:
Momoko "The Sumo Fan" Hanayama
INACTIVE
Friction:
Yatori;
Kawaii:
Haruka, Ort;
Alternative:
Harumi;
Tension:
Shizuka, Rena, Taka
RETIRED
Nina & Anna
'Do they really want that?' he thought. As he gave the situation some serious thought, Kei whispered something to one of the production guys and a version of the theme from Final Jeopardy
*** [url:3k56u7yu]http://www.youtube.com/watch?v=6PVbC-0xME4[/url:3k56u7yu] (hear it in action)
[url:3k56u7yu]http://www.youtube.com/watch?v=CL8SuU7lZN8[/url:3k56u7yu] (hear on its own) ***
to which it disrupted his train of thought and it looked over at Kei and rolled his eyes knowing she had something to do with it though she claimed innocence "Wasn't me
" title="Very Happy" />"
'Oh lord' he thought. Though he eventually gave in "Fine." He jackets his jacket off and tosses it aside, though it lands on Kei's head. "Ok I'll give him that."
_________________
Quick roster info:
Want more detailed information and maybe unlock hidden characters?:
Yatori wouldn't have minded wrestling Sion. but what she was really aiming for was-

A diplomatic throat-clearing managed to make itself known at ringside despite the noise of the crowd.

Damian Ragia stood just outside the ring. He also stood at 6'0. And looked to be built like a football player. Or a brick wall.

And he was looking at Sion with a gaze that said "If you take sexual advantage of Yatori for this, the crabs in the bay will have a feast tonight. Do you understand?"
_________________
ACTIVE:
Friction:
Momoko "The Sumo Fan" Hanayama
INACTIVE
Friction:
Yatori;
Kawaii:
Haruka, Ort;
Alternative:
Harumi;
Tension:
Shizuka, Rena, Taka
RETIRED
Nina & Anna
Page 1 of 6 • 1, 2, 3, 4, 5, 6



Similar topics
---
Permissions in this forum:
You
cannot
reply to topics in this forum