Who is online?
In total there are
46
users online :: 9 Registered, 1 Hidden and 36 Guests :: 2 Bots
Kelsea
,
killcarrion
,
LunarWolf
,
Mystery Dragon
,
Nelv
,
Old_Man_Tai
,
Saintezis
,
shanecawf
,
Tarantulust
Most users ever online was
390
on Tue Jan 02, 2018 2:02 pm
Champions & #1 contenders
Avalanche Plans!
Sat Oct 13, 2018 7:27 pm by M.J.Caboose14
Hi all! I wanna give Himeko a place at Avalanche!
Things I am looking for, but am not limited to!
- A fellow big girl
- Creative match type
- Could be minimal or detailed build up
- For it to be fun!
Message me if you are interested! I will be a bit picky about this though because I've struggled with most of my PPV appearances and I want to change that!
Comments: 1
Open invite Friction/Tension hardcore promo
Mon Oct 01, 2018 5:49 am by Lotuswarrior
Samantha Fox
is looking for a match where she can cut loose a bit. So I decided for her to throw an open invite match to both Tension and Friction roster members. So the match will be a first to 3 tables match. There are a few special rules though.
1. No repeat moves through tables. Basically a different move must be used to score a point through a table. If Samantha is choke slammed through a table, then a second chokeslam through a table won't score you a point.
2. 30 second break between …
[
Full reading
]
Comments: 2
Matches for two of my characters
Wed Oct 10, 2018 2:24 am by kiranar
Looking for matches for Celeste doing hardcore or regular matches and they can be spooky themed due to the time of the year. I also have Emerald Moons who will do single or tag matches.
Comments: 0

Standard Match
Victory Conditions: Gained by either pin, KO, or submission from the opponent.
Normal rules apply.
Athena Wonder had been in a losing streak lately, and while it's understandable considering her age, she still had a lot going on in her, and she would not let her loses stopping her momentum in this wrestling promotion. Tonight, she would be facing an opponent who, like always, younger than her, and she would show it to everyone that the Eighth Wonder still got it while in the ring.
Wearing her skintight wrestling outfit that accentuated her figure and gave a large emphasis on her generous bosom and meaty derrière, Athena was already waiting for her cue to make her entrance at the gorilla position. Once her entrance music was played, she stepped out confidently onto the ramp, greeted by quite an amazing pop from the crowd, and the blonde-haired wrestling mom flexed her arms, posing and giving her body quite an emphasis to the crowd to give them something to gawk at.
Athena Wonder:
Then, she walked down the ramp, heading over to the ring, giving some of her fans high-fives before she finally arrived. She stepped onto the steel steps before entering the ring through the ropes. She would pose a little in the ring, walking around before she unclasped her cape so that she could wrestle unhindered.
Right after that, Athena would head over to her corner to wait for her opponent to show up. Whoever her opponent was, she was certain that she would be able to take her on.
Hayley hadn't been in Friction for quite some time, it seemed that there was a lack of interest for the amazonian party girl. Strange considering that in Tokyo Ms Valeria was the talk of the night scene, having gotten a large following on social media. Still Hayley kept up her regime, you needed to look good after all. But Hayley was pleasantly surprised by the notification that she was scheduled for a match tonight, a great chance to show the people of Tokyo thanks for supporting the pink haired amazon. Currently Hayley was lounging on a bench in a locker room, taking a selfie of her prone form from the neck and her pink locks of hair draped around her. A stage hand informed Ms Valeria that it was her cue to make her way to the ring. Having performed some pre match stretching before hand Hayley was good to go.
Though she took one last look at her attire for tonight.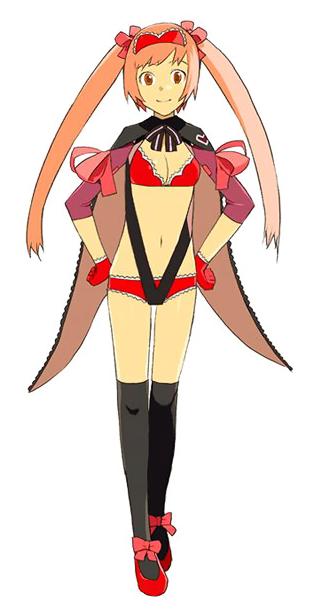 Ms Valeria would make her way to the entrance ramp as a thin black curtain would drape the entrance, Hayley would stand in the middle of it. A white spotlight would then be targeted at the curtain, revealing the shadow of the party girl. The song called Heavenly Star by the Genki Rockets would start to blare out from the speakers. Once the chorus line hit Hayley would burst out through the curtains, revealing her to the entire audience in attendance tonight. To a very roaring applause, many a person likely talked and danced with Ms Valeria in a nightclub. Where she shined brightly, Ibiza's party emissary waved happily to the audience.
Stepping down the ramp, chest shaking to the beat of the song. Hayley glad handed many people, stopping to take a couple of selfies and kissed a cute guy on the forehead for good measure. Ms Valeria took a look at her opponent for tonight, wow. Hayley hadn't seen such a well built older woman before, if there was one complaint about Ibiza it had a tendency to be a destination for young people. Hence why save for Hayley's own Mother she'd not seen someone akin to Athena.
Hayley would promptly enter the ring, getting to grips with the height of Athena in comparison to her own. This would be enticing, Ms Valeria noted the Japanese tended to be short, so it was good to encounter someone of a similar build. Hayley's eyes briefly glanced at Athena's chest, it certainly surpassed Hayley's own. But damn she looked like something out of a comic book, being a model on the side Hayley admired the scenery. She would grin and wave cheerfully at her opponent for this evening.
"Hiya! Name's Hayley! You look like fun, let's give em something to remember!" Hayley shouted with a thumbs up, she would then settle into her stance. Inside her heart already pounded like a drum, what would occur here tonight?
_________________
Check out my wrestlers
here
, but PM me for match requests.
Solaire of the AFW.
Well, if there was one thing Athena could describe about her opponent, it would be that she was cute, with her choice of clothing and the way she acted as she moved down the ramp, heading over to the ring. From what she could see, this Hayley girl was definitely younger than her, though to be fair, many of the girls here were younger than Athena by many years. Still, while Athena might be in her forties, it didn't mean that she wasn't able to compete against the younger, much sprier girls here. If anything, the mature woman honestly believed that she had gotten improved compared to herself when she was younger.

"Ah, thank you, dear... I'm Athena, by the way..." Athena told her name to the younger woman. Though she believed that Hayley might have heard her name before, even if in passing. She was quite famous in the past, so she thought that some among the younger generation wrestlers might have recognized her name. "If your definition of fun means winning, then I'm sorry in advance that you may not get your fun from me, but let's enjoy ourselves while we're at it," she said as she would take a stance, preparing herself to clash with Hayley.

The bell was rung, signifying the start of the match. Athena would begin by moving aside, keeping her distance from Hayley, arms extending out, ready to pounce at any moment. And then, she would rush forward, looking to lock up with Hayley in order to see if the younger woman had enough strength to take the Eighth Wonder on. She would try to push her with everything she got, her muscular arms straining under pressure as she would try to overpower her opponent in this lock up.
Well Hayley had to admit Athena was probably the most well built adult woman she'd ever come across, tall too. Maybe even taller than the party girl? Awesome, Hayley probably couldn't see her busting her moves in a nightclub. But walking the beach? Wooo yeah. She'd turn heads and probably make the girls green, Hayley wasn't the one to get worked over it though. Cause she was all about make it a good day in the end, truth be told Ms Valeria didn't know anything about Athena. After all she was still a newcomer to wrestling proper, Hayley knew there was people that were professionals in this field though. Hayley was keen to become one someday, at the same time promote her Mother's clothing series. Now here she was about to grapple with another big girl, Athena was pretty polite there. Good, Hayley made a mental note to probably ask for a selfie together afterwards.

"Oh? Well I'm just here to play with all sorts lady and boy did I hit a jackpot today. But don't worry, cause I ain't just gonna let you win. Where is the fun in that? The people came all the way to see two awesome ladies duke it out, and I ain't a party pooper." Hayley said, leaning forward somewhat as she made eye contact with Athena. Hayley usually wasn't one to be serious, but she could tell Athena had something behind her on this one. Least Hayley could do was try to show she was a good sport to all.

Now the bell rung, it was dancing time. Hayley was already moving forward, not deterred by Athena's movements. Hayley could play coy, but here Hayley wasted no time in trying to get close to Ms Wonder. Athena however was seemingly intent on meeting the party girl for a lockup. To which Hayley gladly excepted, time to see if she had the brawn to back up that rack of hers. And Athena was already proving that belief correct. Hayley actually staggered for the smallest of seconds, but the party girl quickly recovered as she would prove she wasn't made of glass. Ms Valeria kept up a smile as she clashed with this powerful woman and tensed herself for the strain, doing great in this opening of the bout. After all it wouldn't make for a good party if the hostess couldn't please.
_________________
Check out my wrestlers
here
, but PM me for match requests.
Solaire of the AFW.
Locking up with Hayley, Athena would push the girl back, exerting her strength while grappling her. While Hayley actually staggered for a bit at the beginning, she regained her bearing and pushed back, and now the two of them seemed to be in a stalemate. But, being the more experienced one in this field, Athena knew exactly what to do next, and she would like to see if she could gain leverage over her younger opponent.

Making use of her hips as she grappled with Hayley, Athena would twist her body, quickly looking for a solid footing for herself as she would try to suddenly push her opponent down rather than back. Then, she would transition the lock up into a side headlock, with her clutching the hand of the arm that she would wrap around Hayley's head, looking to give it a little squeeze.
Hayley was told to respect her elders, she certainly did. Athena was probably going to be no different, this lady was even more stacked than some women Hayley had met. Could probably turn more heads than Hayley too, was the party girl jealous? Just a little, but more because of boob envy. Why wasn't Hayley stacked like that? But the party girl had other issues, namely that Athena could match the innate strength that the Ibiza amazon possessed. Hayley's smiling face was already showing some beads of sweat, even as she maintained her smile. No doubt many people were taking pictures of these two tall and busty babes locked up against each other.

Still Hayley was green, Athena probably reckoned she could lead Hayley by the nose. Testing the waters further before Hayley could react the MILF was able to shuffle about in the tie up, taking Hayley from the test of strength into a side headlock. But there was at least one upside, Hayley was getting pretty close to that very ample bust of Ms Athena. Hayley went wide eyed but quickly let out a grin, getting a nice view that many a man and woman would probably be very eager for.

Ms Valeria was aware she was in a bad spot currently though. She could only enjoy the view for so long before Athena got another idea. Hayley decided to take a risk, using her free hands Hayley would spank Athena's ass before suddenly trying to shove her forwards and send Athena towards the ropes. Time to try and see if the Wonder could run the ropes in a timely manner~
_________________
Check out my wrestlers
here
, but PM me for match requests.
Solaire of the AFW.
Keeping Hayley's head trapped in the side headlock, Athena would give her head a hard squeeze, looking to weaken the younger woman with the simple move. Even she could tell that in this position, Hayley's face was rather close to her bust, a fact that she didn't care too much about, considering that she had been in this industry for too long already.

But, what she didn't expect was having her meaty butt spanked by Hayley. While it didn't hurt, it certainly caught her off-guard, which allowed Hayley to push her forward, sending her running towards the ropes. But, Athena wasn't an amateur in this, so as soon as she reached the ropes, she would quickly spin around and drape her arms over the top rope, stopping her momentum altogether and preventing herself from rebounding back to Hayley.

"Heh..." Smirking at Hayley, she tilted her head as she would remain at the ropes for a bit. "A little naughty, aren't you? Perhaps you're that eager to be punished, hmm?" The mature woman said as she would step away from the ropes, taking powerful stride as she would close in towards her opponent in order to have another clash with her.


Similar topics
---
Permissions in this forum:
You
cannot
reply to topics in this forum