Who is online?
In total there are
44
users online :: 17 Registered, 0 Hidden and 27 Guests :: 2 Bots
acuya
,
beachking
,
Cicilia
,
Daaharu
,
Harrier
,
ja15ke
,
killcarrion
,
LunarWolf
,
M.J.Caboose14
,
Maxy
,
Nelv
,
Old_Man_Tai
,
SimplyMoon
,
skip-stop
,
USLMAN
,
Vcom7418
,
Yori
Most users ever online was
418
on Tue Jul 30, 2019 9:51 am
Champions & #1 contenders
I am doing a thing
Mon Sep 23, 2019 2:00 am by LtLukas
Comments: 0
Ready for New Threads
Fri Sep 13, 2019 6:33 am by daemongirl
Comments: 1
Don't call it a comeback. (Actually, do.)
Wed Sep 11, 2019 11:59 pm by MissTiff
Hello everyone.
Been a while since I tried my hand at this site, then life got in the way. I'm back, though, and I'm looking to get either of my two characters into some brawls. Match-wise I'm down for pretty much anything, though Stella and Jessica might have different things they're best suited for - Jessica's more heel-ish while Stella's (most of the time) a purebred face.
Anyway, being a bit new to this whole thing despite my ancient account, I'm up for most things to dip my toes
[
Full reading
]
Comments: 3
Page 1 of 6 • 1, 2, 3, 4, 5, 6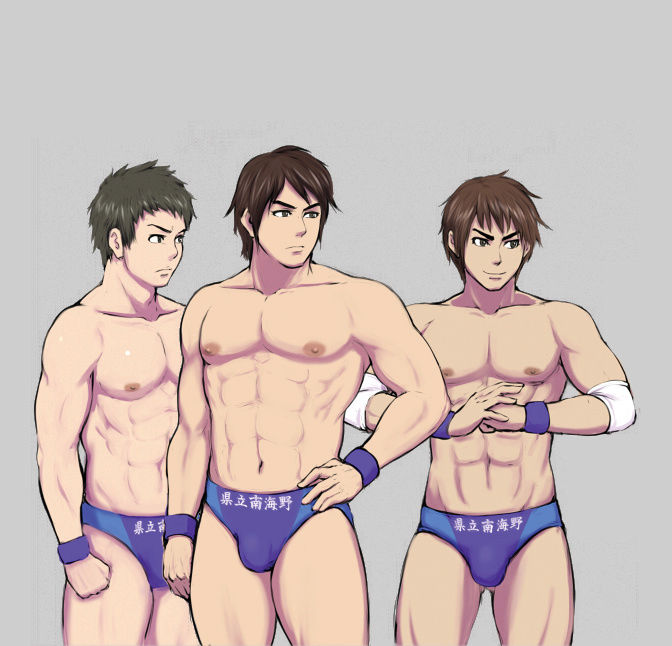 Trent Masters (Middle)
Trent Masters met Alaina Sanders backstage a couple of weeks ago, they started off with a friendly conversation and whilst it still remained friendly throughout, there was a slight difference of opinion between the two wrestlers. Trent thought he was better while Alaina thought she was better. The two had a light hearted argument before Trent saw it fit to issue a challenge to the Amazon, challenging her to a 2/3 falls bout in the Tension gym. Alaina wanted to wait till she officially joins Tension but Trent was adamant to wrestle the Former Entropy champion before that time, Alaina accepted but adding the condition that should Trent lose, he had to give her a body massage and take her out to a beach day. Trent happily accepted.
Alaina was right about one thing, Trent had never wrestled a woman like Alaina but Trent wanted to test himself against the best. The British male wrestler was back in the mens locker room, having just showered and changed into his blue wrestling briefs, choosing to be barefoot. He did some light stretches back in the co-locker room as he got warmed up for his private match with Alaina. The other members of the Dominion weren't around, he wanted to face this trial alone. Heading out to the gym room, he made his way towards the gym ring he was feeling calm and confident as he rolled under the ring ropes and made his way towards the middle of the ring, bouncing on his heels and shaking his arms loose before adjusting his blue briefs as he waited for his new friend and rival.
Alaina was intrigued by Trent. She had a bad run with men in wrestling... although Bryan was more because of circumstances than him being a bad guy.... so a chace to test herself and continue to get to know him was a welcome thing for Alaina.

Today she was clad in a pink bikini bottom/breif, matching sports bra along with white boots taking a page out of her friend Misaki's cool choices. Alaina walked out into the gym and smiled at Trent as she waved, nodding to him. "Hey Trent, I am ready whenever you are. I hope you aren't too humbled when ya get beat by the amazon." Alaina said with a wink as she stood in the center of the ring stretching. Her smile grew a slight bit as she looked Trent over. "Damn... looking good." She said aloud, a bit louder than she expected leading to a slight blushing of her cheeks.
Trent awaited his opponent, even though he was serious about beating the Amazon he was still light hearted about the match for now, the two had a semi-serious trash talk session leading into this match which sort of made Trent excited for this wrestling match. He was not treating this as a grudge match that he had to win but he was not going to let Amazon beat him in their first ever encounter. He did some stretches in the middle of the ring, limbering up before Alaina finally arrived.

She looked absolutely stunning, dawning pink briefs and a pink sports bra with white boots. It was a nice contrast with his blue and white attire, blue vs pink classic inter gender wrestling colours. Trent smiled at her, nodding back at her as she made her way to the middle of the ring and explaining she was ready whenever he has. "Well you showed up, I am surprised. Don't worry, I am not ready to lose at all! We still agreed on 2/3 falls? Not like we'll need them" he said as he approached her, catching full on what she said which made her blush.

"Haha what as what? Sorry, didn't quite catch that. Although, I must admit, you do look stunning in Pink" he said as he stood face to face with her.
Alaina blushed a bit as Trent overheard what she muttered.  "I said that you look good, showing off your body, confident and fit.  It is good to know you think I look good too.  I think I am better in leopard or tiger print but maybe at the beach when you are massaging me I can show you a really nice outfit."  Alaina added with a flirty wink and slap to her own backside.  

Once they were ready and the bell rang Alaina lunged in for a grapple with the bigger man!  She was going to give it her all initially going to try to crash into Trent ad they locked up, hoping to make a statement by overpowering him!
Trent notice the blush as he smirked, one hand on his waist as he waited for her response. He laughed as she admitted that she was admiring Trent's good looks and physique and in turn, Trent returned the favour as he admired her body and her outfit as well, which certainly made her look even better and brought out her pretty features as well as her body figure.

"Oh really? I think pink suits you. Plus, it makes a good contrast with my blue" he said, adjusting his briefs. "I would love to see what you have in store for when you massage me" he winked back. They agreed to start the bout and Alaina came lunging in. Trent was a bit surprised at her strategy, she locked up with him in a straight up grapple as the two went head to head in the grapple. Trent pushed her back but Alaina was no slouch, the two jostled around and were pretty much equal in the grapple. "Arghh Alaina?! Ngh Y-you....you're good" he moaned, struggling.
Alaina and Trent crashed into one another and while she was doing her best he was incredibly well built, powerful and a bit heavier than her! While she showed her own power she was slowly beginning to lose out as time went on. "Y-you too.....ngh......" Alaina said through her grit teeth, trying her best to try to hold him off. As she grew closer to the corner she had an idea. Alaina fell back, kicking a foot up against Trent's sternum as she attempted to turn her losing situation into a monkey flip that sent Trent flying into the corner back-first!
The two entered in a hard fought grapple. Their bodies pressed against each other as Trent and Alaina went head to head. Trent was surprised at the Amazon's strength, she was no slouch. He had to give it his all to in this grapple and for a while it was quit even until Alaina started to give out, she was being pushed back bit by bit towards the corner turnbuckle.

"Argh, come on Alaina! You're better than thi-WHOOAAA" before Trent would finish pumping her up, Alaina cleverly fell backwards and used Trent's momentum against him, pressing her feet up against his abs to fling him over towards the corner turnbuckle in a monkey-flip. His back crashed against the turnbuckle as he slumped down, moaning in pain.
Alaina managed to flip the bigger more powerful man over to great effect! She got to her feet and knew she had to act fast to capitalize on this before Trent was up again as well. Alaina pulled him up and tried to hook both his arms as she got him on his feet but kept him bent over. Alaina grunted as she lift him up and tried falling back, attempting to plant his head off the mat with a double undertook DDT! She knew that would daze him pretty good and leave him open for her to inflict even more punishment if all went according to her plan.
Trent was surprised by Alaina's quick feet. He was so focused in the grapple and pushing her back, he didn't realize that she might have some other tricks up her sleeve. After flinging the leader of the Dominion over her in a monkey flip, Trent's back crashed against the turnbuckle and he slumped onto his shoulders.

Alaina saw her chance and quickly grabbed him by the arms, hooking her own arms under his to pull him up and keep him doubled over before dropping down on her butt to slam Trent head first into the ring mats.

*THUD*

'Urgghhh!" he cried out after the impact, rolling from under the Amazon and shifting onto his belly whilst clutching his head.
Alaina planted Trent's skull to the mat with her double undertook DDT, and quickly rolled him over onto his back while keeping control of one of his arms. She pulled it up and wrapped her legs around his head while keeping control of the arm, attempting to lock in a triangle choke! Alaina squeezed as hard as she could with her legs, keeping control of Trents arm with her right arm. She did a quick flex with her left arm before hammering her fist down into Trent's chest for a quick strike!

"So have you realized that you bit off more than you can chew yet handsome?" Alaina asked as she gave it her all int his hold, trying to get a quick submission first fall against the well built Trent!
Page 1 of 6 • 1, 2, 3, 4, 5, 6


---
Permissions in this forum:
You
cannot
reply to topics in this forum