Champions & #1 contenders
Marilyn Martinez is searching for a challenger!
Tue Oct 16, 2018 6:43 am by WrestleMind
My new character,
Marilyn Martinez
, is looking for someone to face in her first match. 
My top preference would be for her to face a strong heel. Though I'm open to hearing any other ideas.

Comments: 0
Avalanche Plans!
Sat Oct 13, 2018 7:27 pm by M.J.Caboose14
Hi all! I wanna give Himeko a place at Avalanche!
Things I am looking for, but am not limited to!
- A fellow big girl
- Creative match type
- Could be minimal or detailed build up
- For it to be fun!
Message me if you are interested! I will be a bit picky about this though because I've struggled with most of my PPV appearances and I want to change that!
Comments: 1
Open invite Friction/Tension hardcore promo
Mon Oct 01, 2018 5:49 am by Lotuswarrior
Samantha Fox
is looking for a match where she can cut loose a bit. So I decided for her to throw an open invite match to both Tension and Friction roster members. So the match will be a first to 3 tables match. There are a few special rules though.
1. No repeat moves through tables. Basically a different move must be used to score a point through a table. If Samantha is choke slammed through a table, then a second chokeslam through a table won't score you a point.
2. 30 second break between …
[
Full reading
]
Comments: 2

Amaila Ludwig
The Blondeshell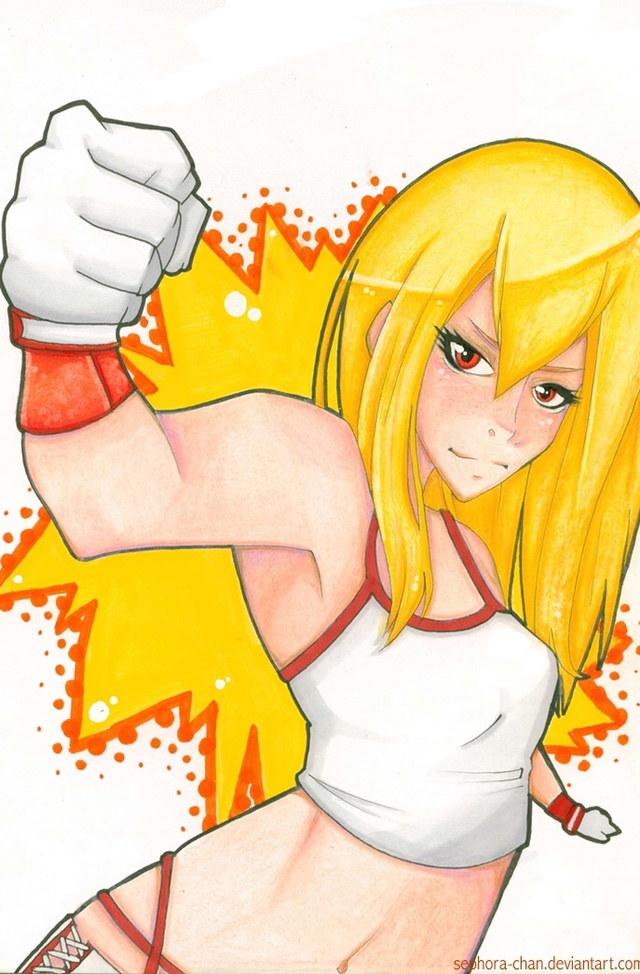 Name:
Amalia Ludwig
Alias:
The Blondeshell
Gender:
Female
Age/Birthday:
21, September 13th, 1997
Eye Color:
Red
Hair Color:
Blonde
Height:
5'8"/ 173 cm
Weight:
None of your business
Nationality:
German
Alignment:
Tweener
Entrance Theme:
Cold Kingdom- The Light
Wrestling Information
Strategy:
A Jack of All Trades- She's a striker, so her entire strategy involves brute strength but with her training in the martial arts, her father taught her a few styles but mostly the basics, she uses that to form her own style. Accompanied with powerful strikes one can expect chops, reversals, or even throws in her repetuare.
Personality:
Amalia tends to be a loose canon when she's pushed, she has a tendency to go a bit over board and has issues with "playing nice" with others. Her goal comes first and she's liable to crush just about anyone or anything that gets in her way. She has a major weakness for her loved ones especially her mother, that's a soft spot she tends to leave open and others take advantage of.
Style:
Mixed martial artist-Striker
Favorite Match Type:
Undecided
Statistic's:
Endurance:★★★★
Strength:★★★★★
Speed:★★
Defense:★★★
Technique:★★★
Signature Move(s):
-Knife Wound:
Repeated Knifechops to the ribs or collarbone areas
-Snap DDT
Finishing Move(s):
-Bombs Away:
With this finishing move, Amalia bends her opponent between her thighs, hooking the crooks of their arms behind their back. She then kicks her leg back and falls backward, using gravity and momentum to bash their head into the canvas.
-Kiss to Darkness:
Placing her opponent in a frontal facelock, she then hooks one of her opponent's legs , she'll then lift them upside down and  sits down to drive them in between her legs as she falls.
-Lights Out:
Using her brutish strength, she'll rush her opponent with her fist reared back, punching her opponent with literally everything she has to knock out her opponent.
History/Biography:
Amalia is the illegitimate daughter of the De'Reigndhart's head, the youngest of the three daughters. She was born in the slums of Germany, where her father, a well respected martial artist, resided. He enjoyed the simplistic life, he wasn't the type to care for physical wealth or even power, his mind was on living for today and doing what he could with the time he had. Her father could never explain what brought her mother and him together but he always said it was full of love, that the two were madly obsessed with each other.
Amalia could remeber the days when her mother would come to visit, always bringing her a new toy or something from a far off country, it never occurred to her that she had sibiling on the other side of Germany but her father knew. Like always she'd spend a few weeks with her, times like those were her happiest, simple. All that would change one day. When she was nine her mother didn't come, her father and her sat on the porch waiting until a letter arrived, to this day she couldn't tell you what it said but her father seemed off in many ways. Thinking on it years later, she could only guess that she was busy with work and couldn't see her for a while.
Without that realization however, little Amalia would sit and wait, sit and wait with her mother never in sight. She understood then that she wasn't coming. Eventually her father remarried, the woman would never fill the gaps like her mother could and it was something her father had come to expect.
With those coming days her father began to train his daughter, for what purpose? He never told her, it was just day in and day out training and then school, she worked hard with the basic's she'd come to learn, building and molding a style she could call her own. Amalia during those years only grew angry and more aggressive as time went on, her parents felt it was the blood of the De'Reigndhart's in her veins but maybe it was something else.
Over the next few years, when she reached the age of fifteen, she was entered in a competition which was massacred by the blonde monster, who held nothing back. Competitors left broken with the monster gaining satisfaction with each new victim she found. His new wife saw this as an opportunity, she had all the assets of a De'Reigndhart, the will of one too, maybe she could use this to bring herself their fortune.
Behind his back and against his wishes, her stepmother began to whisper sweet nothings into her ear, feeding her lies and the like for her to want to reunite with her mother. "Your papa would be pleased with you if you managed to bring us into the family, Amalia." The poor girl always sought her fathers approval but on top of that she'd get to be with her mother again, the woman who loved her and always brought a smile to her face, it was a weakness the stepmother would surely take advantage of. "It will? Papa would be more happy if I could get mother to love me again?" Her naivety would be her undoing but she feel for the trap. Her stepmother produced pictures for her to follow, faces to remeber facts about each one. It seemed odd that she had them but that didn't concern her then.
She points to the second sister, Cicilia, the powerhouse boxer who left due to unknown reasons and has no contact with her family besides the skirmishes between her and the eldest sister. She points to the eldest sister, a master of her craft and an especially gifted businesswoman, this was Elfrida, the actual threat and one she'd have to crush or so her stepmothers whims told her. Then came the last picture of her mother, Amalia adored it with all her heart, it was a gift to her as she'd be given the pictures and instructions to follow.
The plan was to convince her father to allow her to go to Japan to fight in the AFW, where her sisters fought. She withheld telling him that she was going to earn her place in the family and make things right as a surprise but mostly to her stepmothers advice. He agreed with some convincing of course but now, she'd be well on her way to bringing her family back together.
Attire:
Ring Attire
Spoiler:
Casual Attire
Spoiler:
Bikini Attire
Spoiler:
Fun Facts:
-Amalia has a massive spicy craving, if she doesn't keep it in control, the craving literally takes over and she has to eat something spicy to keep herself in check.
-To this day, Amalia still hasn't apologized for breaking several noses in her last competition, they earned them, they should be grateful.
AFW Information
Record:0/0/0
Wins:
Losses:
Draws:
Championships/Accomplishments:
Friends:None
Allies:None
Rivals: None
Enemies: None
Crushes:None
_________________
The Scout's Roster:



Posts

: 316


Join date

: 2018-02-27


Age

: 22


Location

: Your heart





Similar topics
---
Permissions in this forum:
You
cannot
reply to topics in this forum