Champions & #1 contenders
Hi I'm back...I don't know where to begin...
Fri Sep 15, 2017 6:43 pm by Silentcoins
Hello everyone. I'm not too sure if anyone still remembers me, but if you do thanks.
I haven't been around for a long time for reasons I guess. If there's still anyone out there who wishes to play with me or to continue whatever we left off, please don't hesitate to reply.
It's kind of awkward just saying this.
Comments: 7
I'm Back
Fri Sep 22, 2017 11:57 am by RadiantKarna332
Alright, after a few days of hiatus, I'm back. I'm sorry for my absence, for those who have threads with me here.

Comments: 4
Looking for a match.
Wed Sep 20, 2017 9:27 am by Silentcoins
As the title says, I'm looking for a match up.
I can do just about any kind of match up, though I prefer one with some hentai elements mixed into it. Wonder if there's anyone interested in a match of any kind?
Comments: 0
Name: Rose Deltora
Alias: La Diabla
Sex/Gender: Female
Age: 39
Eyes: red
Hair: Purple
Height: 5'9"
Weight: 170 lbs
Nationality: American
Citizenship: Mexican
Alignment: Heel
Wrestling Information
Strategy: Offensive
Style: Uses strikes and locks
Type: Brawler, Technician
Preferred Attacks: Punches, kicks, locks
Preferred Matches: Normal and brutal matches.
*Update*
RPG Style Stat spread(out of 5 stars)
Endurance:★★★★
Strength:★★★★
Speed:★★
Defence:★★★
Technique:★★★
Finishing Move/s:
Iron Anesthesia: Uses brass knuckles to try and knock her opponent out cold while the ref isn't watching.
Crossface: She takes a famous late wrestler's move, laying on top of her opponent and locking her hands around her head to pull back hard until she taps out.
Hentai Moves: Doesn't really have any.
Entrance Music: "Gods gonna cut you down" by Johnny Cash
Characteristics
Visual Apperance: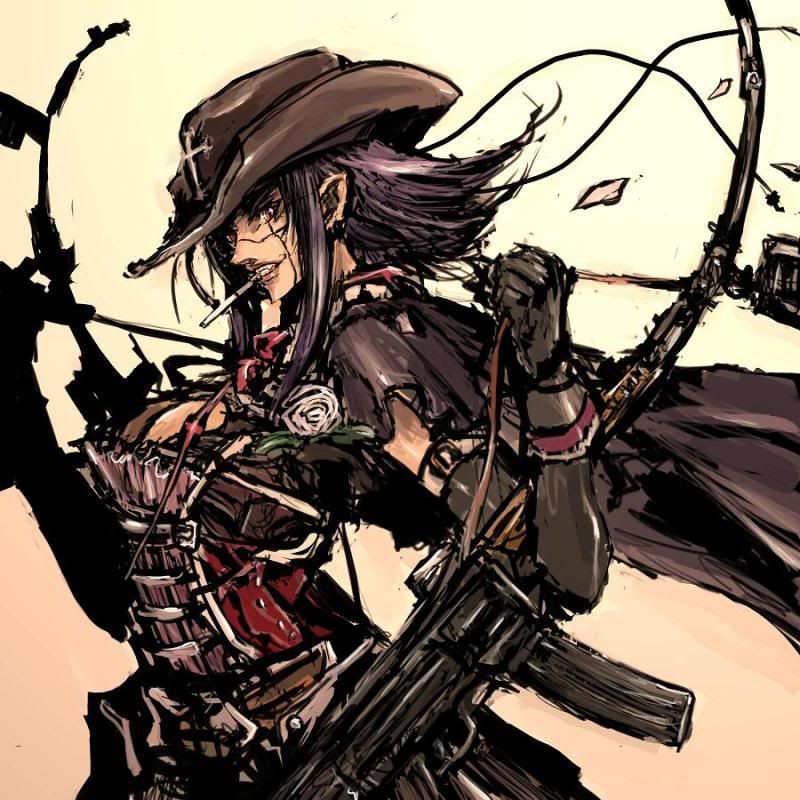 The pic of her was her back in her prime. Nowadays, she doesn't seem to smile for any reason. There's a couple scars along her face, and there's suspected to be much more on her body, however she never bares much skin to the audience.
Personality: Broken. Jaded. Fighting is basically all she has anymore, and she treats every match she's in like a barfight.
Past/History: Rose Deltora was a great bounty hunter, taking in the best, and the worst of the lawbreakers. She was hardened, cold, and more than happy to do her job. It didn't matter to her if the criminal was brought in dead or alive, so long as she got her money. One day, she was ambushed by the police. Her contracts had gained the attention of the authority and they tricked her with a fake client. She ended up being arrested, but due to the friends she had gained with her contracting business, her sentence was reduced to jail for ten years. Those ten years still proved to be hell for her, and when she finally got out of jail, she was a whole different woman. She no longer had the motivation to kill, or even try to take a contract. Her whole outlook on what was good and what was bad had changed when she was arrested.
She had successfully shut out the side of her that had made so many fear her, and keeps it suppressed through drinking and other means. She was losing money fast, however, and knew she needed to find a job. This proved to be difficult as all she knew was fighting. Eventually, however, she had gotten wind of a wrestling organization called Friction, an all women wrestling faction. Wrestling. She would be reduced from fighting with pride in her work to putting on a show for a crowd she could care less about. She had no choice, however, and signed up for Friction.
She chose the song 'God's gonna cut you down' more as a reminder of her history rather than sending a message out to her opponents, however the song seems to do that job quite good as well.
Attire: What she wears in the pic, minus the weapons.
Likes:
Drinking
Brawling
Smoking
Dislikes:
Women that dress cutesy, or slutty
People that are weak
People in general.
Fun Facts:
Rose has shut out the darker side of her, but still proves to be quite a dirty fighter. She doesn't seem to care about the concept of a fair fight, she just fights to win, nothing more.
Should Rose ever taste her own blood, her darker side could be at risk of awakening, if only for a little bit.
Rose sometimes comes out to the ring drunk. It dulls her senses, so she can take more pain, but on the other hand, she's not as focused. She can still hold her own, however, just not as much as when she's sober.
AFW Information
Record:
Wins:
Losses:
Draws:
Championships/Accomplishments:
Friends:
Allies:
Rivals:
Enemies:
Crushes:



Posts

: 6476


Join date

: 2008-04-30




Similar topics
---
Permissions in this forum:
You
cannot
reply to topics in this forum