Who is online?
In total there are
32
users online :: 9 Registered, 0 Hidden and 23 Guests :: 2 Bots
Cirno
,
Cultist-chan
,
Harrier
,
LunarWolf
,
M.J.Caboose14
,
RadiantKarna332
,
Sebastian
,
skip-stop
,
wrestleryu
Most users ever online was
390
on Tue Jan 02, 2018 2:02 pm
Champions & #1 contenders
Looking for some fun
Mon Jun 03, 2019 7:04 pm by anime_hentaifighter
It bin a while since I done a post like this , but just wanted to let everyone know that I'm looking for a match or two here
Comments: 0
Looking for a story/backstage thread for Janis
Tue May 21, 2019 12:30 am by TomboyTsuka
Since I'm done with Janis' debut match, I'm seeking someone to do a story/backstage thread for her. If you're interested, just reply to this thread or hook me up via PM
I'll be seeing you soon!!
Comments: 0
Absent this week
Mon May 06, 2019 11:06 am by BritBrat
Hey all~
Just letting you know that I'll be traveling this week so I won't be posting until Sunday possibly. I'll be back soon!
Comments: 4
Page 1 of 7 • 1, 2, 3, 4, 5, 6, 7


Preceded by:
AV 17 Rookie tournament: Aisha Love vs. Anna Ivers
Followed by:
AV 17 Rookie tournament: Sheena Akan vs. Yuki Onna
Navi Florges
vs.

Silver Ace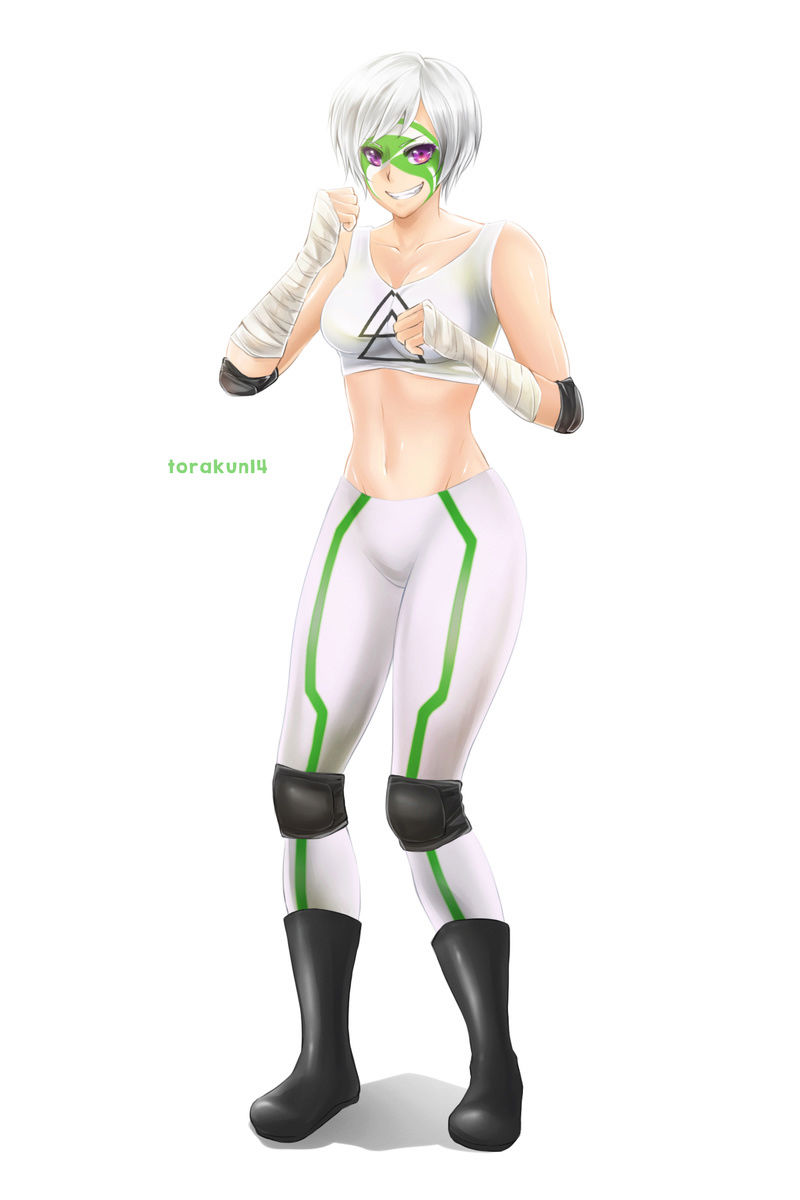 vs.

Juno Lane


Match Type: Triple Threat Match
Special Stipulation: Three contenders in the ring at the same time
Winning Condition: Pinfall or Submission
_________________
The new and improved:
Kelsea's Karacters
Spotlight
characters:
Prepare your face for ThE BRaT PaCK



Posts

: 8284


Join date

: 2008-04-06



Well...this was lucky.

When Navi popped up on a random episode of Friction, ridiculing the current co-Hardcore Champion - Silver Ace, she had no idea this would to, not only her PPV debut in AFW, but also her first AFW title shot for the Hardcore title.

Navi herself had got the news 2 weeks after her (admittedly, tainted) win over Silver Ace, with it being ruled that there was no reason to not give the French blonde a chance for the belt at Avalanche. A few weeks of interviews to build their match up, and there she was, in the incredibly cold Moscow, getting ready to win the first major title of her career.

As a crewmember knocked on the door, and asked her to get ready to make her entrance first, she put on her red flower vest, and exit her room.

For her entrance, Navi didn't go with anything to flash-y. She simply asked the crew to maybe add some pyro once the music kicked into gear...and that's exactly what happened. Although she stopped, a tiny bit startled about the PPV addition to her entrance, she did not look back, and simply smirked into the crowd, following the "Cool guys/gals don't turn at explosions" cliche to a T.

The ring contained various weapons around it, taken from underneath the ring by AFW and the arena crewmembers alike for the purposes of this match. Bats, chairs, tables, ladders, kendo sticks, garbage cans and even more was randomly thrown around the arena, primed to be destroyed by the 3 ladies taking part in the bout...or be used to destroy them.

Posing a few times on the way down the entrance ramp, to surprisingly good heat from the mix of AFW fans throughout the world Navi smirked as she rolled into the ring, looking fully prepared to win the AFW Hardcore Title tonight, taking it from both the woman who (in her mind) did not deserve the belt, and from the woman who, unceremoniously, attacked her after helping her take care of Ace...
_________________
My fighters:
Melody Serperior (Friction)
Navi Florges (Friction)
GASTER (Friction)
Alice Gaster (Tension)
S.A.S. (Tag Team)
Open to PMs at any time. Also, all the time on Discord: Vcom7418#0756
Despite the primary show mentioned in the brackets, my gals are all open for matches on both brands (though I would like them to be more on their primary show

)
Juno had very mixed feeling about tonight. On one hand this was what she wanted. A match with Ace to become the true hardcore champion. The problem was that it wasn't exactly what she wanted. The blond she had tossed around a few weeks ago had been added to this match...and it was eating away at Juno's very soul. Why was she here? Did getting beat up by the co champ mean she could just get a chance at revenge!? This was supposed to be between her and Ace...now it was between her, Ace, and Navi in the middle!

Luckily, the beast could just use this unbridled anger as fuel for the match. So while wearing her normal attire that contained black pants with only one leg and a purple top that hardly hid her large breasts considering it had an opening right in the middle, the french woman walked towards the entrance like Godzilla heading for Tokyo. And as she did so, Juno would shove any and all stage hands off their feet if the got in her way to raise hell!

The song Super Beast would soon blast out of the speakers as the angry french woman stomped out of the entrance. There was no hiding the anger on her face, and the boing didn't help that at all, either. Looked like Moscow was pissed about her ambushing Ace. Well...screw em. Juno didn't care if people liked her all the time. After winning this match and becoming the only Hardcore Champion around, she'd win them back one way or another.

So after walking down the ramp, the beast would head right over the the ring apron to climb up it. But with so many weapons waiting around the ring...the animal couldn't help but grab the nearest bat before she did so. Then with the weapon in her hand, Juno would slide under the bottom rope and start to charge the blond for an early beat down!

God was merciful on Navi tonight in Moscow, though, as the ref girl got right in Juno's way before she could swing. The beast didn't want to take out the ref girl for a couple of reasons...one of which was that it'd just take longer for the match to start. So with a grumble, Juno would slowly back away to her corner, where she would crouch down and slowly tap the baseball bat on the ring with murder in her eyes. Eyes that were firmly locked on Navi...at least...until Ace showed up...then the sadistic animal would have something else to burn a whole into with her vision.
Silver Ace had been having a very bad year. Oh sure, it started out fantastic, becoming Hardcore Champion in her hometown and all that...and quickly fell apart, being attacked from behind, injured, forced to become a Co-Champion, watching one of her friends get beaten up by that beast Juno, her weird newfound friendship of sorts with Gwendolyn Bettencourt, the loss to Navi...it was just a very weird and strange year, that kept fucking with her over and over, and even worse, with all these setbacks and issues, many were questioning if she even still deserved to wear the belt around her waist.

Well, tonight, at the end of a strange and messed up year, she was going to set the record straight, and get things back on track. She was Silver Ace damnit, and she wasn't going to lose this belt without a proper fight!

Clad in her classic long pants and half top, face painted, going with the green this time around, and hair dyed proper silver, the champ didn't even bother letting her music play, running down the ramp soon after Juno came down, tearing the belt off of her and throwing it on the ramp. She was eager to start, eager to get down to the battle, and finally shut these two bitches up for good!

Entering the ring, Ace wasted no time, leaping at the bat wielding Juno and throwing a fist towards her face!
Navi silently stood in the corner, watching with curiousity as one of the 2 Hardcore Champions walked out to the ring. She had a tiny bit of disdain for Juno, attacking her after her match with Ace, not even allowing her fellow Frenchwoman to celebrate her clean victory over Ace (and somewhere in the Russian arena, Melody, recovering from her own match on the current PPV, coughed twice on instinct, not knowing why).

Still, Navi thought that she could defeat Juno, as well as Ace. Already, the blonde was creating a strategy in her head. Juno was much harder to pin than Ace, so she had to focus on dazing the large violet haired woman, so she had to focus on dealing damage to Ace, while leaving the Animalistic one dazed outside the ring...

Just as she was absorbed in her own thoughts, Navi wouldn't notice how Juno picked up a baseball bat outside the ring, and was charging straight at her!

She didn't shriek in surprise, but when a 1.8 meter tall hulk of a woman, rushed at you with a baseball bat in hand, one would definitely try to at least cover themselves from potential pain...

Thankfully, Navi was saved from the early beatdown by the zebra striped official, who stood between Juno and Navi, the purple haired co-champion realizing the disadvantage of taking ref out before the match began.

Standing back in a confident posture, Navi would return Juno's angry gaze with one of her own. Just a moment ago, she made her look like a complete coward, and she would pay dearly for that mistake once the bell would ring.

But, there was still one more competitor who needed to enter the match, one that, at least in Navi's mind, had less of a reason to be called a "Co-Champion" than Juno. And Juno just basically took the belt, and declared herself the champion. As a result, Navi had a very, very low opinion of the Silver Ace.

And there she was, not even letting her music play, rushing down the ring in her attire, throwing down her belt like it was nothi------

And Navi would find the reason for that just a short moment later, as Ace would rush at Juno, throwing a hard punch in her face!

Almost immidiately, gears would turn in blonde's head, and the first thing that would pop into her mind would be: "Get out of the ring and find a weapon!"

Maybe this did contribute to her appearing slightly like a coward, but the moment they got somehow separated, she would also be a targer. Being smart came first, appearing brave came second, and as such, Navi listened to her thoughts.

The bell would ring just as Navi rolled to the outside, looking through the stuff scattered around the ring to grab whatever she could as quickly as humanly possible before the two women outside the ring remembered that they had a beef with her as well!
_________________
My fighters:
Melody Serperior (Friction)
Navi Florges (Friction)
GASTER (Friction)
Alice Gaster (Tension)
S.A.S. (Tag Team)
Open to PMs at any time. Also, all the time on Discord: Vcom7418#0756
Despite the primary show mentioned in the brackets, my gals are all open for matches on both brands (though I would like them to be more on their primary show

)
Juno was eager to start fighting, painfully eager. But she had to wait for her co champ to arrive, first. Luckily for her, Ace seemed to be in a hurry too as she ran out and down the ramp towards the ring. The animal would then stand up to get a look at her opponent, who looked like her eyes were on fire with hate.

"Huh...Look's like somebodies' more pissed than me" Juno would think to herself as the woman came into the ring. It made sense, considering the beast had put Ace through hell for a while now. She beat up her protege, she then did so two more times, she took half of her belt, and she made her lose a match to Navi. If someone had done all that to Juno, they'd be looking over their shoulder for the rest of their life.

Ace's anger really showed when she came barreling towards the animal and punched her right in the face! An audible smack could be heard as the Canadian native's fist connected hard against the french woman's jaw. The audience, meanwhile, would cheer in awe as Ace came out swinging so soon. The beast really should've blocked the shot, but her cockiness made her think she could take it head on. Literally.

However, Juno would fall back before catching herself on the top rope with her left arm. The bright side, she didn't have any teeth jittering around in her mouth. And she still had a bat in her hand. Sweet.

Juno wouldn't wait any longer as she pushed herself off the ropes and swung the bat. Aiming the weapon so that it'd strike her a little above the midsection moments after the bell ran! The beast would make Ace regret getting into the ring with her one way or another. A bat to the belly was just the start!
Oh right. Baseball bat.

"OOOOOF!"

Ace really was a good wrestler. A tough one too...but there was only so much one could do when a baseball bat was swung into your stomach. She collapsed, quickly rolling under the ropes and out of the ring, dropping to one knee outside the ring, gasping and wheezing, trying to get her air back!
"Chairchairchairchair...CHAIR!"

With how much stuff there was outside of the ring, Navi couldn't see a foldable chair right away, before a nearby trashcan got her attention, as inside it was the French blonde's weapon of choice!

Grabbing it swiftly and looking inside the ring, Navi only saw Juno, catching a glimpse of Ace rolling to the outside of the ring.

Pursuing the silver haired co-champ would be a mistake in French girl's head. Juno was going to exit the ring as well, and it was likely that, if Ace were to wake up, the 2 would double team her. Better to take her chances alone with "the beast" than to risk being double teamed by both champions.

Rushing towards the purple haired Frenchwoman, Navi swung her chair high, attempting to land it hardly across Juno's upper back and shoulders!
_________________
My fighters:
Melody Serperior (Friction)
Navi Florges (Friction)
GASTER (Friction)
Alice Gaster (Tension)
S.A.S. (Tag Team)
Open to PMs at any time. Also, all the time on Discord: Vcom7418#0756
Despite the primary show mentioned in the brackets, my gals are all open for matches on both brands (though I would like them to be more on their primary show

)
Juno smirked after delivering a mighty blow to Ace's midsection. It felt good to deal some pay back after her opponent had punched her right in the face. Ace would retreat soon after as she rolled under the ropes and out of the ring. The beast would soak up this moment as she watched the woman wheeze and gasp. Of course...the french woman would come to regret this as a sudden, intense pain radiated across her upper back and shoulders!

"GAAAAAAAAHHH!" Juno would roar out as she fell forward and dropped her bat. Clutching the ropes for support now, the beast would growl as she tried to to pull herself back up with the help of the ropes, and turn to face the blond bimbo would had just hit her.

"You...are really...pissing me off...bitch..." she would growl as she remained hunched over, with one hand still on the ropes for some much needed support.
Stomach still hurting, but with some air back in her lungs, Ace pushed herself back up to her knees, growling angrily. Match had just started and ALREADY she was getting dropped?

Fuck That.

The sound of a heavy metal impact made her turn her head, seeing Juno take a chair shot to the back, leaning against the ropes, having been snuck attacked by the OTHER bitch in the match, Navi. Taking advantage of the situation, Silver Ace hopped onto the ring apron, grabbing Junos head and jumping back down to the floor, bouncing Juno's neck off the top rope!
Page 1 of 7 • 1, 2, 3, 4, 5, 6, 7



Similar topics
---
Permissions in this forum:
You
cannot
reply to topics in this forum