Who is online?
In total there are
49
users online :: 10 Registered, 0 Hidden and 39 Guests :: 2 Bots
acuya
,
BlueMeanie
,
Harrier
,
Hedgehawk
,
Link-mon
,
Lobo
,
Nelv
,
Person
,
Slick
,
Tarantulust
Most users ever online was
390
on Tue Jan 02, 2018 2:02 pm
Champions & #1 contenders
Moonhearts Promo intro thread is O p e n.
Mon May 21, 2018 4:21 am by XSirenX
Feeling brave?, lost?, or without a thread to post in?, hit up the newest Moonheart if any of those apply!
CLICK HERE
What Moon has to offer?, many things...:
Comments: 0
The Austrailian Mudslide is Back.
Sat Apr 21, 2018 6:20 am by Softsquad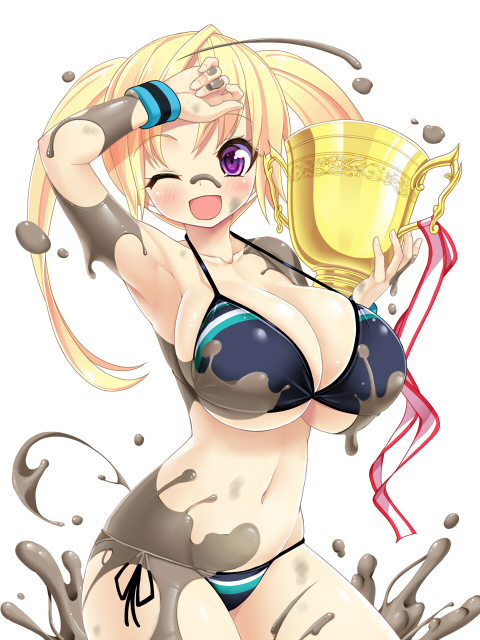 Granted that most of you won't know me or remember me, but I've had a few matches here and there some time ago. Well I think its time to become a regular around here and try to have some fun again, but at the same time keep coming back. Anyway I think its time to jump into some matches with Zoe Taylor, my mud wrestling character from Australia and get her back into the squared circle. Furthermore I will update my characters as I think some proper changes need to happen.
So if anyone would …
[
Full reading
]
Comments: 4
Page 1 of 7 • 1, 2, 3, 4, 5, 6, 7


Match Type:
Handcuff
Victory Conditions:
The first wrestler to handcuff her opponent wins the match. The handcuffs can also be used as legal weapons.
***
***
Maiden was in a foul mood. The whole crowd could see that quite plainly, as she paced back in forth in the middle of the ring, fuming as her music died away. Stomping. Arms folded. A steely scowl on her face. She was clearly ready to unleash her anger on whoever her opponent was. Why, though? That was the question.
The answer was a simple one: Blade Uehara.
For the most part, Maiden's feelings towards her former fellow Angels were neutral. Unlike many of her colleagues, she'd abstained from any major rivalries in her time as a wrestler, preferring to keep things professional. There was no need to make matters personal, she felt. No reason to bring grievances outside of the ring.
And, in truth, she didn't hold a grudge against Blade. She'd done nothing to harm her, beyond their occasional matches. Maiden wasn't even sure if she'd won more than she'd lost against the bushy-browed woman. Such things hardly mattered.
No, the reason she was so wroth had to do with Blade herself. There was no kind way to put: she hated wrestling Blade. The woman was so loud, so rude, so uncouth. It was like she was the living embodiment of everything that Maiden stood against, and she was coming at the worst possible time. Maiden was trying to instill confidence in Gwendolyn after the Alaina debacle, trying to remind her employer why she was such a valuable asset and return to her good graces. She wanted a solid, confident win against a respectable opponent, but upper management never grew tired of their nostalgia matches. What was more, they had to go and make this a gimmick match at the last minute for some unfathomable reason, hence the six or so handcuffs scattered about the ring. Why? She had no idea. It was a silly stipulation, and one that didn't even suit their 'gimmicks'. Maiden was, well,
a maid
, and Blade was a street urchin or something like that. What did handcuffs have to do with either of them?
So here she was, waiting in the ring and trying to ready herself for what was about to come. Any moment now, she would come out, jumping about like a maniac, all the noise, and that smile, and her talking...
Maiden finally stopped pacing and made her way over to her corner for some stretching. Just a few minutes, a pin, and it would be over.
Last edited by acuya on Wed Aug 09, 2017 6:29 am; edited 1 time in total (Reason for editing : t)
The jury was still out as to whether Blade's premiere match against a couple of obnoxious, sucker-punching Chinese nationalists could be classified as a success. Sure, Blade absolutely had the win jotted down in her favor, but she definitely didn't feel like a winner following that one. Getting double-teamed and smacked around by those twin nuisances after the match might have been the main contributing factor to that. In retrospect, challenging one-half of a tag-team that was dirtier than her gym socks might not have been the soundest idea she ever came up with...

It was that anguish and aggression that Blade was intending to unload on the purple haired maid as she stomped around the gorilla position. Blade was no stranger to Maiden, but she kinda wished she was. Though she didn't hold any outright animosity to her, the two were just on polar opposites of the personality spectrum. Sakurazaki was always rubbing her the wrong way back in W.A., what with her being a humorless, uptight pain in the ass...on second thought, this could be just the match Blade needs.

The thunderous rock music than igniting the murmuring crowd into fiery cheers before it cranked up even louder upon seeing the scruffy haired high-flyer burst through the curtains at full-tilt. Blade's infectious smile proving to be just as contagious, her boundless energy carrying her into a sprinting dash down the ramp and up the steel steps. The aerial artist now standing with both feet on the middle rope beside the turnbuckle, her furry-browed gaze examining the crowd before she rocketed up both her fists in the air with one wrist crossing the other. All her fans mimicking her trademark hand symbol before Blade would step atop the turnbuckle and balance herself perfectly before lightly hopping down. A cocky grin on her face as she approached the middle of the ring for some light banter between old friends...

"Jeez Sakurazaki...you're not here five minutes before you already find someone else's boots to lick. Can't believe you're still doing that whole maid shtick anyway. I mean, what're you gonna do? Do my dishes? Wash my laundry? Ohhhh~...I'm quakein in my boots over here~..." Blade wiggled her fingers at Maiden and widened her eyes to embellish how not scared she actually was...
Don't let her get to you.

Don't let her get under your skin.

She's going to get in the ring and try to bug you, because that's the sort of person she is. She's just an unwashed, unintelligent child. She probably doesn't even wear proper deodorant. Not worth the energy it would take to be mad.

That was the mantra Maiden repeated in her head as she stood in the middle of the ring, waiting for Blade to make her overly bombastic entrance. Sure enough, she came out to great acclaim, throwing out obscene gestures, pandering to the crowd, prancing about like a fool...it was all to be expected.

Then she spoke. And, despite Maiden's best efforts, she couldn't hold back her response. Just one sentence was all it took to break the walls down.

"It is not a schtick!" She stamped her feet as she said five words that she had to repeat far more times in her life than really should've been necessary. "I am a maid, you...you...sewer urchin! Uncultured swine! You're simply jealous that I have the privilege of working for someone as exquisite and honorable as Lady Bettencourt!" She made sure to say that last part loud, hoping the cameras caught it. "What have you done with your life?"
No one would mistake Blade for having been born with a silver spoon in her mouth, but that doesn't necessarily mean she wasn't gifted with quite the silver tongue. Her penchant for getting under the skin of her opponents before the ring bell even kicked the match off being one of those indelible traits that her opponent's wished they could forget about after squaring off with her.

And Blade couldn't help but sport a punkish sneer from rustling Maiden's dainty feathers in record time. Partly because she was proud of herself for still having the gift of gab after all these years that got inside the minds of her opponents, and also because making this prissy maid get all wound up was always a personal thrill.

But it was Blade's feathers who were rustled from hearing Misaki's snippy retort. The Aerial Artist scoffing bitterly and stomping up to the middle of the ring with an angered twitch to her furry brows to meet the frilly maiden face to face, with a soft compression to their modest chests.

"What have I done?! I started my own friggin wrestling federation, and lived my life FOR ME, not as the glorified cleaning lady for some pampered, prissy snowflake who probably wouldn't know the meaning of a hard day's work if it bit her right in that exquisite and honorable butt of hers!!!" Blade barked out while frequently poking her index finger into Misaki's shoulder...
"Hmph!"

Oh, so that was what Blade had been doing with her time. Maiden had wondered where her time had gone to. She'd assumed the bratty woman had spent her time playing videogames and eating Cheetohs, but apparently she had tried to be productive. Maiden was moderately impressed.

Not that she was going to let Blade know it. Not now. Not when they were face to face and eye to eye and chest to appropriately clothed chest.

"Um…" The referee held up a hand and tried to wedge it between the two of them. "I, uh, need to ring the bell before you two-"

"Balderdash!" She blurted out - either she didn't hear the referee's words or she didn't much care. It was hard to tell, with her gaze locked onto Blade's face with razor focus. "A stunning alteration of facts. What you mean to say is that after Beauty-san powerbombed you into oblivion, you tried to sneak your way back in with a silly mask, and when that failed, you tried to make your own little league to play in - but we can all see how that panned out, can't we?"

It was her turn to poke Blade's shoulder, now. "You. Lack. Discipline." Three pokes, for each word.
Well, it sure didn't take long for Blade to affirm that Misaki hadn't changed one iota since their W.A. days. She was still the same irritable authoritarian that Blade loved to loathe, as if the Aerial Artist was looking into a fun-house mirror meant to reflect your opposite image. There was no way someone who was as pigheadedly proud to be such an obedient lapdog to her master would ever get along with someone as free-spirited as Blade...which was something she could have lived with if Misaki had just kept her damned well-mannered mouth shut.

The maid was doing an exemplary job of pushing all of Blade's buttons, until she pushed the "Beauty" button. A dilation in Blade's pupils and widening of her eyes being her immediate reaction before her expression glowered darkly. Blade almost censoring out the rest of what this uptight handmaiden was spouting before she was finally finished mouthing off and poking her in her shoulder. Blade remaining stone-cold silent before she inhaled and exhaled a deep breath from her flared nostrils, than barking out a single word with a growl to her voice.

"REF!!!"

The startled referee in question would than timidly nod her head and signal for the bell to be rung. Blade than abandoning all restraint and leaping up to wrap her legs firmly around Misaki's waist, the Aerial Artist using one free hand to clasp onto the handmaidens fancy hair before she began wailing relentless forearm strikes right into that pretentious face of hers!!
Maiden was fuming now, practically steaming as she stood there. She'd had her say and apparently left Blade speechless, no doubt hitting a sore spot with the truth of her words. It felt satisfying to put this mouthy woman in her place, she wouldn't deny it, but she just hoped that Gwendolyn wouldn't think too harsly of her because of it. This was not the typical way she handled things in the ring.

It would be fine. As soon as the referee rang the bell, Maiden would go about the business of cleaning the canvas of all the filth Blade had dragged in.

DING DING!

The bell rang, Maiden took one step forward, and that was as far as she got before Blade pounced on her like a feral jungle cat.

In a flash, Blade was all over her, grabbing her hair and raining down blow after blow after savage blow on her face. Maiden cried out, both in pain and surprise, managing to stay standing until the third blow proved too much to take. Her legs gave way and she toppled to the floor, kicking and squirming about as the vagabond pummeled her. "-off me! Get off!"

It wasn't that Blade didn't have a plethora of comebacks to shove right back in Misaki's smug face, including the fact that she herself was coming off getting demolished by her own muscle-headed Amazon, so who the hell was she to start to talk down to Blade about the most infamous loss of her life? But once this highbrow handmaiden thought it was smart to hurl that match right back in her face right alongside all of her recent failings as if this glorified chambermaid had any clue about Blade had been through...red was all she could see.

"Think...that's...funny...huh?!?!"

Blade snarled out with every clobbering forearm she managed to plow into Misaki's face before the dueling pair toppled over, her pummeling briefly continuing as she straddled Misaki's abdomen before her rage driven instincts compelled her onward. The Aerial Artist unseating herself from the fallen handmaiden while hauling her by her well pampered hair before than shoving Misaki against the nearest corner turnbuckle.

By extending her leg back before driving her toned thigh and hip square into Misaki's breadbasket, Blade hoped to wind the maiden enough to prevent her from disrupting her attempted irish rope across the ring with as much tugging velocity as Blade could muster.
Maiden was humble enough to admit that, perhaps, she made some miscalculations, here. She wasn't quite sure what had set Blade off like this - she was mad before, but this was an entirely different level, a rapid escalation that she hadn't seen coming. There was simply no end to it, as Blade battered her about on the floor, then yanked her up by hair, forcing her to feet.

"Hair ref, hair ref!" She was quick to throw out the iconic phrase, but Blade gave the referee little time chide her, throwing Maiden into the corner in the next moment, slamming her into it with a force that you wouldn't have expected from such a small body.

Before she could even bounce off the pads, Blade planted a hard knee into her midsection, knocking the wind clean out of her and sending spittle to the floor. Undignified, and it wasn't about to get any better.

Maiden no time to think, no time to react, before Blade took her by the arm and sent her off running to the farthest corner at breakneck speeds. It was all she could do to spin about at the last moment and hit the turnbuckle with her back, so she could see whatever it was that would be coming her way next. Assuming she'd have the energy to stop it, of course.

Blisteringly fast and entirely unpredictable. This breakneck pace was where Blade's specific set of skills shined brightest. Being the perpetual short-stack in the locker room meant that Blade wasn't going to be dead-lifting Chris Morgan over her head anytime soon. But living with a size disadvantage all her life only helped her turn her weakness into a strength, the Aerial Artist now practically running circles around Misaki while wailing away with speedy strikes to keep her winded, dizzied, and probably a little pissed off.

Upon flinging Misaki across the ring with as much torqued velocity as she could muster, Blade would backpedal to the opposing corner and point both her finger guns at the cornered maid for some flashy theatrics before sprinting straight ahead. A sudden leap landing her feet on the bottom ropes to Misaki's sides with Blade's hands now cupping the back of her purple-haired head. Blade opting to have a little fun in the middle of her whirlwind offensive by shoving her prim and proper face into her soft cleavage. A punkish grin on Blade's face as she shimmied her shoulders to add a wriggling bounce to her boobs much to the crowd's delight.

"Alright, fun's over cupcake...Alley-" Though once her immature fun was had, Blade would shift her feet up into Misaki's abdomen before leveraging herself back while bringing the maid tumbling with her. "-OOP!!" Blade than attempting to shoot her legs skyward to give Misaki some seriously high-flying air time in the exaggerated monkey flip.

Page 1 of 7 • 1, 2, 3, 4, 5, 6, 7



Similar topics
---
Permissions in this forum:
You
cannot
reply to topics in this forum