Who is online?
In total there are
28
users online :: 9 Registered, 1 Hidden and 18 Guests :: 1 Bot
BlueMeanie
,
kerflubble
,
killcarrion
,
KillerV
,
Mystery Dragon
,
Old_Man_Tai
,
Person
,
RedCosmicFox
,
WrestleMind
Most users ever online was
390
on Tue Jan 02, 2018 2:02 pm
Champions & #1 contenders
Hey guys!! Tsuka's back!!
Wed Jul 18, 2018 8:06 am by TomboyTsuka
I'm back from my holiday to Shanghai, China. Although I actually already returned yesterday but I was kinda tired.... But now I can finally RP here again with my pals at AFW!!
Comments: 5
Back From Hiatus
Fri Jul 13, 2018 11:34 am by Gwyndolin
I mentioned awhile back that I was expecting to be absent from this site for 2-3 weeks as I worked to finish my last college semester. That pause turned into two
months
due to some extra tasks that kept me busy, but I finally have the free time to roleplay again! Grades for the last quarter turned out great, so it looks like I'll graduate as I hoped I would once my degree is certified.
I'll update my ongoing roleplays shortly. Glad to be back!
Comments: 7
Matches?
Fri Jul 06, 2018 2:38 am by LtLukas
Hey there. You want to have a match? What's that? You want to have a match with the best goddamn RPer on this site? Well, then go ask acuya or Alexandra (RIP) because you are going to be stuck with me. But you should still sit the fuck down because I am about to slap your bitch tits with some awesome shit, whether you like it or not.
Eka
is a nice girl. She has stamina for days, and can submit an alligator. She is really sweet though, but if you want to see her get real unsweet, well, why …
[
Full reading
]
Comments: 1

Vs.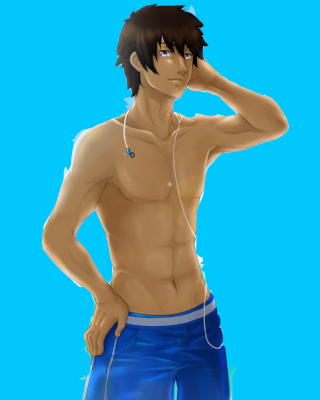 Standard Tension Match
Victory Is Achieved By Pinfall, Submission Or KO
______________________________________________________________________________________________________________________________________
With barely her foot in the door, Eileen Sommers had already gained a respectable match listing in the halls of Tension. Her 'work' within the ring, and perhaps with a certain individual outside, had caught her the eye of one Melissa Sellers, Tension GM. With Eileen already selected for a certain event of sorts in the future with the current champion of hentai within Tension, Eileen only deemed it fit that she add more weight to her resume before committing herself to the biggest possible leagues.
And what better form of an opponent before said match, than a man known as a huge fanboy?
Shido was one of the select few Eileen had took special interest too upon her arrival in AFW. Not for attraction of course; such was not Eileen's way. But rather, in her growing effort to gain herself a sizeable list of subjects and followers, well.
Someone with the nickname
The Fanboy
couldn't of been any more perfect.
With tight fitting one piece already firmly equipped, opting to avoid wearing her overly sized head attire today, Eileen would burst through the entrance curtain to modest uproar. The woman was likeable in her own twisted way, and her matches were most certainly always interesting. She aimed to capitalise on the latter yet again in the ring today, with the former playing throughout. The more fans she had, the more presence she had in the company, she deemed.
Finding her way ringside without so much as a wave or smirk in the direction of the crowd, Eileen would quickly step to the ring apron itself, grasping the middle rope. Still without so much of a word, she'd extend her leg inwards, before finally, she'd seemingly notice the crowd. Turning to a bay of wolf whistles and cheers, Eileen would smile as she
sloooooowly
extended herself through the ropes, knowing fully the sort of view those directly behind her would have. Once in the ring, with the cheers still calling out and her music dimming down, she'd settle in the corner.
Time to meet the fanboy.
Shido entered the arena with his usual smile and chipper attitude. The thought of anyone having an agenda for him in particular was the very last thing that would ever cross his mind in his time at AFW. By this point in his career at a wrestler, he had built up a meager reputation as a small, capable-enough, likable contender that gave it a fair and honest try each and every time he showed up to compete. This reputation got him a fair reaction from the crowd these days whenever he'd make his way to the ring, despite never having been given a theme song.

Clad in his usual trunks, the young man smiled and waved as he walked down the ramp exchanged a high five or two as he made his way to the front of the ring. He paused a moment to observe his opponent and possibly lock eyes with her. Shido was a guy that often researched his opponents prior to getting involved in matches with them. He was usually at a disadvantage when he faced off against relatively new additions to AFW, or against wrestlers that were hard to get info on in general. This was evidenced by his recent string of losses to the likes of Talia, Mako, and others he couldn't quite remember at the moment. And he looked to have a similar disadvantage against Miss Eileen. Truth be told, he had no idea what he was getting himself into tonight - no idea who he was getting into the ring with.

Being the optimist he was, however, he treated each new match as an opportunity to break the cycle and pick up a win to turn things around. And he bore that attitude on the forefront of his mind...up until the moment he got a good look at his opponent. The fanboy would find himself blushing immediately, and who could blame him. Sommers had turned darn near every head in the arena with her slo-mo through the ropes. Given Shido's reaction, one can only assume he was ironically very lucky to have missed that. After shaking his head and collecting his wits, he jumped up onto the apron and slingshotted himself over the ropes to enter the ring. Following up on that athletic display, he'd land and roll off the canvas before popping up to his feet. After taking his place in the center of the ring, he'd nervously wave to the beautiful redhead whilst offering as best a salutations as he could manage: "Uh...H-Hello! Hi, there! I'm er-Shido! Pleased to meet you!"
_________________
"Winner's Full Roster Page"

Trillian - winner3



Posts

: 2084


Join date

: 2015-12-22



Eileen enjoyed each and every new opponent she faced, simply for the reason every new face was an opportunity to try a new style as it were. Shido was no different. Where as with Nobu she had played the part of mysterious new 'venturer in AFW, and with Dmitri she was allowed an opportunity to try out her actual wrestling ability before switching back to a sensual attack of sorts, she intended to fully manipulate Shido into being her fan and her fan only by the end of this encounter.

The moment Shido stepped into the ring, Eileen would put swagger to hips; pacing towards Shido at a speed that didn't scream aggression, with hand already outstretched. It was however, not going for a handshake. Instead, she would grasp around the scruff of her soon-to-be opponents neck, gently mind, before pulling Shido slightly against her. Leaning in, The Fan would be given a sizeable amount of cleavage pressing against his own chest to further stimulate.

"Let's have a good match...shall we?" She'd smirk, her nose a inch from Shido's as she spoke.
In all the time he had spent in Tension, almost twenty matches or so, Shido had been subjected to many a situation and circumstance in which his attraction to his opponent impeded his ability to compete. But never in his career did he have to be in the ring with anyone that was blatantly willing to that weakness against him. He had tried to steel himself and get his mind right so that he could give Eileen his all. But no thoughts or mantras could sway his attention to the swiveling hips and gyrations Eileen was showcasing as she stepped towards him. Despite the speed with which she stepped, her motions were enough for Shido to find himself mesmerized. Even when the voluptuous red head had placed a hand on him, on the back of his neck and pulled him in, he remained immobile. The poor guy seemed like he was rendered paralyzed by the the mere sight of Eileen's movements. But the added sensation of her touch made him truly seem like he was a deer in headlights. A deer in headlight with a face flushed red with embarrassment and arousal.

As his opponent for tonight prompted him verbally, an erection made itself apparent by poking against Shido's shorts. He took a moment to respond. He had attempted to form a "yes", but his voice cracked. Instead, he'd simply nod once to confirm that he, too, wanted them to have a good match. But it seemed that at this point in time, Tension's lovable short stack of a wrestler was in for a tough bout. At least, it seemed that way to everyone spectating. The Fanboy, himself, was still in his own head space - blissfully unaware what he was in for.
_________________
"Winner's Full Roster Page"

Trillian - winner3



Posts

: 2084


Join date

: 2015-12-22



Rather than with Nobu, where the woman would switch personas at a instant to confuse and disorientate her foe, or when she faced Dmitri, which was a bout actually filled with serious wrestling, Eileen was keen to carry this match on the back of her seemingly lustful persona. The bell having yet to be rung, she'd smirk more so, smile only growing as the fanboy gave a response that suggested he was already succumbing to her.

"Go easy on me...k?" Winking at Shido, she would but back away as to create space before the bell was rung though, her chest finally leaving her foes own. As she did, she'd raise her free hand, to give but a small tap to her foes nose to complete the allure.

With distance made, she'd put hands on her hips. For solely appearances, Eileen looked to be anything but a woman prepared to physically wrestle. Not that her foe, or the crowd for that matter, seemed to mind in the slightest.


Similar topics
---
Permissions in this forum:
You
cannot
reply to topics in this forum