Champions & #1 contenders
The Austrailian Mudslide is Back.
Sat Apr 21, 2018 6:20 am by Softsquad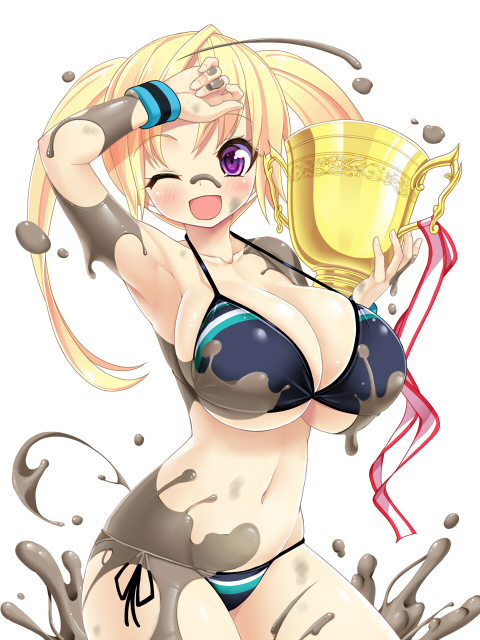 Granted that most of you won't know me or remember me, but I've had a few matches here and there some time ago. Well I think its time to become a regular around here and try to have some fun again, but at the same time keep coming back. Anyway I think its time to jump into some matches with Zoe Taylor, my mud wrestling character from Australia and get her back into the squared circle. Furthermore I will update my characters as I think some proper changes need to happen.
So if anyone would …
[
Full reading
]
Comments: 4
Looking for debut thread.
Sat May 12, 2018 9:28 pm by Hedgehawk
Hello All.
I am looking for a debut for my girl Trinity (http://www.afwrpg.com/t18107-trinity-cordova#495678).
This doesn't have to be a match, it could be a gym battle, interview or anything else. I just want something to help get Trinity off the ground. If you wanna plot feel free to reply to this message or fire me a PM.
Many thanks in advance and thank you for reading my message,
Hedge
Comments: 0
Page 4 of 7 •

1, 2, 3, 4, 5, 6, 7


Zarya was quick to try for the ropes, using them to regain her feet. She had no intention on staying grounded against a judoka, where her clear advantage in size and strength was most limited. Rolling onto her hands and knees before rising, using the ropes to climb hand over hand, she remained confident that Makoto could be dealt with in short order. 

But even as she rose up, Makoto managed to grab her leg, clearly showing no quarter, turning aggressive instead of being more cautious, as Zarya would have assumed. The russian was about to shake the girl off her captive leg when the pain began, lancing white hot up to her thigh from her now hyper extended knee! The Iron Soldier actually cried out in pain before she caught herself, the scream fading into a pained growl of a sound. 

The referee, Kubota, casually sauntered up to. Zarya, who was now gripping the top rope with both hands. 


"Would you like to give up? " Isa asked with a bit of a smirk. 

"Fuck. You. Suuka." Each word sounding as if it had been dragged out by sheer force of will. Zarya made a mental note to smack the taste out of her good *friends* mouth when this was all over. 

For now, she sought to escape the ankle lock in a decidedly heeling move of desperation, launching herself through the middle ropes and to the floor outside the ring, putting Makoto in the unfortunate position of letting go or being pulled through the ropes with her!
_________________
Want to role-play or set up a match? PM me and let me know!
Wrestlers -
The Barracks
'The art of conquering by yielding.'

That was what Makoto's teacher had always called judo, referring to it as a martial art that specialized in using your opponent's force against her. Never meant to hurt. Never meant to injure. Defense, above all.

Those words seemed distant, though, and she couldn't imagine how they'd apply here, as she fought for her wellbeing against a monster of a woman. She didn't want to break Zarya's ankle, didn't want to do permanent damage to her, but what other choices were open to her? She had to take every advantage she could get, and she wouldn't apologize for that.

The question of whether or not she could seriously harm Zarya or not turned out to be academic, as the Russian found her own way out of the situation not long after. Makoto was making good progress, twisting hard on the ankle, when she decided to slide out of the ring, a wild move that dragged Makoto along and scrapped her off with ropes, forcing her to let go at the last moment.

With a surprised squawk, Makoto tumbled out onto the apron and rolled off from there, falling flat on her back. She laid there for a moment, hissing as her back roared with protesting pain, keeping her down for the moment. She could only hope Zarya was even worse off.



Zarya dove head first through the ropes, fully intending to avoid a painful landing by tucking her body, taking the worst of the impact with her right shoulder and rolling through. Sadly, reality refused to cooperate, both because of Zarya's size and the Judoka clinging to her ankle, played havoc with her balance. The result was an awkward landing that struck her shoulder and the side of ff head against the concrete before momentum rolled her over onto her back.

The Iron Soldier lay there, blinking up at the ceiling, not knowing where Makoto was and not caring much either. Her head throbbed and the right side of her face burned where it scraped against the floor. Clearly not one of her most inspired counters to a submission hold.

It was the pain in her ankle that stirred the Russian amazon to full awareness and brought her thoughts back to the match itself. It felt sprained, though it probably wasn't..at least she hoped that was the case. She needed to test her weight on it.

Rolling onto her hands and knees, Zarya crawled to the barricade that separated the fans from the wrestlers, ignoring their jeers. As she rose gingerly, careful of her agonized ankle, she cast a glance over her shoulder, settling a look of unhinged *hatred* at Makoto.

The fans on the other side of the barricade were on there feet, and Zarya used that to her advantage, reaching over to grab one of the folding steel chairs, pushing the protesting fan who was using it out of the way. Zarya lifted the chair overhead, turned and flung it at Makoto!
_________________
Want to role-play or set up a match? PM me and let me know!
Wrestlers -
The Barracks
As unpleasant as the whole tussle was, Makoto was glad for it, in a small way. She and Zarya were both in recovery mode, and it gave her some time to think. To try and put things together. And fail.

Makoto was doing her best to hold back the simmering hate in her heart, but every moment seemed to make it burn brighter. The betrayal. The deception. If Zarya had just been like this from the start, she could've accepted it. But the way she was going to such lengths to be so ruthless and vindictive, seemingly wanting to hurt Makoto for her own twisted amusement…

Couldn't dwell too much on it, not now, not when she actually had something of an advantage. Ringside brawling was never her forte, but as she sat up, she could see that Zarya was hurting from the ankle lock. There was a chink in her armor, and that meant Makoto knew just where to focus here energy.

Zarya stared daggers at her, she stared back just as hard. There were long past the point where the Judo Babe gave a crap about her opponent's feelings on the matter. More determined than ever, she made her way back up to her feet and started to move in…

...only to get hit in the head with a flying chair.

Maybe the move itself just caught Makoto off guard, or maybe her training came into it. After all, she'd been taught to mostly worry about her opponent's when they were within arm's reach, not when they were throwing projectiles your way. Whatever the reason, she didn't the flying chair coming until the exact last second, right before it crashed into her forehead.

The blow took her off her feet in an instant, dropping her flat on her back and leaving her dazed. She was still aware enough to register the thunderous boos all around them, but the rest of her senses were dulled for the moment, as if her brain was trying to restart all its functions. Until it did, all she could do was lay there and writhe.

There was something deeply satiating about the sound of a folding chair crashing into someones skull, that beautiful *crunch* of concussion inducing force that always left the victim incapacitated, at least momentarily. And, truth be told, Zarya *needed* that moment. Her ankle wasn't any worse then lightly sprained, which was agonizing, but better then a break or a torn ligament. She could continue the match, but even all her discipline and pain tolerance couldn't hide that new vulnerability, the pronounced limp in her walk.

Thankfully, Makoto Aihara was in no position to take advantage. The jeers of the crowd turned into a roar of disapproval as the Iron Soldier drew closer, seeming to grow louder with every step, as if their combined indignation could hold the Russian back long enough for the Judo Babe to recover. Zarya was happy to disappoint them. Not that she looked it, sweat beading on her brow from both exertion and pain, her teeth grit tight in a way that left her expression a perpetual snarl.

Balancing mostly on her uninjured leg, Zarya reached down and grab Makoto's arm, looking to first pull the dazed girl into a sitting position, and then reach down to grab her by the back of her uniform to force the Judoka to her feet. Unless Makoto was able to mount some sort of resistance, Zarya would spin the young woman towards the steel ring steps and Irish whip Makoto into them!

_________________
Want to role-play or set up a match? PM me and let me know!
Wrestlers -
The Barracks
Where was Makoto? How did she get here?

She was on the floor, could feel the familiar padding of the ringside beneath her body, but she was at a loss to explain just how she'd wound up there in the first place. She was hurting all over, with her head aching in particular. The hot, throbbing pain, pulsating in her skull, making every moment a lesson in pain that just refused to end.

But she couldn't remember for the life of who'd put her in this state, or how it happened. That was, until she felt rough hands reaching down to grasp her, yanking her up by the gi and her arm and forcing her to stand on shaky legs.

Zarya Volkov. The liar. The woman who seemed like she was making it her mission to dismantle Makoto, piece by piece.

Groggy as she was Makoto was tougher than she appeared, and she could've recovered if she was given enough time to do so. Unfortunately, it seemed like the ravaging Russian had no intention of letting that happen. Only a mere moment had passed after she stood before Zarya twisted about and hurled her off with a fierce Irish Whip, throwing her body into the steps with enough force to knock them apart.

The top steps hit the floor and Makoto collapsed with them, coming down in a messy heap. She was more awake than before, but just as immobile.


"Does it hurt?" There was niether concern nor mockery in Zarya's voice, only a perverse curiosity. She leaned down, grabbing a merciless fist full of the Judo Babes hair, attempting first to pull her into a sitting position, "You've only got yourself to blame, you know. This is all your fault. If you weren't so pathetic ans trusting.. If you weren't so weak, I could have never pulled this off."

Looking to take advantage of her opponents disheveled and battered state, Zarya dared to reach for the belt of Makoto's gi with her free hand, seeking to undo it completely. All the while raining down her usual torrent of abuse. "I gave you the fucking contract. You had it in your house. The trap was right in front of you. You didn't see it...didn't want to see it. "

Unless Makoto could muster a defense, Zarya would proceed to tug the front of the judokas gi completely open to the cameras and crowd!
_________________
Want to role-play or set up a match? PM me and let me know!
Wrestlers -
The Barracks
What was the worst thing about this all?

It wasn't the way Zarya was currently manhandling her with ease, whipping her aching body around and forcing her up into a sitting position like she was a doll to be manipulated.

It wasn't the way she was exposing her chest and bra to the audience, peeling away her go for the shameless display.

It wasn't the way the fans booed and hissed, even while more than a few of them zoomed in with their camera phones and recorded.

She could handle that. All of it.. What she couldn't handle was the nagging little thought in the back of her head. The idea that maybe, just maybe, Zarya was right, and she had only herself to blame.

She pushed the heinous notion aside and tried to focus on the moment, figure someway out of this. She tried to struggle, throwing punches against the Iron Soldier's iron stomach, but she might as well have been trying to take out a tank with a flyswatter. Her punches weren't that great under normal circumstances, and having a loopy head didn't improve them.
Zarya Volkov's abdominals could easily be described as a work of art, and there was very little 'give' when Makoto's smaller fist impacted the ridged muscle, though one lucky punch managed to draw a short, pained sound from the Iron Soldier that became a low, feral growl in her throat. In the end, all the judo babes efforts had done was make Zarya angry, and she reacted in a way that was both instinctual and highly insulting, an open handed slap aimed for Makoto's face. Whether she struck full force or Makoto managed to block her, something else captured the russian's attention.

The referee had started counting down towards a double ring-out disqualification!

"What the hell are you doing?" Zarya glared up at the completely innocent and not-corrupt-at-all referee, Isa Kubota.

"You've been outside long enough. I take this shirt very seriously." Isa spoke gravely, before resuming the twenty count. "Five! Six!"

Thinking her good 'friend' might be the next on her list of people who needed their asses kicked, Zarya's cold eyes shifted to Makoto. "Do yourself a favor. Lay down. Take the loss. Just give up" With that, she moved to climb gingerly back into the ring. Zarya had no illusions about Makoto surrendering the match, but she damn sure was going to watch as the Judoka struggled to make the count.
_________________
Want to role-play or set up a match? PM me and let me know!
Wrestlers -
The Barracks
Zarya slapped Makoto after those weak punches, or at least she thought she was slapped. She could've sworn she saw an open hand heading towards her face, but it frankly felt like a punch. It certainly had the impact of one, and it was enough to knock her down to the floor. With Zarya there was nothing gentle or weak - everything was heavy and everything hurt.

She expected the behemoth to continue the assault, kick her while she was down, and she very well might have if an unlikely source hadn't saved her at the last moment: count-outs. She honestly hadn't even thought of them, expecting the 'referee' to just ignore them so her friend could have her fun outside of the ring. Whatever the reason, it gave her a momentary reprieve, as the Russian made her way back into the ring, giving her some space.

Seven.

It was tempting to just stay there, to let herself be counted out. Her chances of winning this match were low to nonexistant already, and they would surely drop as the beating continued. It would be a beating, too. Making her way back into the ring only meant more pain…

...but it would also mean that she backed down from Zarya, that the vile woman got the pleasure of forcing her to quit. She refused to let that stand.

Eight.

Gritting her teeth, Makoto crawled over to the ring apron and grabbed it, using it as a handhold to help her way back up. A little higher, a little higher…

Nine.

With one final surge, Makoto grabbed the bottom rope and pulled her way back into the ring, narrowly avoiding the final count. She rolled over her chest and stared up at Zarya with a defiant glare, daring her attacker to come at her again. Not that she would need such provocation for that.

Page 4 of 7 •

1, 2, 3, 4, 5, 6, 7



Similar topics
---
Permissions in this forum:
You
cannot
reply to topics in this forum