Who is online?
In total there are
47
users online :: 12 Registered, 1 Hidden and 34 Guests :: 2 Bots
bricktown
,
dragonswill
,
Harrier
,
ja15ke
,
killcarrion
,
LunarWolf
,
Mystery Dragon
,
Old_Man_Tai
,
ownagegamerz
,
Teenwrestler
,
Yori
,
Zithpith
Most users ever online was
390
on Tue Jan 02, 2018 2:02 pm
Champions & #1 contenders
Serious apologies to everyone....
Mon Mar 19, 2018 1:59 am by Cy_Man
To those who I RP with, I just want to say that I am terribly sorry for all my delays that I constantly do. I just have been SO unbelievably busy as of late that I hardly have any free time to be able to attempt to make posts to our threads. I really needed to get his off my chest badly, and it makes me feel like a complete piece of shit for doing this all the time. If you don't want to RP with me, I completely understand, there should be no reason or excuse for me to have to keep you waiting …
[
Full reading
]
Comments: 1
Explanations and Apologies
Sun Mar 18, 2018 10:02 pm by acuya
Okay, so.
As some of you may have noticed, the Entropy Title Match from last year's Summer Splash has come to an abrupt conclusion.
The reason for this is because my match with Lies was taking too long, and with the next Summer Splash coming up, the Entropy Belt needed to be put in play for this year.
I won't get into the specifics of WHY that happened, suffice to say it ultimately comes down to my fault, I think. For those who haven't been here long, back in the day, I had a problem with …
[
Full reading
]
Comments: 1
A match for Takeichi
Mon Mar 12, 2018 7:31 am by GrandAkumaShogun
Since both Imai and Takeshi are currently involved in matches I was wondering if anyone is interested in taking on my first wrestler I made for here, Takeichi Mori. His profile says he's a jobber but I intend to change that and hoping a match can help with that. Anyone interested please get in touch with me on here in a pm.
Comments: 1
Page 1 of 2 • 1, 2


2 vs 1 Hardcore Handicap
Vs.
and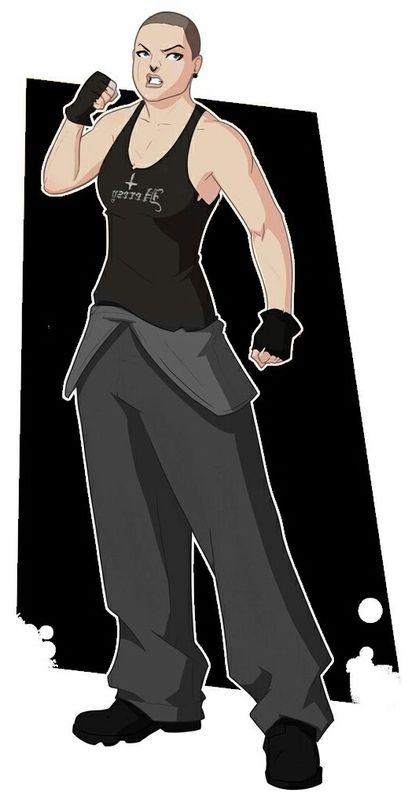 Win Condition: Knockouts only. All competitors on either side must be KO'd to win.

Rules: No disqualifications. Anything goes.

Use of weapons heavily encouraged.
Sakiko Mori was done talking.
She had called out the existing members of WAR, and like good dogs, they came running when beckoned,
but the time for words was over. A small cylinder made it's way from a homemade pocket inside her hoodie, and with her thumb, she popped the pin and let it drop to the mat. Generally, professional wrestling, even hardcore wrestling, involved weapons like steel chairs, wooden tables and baseball bats. Really brutal matches would throw in some sharp objects to go with the blunt ones, adding barbed wire, glass, and light tubes to the mix. But this wasn't the kind of game Mori was playing. This wasn't the point she was here to make. She brought her own toys, to fight on her own terms, whether the so-called members of WAR were ready or not.
With a hollow clang, the cylinder rolled along the mat, before a thick, orange haze hissed out of the container and filled the cage. The wiry girl's gas mask wasn't just for show: the homemade tear gas filling the chamber did little more than sting her eyes about as much as some freshly cut onions. The concoction wasn't anything near police-grade, but it was certainly enough to cause a lot of pain to whoever inhaled it. Enough to level the playing field against the behemoths in her path.
As soon as they were distracted, Mori would rush in, screaming, and raise her bat above her head. Jessica Wright seemed to insinuate that she wanted to go first, so go first she did. A wooden baseball bat, the thick end wrapped in barbed wire, collided into the purple-haired woman's shoulder, digging deep with the barbs at the end. Following through in the same motion, the smaller girl ran across the other side and leaped onto Jessica's back, twisting the barbs in her shoulder as she pulled the bat back to strangle the woman.
Jessica was lurking, like a piranha eyeing a fatted calf which had the terrible misfortune of finding its way into her river. She was supremely confident all the time, but she was rarely more confident than she was right now. The woman in front of her did not look terribly intimidating, and she had River at her side. Jessica felt like she had the firepower of an entire army at her back, and she was going to show no reticence about bringing out the big guns.

Then something awfully strange happened. The small girl in front of them did not charge at them with a baseball bat, but instead opted to drop the soda can that she had in her pocket. Jessica crouched into her wrestling stance and started to slowly advance on her opponent when thick orange smoke started to fill the air. The Violent Violet closed her eyes and started hacking and coughing profusely. In her time in the ring, she had seen lots of dirty stunts, but this was an entirely new one.

She was so indisposed that she did not see the violent attack coming. Something that was both hard and sharp slammed into her shoulder, causing her to yelp and go down.

"Fuck," she said between coughs.

And right away, things went to shit.

Styx wasn't sure how she was expecting Carnage to lead off, but she had to say, filling the ring with tear gas wouldn't have been on her top ten list. While this wasn't the first time she'd tasted the stuff, that did to make it any more tolerable, especially since she had nowhere to run away from it.

"Fuck!" She stumbled around, clutching her eyes, cursing, swinging - no, flailing about. All she accomplished was tripping herself up, as she stumbled over what she assumed to be a trashcan and fell flat on her chest.

Screams. Yelling. Cursing. She could hear it all around her, but she wasn't sure it was Jessica, the unlucky referee, or the crowd. Probably all of them. "Jess! Jessica!"
Despite the odds, despite the difference in size and the impossible fight ahead of her, Mori had claimed the early advantage, and she wasn't about to slow down now. Without so much as a smirk towards her early success, she followed up the swing into Jessica's shoulder by running around the opposite side of the woman, barbed weapon still lodged in place. The movement painfully twisted the barbs in the violent violet's flesh, and Mori followed through by jumping in the air, driving her knees into Jessica's spine, and using the bat like a fulcrum to strangle the woman. The barbs weren't deep enough to tear muscle or cause any permanent damage, but they held enough for Mori's makeshift lever, and even the toughest competitor would be in some serious pain.
The barbed wire in her skin did not feel good. The bat was still there in her arm, with the prickly thorns of metal twisting into her skin. It was a shame that the crowd could not see her writing in pain, but they could hear her shrieks of suffering. All of the smoke in the air did little to relieve her suffering. She was still coughing, and now her eyes were watering from the unbearable pain and the thick smoke in the air.

And then, somehow, things got worse. Something dull and hard drove into her spine, causing her to twist with this newfound pain. Now, all of a sudden, the bat was on the move, and it was right in front of her neck. She sputtered as she was strangled, feeling the pain from all angles now. The Violent Violet thrashed backwards and forwards, right and left, doing everything she could to escape and even sent a few elbows backwards to try and alleviate this absurd, blinding, enraging pain.

The whole time she was doing so, she silently prayed River would find her, and show this upstart what exactly she was messing with.
First priority: Find Jessica.

Second priority: Make Carnage wish she'd never been born.

Preferably, she would've liked to mix those two as much as possible, but key on her mind was helping out her friend. In a straight fight, she wouldn't have worried too much about her, but there'd been enough weapons around the ring to hurt even her, and no telling what the crazy bitch could do with a vulnerable opponent.

She followed the sound of sputtering, reaching out with fumbling hands, until she found what she assumed was Carnage's back. With a hard pull, she tried to yank her away and toss her across the ring, not particularly caring where she landed or what she landed on.


Mori was prepared to pull until Jessica had passed out, and maybe past that: this match was about sending a message, and if the message was that her supposed prospects were too weak to weather her wrath, then so be it. But that did not seem to be the case as an unexpected hand gripped the back of her hood and pulled, sending her skidding across the mat and landing on something.. hard.

The bat had been flung from her hands in the commotion, but beneath her now was a steel chair. Rolling back to her feet she gripped it by both legs, and crouched down, her movement momentarily slowing like a tiger getting ready to pounce, before leaping forward with the chair in hand. Stepping in towards the still blinded Styx, she jabbed it forward into the side of the larger woman's knee, hoping to bring her low before a second swing came flying towards her skull.
Jessica never thought she would be so happy to breathe smoky, crappy air. The bat was removed from her neck, and Jessica sputtered and coughed for a second. She still had very little idea as to exactly what was going on, but now her mind had moved t a dark place. Before this evening, she would not have given this obnoxious little prat a second glance. But now she was in the mood for something just short of murder.

The Violent Violet stood up. Her eyes were still watering from the blow, and not even a few blinks were enough to clear her vision.

"River!" She shouted.
It was taking a moment, but Styx's vision was slowly to  clear. Not perfect yet, but she could make out vague shapes, blurry as they were. She just needed a few more moments, and she'd been able to see clear, then she and Jessica move on to the business of ripping this crazy bitch to shreds and dissecting her in brutal fashion.

Until that happened, though, she still had the advantage of being able to see more than three feet in front of her, and she was making the most of her moment.

Styx could see a black blur coming towards her, but there wasn't any time to really register what it was or what it was about to do before the pain hiit.

She cried out and fell to her battered knees, hissing at the raw pain. "Jess-"

And that one syllable was all she could get out before she was clobbered in the face by a goddamn chair, laying her out flat on the canvas. That was where she laid, too, groggily rubbing her head and rolling from side to side.

The smoke was starting to clear, but from outside the cage it was still next to impossible to see exactly what was going on. Camera crews rushed to the side of the ring, trying their best to get a decent angle, but amid the screams and smoke the images broadcasted to the jumbotron and viewed by everyone at home looked less like a wrestling match and more like footage of a terror attack.

Mori stood over her fallen opponent with eyes narrowed into a look of disgust, letting the chair in her hand limply drop to the floor. "This is it? This is what everyone is so afraid of? You fucking losers were supposed to plunge this place into a pit of violence, and YOU CAN'T EVEN HANDLE A FUCKING TWIG!" She lowered herself to a crouching position, reaching for the previously discarded bat and slinging it over her shoulder. "I'm embarrassed for you. Maybe... maybe you just want it to end, while you still have your pride mostly intact? Maybe you've got something to prove?"

She stood up, raising the bat slowly over her head in preparation to bring its spiked head down into Styx's skull. "Well don't worry baby, I've got you covered."
Page 1 of 2 • 1, 2



Similar topics
---
Permissions in this forum:
You
cannot
reply to topics in this forum