Champions & #1 contenders
Kawaii Opportunities
Sun Jun 17, 2018 3:04 pm by Daaharu
Hey, guys!
With the kawaii title match at Avalanche taking on an interesting wrinkle with the interruption by the Brat Pack, we are moving forward with the overall kawaii storyline, and at this point I'd just like to take stock of what kawaiis are out there that are interested in participating in a cohesive storyline.
Can't make any promises about titles or what exactly each girl's given role would be. We can talk a little more about the specifics of where the story is going soon, but I …
[
Full reading
]
Comments: 3
Match for Takeichi
Tue Jun 12, 2018 6:13 am by GrandAkumaShogun
So with my other two guys having their own matches I figure I should do something with my first character on here, Takeichi Mori. If anyone is interested feel free to post here or get in touch through a pm so we can plan it out. I can either have Takeichi remain a jobber or begin to work him towards being a more serious competitor.
Comments: 1
Match or RP?
Wed Jun 13, 2018 3:48 pm by Lotuswarrior
I'm just looking to do something while I wait for match replies. Really want to get some characters cemented a bit with a rival or some interactions with other characters here.
If anyone wants to do something hit me up.
Comments: 0
Page 1 of 2 • 1, 2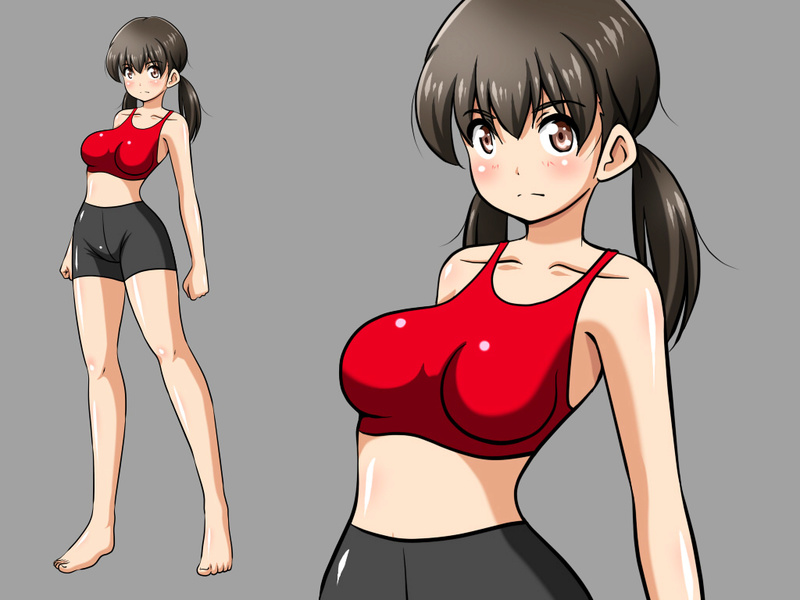 Lindsay would let out a long sigh as she entered the empty AFW gym. It was one of the things she loved about this company, their gyms are opened 24/7, just for any wrestlers' convenience. And while she does love to workout and choke some no names in spars, training late at night in an empty gym was just so...relaxing, serene. She would set her towel and water bottle down on one of the benches and head to a treadmill to begin with some light jogging, believing she was completely alone in the gym, or so she thinks.
Despite Lindsay believing herself to be alone in the gym due to it being so late at night, this could not been further from the truth. In actuality, the recently recruited Deja and Dot, or Mewow as their tagteam was named, had come in to test the new facilities which were on offer. Such extra time before their debut would also be great as it would allow them to get a little more practice in before they had to fight in the organisation, be it alone or together.
Mewow:
However due to the two of them not getting to spend as much quality time together as they would usually because of the moving process, the two were feeling a little more frisky than usual. Since there clearly wouldn't be anyone else who would bother coming in to work out so late at night, the tagteam had decided to grasp the lovely opportunity which had been provided for them to make up for lost time and get a little intimate. The noise might be faint, but Lindsay would probably be able to hear some light movement coming from underneath one of the sparring rings, the source of said noise being Deja and Dot locked in the beginnings of intercourse.
As Lindsay would jog at leisurely pace on the tread mill, she would soon start to hear a faint but strange sound. Lindsay would frown and listen closer to where the sound was coming from. After a few moments of listening, she would look at one of the sparring rings. Stopping the treadmill, she would cautiously walk towards the ring and as she got closer, the sound would become a bit more clearer and they were...moaning? Completely freaked out now, Lindsay would reach the sparring ring and just look under it to see what the bloody hell was causing that moaning sound. To her surprise it was two girls!

They were eating each other out, 69 position, and appeared to have been wearing, cat ears? And tails!? Lindsay would gasp out loudly as she would exclaim, "What the bloody hell do you two think you're doing!?"
Shocked and undeniably startled by the sudden noise and light the two girls both jumped slightly and immediately stopped what they were doing, their wrestling attires luckily not being fully removed which allowed them to get everything covered up again pretty quickly. With Deja soon rolling off of Dot the two were stuck sitting next to each-other underneath the ring with Lindsay staring at them, both incredibly red in the face and unsure on what to say.

"Aha... You must be one of the competitors..?" Dot eventually started off in a very quiet and gentle manner, trying to get over he embarrassment to continue. "Apologies for disturbing you... We were training and one thing kind of lead to another and things escalated pretty quickly." She continued to explain apologetically, wanting to at the very least give a bit of context to the situation.

"Don't know what you're apologising for, we haven't done anything wrong." Deja grumbled next to her partner with her arms firmly crossed, rather annoyed that everything had been so abruptly cut short.
Lindsay would look at the two cat girls with disgust and scoffed, "If you two little twats think that's appropriate behaviour for public, then you two must be missing a few screws loose! You two are absolutely disgusting!" Lindsay would reach out and grab both girls by their attire and yank them out and smash them against the ring side, glowering at them menacingly.

"You two should be ashamed of yourselves! Doing that in a gym! A gym is a sacred place for us wrestlers to get better! But if you two think its just nothing more than just another little hideout for you to make disgusting love to each other, than you should get the fuck out," Lindsay said before pushing them down on the ringside really hard and turning around to leave. Her sudden mood to train was just absolutely ruined now.
"Well perhaps the name calling isn't really necessary, though I do understand if you're upset about the situation, and once again, we are sorry." Dot started off in the same apologetic fashion, Deja about to start yelling in outrage at the insults when the two of them were abruptly yanked out from their hiding space, both of them slammed against ringside with separately pitched grunts of discomfort.

While Dot was very content to just take Lindsay's criticisms and leave it at that Deja was having none of it. "Uh... Sorry again. Have a nice night." Dot said cautiously after the two of them had been released from the taller woman's grip, the possibility of proper confrontation seemingly coming to an end when Deja suddenly stepped forwards. "And what?! That's it?! You're just going to fuck off without another word?! You seem to think you're hot shit but from what I can see you're about as hot as a damn freezer!" She yelled out in clear outrage, her facial expression deeply stemmed in anger as Dot attempted to gently restrain her, the words of her partner shocking her beyond talking.
As Lindsay walked away, ready to just leave things the way they were, that red little kitty cat just had to open her big fucking mouth, didn't she? Lindsay would stop in her tracks and slowly look back at the red cat girl, shooting a death glare at her. "Would you like to repeat that, love?" Lindsay said with a stern, threatening tone. Without warning, Lindsay would turn around and dash at the red catgirl and tackle her to the ground, before quickly slipping behind her and locking in her finisher, Off to La-La Land, locking in a sleeper hold and bodyscissor combo.

"Why don't you repeat that again? Hm?" Lindsay would say as she would squeeze the red catgirl's head, fully aware that the pink haired cat girl would be seeing this.
Having no issue meeting Lindsay's glare Deja made the mistake of pulling away from Dot and stepping closer, only making what Lindsay did next far easier. In what seemed like a heartbeat Deja was tackled straight to the ground, unable to even put in proper counter measures to fight back before she found herself tightly locked within a powerful finishing hold, her legs desperately flailing as she tried to pull the taller woman's arms off of her, unable to do anything at all in the way of repeating her earlier statement.

"Heyhey get off! There isn't any need for that come on! My partners just a little sensitive! Please get off of her! She didn't mean any harm!" Dot yelped in awkward panic as the horror transpired in front of her, unable to directly attack Lindsay through the pure fear of accidentally hitting Deja instead. Trying to assist Dot got closer and tried to pull Lindsay's arms out of position, unfortunately, strength was by no means her strong point.
Lindsay would hear the pink-haired cat girl and huffed, only provoking her to tighten the sleeper hold. The fancy thing about training with the sleeper hold for one's entire wrestling career, is that practitioners such as herself learned how to apply sleepers to prevent her victims from actually passing out, only to keep them in a state of grogginess. She would allow the pink haired girl to attempt and pull her current victim before replying, "Oh I'll let her go. After this." At that moment, Lindsay would shift her arms slightly that would then allow her to apply full force to her sleeper hold, tilting the red hair girl's head slightly downward to the right, achieving an insta-KO before squeezing her limp body one last time and throwing her off.

She would then glare at the pink haired girl and before she could run to her little friend, she would grab her by the cheeks and slam her against the wall. Looking into her eyes coldly, Lindsay would say sternly, "You and your little darling over there really ticked me off. So I'll make a little bet with you and your little lover cat. A match, between you two against me. I win, you two will be my personal kitty cats for a whole week. You win, I will never bother you two again. And don't think about declining, because if you do, I'll just choke you out here and take both of you with me back home and settle things there. Do I make myself clear?"
With Dot's helpless tugging doing very little to save her Deja soon felt the full force of the sleeper, her legs aggressively shaking for a moment as her arms held onto Lindsay's, her grip only managing withstand a couple of seconds longer before her arms lifelessly dropped, her face an even brighter shade of red as her eyes practically rolled back into her head for the perfect KO. Thrown off to the side like common trash Deja would just lay there in a helpless state of unconsciousness, the occasional twitch forced out of her due to her body being in such shock from what had happened so quickly, the slightest puddle of drool amassing underneath her due to her spending her last few moments of consciousness trying to force in air through her mouth, of course to no avail in the end.

As predicted, the moment Deja was released Dot tried to leap onto her to make sure that she was as alright as she could be. Unfortunately, the pink haired cat enthusiast was caught on her path to her fallen lover, taken in the exact opposite direction to the way she wanted to go before being slammed against the wall, not bothering to try and struggle her way free due to the fear of getting the same treatment as Deja. "Crystal..." Dot muttered quietly, quite intimidated by Lindsay and clearly afraid to defy her. Agreeing to an unknown match against a wrestler who was clearly stronger than the two of them combined? Dot knew this was nothing but a bad idea, but the current situation made it so she could not refuse.
Page 1 of 2 • 1, 2



Similar topics
---
Permissions in this forum:
You
cannot
reply to topics in this forum