Champions & #1 contenders
Summer Splash interest in Natasha Loclear?
Mon Apr 09, 2018 11:30 pm by daemongirl
Well my girl hasn't missed a summer splash yet, would anyone be interested in a match with her? Open to just about anything match wise, just pm me!
Comments: 1
Been Out with the Flu
Sun Apr 22, 2018 7:47 pm by daemongirl
Just letting those I have threads with know I've been out with the flu since early last week, but I will be back to posting tomorrow.
Comments: 0
The Austrailian Mudslide is Back.
Sat Apr 21, 2018 6:20 am by Softsquad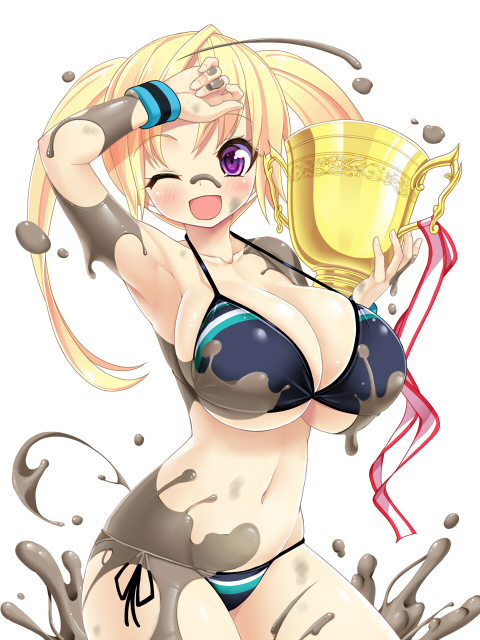 Granted that most of you won't know me or remember me, but I've had a few matches here and there some time ago. Well I think its time to become a regular around here and try to have some fun again, but at the same time keep coming back. Anyway I think its time to jump into some matches with Zoe Taylor, my mud wrestling character from Australia and get her back into the squared circle. Furthermore I will update my characters as I think some proper changes need to happen.
So if anyone would …
[
Full reading
]
Comments: 0
Page 1 of 9 • 1, 2, 3, 4, 5, 6, 7, 8, 9


Standard Match
Victory By Pinfall, Submission or DQ
Be it insane powerhouse, or cute kawaii; busty sumo, or toned master of mixed martial arts.
Everyone
wanted to make a strong impression in their debut wrestling match in AFW. Be it necessarily to obtain a win, the roar of the crowd, or to simply make themselves known, every individual in AFW aimed to make their first showing one that would not be quickly overlooked or forgotten anytime soon.
Such was the same for Lea. Despite many remarking their belief that the girl was insane, or worse, upon their first encounter with the blonde.
Quickly ruffling through the small duffel bag she had brought with her, Lea would be somewhat adamant that everything she brought with her had its place, and everything would stay in said place; obsessions with cleanliness and organisation somewhat unusual when paired with a woman who when her feet were firmly placed on ring-canvas ground, would be trying to break her foe into pieces, no order or organisation involved in a somewhat methodical torture of her prey. Apparently finally pleased, the blonde would zip up her back to give her long, curled locks a quick shove to their rightful place behind her head, just as the door to her dressing room swung upon. From within the door frame stood a small young girl with clipboard in hand; the blonde easily dwarfing her despite Lea being of no notable height.
"Erm...Miss Lea...? It's time..."
The girl would shakily mutter, her feet somewhat shivering given the circumstances. The moment she had appeared, Lea had locked a gaze upon her that bared somewhat similarities to a wolf eyeing up it's next meal. A awkward few seconds of silence, the unlucky backstage helper would soon shuffle off, apparently not enjoying the presence of a woman who screamed pure hate simply with her gaze.
Maintaining the fierce gaze she had assumed, eyes wide as saucers, Lea would begin her methodical pace to the entrance curtain; occasionally forcing eye contact with yet more officials who quickly regretted being in the woman's presence. Stopping just shy of the curtain, her hands would for a final time settle back to her scarlet one piece, adjusting the shoulder straps just to make sure everything was in place, and everything would remain so. Not exactly a easy task for her outfit, given Lea's huge chest was already barely contained before any heavy motion had even been applied.
Spoiler:
Finding her way through the curtains as her music began to tear it's way through the eardrums of the audience, Lea would again assume her methodical pace down the ramp, this time sharing no glares with nearby individuals as her eyes now latched to the ring. The crowd itself was somewhat of a uneven split; the further back the row, the louder the cheers and roars, the crowd apparently interested to see yet another busty powerhouse-esque figure parade around their beloved square circle. The closer the fans where to Lea however, the more awkward their silence, as it became very clear to them that there was most certainly 'something' off about the blonde brutes gaze.
Sliding under the bottom rope and quickly finding her feet, Lea's face retained it's cold composure as she was quick to sink into the farthest corner, keen to wait the arrival of a woman that Lea herself bore strikingly similar traits with. After all, Lea had purposefully picked this
particular
wrestler to assist in her debut for a reason...
Last edited by scorn53 on Wed May 10, 2017 5:21 am; edited 3 times in total
Jessica was reclining in her chair with not a worry in the world. After the debacle of Summer Splash, she had been on a roll. Anyone who stepped to her was brutally beaten down, and some of them taken home for a wonderful night of pleasure. Jessica's pleasure, that is. The room she was given was luxurious, and Jessica was looking in the well-lit mirror she had in front of her. The purple eyes that shone with mischief were shining bright once more. Jessica was a confident, proud woman, who had more than earned both of those traits with copious amounts of violence.
[img]http://i.imgur.com/TS9XrSp.png[/img]:
And she was going to bring that violence to bear again tonight. She got up and began her stretching. The red, gold, and black outfit that drew in the gaze was already adorning her fit and curvy body as she began going through her paces. She had no idea who her opponent would be for the evening, not that it mattered. Jessica was going to bash anyone who came her way, with little regards to who exactly she was. She heard through the grapevine that it was just a rookie, and that filled the Violent Violet with perverse joy. Jessica was in the habit of tearing rookies limb from limb, and there was no reason that this particular woman would fare better than all the other victims had.
Worse still, she heard a rumor that this lady picked her as an opponent. Jessica took that as an insult. The only people who should be picking Jessica as an opponent were women with title belts, not fucking rookies. This bitch probably didn't even know her way around the arena.
Jessica, in a much darker mood now, walked out the door. Staff clung to the walls as she passed. Sound bounced around the hallway as her red boots rapped against the harsh floor. Jessica wanted everyone to know she was coming.
Little sister there's blood on the tracks...
When she entered onto the main stage, so to speak, she was met with a very mixed reaction. A small minority whooped and hollered and cheered, but everyone else booed. Jessica was respected, but not loved. Whatever. She didn't need them. The Violent Violet marched down to the ring with her head held high, and jumped over the top rope. Immediately, she went to the center of the ring.
"Nice night to rip your head off," She said towards her opponent. Lea, that was her name.
With her foe whiling up the crowd with her mere presence, Lea's lips would again stretch into a dark smile, as it became apparent very quickly that this was most certainly the woman that was advertised. The way she moved, the way she carried herself, hell, even the way she latched her eyes to the ring. Part of Lea wanted to cheer, but said part quickly went into hiding as the blonde forced her face to turn back to it's stoic, scary look. Albeit, Lea was considering simply smiling from ear to ear at the Violent Violet as she made her way inside the ring. After all, nothing was more insulting than a rookie taking you so seriously as to actually smile.

With Jess now but a handful of steps away, Lea would finally perk up from the corner, quickly giving something of a lazy shoulder roll. The referee would step between the two somewhat fearfully, even with the great distance between them. Even though the blonde gave a somewhat evil presence simply by standing there, the referee was most likely standing there for her own good rather than for Jess', before a fact became obvious, a fact that quickly suggested stepping between the two was not wise. The reminder that you had to be nuts to challenge Jessica Wright to match. Let alone on your debut.

With the threat of her head leaving her shoulders hitting her eardrums as the bell made that ear piercing ring, Lea would slowly tilt her head, as she adopted a serious gaze. Once her head was finally to what could only be described as an unsettling angle, almost akin to a possessed child ripped straight from an Exorcist movie, she would let loose a howl of a laughter, her eyes shutting as humour apparently completely overtook her. The startled referee, and a great majority of the crowd somewhat literally dropped their jaws.

There were but a few unspoken rules in AFW. You don't try to over power Rebecca Tomko. You don't try to out box Carmen Rodriguez. And you certainly don't fucking laugh at Jessica Wright.
Well this was, different. Lots of women here had gimmicks all up and down. There were tons of bubbly cheerleaders, and silent loner types, and women who just liked violence. It was just part of wrestling, and Jessica had learned that very early on when she wrestled all up and down the Midwest. But this woman...this woman was different. Physically, she was quite stunning, of course. The curls in her blonde hair bounced,and that lovely outfit of her barely restrained her wonderful breasts. Or her tight muscles. But more than that, there was something about her that was incredibly off-putting. This blonde woman was holding her head at an unearthly angle, and it gave Jessica the heebie jeebies.

The usually confident Jessica was shaken a bit, but she did her best not to show it. The look of apprehensiveness on her face quickly dissipated into the concentrated face that Jessica usually donned during her bouts. This blonde girl could have her psycho smile, but Jessica was going to be all business.

The bell went off, and Jessica began to approach, cautiously. She was a smart wrestler, and liked finding weak spots in her opponents. Even a casual glance at Lea informed her that she was not going to be able to scry much from her, other than the fact that she was a complete lunatic.

"Why so fucking shy?" Jessica demanded. "The last bitch you fought ripped your tongue out?" And with that, Jessica launched into action. Her long legs propelled her across the mat as quickly as she could go, and left the confines of the earth, going for a missile drop kick straightaway.
With an uneasy shiver down the referee's spine, the black and white clad lady would make her way to the far edge of the ring, back pressing against the ropes. These were women that individually you simply would not want to meet in a dark alleyway. And for whatever reason fate deemed fit, The Violent Violet was now helping a woman who was just as intense, if not more so, than herself.

With fear completely devoid in the eyes of the blonde beauty, despite the extreme force that stood before her, Lea would turn her head back to a more 'human' angle before clenching her eyes shut somewhat, to give the impression of both intimidation and focus. What may have startled Jess more somewhat had she known, but Lea had chosen the Violent Violet as her opponent for a reason in addition to their similar levels of crazy. In fact, it was for those similar traits, that Lea had taken it upon herself to analyse several of the more established wrestlers matches before hand, to an extend. Simply put, Lea hadn't read the whole book on Jessica, but she'd taken a lot of the key details in.

And surely enough, her prior research quickly bore fruit as Jessica unloaded what was apparently a favourite for the Violet in terms of opening up her matches. And of course, Lea would be sure to teach the Violet that she did not at all consider herself been compared to her past victims of the opening dropkick a compliment.

Sidestepping a little as Jessica threw momentum towards her, Lea would outstretch hands to apparently prepare to catch the muscular in something of a loving cradle carry, as if the two had just gotten hitched. Only, the moment Jessica's back and thigh made contact with Lea's sturdy arms, the blonde would drop the violet.

Straight down. Her back, over outstretched knee.
Jessica loved starting matches with this move. It was quick, it was devastating, and the impact was massive. Her two outstretched legs oozed raw power, and when the Violent Violet reached her top speed, her momentum was nigh unstoppable. Jessica's two powerful arms were back and her lips were curved into an evil smile. Maybe this would rattle this crazy bitch's cage a little bit, and get her to drop that fucking insane look on her face.

The Violent Violet wasn't looking to see that her blow hit home. She knew she was going to slam into Lea, there was no point in even looking. But she was in the air for a suspiciously long amount of time... and then she was grabbed from the air. Lea's strong arms gripped her body and Jessica's eyes went wide with fright.

Then she was rapidly accelerated downwards, onto Lea's knee. Jessica's muscled back exploded with pain and a cry of anguish escaped her lips. She rolled off of Lea's knee, clutching her back. The match had barely started and she had already been hit hard. She quietly cursed herself for being so predictable.
The move was something of an obvious choice for a woman of Jessica's size, albeit not at all predictable right off the bat without some familiarity with the Violent Violet. That tall fine figure running straight at you with feet extended, even ignoring the fact that Jessica's rippling muscles would only make the manoeuvre hurt several times over. Whether Lea had the endurance or hardiness to take such an assault on the chin was a question that didn't need to be answered, as a quick catch, slam and snap of sorts had her foe on the mat. A perfect start at the expense of a woman you don't piss off.

Watching the beauty before her struggle with hands to her back, Lea suspected a rise was soon to come. Bending down, she'd attempt to latch her own firm hands clasped tight right around her foes right ankle. What came next quickly suggested Lea's matches would be as difficult for the commentary team as it was frightening for the in-ring official, as what Lea did simply had no wrestling move name attached to it.

Suddenly straightening up her legs, Lea would roar as she hoisted her foe up into the air, her foes weight acting against her own ankle as it appeared at first Lea was genuinely trying to tear it off; the crowd near speechless as Lea threw 141lbs up into the air as if it was but a kettle bell, before simply, letting go. The blonde admittedly didn't give a damn how her foe landed, of course holding less preference over the idea of the woman performing a feat of acrobatics and landing on her feet; beyond that, she simply cared not for what part of Jess she landed on, for it was intended as something of a animalistic message!
Get up get up get up. Her wrestling sense had been honed by hundreds of hours of teaching and enough matches to fill several solid careers. She had encountered pain like this before, but usually it was far later in the match, and was the culmination of a bunch of smaller bumps. The Violent Violet was beginning to rouse and rise when a firm hand latched onto her ankle. Fucking great. Here comes some bullshit ankle lock.

Except, that wasn't what happened at all. Jessica found herself leaving the confines of the canvas, and her body being suspended by her ankle. For a second, she honestly could not believe it. The Violent Violet was north of 140 pounds, and very densely built. It would take an exceptionally rare sort of woman to pick her up from a standing position, let alone fully prone. But here Lea was, doing it as if it were as simple as curling a twenty pound weight.

Her mouth hung agape as she hung upside down in the air. Jessica was usually on the giving end of these sorts of moves, not the receiving end. When she fell to the ground, she was completely unprepared for it. Her head hit the mat first, and the rest of her body crumpled afterwards. She grimaced in pain as her body graced the mat, and once again lay supine on the white canvas.
The moment Lea released her foes ankle, she took but a small single step backwards as her hands nearly came to her hips, the blonde remarkably quick in assuming a pose that suggested she was admiring her own handiwork. To her joy, whether it was the surprise of the move, the lack of acrobatic finesse on her foes part, or a mix of both, Jess came back to the ground in the opposite order of how she left it. Face first, with legs forcing some weight to press down on her. Lea could hardly blame her; the blonde herself would of landed pretty much the same, given their wasn't a flexible muscle in her body. Regardless though, the blonde would smile, apparently eager to press on with the taster she had just given.

Her left hand grabbing a hold of that short thick violet hair, Lea's face would again assume it's sadistic glare as she began to force Jessica to rise. Not too far though; nothing beyond her knees, with Jessica's hands still able to support her weight against the floor in the hair pull if she so desired.

After all, it became quickly apparent that Lea wasn't at all interested in forcing Jessica up to her feet yet. She made that blatantly apparent, when her right arm came across, elbow extended, aiming neatly for the sour-spot dead centre of Jessica's toned shoulders.
Jessica could honestly not remember a time when a match had started this badly. Maybe, one time when she was still just a kid, wrestling in some dinky little gym outside of Chicago. Here, she felt like that kid again. Then, she wasn't the strong, unstoppable woman that she had been recently, instead a skinny little punk with more attitude than common sense. And just like then, she was getting thrown around, and she hated it.

A hand reached down and grabbed her violet hair. She didn't even have the dignity of being on her feet, and was instead forced shamefully to her knees. Then a club of an elbow slammed into her shoulder, causing Jessica to reel to the right. She stayed herself and looked upwards into the eyes of this psycho.

No more. No more, she swore to herself. This was going to be the beginning of her comeback, and from there she was not going to let up until Lea was in the fucking hospital. She attempted to shove Lea, and shunt her backwards enough that she could whip out one of her long legs and trip Lea to the mat.
Page 1 of 9 • 1, 2, 3, 4, 5, 6, 7, 8, 9



Similar topics
---
Permissions in this forum:
You
cannot
reply to topics in this forum