Champions & #1 contenders
Summer Splash interest in Natasha Loclear?
Mon Apr 09, 2018 11:30 pm by daemongirl
Well my girl hasn't missed a summer splash yet, would anyone be interested in a match with her? Open to just about anything match wise, just pm me!
Comments: 1
Been Out with the Flu
Sun Apr 22, 2018 7:47 pm by daemongirl
Just letting those I have threads with know I've been out with the flu since early last week, but I will be back to posting tomorrow.
Comments: 0
The Austrailian Mudslide is Back.
Sat Apr 21, 2018 6:20 am by Softsquad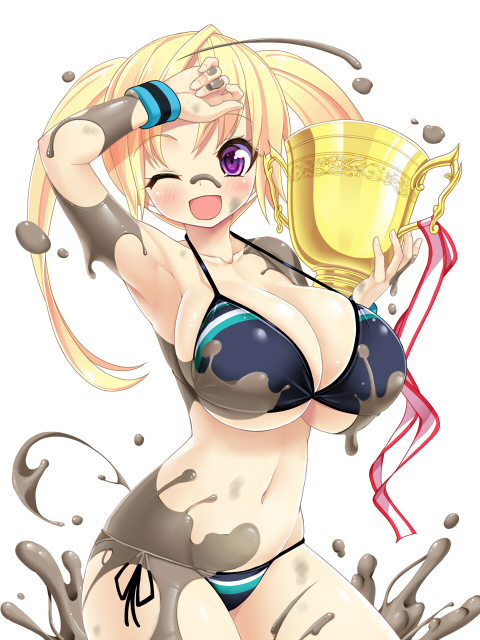 Granted that most of you won't know me or remember me, but I've had a few matches here and there some time ago. Well I think its time to become a regular around here and try to have some fun again, but at the same time keep coming back. Anyway I think its time to jump into some matches with Zoe Taylor, my mud wrestling character from Australia and get her back into the squared circle. Furthermore I will update my characters as I think some proper changes need to happen.
So if anyone would …
[
Full reading
]
Comments: 0
Page 2 of 5 •

1, 2, 3, 4, 5


Throwing herself forward with all her might, Holly had fully dedicated her body to this clothesline. She was determined that she was going to knock this arrogany young man down again, and show him that she was nothing to be trifled with! The full weight of her busty body thrown forward, arm extended, there was simply no way she could pull out of the charging clothesline, no way for her to redirect her momentum. Which was a foolish mistake that Sora made her pay for dearly!

"Hhhhhnnnngghhh!!" Holly cried out, as the man's massive, muscle-bound shoulder slammed hard into her soft belly. Knocked off her boots, the spear sent Holly's arms and legs flying out, as she was held in the air by nothing but the punishing impact against Sora's body. Tears flew from her face as he eyes shot wide open, before she collapsed to the mat as a tearful mess!

Holly's arms wrapped tight around her belly, as she curled into a fetal position on the floor. "N-not fair ..." she whimpered, between gasps, "you ch-cheating ... bastard!" The jeers of the fans filled the arena, watching the pretty young wrestler get folded up and dropped like trash by Sora's sudden change in tactics. When he actually flipped them off, it only worsened. Some in the crowd started to cheer on Holly, wanting to see her rally and put Sora in his place.

Holly rolled onto her back, arms still wrapped around her sore midsection. Out of pain, she kicked at the mat. Holly tried to force herself back into the fight, but she couldn't. Lying there, body quivering in pain, all she could do was try and recover some of her strength. Holly's chest heaved, as she fought to replace the air that Sora had knocked out of her. Making matters even worse, Sora was yelling down at her, mocking and humiliating her. Holly managed to roll a trembling shoulder off the mat, determined that this time, she would get back up and fight. This time, she wouldn't fail!
Sora would back up a bit. He had this in his hand right now and he wouldn´t give it away so fast any more. He smiled at Holly when she fought her way back to her feet. "Such words out of the mouth of an English lady… I am really disappointed. I thought when you are little your parents tell you how to behave… seems like your behavior is just one of the things you parents failed! You are just an all around looser and I am going to prove this tonight!", said Sora just loud enough that Holly would be able to hear it.

Sora started to jump from one foot to his other, and moving his arms and his upper body like he would start a boxing fight. He would throw some punches into the air and even would move like he would dodge some. After some moments he would flex his arms and make a waving move into the direction of Holly. "What you still not up again…", he said while coming closer to her again. The boy would grab the girl under her arms and pull her up back to her feet. But he would give her non time to recover in any way.

The moment she was back on her feet he directly throw short rage right punch into her stomach, while making a half step forwards to put more force behind his attack. After that he would grab Holly´s shoulders and try to push her backwards against the ring ropes. When they were there he would step back a bit and start boxing again. This time all his fast punches were aiming for Holly´s body. He tried to his her chest or her stomach. He wouldn´t stop throwing punches at her till the ref grab Sora´s shoulder and tried to pull him backwards. SOra would rip himself free for one last attack. He would try to make a big step forward and throw an elbow against the side of the head of Holly with all behind he had. After that he would turn around and walk back into the center of the ring. There he stretched out his arms and walked in small circles to show off a bit.

The ref would ask Holly in the mean time if she was able to go on.

Holly's face burned, as she listened to Sora tearing her down verbally. It hurt, listening to him mock her parents while all she could do was struggle and fail to get back up to her feet. Wincing, Holly put a hand over her face in a weak attempt to hide her overwhelming shame. She just needed a moment to breathe, and she would make him pay for all of this!

Still, however, he continued to mock her. While she lacked the strength to get back up, Sora was jumping around the ring as if they were about to head into a boxing match. The crowd jeered, as Sora looked like he was simply toying and playing with Holly. The British Bombshell was putting everything she had into this match, and Sora was making a show of how easy it was for him to do whatever he wanted, to her! Holly had never felt so pathetic.

Unfortunately, Sora wasn't going to give Holly that moment of recovery she needed. "No!" Holly said, protesting as she felt Sora's strong hand clamp down on her arm. "Unhand me!" Still, she couldn't actually do much about it, as the powerful young man yanked her to her feet. Dizzy from getting hoisted up, Holly was powerless, as Sora sank a hard blow right into the British Bombshell's soft belly! Holly hung there on his fist, quivering, until Sora shoved her helplessly into the ropes.

Hung up on the ropes, Holly was quickly reduced to a punching bag for her ruthless opponent! "Uuhn!" she moaned, as he sank another fist into her belly. "Uuuhhnn," she groaned, as another shot hit her square in the ribs. "UUHHNN!" Holly cried out, as another punch from Sora sank deep into her soft, sensitive breast! Holly soaked punch after punch as Sora unloaded on her, looking less like a fighter and more like Sora's plaything with every blow. Holly groaned louder and louder, wincing, tears flowing down her face as Sora worked her over. "Nooo," she whimpered, curvaceous body bouncing and jiggling as Sora pounded her. Each shot to her belly knocked more of the fight out of her, each shot to her chest drew more tears of misery from her eyes!

By the time the referee got in and pulled Sora back, Holly was already thoroughly beaten down. Holly's arms were draped over the rope, the rest of her body dangling limply from them. The posh Brit was looking less than dignified, at the moment: tears streaming down her face, legs spread out in a weak effort to support herself, Holly looked nearly ready to pass out. Regardless, however, when the ref asked if Holly could continue, however, Holly nodded.

"N-never," she gasped, "never giving up! Never!" Bracing her arms against the ropes, Holly started to move her boots beneath herself, until she was able to support herself on them, desperately trying to get herself back in the fight!
Sora was still working circles around in the ring, waving with his arms when the ref checked on Holly. The boy didn´t see any danger in her any more. She was just there to be beaten by him. When this match started he thought that maybe if everything would went wrong she would become dangerous for him. But now things totally changed in his mind. Holly just became an object for him to show off his skills and techniques. He could impress the world with it and maybe he would be able to lure some better fighters with that. Some fighters who maybe be a bit more of a fight to him than this. After all he came to the afw to fight the best of the best and didn´t want to compete in any pee break matches. And if he had to destroy this girl for it no problem.

Sora finally turned back around to Holly and looked at the girl who already needed to fight to stay on her feet. How pathetic! And something like that was fighting in one of the biggest leagues ever. In the same league as him? The league he needed to work for that he was allowed to join? That was insulting for him!

IT was right that Sora fought opponents who weren´t able to get back after such a soft treatment, but still this was the top league! Sora stepped closer to Holly. He walked pretty slowly watching her closely. Suddenly he stopped when he took a closer look at her red burning face. Slowly a brighter and brighter smile grow on his face as he realized what was going on.

"Are you crying?", he asked. He bowed a bit forward and took another look at her face. "You are crying!" He screamed out half laughing. He turned away a bit clapping his hands. "This is so hilarious, a wrestlers who starts crying after a few punches… or you poor little thing did I hurt you? I am reeeallly sorry…" Sora would start to walk closer to Holly again. "Are you going to cry out to mamy or papa? Or are you going to cry out for your boyfriend? You don´t have to cry little one!" He put on of his hands on top of Holly´s head and started to pet her a bit. "If you won´t I will kiss your aua!", said the boy with a big smile on his lips, before bowing forward and giving a kiss to Holly´s breasts, just to humiliate her in front of the live crowed. The fans were booing him like crazy for this acting. Some of them were calling out: "Beat him up!"

Sora was totally incautiously while doing so and open for almost any kind of attack.

The referee was starting to get closer to Holly, hoping to check her over and check the battered Bombshell over a bit more closely. Holly fended her off with a hand, trying to look as tough as she could while she nursed her aching body. Holly's ribs were aching as she breathed, her soft breasts felt tender as they shifted beneath her ring gear. Everything hurt, but she had to keep fighting!

Holly was trying and failing to fight back tears, as she wrestled with her pain. This was nothing like she had pictured for tonight, about a million miles away from the redeeming performance she had in mind. Holly had wanted to prove herself to be the world-class fighter that she, her boyfriend and her fans believed she could be! Instead, Sora was pummelling her and making it look humiliatingly easy!

Holly looked at the oncoming Sora and bit her lip. The powerful young man was bearing down on her yet again, and Holly could only imagine what torture he'd inflict on her next! Holly braced herself, but Sora's next attack wasn't physical- instead, he opted for emotional abuse!

Sora's laughter burned in Holly's ears, washing over her in waves of both rage and humiliation! "Y-you-! You bastard!" she gasped, shocked that another fighter could disrespect her in such a way. Flush with anger, Holly started to get off the ropes, only to have Sora plant his hand on her head and keep her there. Holly froze, absolutely certain this would only end in more pain! What he did instead, though, was far worse!

To the British Bombshell's shock and horror, Sora planted his face on Holly's breasts, and kissed them! His features sank into the soft expanse of her breasts, and she could feel his lips planting a mocking kiss on her! Offended and violated to her core, Holly froze in disbelief!

"EEEEEEK!" she screamed, arms flailing at her sides as uselessly as her weakly kicking feet. "How dare you!? Unhand me this instant! You'll pay for this!" The fans were behind her rallying, it seemed, overwhelming fan support getting rained on the ring for Holly to fight back and make Sora pay for violating her like this. Many of Holly's fans were women that liked her posh and pretty style, while others were men that wanted to be in Sora's boots right now. All of them, however, wanted to see the brute taken down a peg!

Trapped against the ropes, however, Holly wasn't in a good place to stop him. Clenching her hands into fists, she started to rain punches down on Sora's shoulders. Not terribly powerful ones, but the Brit wasn't thinking clearly. She just wanted him off!
Sora smiled into the totally red face of Holly. Now it was unclear to him if her face was red out of humiliation or rage or a combination of both. She wasn´t happy about her treatment at the moment, not at all. She screamed and struggled to fight her way free but it didn´t help anything. She was trapped there in the ropes and Sora could do with her almost anything he wanted. Holly screamed at him that he should untie her right away so she could make him pain. Sora didn´t even thought about that. Why should he do something like that? It was all in the rules what he was doing right now, so as long he didn´t hold on to long to her while she was in the ropes.

Seems like the fans weren´t behind this action either, what wasn´t a real surprise, but still the boy had some fun right now. There was a bright smile on his face while staring into the face of the British women. He tried to turn his head back down to give one final kiss to the chest of Holly. But the girl seems not happy about it and fought back. She threw a few punches at him. These punches didn´t hurt much when she hit his shoulders. But still Sora backed up a bit. These attacks didn´t hurt much but still, she was able to move and touch him again so maybe she would come up in the next moment with a much better attack, something to deal damage to him. This was the last thing the boy wanted right now.

HE stepped back a few steps always looking at Holly. With a smile he then asked: "Oh what is wrong… normally when I spent so much time with a girl, like I spent with you, they beg me to kiss them!" Sora would pose in the next moment a little bit showing off. "Come on you like what you are seeing right here!", he said while winking at Holly. The fans responded badly on his behavior again and were booing the boy for showing of directly in front of the tied up Holly and for not making her free.

But when the boy was finished showing of he reached out with his right arm. "Oh I almost forgot I own you a clothesline! Man man man sometimes I am so forgetful, I am sorry for that. I will deliver it to you imminently don´t worry you won´t have to wait any longer.", direly after finishing these words SOra would run into the opposite direction from Holly. He tried to reach his full speed before Jumping into the ropes and launching himself back into the ring. Now he was heading towards Holly and tried to speed up even more. When he was close to Holly he tried to jump up and hit Holly´s upper chest with a clothesline. He tried to throw Holly and himself out of the ring with this clothesline. While falling out of the ring he tried to turn so he would fall on his legs outside of the ring and didn´t land on his back.


Holly struggled and squirmed as if her life depended on it. However, trapped between the ropes and Sora's powerful, wall-of-muscle body, it did her absolutely no good. Wide-eyed, Holly looked from one side of the arena to the other, panicking as she tried to plan some method of desperate escape. Her small fists smacked against Sora's shoulders time and again, but somehow nothing could pry his face from her soft, and humiliatingly violated bosom!

"Y-you'll pay for this!" Holly shouted, feeling her skin flush from her chest all the way up her slender neck and across her face. The fair-skinned Brit got up to a deep crimson shade, for all of her ineffectual rage. Sora could do whatever he wanted to her, but Holly simply couldn't accept it. Instead, she simply screamed her lungs out, thrashed and bucked, and hoped to God that something would dislodge him from her immaculate breasts before much longer. Making matters worse, however, Holly was actually making matters worse- rubbing and grinding the top of her chest around Sora's face, accidentally!

Eventually, however, the brute backed off. Holly gasped a long and loud sigh of relief. Bringing her hands up, Holly began to slowly massage her chest, biting her lip as she tried to compose herself. She was still trying to process how humiliating that was. It seemed impossible, but the Brit knew she had to put all of that behind her, if she was ever going to get her head back in this match. Which was even harder, as Sora resumed taunting the suffering Brit.

"You can't get away with this," Holly resolved, listening to Sora's cocky rant. "I'm going to make you pay for this indignity, you little pig!" Holly brushed the sweat off her breasts slowly, as Sora posed and flexed. The Brit's cute little face was twisted into sheer rage, by this point, and while she was on wobbly legs, it was clear that Holly had revenge on her mind!

Which is why the next words out of Sora's mouth caught her off guard. "Wh-what?" Holly said, looking up as Sora came flying at her with another clothesline! Holly tried to duck forward, but Sora's massive and muscle-bound arm was too much for her to get clear of. His clothesline drove straight into her chest, with enough weight and power behind it to drag Holly right over the top rope!

"Nooo!" Holly wailed, as she rolled over the top rope. Her boots went up into the air, and she lost all control over her body, and where it was going! Holly hit the floor like a sack of potatoes, dumped to the ground hard by Sora! Lying on her front, Holly pushed herself up onto her forearms, with her hair dangling over her shamed face. It would take a few moments to get her bearings after a tumble like that, moments she knew with grim certainty that Sora would take full advantage of!
The boy found it kind of amusing that the British women was always scream at him he would have to pay for what he was doing. But she was showing no signs of backing that up.
Sora has send himself and his opponent over the top rope to the outside air. He know that he wasn't allowed the for long or he would be counted out. That would be pretty dumb,first he talks big and then he get counted out in the match up. That would be embarrassing for him. Also he had to make sure that holly would come back into the ring as well. Sora wanted to pin her or make her submit a lose via count on would be a way to easy way out for that British scumbag.
Sora wanted to destroy her, to show her how worthless she was! That would work via count out.

Sora landed on his feet unlike his opponent. He looked down on holly with a smile bofore waking direktly next to her. He would then slowly bow down to her because he ha d only limited time out here he tried to save his words and put one arm around her stomach and pulled her up onto his right shoulder. To lift and carry holly light body was no problem for sora, he even took a short moment to Boast a bit and walk around. While doing so Sora was throwing Holly lightly up in the ari repeatedly, so everytime she came back down her stomach would directly come down on his shoulder. He smileda bit when he walked around. The fans were dislinking his actions of showing off again.

"wow you are even lighter than u look... Even with these big boobys of yours. That must come from your leck of muscels!" he said calm while He walked over to the barricade between the ring area and the viewers. Sora would than throw holly up into the air , as high as he could. He was aiming that when she came down her chest would crash onto the barricade. Sora would step back to see his work. If everything would go right this could really be a great look.
The fans were reacting to this pretty badly. The fans directly in front of them would insult Sora and would try to cheer up holly so she could come back into the match.

The ref would call from the inside of the ring that both should get back inside. Then he would call out: "1"
Holly was fumbling helplessly on the ground, after being unceremoniously dumped out of the ring. The British Bombshell's entire body was aching, having come face-down, hard, into the hard flooring. Still, body trembling in pain, Holly pushed herself up onto her hands and knees. She tried to push herself, knowing she just had to get away, if she was going to survive. There was a look of panic on Holly's face, knowing how desperate her situation was getting. Dizzy from spilling over the top rope, hurting from the clothesline and the unforgiving arena floor, Holly was all too easy pickings for her muscular opponent!

"Nooo!" Holly whined, as she felt Sora's powerful arms wrap around her and hoisted her up. There was a lurching feeling in her belly, as Sora pulled her off the mat and into the air. Wincing, Holly whimpered a bit as Sora hefted her helplessly on his shoulder and paraded her around ringside.

It was, yet again, humiliating! Holly was being paraded around like a dog's chew toy! Her legs kicked and bucked, her arms flailed, all absolutely useless to getting her out of this predicament. Instead, she could only hand up there on Sora's broad shoulders, listening to more and more of his insults! Holly blushed at the mention of her ample breasts, suddenly remembering the way that Sora had just completely had his way with them.

"Shut up about those!" Holly said, whimpering as Sora tossed and bounced her up and down. Self-consciously, she tried to cover her ample cleavage with her hands, which didn't help much. Then, suddenly, the merciless man threw her into the air! "Ooooh!" Holly sailed off of Sora's shoulder with ease, before coming down hard, chest-first, onto the barricade!

"Aaaaaaugghh!" Holly screamed, her soft breasts hitting the barricade. "Uuuughhhn," she moaned, hurting so badly she could hardly move. Holly simply hung from the barricade by her ample breasts, which were draped over the edge of the barricade, right in front of the faces of some lucky fanboys! Holly's arms dangled limply at her sides, and her body rested on her knees. Holly's head lulled back lazily, as waves of pain from her aching breasts traveled through her body. She could hear fans booing Sora from the stands, and others trying to encourage her to a comeback. She could also hear the referee starting a count-out. In her current state, though, there was simply nothing Holly could do. Looking weak and pathetic, Holly could only hang by her aching breasts, and let the tears flow freely from her face!
SOra looked at his opponent. Holly landed in a… strange…. position. A part of her body was over the barricade in the fan area and a part of her body was still in the ring area. Sora never saw someone landing like this before. The boy needed to scratch his head and think for one moment. This was new for him too. He fought in many matches and battle but never was his opponent in a position like this before.

The boy needed to smile when he got an idea. He stepped back a bit and took another look at Holly. Then he would kiss his right flat hand, before rubbing the surface of his hands together for a moment. "I do this for all the man out there who wanted to do this but had never the chance to!", he screamed out loud. Then he would jump forward and slap with his right flat hand across the butt of Holly with everything he had. If successful a lout slap would be to hear throw almost the entered arena.
That wasn´t liked by the fans in any way. Especially from the female fans. A loud booing was the echo of the slap. But Sora didn´t care. He never cares about what the fans thought.

Sora would step back to watch his work for a moment with a bright smile. Normally he wouldn´t fight this way but right now it was just way to much fun showing off and humiliate that British bitch in front of the crowed, which was calling her name even all her lost! Sora wanted to show the world that the only thing that counted was being the better one.
The ref wouldn´t stop his counting in the ring and would go on: "2"
Sora breathed in and out for a moment before he would go on again. He would walk up to Holly and grab her at her hair with his left hand and his right hand would grab her left arm. Sora would pull her away from the barricade a bit, before he would try to spin around his own axis. After spinning two times he would try to throw Holly head first into the barricade. Sora would try to put all force behind it he could to make as much damage as possible.

Afterwards Sora would start flexing his muscles and arms a bit while looking at the beaten up Holly. "Sure you don´t want to quit your carrier?"
The ref would call out "3"

Page 2 of 5 •

1, 2, 3, 4, 5



Similar topics
---
Permissions in this forum:
You
cannot
reply to topics in this forum