Who is online?
In total there are
52
users online :: 13 Registered, 0 Hidden and 39 Guests :: 2 Bots
acuya
,
Harrier
,
Iron Soldier
,
Kelsea
,
killcarrion
,
LARIATO
,
Lobo
,
Maxy
,
Person
,
scorn53
,
Shutter
,
Vcom7418
,
Winner3
Most users ever online was
155
on Sun Oct 09, 2016 8:33 am
Champions & #1 contenders
Just so y'all know
Thu Jun 22, 2017 3:27 am by LtLukas
I am going to a wedding, and will be traveling for the next few days. Sadly, I will not be able to post. But do not worry, I shall return. Sorry to all the people I am delaying.
Comments: 0
Not dead! Sorry!
Wed Jun 21, 2017 5:02 am by veritech892
Sorry for the recent slowed responses and disappearing act! Life, work, all that stuff, kind of got the jump on me! I'm back now though, promise - or I really hope I'm back now at least. I'll be replying to all the threads I have now, and hopefully I'll be around more now that things seem to (hopefully) be slowing down a bit.
Comments: 0
Does anyone feel up for an open thread bar?
Tue Jun 20, 2017 10:05 pm by Ragdoll_Jobbers
Hi guys, um well...considering I've been gone for a few months contemplating on life and death, uh that's dark, I was wondering, any body up for an open thread bar? I have some ideas but was wondering, well, if I open a bar thread, I would need "customers". Thoughts?
Comments: 3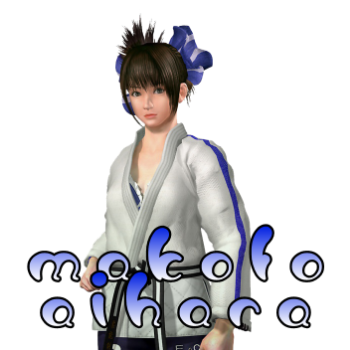 Real Name:
Makoto Aihara
Nicknames:
Judo Babe
Age:
24
Eyes:
Hazel
Hair:
Black
Height:
5"5'
Weight:
118 lbs
Nationality:
Osaka, Japan
Entrance Music:
I Like to Fight by Shonen Knife
Wrestling Information
Strategy:
Reversals and Takedowns
Style:
Judo
Type:
Gold Medal Grappler
Preferred Attacks:
Takedowns, mat wrestling, submission holds
Preferred Matches:
Standard
Physical Statistics
Endurance:
★★★ - Years of wrestling have toughened her up a bit.
Strength:
★★ - While she's strong for her size, is much weaker than most.
Speed:
★★★ - Fairly nimble, can weave through attacks quickly.
Defense:
★★★★ - Excels at turning enemy attacks against them.
Technique:
★★★★★ - She's a black belt in Judo and an Olympic gold medalist so...
Wrestling Statistics
Strikes:
★★ - Below average striker, by her own admission.
Submissions:
★★★★ -  Despite her gentle nature, she can and will make you hurt.
Powerhouse:
★★ - Has been known to bust out a power move on special occasions.
Aerial:
★ - Ha. No.
Counters:
★★★★★ -  One of the finest technical wrestlers in Rumble Roses.
Signature Moves:
[Galaxy Makoto Tornado]
A simple but powerful judo throw that Makoto can execute at almost any time. Makoto first has her left arm around her opponent's shoulder and her right arm underneath their left armpit. As she pivots, Makoto slides the other leg between her opponent's legs and raises it up as she lean forward, pulling her opponent onto her upper thigh. Next, Makoto bounces the opponent up and falls forward, slamming her opponent on their back. From there, she can go for a pin or put them in a hold.
[Hanging Chaos Dragon]
A throw that utilizes Makoto's skills in Judo. Makoto grabs her opponent's right wrist with both hands. As she turns her back to her opponent, Without letting go of either hand, Makoto places her right elbow under her opponent's right shoulder. As Makoto twists to the left, she rolls her opponent over her right shoulder and slams them on their back, once again getting them down for a pin.
Finishing Moves:
[Wind, Wood, Fire, Mountain]
-  A multi-throw that utilizes Makoto's skills in Judo. It is a combination of three judo throws, with a submission hold at the end. The first throw consists of Makoto grabbing her opponent's left arm with both hands, rolling over her left shoulder and slamming them on their heads. Still having both hands on her opponent's arm, she lifts them back to their feet and gets read for the second throw. With her opponent facing the opposite direction, Makoto bends forward and throws her opponent over her hips, causing them to land on their stomach. Again, she lifts her opponent back to their feet before starting the third throw. As she twists and rolls her opponent over her shoulder, Makoto falls to the mat and applies a cross armlock to her opponent, hyperextending her opponent's shoulder and elbow joint.
Personality:
Makoto is the nicest, sweetest, happiest, lovingest person you could ever hope to meet. Or, at least she was.
While she is and will always be a generally pleasant person, the years in Rumble Roses tempered her a bit, and she's not quite as naive as she once was. Despite being a bit tempered, though, she does still try to see the good in people. She's just a lot better at realizing when they don't have any to bring out, and she's also a lot better at noticing sexual advances.
Despite this, it's notable that Makoto does have a slight meanstreak, something that can come out if she's frustrated enough. In particular, mentioning her failed relationship with Aigle is a good way to spark her.
History:
Makoto's career in the Rumble Roses is fairly well documented. She came in with a bright future ahead of her. A judo prodigy who'd captured gold before she even reached her twenties, the Judo Babe did well in Rumble Roses. She never claimed gold, but managed to have a fruitful career all the same, holding her own against bigger, stronger women with her tight technical style and patient mindset.
What's less known, however, is what happened to her after Rumble Roses closed and she went about her way. During her time with the company, she'd developed a relationship with Aigle, a former rival and good friend. As they frequently teamed up and trained with each other, it became rapidly apparent that their friendship was becoming way more than that, and that they had genuine feelings and attraction for each other. In the final days of Rumble Roses, they became a couple, and when the doors closed, they went off together.
For a year or so, things were good between them, with Makoto finding fame and fortune throughout Japan in her Judo competitions and Aigle managing to get by in a lesser wrestling company, All Stars Wrestling. However, as time went on, Aigle grew more and more homesick - she'd never quite grown accustomed to life in the city, and the call of the wild proved too much for her. Makoto convinced her to stay, but this created friction between them, and it eventually came to a boiling point in a fierce argument between them. Words were said that couldn't be unsaid, and Aigle wound up leaving Japan and returning home, to Mongolia.
Distressed and alone, Makoto felt like she needed to do something to take her mind off of the breakup, and recoup the monetary losses now that Aigle wasn't helping pay for their apartment anymore. Though she wasn't the biggest fan of the company, she decided to accept an offer from the AFW, figuring it would be a good distraction.
Miscellaneous Pics
Makoto's promotional poster:
Some private time with her then-girlfriend, Aigle:
Championships/Accomplishments:
Olympic Gold Medalist
Friends:Allies:Rivals:Enemies:



Posts

: 11862


Join date

: 2014-02-14


Age

: 30


Location

: Charlotte, North Carolina, WOOOO!




Similar topics
---
Permissions in this forum:
You
cannot
reply to topics in this forum