Champions & #1 contenders
Summer Splash interest in Natasha Loclear?
Mon Apr 09, 2018 11:30 pm by daemongirl
Well my girl hasn't missed a summer splash yet, would anyone be interested in a match with her? Open to just about anything match wise, just pm me!
Comments: 1
Been Out with the Flu
Sun Apr 22, 2018 7:47 pm by daemongirl
Just letting those I have threads with know I've been out with the flu since early last week, but I will be back to posting tomorrow.
Comments: 0
The Austrailian Mudslide is Back.
Sat Apr 21, 2018 6:20 am by Softsquad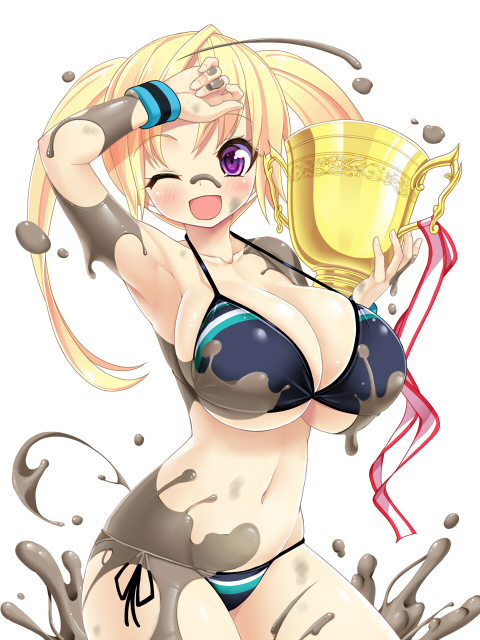 Granted that most of you won't know me or remember me, but I've had a few matches here and there some time ago. Well I think its time to become a regular around here and try to have some fun again, but at the same time keep coming back. Anyway I think its time to jump into some matches with Zoe Taylor, my mud wrestling character from Australia and get her back into the squared circle. Furthermore I will update my characters as I think some proper changes need to happen.
So if anyone would …
[
Full reading
]
Comments: 0
Page 1 of 2 • 1, 2


"I think she's gone, Hare,"

The stage whisper pierced the darkness. This was backstage, deep backstage, a part of the AFW arena that seemed more or less abandoned. The dimly-lit storage room held a rusting ring and some other obscure equipment, but apparently little of actual interest. Except to Lorelei.

She'd been stalking someone. Hell, since she'd signed up to AFW, she'd spent more time stalking than actually wrestling, but Lorelei had found herself fascinated by one of the company's most dangerous beasts, Styx.

'Beast' wasn't an overstatement, and Lorelei had been treating her stalking a little like a nature documentary – impressed by her big, savage subject matter, but also keeping a respectful distance. It seemed to have worked – Styx hadn't shown any signs of spotting her tail. Still, respectful stalking was only getting Lorelei so far. She wanted to root through Styx's stuff and winkle out some of her secrets, i.e the fun stuff, but she'd yet to find where the brute actually lived. The trail kept going cold in this dim, deserted part of the complex.

Until today. Sneaking around, Lorelei had caught sight of her quarry disappearing behind the old rusty ring, and then reappearing sometime later. Something good was hidden in there, Lorelei knew it.

The little wrestler emerged from her dark, cobwebby hiding spot. She was wearing a tight black and pink tee, rather than her more showy ring corset outfit, but she still retained her eccentric punk / goth vibe, with a short pleated skirt, mismatched tights stopping at her upper thighs, and a heavy dark chain around her neck. Of course, she held her soft toy friend, Mr Hare, trailing in her left hand – she didn't want him to miss the adventure!

She ducked under the abandoned ring, and then smiled when she saw the secret passage. "Oh, wow, it's like I'm Indiana Jones!" she beamed. "Shame I didn't bring a whip."

Chuckling to herself, Lorelei pressed on, emerging into Styx's hidden living space. Simultaneously Spartan and messy, even at first glance it said a lot about the hard-living owner. Discarded booze bottles sat haphazardly with discarded clothes. Desolate and debauched.

"This is... so cool." Lorelei's eyes lit up as she surveyed the scene. The sense of being in the beast's den was exactly how she had hoped – this was some dangerously ill-advised trespassing, and the thrill of it tightened her stomach excitedly. The tingle went down to her crotch, her breath shortening as Lorelei started to get a biochemical reward for her foolish risk-taking.

She licked her lips and looked around. "Okay, Styx, let's see what you got for me..." Holding Mr Hare up to her ear, she nodded and answered. "Yeah, that Black Tar shit looks a lot of fun to play with, maybe we can find something like that..."

Lorelei began happily opening cupboards and rummaging through the various piles on the floor. She looked like a contented browsing shopper, and started humming musak to herself as she did so.
Styx opened the door to her little hideaway and found herself looking at an extremely stupid little woman. And the day had started out so boring, too.

Really, it had been like that for a while, now. Since she founded WAR and started making waves, life had gotten more interesting, but in a strange sort of way. Interesting things happened, and she found good action, but it was punctuated by days, even weeks of inactivity, as she planned one thing from the next. On top of that, she'd been saddled with the annoying, mundane task of recruitment - with Abattoir vanishing like a fart in the wind, their power trio was coming up short. It wasn't an easy spot to fill, and the AFW was low on suitable replacements.

Over the past few weeks, she'd been spending far more time looking over AFW profiles than she would've liked, searching for a suitable replacement. That meant she had to go back to some of her old haunts, hanging around the Hive and using the building's WIFI to surf and look people up. A lot of legwork. Lot of going back and forth. Tedium. Slow, slogging tedium.

Today hadn't been any different. She'd come to the Hive, did some reading there, then left - but she had to come back, because she forgot to get one of her beers out of the fridge, wanted a sip. That was what led to the present moment, where she dropped down into her lair and found a girl going through her stuff. 'Girl' being the best word to really describe her.

She was a small thing, thin and tiny, looking like a high schooler going through her goth phase. In fact, if Styx didn't know that security wouldn't let anyone underage anywhere near the building, she would've sworn that was exactly what this chick was.

On top of that, she had a toy rabbit in her hand. Styx had no idea what was up with that, and frankly, she didn't care. Whoever this was, it looked clear that she was rooting through Styx's stuff, and she hadn't just stumbled in here by accident. She was a little thief, in the process of doing little thief things.

Poor choice. Extremely.

Styx stared at her for a moment, eyes wide in disbelief, before she charged across the room without another delay. She didn't go around her furniture, she went through it, knocking anything and everything out of her path towards the intruder, coming at her with heavy steps and a face contorted with rage.
Oh dear. Lorelei had been sure that the coast was clear, but the crash behind her suggested otherwise. The twinge of excitement in her stomach contracted into a tighter jolt of adrenaline. Lorelei spun on the spot, and was confronted with the rampaging, rapidly-oncoming form of Styx. A chair spiralled sideways, kicked out of the way by Styx's single-minded charge.

Yeah, she seemed angry.

Lorelei tensed like a cat. Luckily, Styx had noisily announced her presence and chosen to blunder straight at her, slowing herself slightly on the various obstacles in this little pit, which bought the intruder a precious second or so. Lorelei uncoiled and leapt wildly to the side at the last moment, narrowly escaping the onrushing woman. She'd dropped Mr Hare and launched herself away, diving with her arms out, only to tuck her limbs in as she reached the ground, rolling quite neatly and springing to her feet again.

Narrow miss. And things still needed a lot of smoothing over. Maybe Lorelei could talk her way out.

"Sorry, sir, were you looking for the storage area? Perhaps the pudding ring? I believe it's that way." Lorelei jerked her thumb back towards the hole in the wall. Though her heart was pounding, she was standing her ground, with an unreadable, deadpan gaze.
Styx was a rhino, charging towards its unfortunate target. She was a bull, storming down on some stupid matador. She was a lioness on the hunt, bearing her claws, pouncing on prey that had found its way to a part of the jungle where it simply did not belong.

Styx closed in on the thief as fast as she could be, but even that wasn't really all that fast - she wasn't exactly known for being quick and nimble in the best of times, far less so when she was dealing with her pigsty of a personal space. Her new little friend was far faster and managed to dodge and dance, getting enough space to talk.

Another extremely bad choice on her part. Though, there was something odd about this girl, aside from walking around with a stuffed animal from a horror movie. The way she looked, talked, stared. Styx cared, but not enough to stop her from doing what she planned on doing.

"Funny." Styx grabbed a metal chair off the floor and hurled it towards her guest, flinging it across the room with ease. "Who the fuck are you?"
"Uh, well, I'm – owww!"

Lorelei's attempt to hold a pleasant conversation was considerably undermined by Styx's creative use of furniture. The bigger woman might have been slow, but her throwing arm was not. The metal chair caught Lorelei on the bridge of her nose. She winced as she got smacked in the face, and clattered backwards, falling clumsily onto her ass.

Not good. Now she was far less mobile. Her little heart began to beat faster still.

The seated Lorelei drew up her legs, rucking up her short skirt and flashing her pink thong in the process. "I'm new here, and a little lost. I'll get out of your hair..."

Lorelei began to slowly scoot backwards on her ass, making a gradual move for the entrance. Her face still hurt, and she was uncertain as to exactly what would happen if she did get caught, but the danger still excited her, all the same.
Got her.

Styx managed to score a hit with the chair, and her little burglar immediately folded like a bad hand of cards, dropping to the floor and going into retreat mode. All things considered, the little thing was taking getting clobbered in the face by a chair surprisingly well, still calm and joking. They'd see how long that lasted.

Styx stomped after, moving slower now, taking her time as she silently stalked. When she was close enough, she raised her boot and drove it into the girl's sternum, hammering her into the floor and pinning her there under her boot.

"Wrong answers." She dug in with her heel, applying enough pressure to keep the intruder from moving. For now. "Stop bullshitting - who the fuck are you? What the fuck are you doing down here?"
Lorelei bit her lip, quivering in guilty trepidation as Styx stepped up to her, and slowly, purposefully, raised her boot. The seated girl's eyes flicked up. They both knew what was coming next. Lorelei's anticipation was heart-stopping, as the boot swung down.

"Ungh!" she moaned, body slamming back against the grimy floor as her chest was firmly stamped. She spluttered a little as air was driven from her lungs, though she also knew it could have been a lot worse. Styx was toying with her. Lorelei started to squirm but the boot was clearly intended to keep her down. Oh well, being pinned was better than being pulverised. For now, anyway.

"I'm down here cos you kicked me!" she quipped, scowling back up at Styx in a mock display of disapproval. She couldn't resist, even though she knew it was a bad idea to be cheeky. Lorelei immediately flipped to damage control after that.

"Okay no wait please I'll tell you!" flat on her back, she brought her hands up in a supplicating motion, spluttering out a defence, trying to stay Styx's hand. "Honest! I am new here! I'm Lorelei, they just signed me up and I, uh, wanted to explore..."

Lorelei's eyes started to wander around at this point. She wasn't entirely sure how to end the sentence without sounding like a burglar. Or lying.  

"Look, I'm a fan, okay? You're pretty bad ass. And some of your dirty tricks are SO cool..." Lorelei managed a faint smile, despite her compressed ribcage. Her hands dropped to the floor, and surreptitiously began to feel out the detritus lying on the ground beside her. Juust in case there was anything... useful.
Styx's eyes narrowed into hardened slits as her new 'guest' kept on making with the quips, even though she currently had a boot hammering her in the chest, driven home by a woman who was at least twice her size. The girl needed a serious attitude adjustment, and Styx reared back her fist, ready and willing to administer it.

But then she kept on speaking. And, as it turned out, Lorelei had some interesting things to say.

Styx didn't let her get up, but she did soften up a bit when she started talking about being a fan, as her eyes opened back up in genuine surprise. A fan? That was a new concept her. She'd always assumed she had a 100% disapproval rating, but apparently she was a decimal p
oint or so off. Then again, Lorelei didn't look anything like the traditional AFW sex toy, either - come to think of it, she was the first real goth Styx could remember seeing on the roster. Kind of a surprise, really.

Styx folded her arms and went quiet for a moment, thinking of the best way to proceed, not giving away much hint of her feelings on the matter. The respect was nice, but then again, breaking into her abode was the sort of offense Styx was keen on punishing…

"Fan, huh?" She lifted up the boot, but immediately bent over and yanked Lorelei up to her feet, grabbing on her collar and pulling the lithe girl up with ease. "So, let me process - you know who I am, you know what I do, and you come here and try to steal my shit? That sounded like a good idea to you?"
Ooh, fuck. Lorelei was squirming and when Styx shaped to smack her, she thought she was in for some serious pain. Those big fists of Styx's looked like they could outright flatten her face. Yet at the last second, the big girl stopped. Lorelei blinked in surprise and no little relief at her continued consciousness.

Gasping, she made sure she went with the flow, scrambling to her feet as Styx yanked on her collar. Probably tore a little threading in her tee, but that was hardly the biggest of her problems. Lorelei was stuck in the classic 'bullied victim' pose, held by the collar and forced to quiver on tiptoes, as Styx glared down. Not that the big woman didn't have a point.

In fact, Lorelei couldn't help but grin, as Styx tried to rationalise her actions. "Heh. No. Good ideas aren't really my strong point." Her eyes lit up, despite her predicament. "It sounded like a *fun* idea, though."

Lorelei held Styx's gaze, as she quietly fingered the item she'd haphazardly snuck from the floor. Not the most useful, by any means, but better than nothing.

As she stood dangling in Styx's grip, Lorelei calmly held out the cigarette lighter and tried to ignite the bottom of Styx's tank top.
Styx was starting to suspect that there was something seriously wrong with Lorelei.

No, she wasn't the first person to stand up to her without a smile on their face. No, she wasn't the first person to provoke her to righteous anger and furious vengeance. But she was the only one who'd ever come looking for the pain. Styx could curl more than this girl weighed, and she was still all glib and happy about the situation.

It left the bald brawler puzzled for a moment, and a moment was all Lorelei needed to set the lighter off.

"What-" Styx's gaze widened when she felt the searing heat near her stomach. She looked down, saw the fire, and panic immediately set in. Everything from that point on was automatic: she hurled Lorelei away, tossing her hard into the nearest wall, then danced about the room in a mad swirl, yanking off the shirt as she spun.

"Fucking bitch!" She roared and hurled the shirt away, leaving her nude from the waist up. Not that there was terribly much to see. "Fucking stupid bitch!"

Page 1 of 2 • 1, 2



Similar topics
---
Permissions in this forum:
You
cannot
reply to topics in this forum