Champions & #1 contenders
Summer Splash interest in Natasha Loclear?
Mon Apr 09, 2018 11:30 pm by daemongirl
Well my girl hasn't missed a summer splash yet, would anyone be interested in a match with her? Open to just about anything match wise, just pm me!
Comments: 1
Been Out with the Flu
Sun Apr 22, 2018 7:47 pm by daemongirl
Just letting those I have threads with know I've been out with the flu since early last week, but I will be back to posting tomorrow.
Comments: 0
The Austrailian Mudslide is Back.
Sat Apr 21, 2018 6:20 am by Softsquad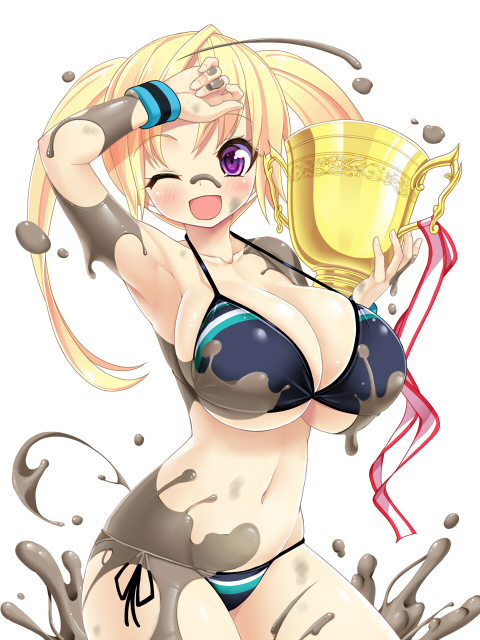 Granted that most of you won't know me or remember me, but I've had a few matches here and there some time ago. Well I think its time to become a regular around here and try to have some fun again, but at the same time keep coming back. Anyway I think its time to jump into some matches with Zoe Taylor, my mud wrestling character from Australia and get her back into the squared circle. Furthermore I will update my characters as I think some proper changes need to happen.
So if anyone would …
[
Full reading
]
Comments: 0
Page 1 of 3 • 1, 2, 3


Match Type:
Hardcore
Victory Conditions:
Pinfall, Submission, or KO.
***
Fucking finally.
Kaede had been in the AFW for a month...officially. That was what the paperwork said, at least. In practice, she hadn't had a single bout here since joining up. She couldn't call  herself a real wrestler yet, because, you know...wrestlers? They wrestled. They had actually matches. Unlike her, who spent most of her days waiting in the backstage area, hoping against hope that she might get squeezed into the rotation.
Well, it had taken some major league bitching, but finally, that was
her
music playing over the loudspeakers, that was her name popping up on the titantron. Her ring. Her crowd. Her world. Her match.
She was so fucking ready.
Kaede came bursting out of the gorilla position, clad in her trademark outfit - the blue pants, the hat, the jacket, the getta. A kendo stick was in her hand and a wide smile was on her face, as she surveyed the crowd from on top of the ramp.
They looked...bored, really. Paying more attention to their cellphones or whatever overpriced food they were gnoshing on. Couldn't have given less of a shit. That was the problem with these 'double debuts'. Putting two wrestlers that the crowd didn't know together wasn't exactly going to get them fired up.
Not a problem, though. When they saw how much ass she was capable of kicking in a short amount of time, they'd come around.
Kaede made her way down the ramp with a casual march, proudly stepping to the music, and rolled her way into the ring. She made her way to the farthest corner and started taking off all the unnecessary accoutrements - the jacket was dragged over the turnbuckle, the hat was laid on top of the post, the getta were kicked off and fell to the floor. All she had left were the pants, her sarashi, and the kendo stick, which she'd be needing soon, given the nature of this fight.
As her music started to fade, Kaede turned around and leaned back on the turnbuckle. She stared up at the ramp, with a fiendish grin curling her lips. She couldn't wait to meet the bitch whose day she'd be ruining.
Clearly the AFW understood when it had been presented with real talent, that much at least was certain to Aster already. Without even being around for very long she had already had her first match set up, against another debuting wrestler in a hardcore match no-less, how perfect. Not only would she be able to assert her rightful dominance over somebody inferior to her by knocking their teeth out, she'd also be able to ruin their one and only AFW debuting match in the process, such a great opportunity to kill two birds with one expertly aimed stone was not to be taken lightly by any means.

Once it was time for her intimidating music to begin booming through the vast arena speakers, the devilish Aster couldn't help but smile. Everything which she had worked so hard for, all the shit which she had to go through in her younger years, everybody she had to annihilate to get this opportunity, it was all about to pay off. Even with all the hatred which she harboured, Aster was ecstatic in her own sadistic way.

Without much haste Aster confidentially strode out into the limelight for the first time, taking a moment to merely stand back and enjoy the ever-building anticipation for the fight to come. While she stood up straight, without the slightest amount of nervousness present in her facial expression, everybody would be able to get a good look at the wrestling attire which she would soon be known for. A white, red and black one piece swimsuit with just the right amount of tightness accompanied by a simple crimson hairband. Most importantly however were her pair of silk white gloves. After all, if you're going to be touching trash, you don't want to get your hands too dirty.

Finally caring about her opponent enough to give her a little bit of attention Aster's previous smile quickly dropped into an irritated frown. This was the best which she had been offered with for her debut match? This sorry excuse for a wrestler? Sure she was looking forward to smashing some skulls but she at least wanted some form of challenge. Though with that being said, Kaede had been smart enough to do something which Aster had overlooked, that being to bring a weapon. That kendo stick could provide a real early problem, and the mere thought of it was already pissing Aster off.

Leaving no more time to get herself angry before the match had even officially started Aster finally began confidentially striding to the ring, all the while keeping her piercing gaze locked onto the current position of her opponent. Surprisingly, the lack of current audience interest didn't make her mad, she didn't particularly care. She was here to please herself, to indulge her own violet tendencies, if she entertained people in the process that was fine, if she didn't, she'd still get what she wanted.

Upon reaching the ring Aster wasted no time before hopping up onto the side before rapidly climbing through the ropes, moving to her own corner soon afterwards. "Sorry, but I think there must have been some kind of mistake. I'm supposed to be fighting another wrestler? Not some useless looking bitch with a stick." Aster spat over at her opponent with a venom filled tone, hurling out the first of many insults to come.
And now it was time for Kaede to find out who her playmate for the day was.

She wasn't sure what she was expecting - you never really knew what you got with these debut matches. Maybe some rising, bulking bruiser from another promotion, looking to make it big in the AFW. Maybe some no-name girl with zero talent and a dull edge. Maybe a kawaii, if you were really unlucky.

Kaede liked to keep her hopes high. What she got, though, was....interesting.

She really didn't know what to make of Aster, canting her head to the side the blue-haired wrestler made her way down to the ring. She looked fit. Strong. Kept in good shape, obviously, but none of that would matter if she couldn't put it to good use. The way she was staring at Kaede, it looked like she meant business. How much business? They'd find out.

She was all set to go, ready to get the ball rolling. Then the bitch had to open up her damn mouth.

"'Useless looking'..." She sneered Aster's way, then blew it off with a snort and a chuckle. "Yeah, says the bitch who looks  like she got dressed up for a swimming comp. We'll see how fucking useless I am when my goddamn foot's stomping your face in."

With that lovely little start done, the bell rang and the match began. Kaede'd never been one for a slow start, and she was even less so today - she wanted violence and she wanted it now. The bell hadn't even finished echoing before she took off like a shot, charging across the ring, raising her kendo stick high, and swinging it down towards Aster's - admittedly, quite pretty - face.
Aster might have loved belittling other people with insults, but if there was anything which she really couldn't take well, it was having somebody else insult her. Almost as fast as Aster had shot out her acidic comment Kaede fired back with one which was equally, if not more potent, quickly forcing the easily angered girls temper to start rising up out of control as the seconds rapidly ticked onward.

Who the fuck did this waste of oxygen think she was?! Laughing at such a devastating insult before daring to utter her own!? The two girls had only been interacting for a few minutes and already Aster wanted to beat her opponent into submission with far more ferocity than usual, but that much would be rather evident if anybody paid any attention to the pink eyed girls rage fuelled expression.

"You really want to go you cunt?! Come here then!! I'll tear your damn head off!!" Aster declared with a voice filled with nothing but anger as the bell rang, almost doing exactly as Kaede did by immediately shooting herself towards her opponent like a bullet-train without breaks, recklessly disregarding all possible consequences for her actions as she pulled back her right hand in preparation for one mighty strike to her assailants face.

Rather rapidly paying for her decision not to use the slightest bit of caution Aster soon had her face introduced to a whole lot of kendo stick, causing her previously prepared power punch to go completely off target and hit nothing but the lifelessness air, even if it was the air close to Kaede the attack wasn't anything but wasted effort.

"Hrruu!!!" Aster growled as the stinging sensation mixed with the blunt pain rapidly shot through the afflicted area of her face, the angry woman backing off while trying to utilise her hands to block her hurting face, not wanting to show her opponent that she was in fact in quite a lot of physical distress already, but having extreme difficulty due to the weapon being so effective at what is was so aggressively used for.
As the two fighters charged across the ring, certain similarities between them became apparent. The bright, oddly colored hair on their heads. They were unabashed loudmouths, with both of them screeching at each other from across the ring. The way they both seemed rather intent on doing heavy damage upon the other wrestler from the first moment of the fight.

In fact, the way the charged at each other was nearly simultaneous, so exact that it could've been a practiced routine. The major difference between them, though - the most important thing - was that Kaede had a kendo stick and Aster didn't. Kind of a dealbreaker, as the buxom bluenette quickly discovered.

Kaede had a hearty laugh as the blow struck her right in the face, immediately putting Aster on the defensive. Smelling blood in the water, Kaede smirked and started to close in on her future victim, barefeet sliding along the canvas.

"What's wrong, thunder thighs?" She licked her lips and smiled, her toothy grin glowing bright in the arena lights. "Biting off more than you wanna chew?"

Without a single warning, Kaede hopped forward and swung the kendo stick low, aiming for the rather impressive abdominals of her fulsome foe.
There were some things which you just regretted immediately after doing them, for Aster right now, it was charging at somebody with a weapon while she was unarmed, and of course paying the price for it. If that wasn't bad enough though, after she had received the initial hit and had no other choice but to back away like a coward, she was forced to listen to Kaede's idiotic laughter and somehow even further moronic dribbling excuse for insults.

"Come any closer and I'll give you something to fucking chew on!!" Aster roared furiously like a cornered animal, moving one of her hands away from her face to allow herself to aggressively swing it in the general vicinity of Kaede, not actually having a concrete idea of where her opponent was, therefore she was pretty much just viciously attacking an invisible entity.

Moments later Aster was forced into stopping her useless air punching as she was met with a sharp blow to her abdominal section, the dangerous woman yelping in momentary pain as the highly unpleasant feeling of injury branched out before returning it's focus onto the initial point of impact.

"Hrr..! I'm..! Gonna..!" Aster groaned through gritted teeth as she bent forwards to tightly wrap her hands around the newly hurting area, pure fire present within her eyes as she waited for the right opportunity to strike back with everything she had.
Oh, this was priceless.

There Kaede was, going hammer and tongs with Aster right from the start, clearly dominating the match with her superior mastery of the kendo stick. She was on top, running this thing like she would surely run other matches in the future, showing everyone why she was destined to be the new top bitch in Friction.

All of that, and here Aster was, still trying to throw little threats her way. It was funny. So Kaede laughed. Well, she laughed harder.

"You're gonna what? Get your ass kicked?" Kaede twirled the kendo stick about like a baton as she danced backed, gingerly hopping on her toes. "Damn straight you are!"

Feeling a good third strike coming on, Kaede took her time with this next one, making a little show of winding up with the kendo stick. She stepped back, held it like a baseball bat at the ready, then jumped forward and swung it towards Aster's exposed face, her pink hair wildly flying about as she closed the distance. "Going for a homerun!"
Though it might seem trivial in a sense, Kaede laughing at Aster's failures in such a hysterical manner was probably the worst things which she could have done. As if her violent tendencies and angry attitude weren't bad enough as it was, this feeling of humiliation which she was getting reminded her about everything which she had been through before this, exactly why she was here, and most importantly, why she was so proficient at hurting people.

With her dangerously aggressive gaze fixated on her opponent Aster steadied both her form and her breathing, but remained in the same defensive hunched over position to give off the illusion that the pain was still bothering her to the degree that she couldn't fight back. She hadn't come this far to lose her debut match to some pathetic nothing, so she damn well wasn't going to.

With Kaede turning this particular kendo stick swing into such an exhibition Aster had plenty of time to ready herself for the oncoming blow, but to help with the whole, 'i'm injured' act, along with what she had planned, Aster bent herself forward just a little bit more while firmly planting her feet on the canvas, still being able to see her opponents movements but helping her look more defenceless.

With a surprising amount of precision from somebody who had acted so recklessly at the start of the match, Aster would duck herself under the kendo stick right before the moment of impact, almost powering up her right hand as she was lowered towards the canvas before swiftly taking advantage of Kaede's now poor positioning. With a battle-ready roar the anger infused girl would shoot upwards as quickly as she had gone down, intending on smashing her foe straight in the chin with everything she had, truly channelling all her anger into one viscous blow.
If Kaede's smile went any wider, she might've strained a muscle or something.

She'd never felt more alive than when she was swinging this kendo stick through the air, ready to cave Aster's face in with the hellish strike. She'd been in plenty of fights, but never with such a widespread audience to watch her dominance before. This was what she craved without ever knowing it. Mass appeal. The bigtime.

She was so ready for her time in the sun, then she had to go and miss her damn swing.

"Fucking…" Kaede spat out quick, as Aster somehow managed to dodge her strike. Had to be a fluke. The blue bitch was looking firmly out of it, completely open, there was no way she had the speed to dodge that. Didn't matter, though, Kaede would just bring the kendo stick back around, and-

She was just starting to turn about for another try, when she heard a loud, warrior's cry come from her foe. Before she could even register that, there was a flash of movement in front of her face, and everything instantly went white, as a surge of pain rushed through her brain. Kaede's lanky body flew up, utterly rocked by the crushing blow, and she fell down a second later.

Flat on her back. Wide-eyed and mouth-gaped. Utterly stunned, as she tried to figure out what the hell just hit her.
Even after she had managed to land the explosive punch, Aster kept her tightly balled fist elevated in the air for a moment, giving the audience a chance to appreciate her greatness and allowing for the metaphorical dust to settle. As an added little joke to amuse herself, the mighty hitting woman carefully lowered her fist in-front of her face, giving it a brief blow, as if she had just fired a powerful firearm.

"Hmph. Really felt the vibrations on that one. Must have fucking hurt ey?" Aster commented with nothing but aggravation in her voice as she casually strolled over to the downed Kaede, not bothering to rush anything due to her incapacitated foe not rushing to her feet anytime soon. Usually landing such a vicious blow on an opponent would make the sadistic woman smile, but not now, she was far too blood-hungry to be amused. The only thing which would make the pissed off girl happy right now was exactly that. Blood.

"Maybe you'd like to mouth off some more while you can still fucking speak?" The enraged Aster asked while aggressively kicking the kendo stick across the ring towards one of the corners, fully intent on using it at some point to help execute her revenge, but not now, now was a perfect time for some good old fashioned five fingered payback.

Not wanting to give Kaede anymore time to try and recover Aster would jump into the air, intent on landing knee first straight onto her assailants abdominal section in revenge for earlier. If the beginning of her retribution landed without issue, Aster would get to work in sorting out the rest of it by first leaving her painfully planted knee firmly in place, continuing things by pulling back the same hand which she used to uppercut Kaede. If she remained uninterrupted the blue haired woman would start raining down brutal punch after brutal punch aimed straight for her enemies face and nowhere else, simply contentiously punching like a savage animal no matter how excessive it might seem.
Page 1 of 3 • 1, 2, 3



Similar topics
---
Permissions in this forum:
You
cannot
reply to topics in this forum