Champions & #1 contenders
Looking for a few matches.
Thu Mar 29, 2018 11:14 am by Yori
As the title suggests, I am in the market for a few matches, specificly for...
Luna
- Vampire themed wrestler who prefers to play with her food before she sinks her fangs in. Prefers no DQ or hentai stipulation matches. Preferred in a more dominant role, fills a more heelish role.
Reiko
- Punk upstart with more experience fighting in the streets than the ring. She takes part in hardcore matches primarily, using weapons far better than she can wrestling techniques. Strictly heel.
Leah
- …
[
Full reading
]
Comments: 6
A match for Brie.
Thu Apr 12, 2018 5:15 am by BootsForSpooks
A week ago, I made my own character named
Brie Schuhart
. I thought it would be best to post a notice here. I'd like to have an opening match with her.
I also understand that a lot of characters here have story lines. I'd like to start one for her too. Her opponent can lead to a romance, it can be something that turns into a grudge over time, or it can be something more complicated. Whatever the case, we can discuss. I'm open to a lot of things. We'll make it work.
[
Full reading
]
Comments: 5
Taking on a thread or two
Wed Apr 11, 2018 12:50 am by LtLukas
I don't really have a plan in mind. If you want to throw something out there, be it a storyline, match, or whatever, I am willing to entertain it. Let's talk about it.
Specifically, I have two ladies that I want to have a thread with:
The inimitable
Jessica Wright
. With her, I am leaning for some more hardcore stuff: no DQ, shit outside the ring, coffin matches. But I am willing to listen to anything that you want to try.
The lovely
Eka Guramishvili
. She has a new flag-based outfit. So maybe …
[
Full reading
]
Comments: 0


Full Name
Vanessa York (Born Vanessa Greene)
Nicknames:
Red Queen
Age:
31
Eyes:
Green
Hair:
Red
Height:
6"0'
Weight:
153 pounds
Home:
Glasgow, Scotland
Entrance Music:
Heavey Metal Kings by Jedi Mind Tricks
Wrestling Information
Strategy:
Watch Vanessa for five seconds and you can figure out she's a striker, focusing on the punches. To put it simply, she moves
fast
, can get in  pepper you with punches, then be out of range before you can even start retaliating. Like this, she plays a good hit-and-run game, working over her opponent and picking her spots.
Style:
Dirty Boxing
Type:
Mixed Striker
Preferred Attacks:
While striking is the backbone of her style, she does have other options to work with, thanks to her prior experiences in wrestling. She's particularly partial to DDT variations, but can use some other moves as the situation requires. Elbow Drops, clotheslines, even the occasional suicide dive.
Preferred Matches:
Standard and Boxing. None of that Hentai shit.
Physical Statistics
Endurance:
★★★★ - Vanessa's built up some impressive stamina over the years.
Strength:
★★★- While she's a bit lanky, has a decent build going on.
Speed:
★★★★★ - Her strongest area - you won't see her coming, but you'll feel it.
Defense:
★★ - The area she needs the most work in. Focus more of dealing damage than on dealing with the return fire.
Technique:
★★★ - Surprisingly well-rounded.
Wrestling Statistics
Strikes:
★★★★★ - All but the swiftest, most skilled strikers will get put down if they test her.
Submissions:
★★ - Below average, but she does have some basic submissions to work with.
Powerhouse:
★★★ - Fairly common techniques for her to use. If she can lift you, she will do it a few times.
Aerial:
★★★ -  She's crazy enough to try some aerial stuff - nothing too fancy. Has a great dropkick.
Counters:
★★★★ - Moves fast enough to punish openings when they come up.
Signature Moves
Dropsault:
A dropkick variation - Vanessa jumps up, kicks her legs out and hits her opponent in the face with a dropkick, but instead of going right down, she flips back and lands on her fours - or, if there's another opponent where she lands, she hits them with a moonsault. Landing like this allows her to follow up the dropkick almost immediately.
Beatdown:
With a stunned or surprised opponent, Vanessa will pounce on them, drive their back to the mat, and throw a bunch of fast strikes right in their face before they have a chance to react, dealing some quick brain trauma.
Finishing Moves:
Massacre:
A lifting underhook DDT. With a bent-over opponent, Vaness snaps on a front facelock, hooks their near arm with her spare, lifts them up, then falls on her back and drills their head into the canvas.
Gazelle Punch:
A simple, but effective move. Vanessa leaps towards her opponent while simultaneously coming at them with a lead hook, creating a powerful punch that could potentially knock someone out. With Vanessa's speed and long reach, she can nail this attack at almost any given time, with only a moment's opening, making it a very dangerous attack, perfect for foes trying to advance on her.
Personality:
The stereotype about feisty redheads needn't always be true, but in Vanessa's case, it certainly is. In the ring, she's loud, showy, fierce, and won't hesitate to make you bleed if you push her too far. A tomboy through and through, she's extremely aggressive, and when she sees something she wants or needs, she focuses herself to getting it. Damn the obstacles.
That's not to say she doesn't have soft sides. The death of her husband still weighs heavy on her, and she's concerned about her daughter, Cynthia, back home in the states. She tries not to let those worries show to the casual acquaintance, though, and maintains a personable, vivacious attitude outside of the ring. She can often be found drinking at the nearest bar on her downtime, trying to get the most out of life while she still can.
History:
Vanessa was born in Glasgow, Scotland, but didn't stay there for too long, moving with her parents to New York City when her father picked up a sweet banking job. The move was jarring at first, but she eventually settled into the new environment well enough. A naturally gifted athlete, Vanessa found herself trying many different sports through school and excelling in all of them, but she had a particular love for combat sports, and took to boxing and wrestling fairly well.
She sporadically went through boxing, wrestling and a little modeling after graduating, and though she didn't get win big in either sport, she did well enough to gain some attention from major organizations. Most notably, the AFW took notice and offered her a spot, but the timing was a bit off - around this time, Vanessa fell in love with a bouncer named Ron York, and the married and had a child together.
Four years passed, and Vanessa was doing reasonably well in life. Not making big money, but doing well enough along with her husband to support their family. Things looked good...until they suddenly didn't.
Her husband died in a tragic car crash one rainy day, and suddenly Vanessa's life became far more complicated. She needed to support her daughter, but the money she made in her local wrestling league wasn't enough to handle that, plus the funeral expenses. Looking to make some quick cash, Vanessa left her daughter in the care of her grandparents and left for Japan, rekindling the old offer from the AFW.
-Notes-
- Only lived in Scotland for a few years, but still has a faint Scottish accent.
- Vanessa is rarely seen without her gloves. She even sleeps with them on.
- Vanessa is a pretty big rap fan, and can often be found bouncing to the music on her headphones in public.
-Attire-
A little something from her modeling portfolio.:
Ready for the fight.:
If Vanessa was a Pokemon, she would be…:

Ha! You've seen it! You can't UNsee it!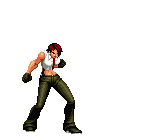 Posts

: 14398


Join date

: 2014-02-14


Age

: 31


Location

: Charlotte, North Carolina, WOOOO!





Similar topics
---
Permissions in this forum:
You
cannot
reply to topics in this forum