Champions & #1 contenders
Highfly Flying Out Of Town
Tue May 22, 2018 1:31 am by HighFly
Hello everyone, I just wanted to inform all I have threads with that I will be gone from this coming Wednesday through Sunday. I won't be able to post consistently if at all during this time, but I will try to make up for it next week! I am sorry for the inconvenience to everyone.
Comments: 7
The Austrailian Mudslide is Back.
Sat Apr 21, 2018 6:20 am by Softsquad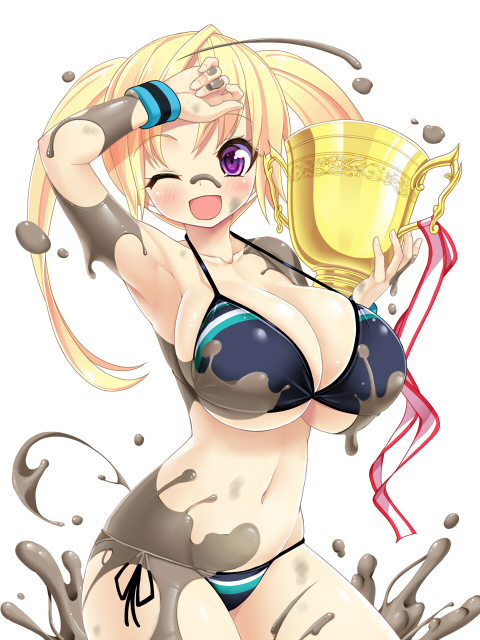 Granted that most of you won't know me or remember me, but I've had a few matches here and there some time ago. Well I think its time to become a regular around here and try to have some fun again, but at the same time keep coming back. Anyway I think its time to jump into some matches with Zoe Taylor, my mud wrestling character from Australia and get her back into the squared circle. Furthermore I will update my characters as I think some proper changes need to happen.
So if anyone would …
[
Full reading
]
Comments: 5
Page 4 of 8 •

1, 2, 3, 4, 5, 6, 7, 8


Being the 24/7 Champion had given Carmen a more honed appreciation for her surroundings, forced her to take every environment into consideration, and that was the skill she called on now. She took a quick scan around as the dancefloor, considering possibilities.

She could keep working Soledad over on the bar.

She could drag her over to the DJ booth.Perhaps use it to get some elevation.

Take her in the bathrooms, maybe, though that had risks she didn't want to consider.

There was always the VP room upstairs…

She took a second to ponder, but it turned out to be a second too long, as the challenger had more life in her than Carmen originally guessed. Soledad was no boxer, but she had a body that could put some decent power into any blow, and the element of surprise could go a long way.

Carmen let out a surprised grunt and released Sola, taking a hot second to stumble back and grasp her stomach, while some of their native Spanish slipped out again. <"Cheap shot!">
Soledad Vega was significantly unhappier than she was before the opening bell, and she was feeling ready to take that fact out on someone. Right now, the spiteful teen street fighter only cared about one thing, and that was turning some of the humiliation she was feeling from this terrible start into white-hot aggression!

Sola's smile returned, though, when her punch found home. Her fist smacked into Carmen's taut abs, and seemed to at least do enough to force the champion to release her hair. Taking a half-step back, Sola staggered into a fighting stance, and tried to ready herself for more.

"Shot's a shot, chica," Sola said, trying to force a wry grin through her residual pain, "and you know I'm gonna take any I can get!"

With that, Sola followed up on her new-found freedom by stepping back in, lifting her let, and thrusting it forward with a stiff kick to Carmen's gut. The thrust kick was more for speed than power, but Sola hoped that if she could send the champ reeling, she could recover enough to really start working out her issues!
Carmen groaned, but it wasn't wholly because of the hit she'd just taken. It was a decent punch, but she'd gone through far worse and came back without making much noise.

No, what made her groan was Sola's heckling. Irritating, as always.

She'd just recovered and was about to make her way back into the fray, when Sola struck again, this time putting those sensually sinewy thighs to good use. Her thrust kick sunk deep into Carmen's toned stomach and knocked her back a few steps, which would've been bad enough by itself. But they just so happened to be near the steps that led up to the dance floor, and, well…

Carmen tripped off the end and took a hard dive off the elevated platform, falling two feet down and landing right on her back. There was only a stone floor to greet her, which made for a predictably painful landing. She wasn't paralyzed, and she started to roll over to her chest and push her way back up a moment later, but it was slow going.

Meanwhile, the patrons, who'd been enjoying dinner at their tables nearby, started to pick their stuff up and clear the area, given the two fighters a dozen or so tables and chairs to play with. Joy.

Sola let out a heavy sigh, as she felt Carmen's body push off of her foot. Starting to get on the other side of the violence felt damn good, especially after this match getting off to such a humiliating start. Sola shook her head, as she tried her best to center herself. Aside from the immediate satisfaction,the young woman was trying not to think too hard about what was going to happen to her if she didn't get on the right side of the match's momentum ...

Carmen's groan was pretty satisfying, too, even if it were mainly derisive. Not nearly as gratifying, however, as watching the champion go spilling off the edge of the dance floor! Sola's eyes widened in surprise, watching the usually composed champion go stumbling off th fighting area.

It wasn't much of a fall, but Sola had just expressly stated her position on taking shots, a moment ago. Grinning like a cheshire cat, Sola prepped herself. Carmen had just gone tumbling in rather unceremonious fashion, to the stone floor below. As Sola watched Carmen pick herself up, and the nearby diners clear the space, Sola got a move on.

Breaking into a spring, Sola threw herself full-tilt toward the edge. Reaching the point where Carmen had just gone tumbling off, Sola threw herself into the air. Lifting and extending her legs mid-air, Sola aimed to land with her thick thighs wrapped hard around Carmen's neck. Twisting at her ample hips, dropping her upper body, Sola tried to snap Carmen around in a sharp hurricanrana that would send the champion tumbling right into those just-cleared tables!
The fall was short, but that wasn't the problem with it. Not really.

No, what left Carmen hurting so much was the surface, a hard wooden-paneled floor. The wrestling ring was fairly soft, and even the outside area had some padding, but out here, there was no protection, no give, and it made even a simple spill hurt exponentially more.

But she was the 24/7 Champion. It came with territory.

Carmen began to push her way up, using a chair for support. She shook her head and cleared out her vision, just in time to see her opponent coming towards. Or, to be more accurate, flying towards her.

There was a moment where Soledad's thighs came around Carmen's head and her face came dangerous close to the the luchadora's most intimate spot. It was heated, but mercifully brief, as Carmen was sent flying in the next instant.

The champion was sent flipping away, head over heels. She crashed into a nearby table and sent the chairs flying, then tumbled again and made the table fall down on top of her, coming down on her back as she laid flat on the floor.

It was a nasty spill, and for a moment, Carmen didn't move...but when that brief moment passed, she started to stir, pushing her way back up. Groggily, sloppily, slowly, but she was doing it.
In the heat of the club, the rush of air around Sola's skin felt damned good. The teenage street fighter wasn't much of a high-flyer, but throwing off the occasional 'rana came with the territory. And sure enough, the feeling of whipping Carmen into nearby club furniture made the risk well worth it!

Sola rolled back up to her feet, bouncing on her heels. The young woman put a hand at her lower back, feeling a bit of a tweak in it. Carmen had rammed her into the bar, earlier, but Sola hadn't been able to resist the opening she'd been given, for that crowd-pleasing move. Pushing it to the back of her mind, Sola turned on her heel and spun around, to look at Carmen. If Sola's back was nagging at her, she could only imagine how rough the champion was feeling.

Turning, Sola saw that Carmen was still on the club floor. The street fighter's lips curled into a smug grin, as she looked down at Carmen's leanly-muscled, yet suffering body. Lifting her hands, the latina gave a series of finger snaps, a sadistic and arrogant round of applause for herself. Drawing both jeers and cheers from the fans, Sola slowly started sashaying her way to her fallen opponent.

As Carmen started to get herself upright, Sola opted to push the attack. Posturing was fine and fun, but hardly going to get her that championship. Or keep her hair. Reaching down as Carmen was starting to get back up, Sola bent her knees, stooped down and wrapped her arms around Carmen's slender waist. As she held Carmen close, ample breasts pressing tight into the champions shoulders, Sola leaned in and whispered into her ear.

"Need help up, chica?" With that, Sola pulled her back up, and then over. It was taking some toll on her aching back, but Sola hoped that it would be worth it, as she hoisted Carmen into the air above her for a simple but reliable suplex!
From the floor, Carmen could hear the audience booing and cheering all at once, probably over some showboating that Sola was up to. Fine. Let her gloat. Let her dance about, mock her, waste time. It was just giving Carmen more and more of an opportunity to recoup.

She started sitting up, hoping she could get all the way, but it seemed like there was only so much time that Vega was willing to waste on taunting. She was coming in, and if the look on her face was any indication, pain would be following close behind.

Carmen made a rough grunt as she was hefted up, but when Sola pulled her in close, she made a much more pleased noise, before she even realized it. Whether she meant it or not, Vega was weaving her spell. The skin sliding against her, the breasts spilling out over her shoulder, the hot breath on her ear…

She shivered. An involuntary spasm. Carmen hated herself for it.

Mercifully - in a way - she didn't have time to dwell on that reaction, as she sent hurtling backwards in a startling display of power from the smaller woman. The referee barely had enough to jump out of the way, and Carmen flew right past her, landing on her back one more and going for a tumble.

"Damn it…" A string of muttered curses followed, coming out in three different languages. As it so happened, she wound up near an elevator leading to the second floor, right as the door opened and a very confused couple stumbled out.

Looking for a moment to rest, Carmen sloppily stood up and made her way into the elevator, only to fall down to a single knee when she was inside.
Sola bit off a light groan, as she hoisted Carmen up and over for the suplex. As they came crashing down to the floor, Carmen was clearly taking the worst of it. Which, of course, was all that Sola could hope for. The but move had its cost, and Sola rolled out of it with a hand pressed against her aching lower back. Carmen was by no means the heaviest fighter in AFW, with her leanly-muscled figure, but Sola's already-hurting back was telling her that moves like that were going to have to be in short supply ...

Spine arched, limbs poised beneath her, Sola might have been posing for the fans a bit as she recovered. Stretched out like a model, showing off her curves while her muscles were still tense and defined from the effort of the move, Sola threw her hair back out of her face and gave a grin to the crowd. Normally, the teenage street fighter loved antagonizing the fans in the arena, but this was a different crowd. These were her people.

Unfortunately, it seemed like Sola was spending a bit too much time catering to "her people," as Carmen managed to get back up, and back on the move. "Dammit!" Sola snapped, seeing Carmen retreat into the elevator!

Scrambling back to her feet, the Puerto Rican fighter sprinted across the floor in an effort to catch up. "Oh, no you don't!" Sola shouted after her, trying her damndest to get across the dance floor and into that elevator with her opponent, before the doors of the thing came sliding shut!
Carmen had been the 24/7 Champion for a little over a year, now. She'd gotten it by surprise, earning a title she'd never been seeking in the first place, but all the same, she'd made it her own. She'd defended it, she'd worked for it, she'd fought anyone who came across her path. She'd never run from a fight, wanting to show that she was a true champion.

As she retreated away from the younger, slimmer, sultry Soledad Vega, though, she had to admit, she didn't much feel like a champion. Certainly didn't look that way.

She moved into the elevator and used the rails inside to pull herself back up, looking out just in time to see Soledad sprinting towards her. She was going to make it, the doors weren't closing fast enough to keep her out. But maybe Carmen could give her a little surprise when she came inside.

She waited for Sola to make it past the door, coming inside the elevator, and then she sprung into action. She pushed up and lashed out with a fast right hook to Vega's face, looking to take her opponent off guard with the sheer alacrity of the blow more than anything else.
Sola kept an eye on the glass sliding doors, expecting them to come closing in on her at any second. The teenage street fighter had worked hard for this opportunity. She'd managed to get a win over Killer King on her first night in the company. She'd attacked Carmen in her own home to nearly steal the belt, then come back to AFW and dominated her next opponent. Now, it looked like Carmen might slip right out of her grasp!

All an over-reaction, however, as Sola was able to beat the doors by a considerable margin. Entering the elevator visibly flustered, Sola pushed her hair out of her face and shot a smug look toward the champion. A smug look that Carmen had a ready answer for!

As the doors finally did slide shut, Carmen sprung into action. Sola was so focused on what she thought she was about to lose, she lost track of what was about to come right upside her face!

Woefully unprepared, Carmen's fist smacked directly into Soledad's face. "Oooff!" The latina grunted, as the champion's blow spun her around on her heel. Off-balance from her sprint into the elevator, Soledad couldn't help but stumble right into the closed elevator doors. Through the clear material glass, the fans in attendance were treated to the pathetic sight of Sola's stunned face and ample breasts, flattened against the glass, as champion and challenger were trapped in the confined space!
Page 4 of 8 •

1, 2, 3, 4, 5, 6, 7, 8


---
Permissions in this forum:
You
cannot
reply to topics in this forum