Champions & #1 contenders
Highfly Flying Out Of Town
Tue May 22, 2018 1:31 am by HighFly
Hello everyone, I just wanted to inform all I have threads with that I will be gone from this coming Wednesday through Sunday. I won't be able to post consistently if at all during this time, but I will try to make up for it next week! I am sorry for the inconvenience to everyone.
Comments: 7
The Austrailian Mudslide is Back.
Sat Apr 21, 2018 6:20 am by Softsquad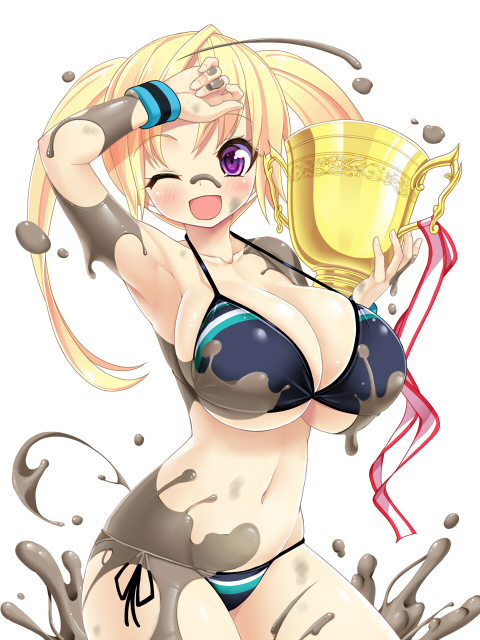 Granted that most of you won't know me or remember me, but I've had a few matches here and there some time ago. Well I think its time to become a regular around here and try to have some fun again, but at the same time keep coming back. Anyway I think its time to jump into some matches with Zoe Taylor, my mud wrestling character from Australia and get her back into the squared circle. Furthermore I will update my characters as I think some proper changes need to happen.
So if anyone would …
[
Full reading
]
Comments: 5
Page 6 of 9 •

1, 2, 3, 4, 5, 6, 7, 8, 9


Brandon simply laughed shook his head at Kamo's insult, before replying "Well don't think you've figured me out either, I've got a few secrets of my own.". As he rested his face on Kamo's neck and felt the man slowly put his warm, smooth arm on him and question what he was doing, Brandon snuggled his face into his neck and simply said "I'm making myself comfortable, you gotta problem with that, pretty boy?" as a joke, before bringing one of his legs up to wrap over the mans waist.

Using his hand to slowly run over Kamo's muscular chest, Brandon thought about his situation. This is the scenario he'd dreamed of for so long, and now he had it, but part of him was scared to fully trust it, what if 24 hours from now he was back at home, wallowing in self pity after Kamo would get tired of him? But no, Brandon tried forgetting the thoughts, clutching on Kamo tightly as he did. "Last night was some of the most fun I'd had in a long time....even if I was trying to escape you at one point." He half laughed, kissing Kamo's neck.
Kamo chuckled lightly as he made the comment, leaning in to kiss him lightly on the lips. "Mmmh. Then I'll be glad to figure out those secrets and still be able to put you down. I'll at least look good while doing it," he remarked, pressing a bit more against him as he felt that body pressing against him. "No, but you'll have to move soon when the food comes." To be honest, that wasn't what he was asking about. He was actually saying it more rhetorically -- because slowly, Brandon was getting into Kamo's head, making him feel more affectionate towards the other blonde, and Kamo didn't know what the fuck he was gonna do about it.

Because he didn't want to do anything about it. He wanted to sit there and cuddle up to the blonde for the rest of the day, maybe even the rest of the week. Or more. He wanted nothing to do with anything else but Brandon. He shivered at the kiss to his neck, those arms wrapping around Brandon and holding onto him tightly, as if he might float away if he didn't -- and feeling the hold reciprocated was a new feeling for him. "I don't remember the last time I fell asleep cuddling someone. I don't…remember the last time I cuddled someone, if I'm being honest." There was no laugh on his breath, no smile or anything; just amazement, that someone could help make him feel this way.
Brandon couldn't help but chuckle at Kamo's comment at him being able to find out his secrets, he'd probably be able to, but that doesn't mean he wouldn't put up a fight. "Can the food waittttttt?" Brandon joked, grabbing Kamo tighter as he did. He listened to Kamo as he talked about the last time he cuddled someone, pressing into him more as he did. Brandon didn't want to let go of him, he could lie here all day if he needed to, and hearing him say that made him feel that even more.

"I feel the same....I'll admit, I've had nights with guys, whether they were false promises, POW matches, you name it....but I never truly felt that connection, you know? I wanted so much more and I couldn't.....I couldn't get it, and it tore me apart. It led me to a drinking problem I don't like to talk about, and I found myself crying to sleep nearly every night it was that bad. I kept thinking I was the problem, so I focused on improving myself physically, doing what I could to keep myself in peak condition in the hopes that maybe I'd finally be accepted....but then I met you. I've never quite met someone like you, sure you're the big tough heir to the world, but I...I've seen a different side of you, and it's a side I want to experience a lot more of. These last hours has been the best time I've had in...a long time, and part of me doesn't want it to end." Brandon said as he held onto the blonde tighter. Here he was, pouring his heart to him, in hopes he'd understand him, he felt pathetic really.
Kamo was about to make another comment about the food coming soon, but then Brandon held onto him a bit tighter and pressed into him, and his comment ended up floating away just as easily as it had arrived. No, he liked this. He liked sitting here with Brandon. He loved feeling wanted, needed -- and he loved that it kept going even though they didn't sleep together. But when Brandon began to spill his guts about…everything, Kamo didn't know what to say. He almost fed into that anxiety, into those worries and fears. He looked off for a moment, hoping that the food was going to arrive and save him from being able to respond. But there was no such luck. He tugged away for a moment, so he could look at Brandon in the eyes.

"I…understand, but in my own way," he murmured softly. He realized he wouldn't be able to keep his gaze on Brandon as he spoke, so he looked down for a moment. "I…don't like getting attached to people. Because I know they're gonna leave eventually. So I try to kick them out. I try to make sure they never want to come back, and that they're never welcomed back, because…well, I don't like being hurt. At all." He cleared his throat for a moment. "I don't do this shit often," he murmured. "I don't…like sharing my emotions with other people. So I'm sorry if I'm really…bad at it."
As soon as Brandon finished his rant he looked down for a second and began to panic internally. How was Kamo going to think of him now? He'd probably just ruined the time they'd had, and Kamo was probably going to kick him out! He began to try and apologise when Kamo suddenly looked him straight in the eyes and said he understood. Brandon listened quietly as he began to reveal some of his own emotions to him, and Brandon realised this guy had probably been through as much hurt as him, if not more. As the other blonde began to apologise, Brandon said "No don't....don't apologise, I understand. It means a lot that you would share them with me." as he continued to hug him, part of him was angry at himself for looking so vulnerable, it made him feel unattractive. "Listen...if it's any help to you, I wouldn't mind meeting up again at some point?" He said with a half-nervous laugh, hoping that he would somewhat be able to help the man.
Kamo hadn't gone through nearly as much hurt as Brandon -- he was just more vulnerable, which he hid constantly behind his fortress of snark and cold behavior. Being spoiled for years upon years, yet also having no one but servants and the few people he managed to yank into his exploits; he grew to be afraid of being alone. There were often nights where he would make servants come up to his room to play the big spoon and cuddle him, after his mother died. No one really understood how much the loss of his mother played a role on who he became. On the lonely person who worked so hard to keep someone who would be at his side constantly that he managed to take a jobber who just wanted to get stronger and convince him that the only way he could was by keeping him company.

And here was Brandon, breaking down each of those barriers. He felt his breath hitch for a moment as he was hugged, moving in to bury his face against Brandon's shoulder as he was hugged tightly, a single tear breaking from his eyes and slipping down onto Brandon's chest. But he just held onto him a bit tighter, laughing quietly against him as he mentioned that he would be willing to meet up again. "I suppose I would be able to work with that," he replied with a small huff, his smile hiding against Brandon's shoulder.

The blonde heir sat up, swiping a hand across his eyes for a moment, as if he were rubbing away sleep. "What do you wanna do today, though? I got a lot of shit we can do here."
Brandon had a sigh of relief as Kamo somewhat agreed on meeting up again, at least there'd be some potential in the future? Brandon's mind began to wander until he suddenly felt something drop onto his chest, and looked down to see a drop of water, right from where Kamo's eye was. "Was he crying?!" Brandon thought as he felt Kamo bury his face in his shoulder. Brandon wanted to just cuddle him all day and look after him, he felt so bad for him...he wanted to look after him, tell him everything will be okay and that he'll be there for him.

He was going to kiss his forehead when the Blonde suddenly sat up and asked him what he wanted to do for the rest of the day. Brandon had admittedly not even thought about this, and quickly said "Uhh, I was going to go after breakfast...I didn't want to overstay my welcome, besides you must be a busy guy and stuff, you must have a lot more important things then this guy hehe...." before looking away nervously. In reality he wanted to stay here all day, he'd stay the week if he could, he wanted more of this guy, but he didn't want to do anything that'd turn him off.
Kamo blinked for a moment as Brandon quickly answered him, mentioning that he wasn't going to stay longer than breakfast. He shook his head firmly. "No, you're at least staying until lunch. I won't take no for an answer." He pulled away after a moment, crossing his arms over his chest and giving him a small huff. "You stayed the night so it wouldn't be a one night stand. The least you could do is make it till lunch time." He would have a harder time convincing him to stay later than that, but he would come to that bridge when he got there.

"We could play some games. I'm great at fighting games, I'm sure I could kick your ass in the game as badly as I do in real life." Just like that, the idea of Brandon leaving after breakfast was banished from thought; he was moving on to what they would do later. "Or a movie. I've got so many things we could watch, practically everything known to man. Including movies that haven't even made it to the screen yet!" He opened his mouth, about to list more things -- when the bell rang. He blinked and grumbled to himself, managing to extract himself from Brandon's grip, grabbing Brandon's shirt off the floor and tugging it on so it would cover up any naughty bits, dangling on him like a dress.

He walked to the doorway, and came back with a cart full of food. "I give you, the usual. Scrambled eggs with toast and pancakes, along with sausage, ham, cheese, and bacon." Considering the fact that he didn't know what a cheeseburger was last night, this kind of spread was…unexpected.
Brandon perked up when Kamo insisted on him staying a bit longer before wrapping his arms together and huffing, almost like when a child didn't get what he wanted. Brandon slightly laughed and said "Okayyyy, I can't disrespect Mr Ryusaki after all!" He said with a small laugh and a nudge. Listening to Kamo's ideas for what they could do, Brandon was about to respond when they were suddenly interrupted by the ringing of the doorbell to announce the arrival of their breakfast.

The surfer watched as Kamo's naked body pulled himself out of the bed and put Brandon's own shirt over him, covering his exposed self as he walked towards the door. Brandon said "You look cute in my clothing, also I'll kick your ass at any fighting game, just like next time we face!" jokingly as he watched Kamo's cute rear open bouncing as he walked to the door and opened it. Walking back with the tray of food, Brandon took the time to joke once more and teased "C'mon waitress, I'm starving!" with a double clap motion as he laughed. When he was delivered the food, it was almost as his eyes turned into love hearts as he dove straight into the food, he was known for his appetite for breakfast in the mornings.
Kamo grinned for a moment as Brandon mentioned he looked cute, making sure to give him a show as he walked away, but then he mentioned that he'll beat his ass in any fighting game and he turned around with a scowl. As if! He'd show Brandon just how damn good he was. He brought the tray over, though when he was called waitress, he stared at Brandon for a moment, moving away from the cart so he could hit the man, showing that the playful punch he had done before was likely a one time accident. But he moved back, grabbing a plate off the cart and bringing it over to Brandon, even moving back to pull a pitcher of tea out from under. "I typically drink a nice cup of Earl Grey while I'm waking up, but if you don't like tea, I can just order some orange juice." It was the only thing he hadn't thought about, honestly. Kamo was a big tea drinker, often relaxing in bed with a nice cup of green tea after a long day.

He grabbed a plate for himself and plopped onto the bed with a small grin, beginning to eat from the plate slowly, watching Brandon as he began to eat -- and laughing lightly. "Someone's hungry," he remarked, bringing a bite of scrambled eggs up from his plate to his mouth, a small grin on his lips. "So I'm guessing you wanna play some video games, definitely. Sounds perfect. We'll figure things out afterward. Perhaps whoever wins gets to decide what we do for the rest of the day?" Already forgetting that Brandon only said he'd stay until lunch.
Page 6 of 9 •

1, 2, 3, 4, 5, 6, 7, 8, 9


---
Permissions in this forum:
You
cannot
reply to topics in this forum