Champions & #1 contenders
Highfly Flying Out Of Town
Tue May 22, 2018 1:31 am by HighFly
Hello everyone, I just wanted to inform all I have threads with that I will be gone from this coming Wednesday through Sunday. I won't be able to post consistently if at all during this time, but I will try to make up for it next week! I am sorry for the inconvenience to everyone.
Comments: 7
The Austrailian Mudslide is Back.
Sat Apr 21, 2018 6:20 am by Softsquad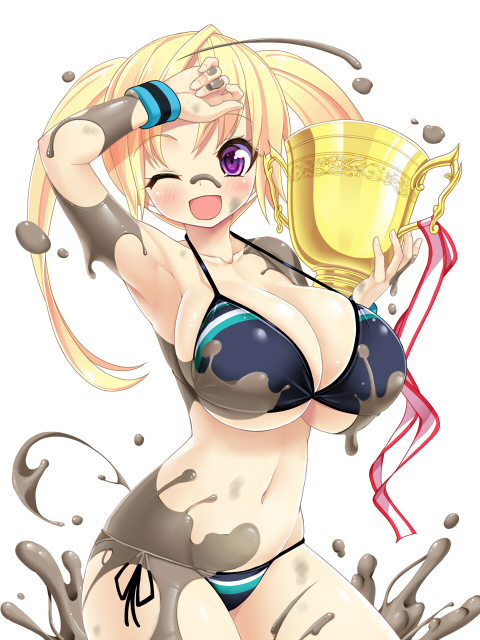 Granted that most of you won't know me or remember me, but I've had a few matches here and there some time ago. Well I think its time to become a regular around here and try to have some fun again, but at the same time keep coming back. Anyway I think its time to jump into some matches with Zoe Taylor, my mud wrestling character from Australia and get her back into the squared circle. Furthermore I will update my characters as I think some proper changes need to happen.
So if anyone would …
[
Full reading
]
Comments: 5
Page 2 of 4 •

1, 2, 3, 4


Even if she had rolled, Silver somewhat suspected the move to still hurt like hell. She was a heavyweight after all, and typically, unused to being thrown. Yet that didn't stop the giant from picking her up and doing so, without even much of a grunt. Sitting up soon enough, her hand would come to her back as her eyes awkwardly gazed at the crowd; the big girl wincing and oo-ing, as her bigger foe made the approach.

She still tried to make the moment purely business mind, trying to put all suggestions that the manoeuvre was personal into the back of her head. Auriel did seem somewhat resentful of throwing her after all, and even offered advice as if she were but a sparring partner!

Her shoulders gripped, Silver would soon find the giant trying to somewhat flatten her down. Still in a minor world of pain, the sumo-esque Silver would simply turn on her side as the giant tried to roll her, instead trying to somewhat cuddle Auriels legs as her arms wrapped around, in a desperate attempt to prevent the woman pummelling her further, at least for the moment!
"Wha?!" Auriel gasped in surprise, much more shocked by Silver's sudden movement rather than the actual movement itself as she instinctively sprung back up into a full standing position with minor panic on her face, only properly analysing what her opponent was doing a couple moments after she had moved back up, the larger woman's short lived expression of panic quickly devolving into confusion.

At first the tall Auriel had believed Silver to have been rapidly executing some form of clever counter attack, however now after brief inspection it was very clear that her shorter opponent was hugging her long legs alike a child which wanted to be picked up, further limiting her already bad mobility by effectively cutting off her ability to walk all together!

"A-Ah! Silver! This really isn't the time for leg hugging!" Auriel protested as she attempted to move her legs, quickly giving up as all she gained from trying to move was a clumsy wobble, momentarily causing her to lose some of her balance and almost topple over! "I'll pull you off if I have to!" The tower high woman protested after she managed to properly level herself out, gradually bending back over afterwards with plans to grab Silver's legs and forcibly lift her up, hoping it would force her to let go.
Silver's response was both childish, and desperate. Still, it was the response she went with, to save herself being hoisted up and ragdolled so quickly yet again. Even though it was somewhat satisfying to meet a girl who actually could deal with Silver's own insane figure, certainly adding a fresh thrill to the match! She knew such a hold wouldn't last for long though. If she still persisted, the bigger girl could simply land on her, and outright squash her to the mat. And that was if she was lucky; she didn't want to really think of the prospect of the giant deadlifting her from such a position. After all, to Auriel, she was most certainly a smaller figure.

Soon enough though, she'd relent, just as the bigger woman began to wobble and clutch onto the heavy rookie for support, seemingly about to force her up anyway. Looking for a standing position, Silver would make sure to step back at-least a small step from Auriel, simply because she didn't want her head to graze that enormous chest on her body, which often enough, convinced foes to opt for a breast smother immediately following. "Ah..nuts..." She'd again mutter, rising, arms defensive and now back to her own body, as she suspected the debuting star would be looking for another means to demonstrate her supreme strength!
"That's more like it! But you know... This is my first ever match in the AFW..." Auriel sang brightly immediately after Silver let go of her long legs and entered into a combat ready stance, the taller woman breaking off into a seemingly unrelated mutter as she pretended to contemplate to herself, suddenly looking up as if she had an amazing idea. This was perhaps a risky move as this manoeuvre could be quickly countered, and constantly lifting somebody of Silver's size would force endurance to drain quickly, but for a hold like this accompanied with what she was about to say, Auriel deemed it truthfully worth it.

"That's it!" Auriel cheered as she slowly lunged forwards, trying to cover just about the same amount of distance which Silver had backed away to see if she could wrap her powerful arms around her busty foe to put her into an insanely tight bearhug! "I never got my welcoming hug!" The much larger woman would laugh out joyfully if she managed to grab onto her opponent successfully, more than determined to squeeze the fight out of her if she was presented with the opportunity to do so. One thing would be certain to Silver if Auriel managed to land the hold correctly, the debuting star defiantly wanted to demonstrate her serious amount of strength! As well as raw power!
Despite the partial fear running through Silver, over how it was now evident that her foe could hoist her, throw her, and with that figure, likely squash and crush her for days, the buxom sumo-esque girl still couldn't help but smile. Sure she was super strong, and somewhat threatening. But atleast she seemed friendly! "I know..!" She'd retort, somewhat shrugging her shoulders. "I'm trying my best! I'm not that amazing!" She'd almost sound pitiful, knowing full well that a debut against herself was by no means a debut against the top of the AFW food chain.

Soon enough, the much bigger frame would close in on Silver, arms wide. Her foe seemed gentle on her approach; she wasn't rushing in, or trying to flatten Silver to the ground. Such an element allured Silver to the fact that whatever her foe was about to do, no matter how gentle the setup, it would hurt! She'd realise that far too late of course, as she found a giant not only pressing her close, but hugging her belly monstrously tight!

Her own weighty figure somewhat resistance to the squeeze, said resistance wasn't great, as her foes strength was simply monstrous! She'd look up into the eyes of the giant, as she felt her own belly press to Auriels, face blushing as the amazon seemingly wanted to hug the sumo out. "This...this is...a little tight..." She'd understate, hands coming up to her foes shoulders, forearms pressing against those monstrous breasts, as she gave a mild push.
"Hrrr!!" Auriel groaned as she valiantly fought against Silver's mild pushing and overall weight, using all of her strength to keep the large girl elevated and firmly locked within the tight confines of this monstrous bearhug. "I'm afraid things are only going to get tighter from here!" The titian of a woman just about managed to get out as she forced her foe up even further into the air by bending her back slightly, managing to constrict the large breasted Silver even further as she put everything she had into this singular squeeze of pure power! Sweat beginning to form in abundance as this technique took more than a lot out of her.

Not being able to expend this much energy for much longer Auriel would quite abruptly let go of her opponent, allowing Silver to do as she would as the much larger woman stumbled backwards towards the nearest corner, needing to hold onto the top set of ropes to help her maintain her balance. The hold had definitely been effective, no doubt about that, but it had been excruciatingly difficult to keep up, and Auriel was starting to question if it was truly such a good idea to expend so much stamina on one hold.

"Y-You... Aren't necessarily the easiest of girls I've had to lift up for so long... Huuu..." Auriel muttered between long winded breaths, just about managing to maintain her smile as she leaned back into the corner even further, wiping one of her long arms across her now sweat covered forehead as she attempted to recuperate her lost strength, her face almost as bright as Silver's had been due to both the intimate hug and tireless squeezing.
It wasn't just the fact that a foe existed that could bearhug Silver effectively that frightened Silver. Sure, the fact was scary in itself; Silver was a big girl to put it lightly, and getting your arms around her was a task in itself, let alone squeezing with enough force to press the big girls frame in on itself. But it was the fact that Silver was lifted so high, even higher than her foe, as she felt her belly collapse in on itself!

She soon realised that her foe wasn't setting in for the long haul, as Auriel leaned further back, and applied maximum force from the offset. As a result, Silver's very front underneath her top would turn a pure shade of white from the sheer pressure, as her breasts mushroomed up and over her foes own great set, turning into a somewhat soft set of pillows for her foes chin. Had she had her wits about her, she would of utilised the position of said chest, or even clapped the ears of her foe, or even at the least pulled on her arms. Her hands merely laying over her foes shoulders down her back though, they failed to take the initiative. Instead, she merely yelped in the air, still unable to comprehend fully that at 240lbs, she was being crushed in half!

Soon enough, Silver would be released, falling instantly to her knees, hands to the mat in front of her as her foe took to the corner. A huge bead of sweat would roll down her forehead, off the tip of her nose to the canvas. She'd sit there, panting as if she had just escaped the jaws of life, head finally rolling up to meet her distanced foe as some colour returned to her cheeks. "How did....What...How..." She'd mutter, equal parts terrified, confused, and amazed at her foes power!
"Eheh... Hehee..." Auriel giggled gently at her opponents bewilderment, steadying herself with the aid of the turnbuckle before moving herself into a proper standing position. I-It certainly wasn't easy... But I did tell you... I'm not going to be holding back... A-And I promise you... That I truly meant it..." The giant of a woman spoke out, her tone having an underlining seriousness which partially betrayed the sportsman like smile which was still very much present on her face.

"This isn't over yet though..." Auriel declared after maintaining her balanced position by the turnbuckle for a while longer, gracefully flicking her hair back before beginning her slow trudge towards Silver, somehow managing to move even slower than usual due to her overall energy still feeling heavily sapped after her last mighty manoeuvre. Once she deemed herself close enough Auriel would try to gradually bend down to allow herself to take a firm hold of her opponents shoulders. Still unable to move with much rapidness, if she was successful in grabbing her foes shoulders the pillar of a girl would start trying to lift her into a standing position, preparing for yet another massive attack as both wrestlers were still recovering, hoping that she would be able to muster up enough might to pull it off.
Make no mistake, Silver wasn't the sort of heavyweight who'd never, or even rarely been lifted before. As prior mentioned, AFW was full of powerhouses- a big lift or throw every now and then on the big girl was ineviteble. It was purely the fact that Auriel not only lifted her up so high, but had her gagging for her life! Her eyes stayed glued to the woman, now extremely wary of a woman whose strength allowed her to pull off a painfully tight bearhug but moments into the match. "Oh...god..." the big girl would mutter to herself, when she became aware of the fact her foe was deadly serious.

Both giants in a resting posture, Auriel was the first to descend upon the other. It made sense after all; she was the one who just crushed, not the one who was just crushed. Gripped by her shoulders, Silver thought it wise to simply follow the rise rather than try to resist, coming to her knees soon enough with a pant still in her breath.

However, as she begin to rise against the taller woman, her head just about to reach the same height as her foes heaving chest, Silver would let loose a cute but loud yelp, as her arms came forward.

Appearing to be lunging with her arms out to return the vicious hug moments ago, Silver's own set would come considerably lower. Hugging under her foes massive rear, her heaving chest now pressing into the woman's stomach as her own cheek was forced against monstrously large boobs. Straightening up fully, the pudgier girl would try to lift the taller straight up, essentially hugging under her butt!

"Gotta..fight...you back..!" She'd mutter, with a bead of sweat on her neck!
Although she was proud of herself for doing so well in the match Auriel couldn't help but feel kind of bad for Silver. Her opponent hadn't really had much of an opportunity to fight back this match and had spent most of it thus far being painfully tossed around and squeezed like a rag-doll. Though, the much taller girl had promised that she wouldn't hold back in this match, and that was a promise which she was very intent on sticking to. On the plus side, Silver wouldn't have to endure pain for much longer, as Auriel had a plan for one last massive throw followed up by a quick pinfall, it was probably the nicest thing which she could do for her foe at this point.

Yet as she was preparing for the final destructive attack Silver let out a loud yelp out of nowhere! For a mere moment Auriel thought that she had accidentally seriously injured her, yet this was quite rapidly revealed not to be the case at all! To her infinite surprise Auriel soon found herself being elevated off of the canvas and up into the air, something which she had never experienced before as a wrestler!

"Wha!? Get off!" Auriel demanded in at state of complete surprise, her expression thrown into total confusion as she wriggled around within her opponents powerful arms, unsure on how to handle this. Never had she come across somebody who had the might to pick her up even for a moment, let alone completely take her off her feet, this was such a rare occurrence that the giant of a girl was quite awestruck. One thing which she knew however, is that she had to do something soon, whatever Silver used this advantage for it was undoubtedly going to hurt. It was bad enough getting knocked down by another wrestler, but being thrown with her tremendous amount of weight and height only increasing the momentum? Auriel didn't want to think about the devastating effect it would have.
Page 2 of 4 •

1, 2, 3, 4


---
Permissions in this forum:
You
cannot
reply to topics in this forum