Champions & #1 contenders
Summer Splash interest in Natasha Loclear?
Mon Apr 09, 2018 11:30 pm by daemongirl
Well my girl hasn't missed a summer splash yet, would anyone be interested in a match with her? Open to just about anything match wise, just pm me!
Comments: 1
Been Out with the Flu
Sun Apr 22, 2018 7:47 pm by daemongirl
Just letting those I have threads with know I've been out with the flu since early last week, but I will be back to posting tomorrow.
Comments: 0
The Austrailian Mudslide is Back.
Sat Apr 21, 2018 6:20 am by Softsquad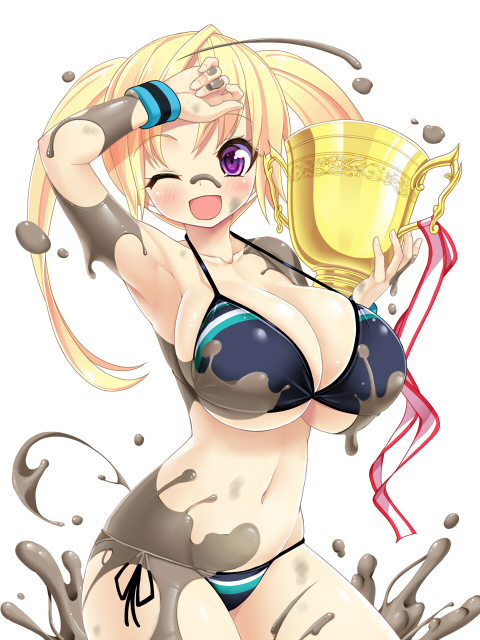 Granted that most of you won't know me or remember me, but I've had a few matches here and there some time ago. Well I think its time to become a regular around here and try to have some fun again, but at the same time keep coming back. Anyway I think its time to jump into some matches with Zoe Taylor, my mud wrestling character from Australia and get her back into the squared circle. Furthermore I will update my characters as I think some proper changes need to happen.
So if anyone would …
[
Full reading
]
Comments: 0
Page 1 of 10 • 1, 2, 3, 4, 5, 6, 7, 8, 9, 10


Every once in awhile, the AFW had a 'Meet the Wrestlers' night before a show. It was a simple thing, really. A handful of the women would get called out to hang around the ring before the show with some VIP fans. They'd sign the merchandise, talk with people, pose for selfies, generally mingle. Fun times.

Despite it not being a big deal, Valley was ecstatic when she got called out to do it this night. There she was, hanging around ringside, dressed in her wrestling attire. Her Japanese wasn't the best around, but she was good enough to hold decent conversations and interact with some of her fans. Fans she wasn't too sure she had. Fans she wouldn't have had about two years ago.

It reminded her a lot of home, back when she was doing shows with crowds that rarely topped the two-hundred mark, when it seemed like half of her job was wrestling and the other half was trying to sell DVDs of her wrestling matches. Harder times, but connecting with a smaller crowd was easier, made things more personal. She'd come to recognize certain avid fans, got to know the people.

It was something Valley felt she'd lost when she came to the AFW. But now, as she moved around the ring and hugged her fans, talked with them, interacted with them, it felt like she was getting a taste of her roots. Only for a moment, but still.

Valley just wished she could've gotten the woman she'd been invited here with to see it the same way.

Currently, she was standing besides some short guy with a growing bald spot who'd skipped work to make the show, autographing his copy of the AFW's monthly magazine. A nice little 'With Love, from Valley Doll'. Not much, but it seemed to make him happy.

"And there...you...go." She finished up and handed it off to him, placing it in his nervous hands. After a brief exchange of appreciation, he went off, looking for the next wrestler to sign the next magazine he had. As it turned out, he didn't have to look far, because that woman was right next to Valley. Whether she'd give him what he wanted was the main question, however.

"Come on…" Valley looked from Alicia to the nervous guy and back to Alicia again, innocently smiling. "Just a little signature and you'll make this guy so happy. You're very soul will be cleansed with this good deed to your fellow man." She batted her eyelashes to help pour on the charm. Always worked with Hayley, couldn't hurt to try, here.
Alicia and the AFW fan base had…

Ah…

An interesting relationship.

Yes.

Interesting.

As far as they were concerned, on the plus side she was currently on the opposite side of a feud with River Styx, always made for a hotly contested match and was extremely hot. In the minus column, she'd choked out Gallium Heart and even saving her from Styx did little to help with that in the fanbase's long memories, she steadfastly refused to be involved in the more gimmicky, fetish-ridden side of the company and, most of all, she just wasn't interested in them.

She didn't put on a show.

And that really summed up Alicia's own opinion of the fans. She didn't care. She was in Friction for her own reasons, marched to the beat of her own drum and let the fans think what they liked. If they cheered, they cheered. If they booed, they booed. She couldn't care less either way.

Which was why she'd rather be almost anywhere than where she was right now. There were so many more useful things she could be doing – warming up, for example. But instead, she was stuck ringside for the pre-show meet and greet with the fans.

Yay. And if she'd crammed any more sarcasm into that mental comment, it would probably have spontaneously combusted.

And yes, ok, she was happy to admit in the comfort of her own head (the privacy, more importantly) that it did make her uncomfortable. This was her first time doing anything like this and… It put her a bit on edge.

The only consolation was that she'd been paired up with Valley but they hadn't had much of a chance to talk. There weren't as many fans as she'd feared, it wasn't like pictures she'd seen of the huge conventions, but there were still plenty enough.

Almost all Japanese, which didn't help given Alicia was most definitely not fluent still and the noise and the excitement of the speakers made it harder still for her to understand. She'd been hoping they'd have somewhere to sit but it was more like a standing meet-and-greet type of thing. This was not what she'd signed up for.

And she wasn't exactly doing great with it. She signed whatever was thrust at her, magazines and photos and such; she did some photos but no hugging. But she didn't have the connection to the fans that she could see Valley did and she knew exactly what that was.

Alicia didn't care.

And she didn't care about that either.

The blonde finished with the fan she'd been chatting to and he came over to Alicia, and if he'd been short next to Valley then the redhead made him look even littler. She stared at him for a moment, arms folded as she leant against the ring apron, then down at the magazine and back at him again.

And it was anyone's guess what either of them would have said if Valley's voice hadn't cut in, drawing Alicia's dark gaze to the blonde. And the most innocent smile she'd seen on the other wrestler, earning Valley a roll of her eyes – particularly once the fluttering kicked in and the 'soul will be cleansed' rubbish.

The British amazon blew out a sigh, snatched the magazine and propped it on the apron, signing it with sharp strokes of her pen.

"Save it for your girlfriend," She grumbled, shoving it back in the man's chest with perhaps a touch more force than was needed and glaring at him until he disappeared into the crowd. Suffice it to say, Alicia didn't think her popularity with the fanbase was going to be improved by this little exercise.

"This is all your fault," The redhead wasn't looking at anyone in particular but her comment's target was pretty well obvious, "I don't know how but somehow. All your fault."

And yes, she knew it was in her contract but it was still Valley's fault. Somehow.
_________________
Friction -
Alicia Wells
- Kickboxer, Mixed Martial Artist and Scissor Queen
Friction -
Samiya Kusanagi
- Submission Specialist, The 'Schoolgirl Assassin'
The poor man gladly took the magazine and scurried off to join some of his nearby friends, wisely escaping with his ribs intact.

Valley just had a little chuckle and hopped up on the apron, kicking her legs about with a wry smile on her face. Yes, Alaina was suitably surly, and teasing her was like poking a tall, leggy dragon in the side. Repeatedly. With a knife.

But she couldn't help herself.

"My eyes will get you eventually. Either that or that pouting. I get good mileage out of that, too." She blew a few hairs out of her ways and threw some devil horns at a guy with a great White Snake shirt on.

She stretched her leg out and gave the redhead a slight kick in her tush. Not enough to hurt, especially with all the padding back there. "Relax. Ease up. Just...enjoy." She spread her arms out, highlighting the grandeur of a massing fanbase. "You're great in the ring, you're an awesome wrestler, but you've got to get with the 'pro' side of pro-wrestling, you know? The occasional high-five. Get some actual music for your theme. Smile every now and then. A little theatre can go a long way.

She gave Alicia a thumbs up, then turned to a pair of women dressed up twin Silver Ace's, wearing her original costume and the newest one. It was actually a pretty good likeness, considering they were two Japanese girls trying to look like a Canadian.
Yeah, yeah, Valley was cute and adorable and blah, blah, blah.

Alicia roiled her eyes again, followed throwing a glare at her friend following the kick to the backside. No, it hadn't hurt but that was not the point, was it? Not to say that she didn't appreciate the compliments about her skills, but they all had their own style.

The big redhead didn't even mind Valley trying to give her advice but, well, she wasn't there for the 'pro' side. It was the necessary but annoying part of her job, to go with the awesome part where she got to square off against some of the best in the world.

Although the bit about music was just mean.

"I like my entrance," Alicia shot back huffily, "And it got you to jump, didn't it?"

She did like it. It was simple, to the point and put people on notice without being overly flashy about it. Music, particularly the sort of music she kept being asked to use, didn't suit her at all. It was all either j-pop (and that was not Alicia's cup of tea) or classical stuff. Don't get her wrong, she had nothing against Elgar, but that didn't mean she wanted to walk down the entrance ramp to 'Pomp and Circumstance'.

Or 'Jerusalem'. Definitely not 'Jerusalem'. She didn't think she could get any more stereotypically English and, while she was proud to wear her country's flag into battle in a small way, that wasn't her.

"You can keep the theatre," She concluded, as Valley turned away, "I'll stick to the wrestling."

And she didn't really feel like smiling somehow. With a mental sigh, Alicia turned to the next fan approaching her, doing her best to paste a smile on her lips. Acting hadn't ever been her strong suit.
_________________
Friction -
Alicia Wells
- Kickboxer, Mixed Martial Artist and Scissor Queen
Friction -
Samiya Kusanagi
- Submission Specialist, The 'Schoolgirl Assassin'
"I can neither confirm nor deny that you're entrance startled me." Valley took on the most neutral tone possible, not wanting to give away the fact that Alicia's entrance had, in fact, made her heart skip a few beats. The lack of music was disturbing, off-putting, then all of the sudden she was just BAM - there, and in your face.

"I'm a traditionalist, sue me. You can have theatre and wrestling." Valley had a quick, wistful sigh at her failed attempts to lighten Alicia's mood. Maybe it was just a product of the times? Valley could admit, there were more and more wrestlers coming in with a MMA edge, leaving the flash and lights behind with their style. Fewer good gimmicks these days. Less grand entrances. As much as she hated to admit, things were skewing more towards Alicia's way of things than hers.

Not that it would make her change one bit. It was just sad to see the old ways fade.

"Bare minimum, you've got to get used to this sort of thing, though." She wagged a pen Alicia's way, then handed it back to its owner and sent her off with another signed magazine. "The more you win, the more they'll want to push you out there, and you'll be winning a lot more matches. If you get a belt around your waist…"

Valley let that thought complete itself, before something to side caught her eye - something big, dressed and white, and the blondest thing in the building besides herself.

"Oh, wow - Chris!" She called out, waving towards her friend on the other side of the ring. "Chris, over here!"
Chris Morgan was more than familiar enough with the legal language of her contract to understand that she had to do public appearances when asked. She just didn't expect the AFW's managment to want her to do a meet and greet. She was, after all, still considered to be the one behind the collapse of a well loved wrestling federation.

Clad in her wrestling attire, she was striding with her gaze locked straight ahead, about to go stand against a wall near the ring. However a voice jolted her from her thoughts, making her turn towards it.

"Val?" Chris said, seeing her friend standing next to a redhead that she wasn't familiar with. "I didn't know you were going to be here for this...."



Posts

: 2970


Join date

: 2008-04-26


Age

: 32



Alicia just chuckled in answer, shaking her head – she'd been there, staring Valley right in the eyes after all. Not that she'd particularly been looking for that, it was a nice side effect of her simpler entrance, but it wasn't why she'd picked it. The blonde ought to be happy though; she'd just cheered the big Brit up at least a little, even if it was at her own expense.

"For sure," She had no interest in denying other people their theatre, not really. True, Alicia liked to keep it simple but that was on her own behalf. Valley could come down to the ring with a full band, a dance troupe and an opera singer leading the way, plus fireworks, swans and God knew what else. Alicia would still wrestle her.

It just wasn't her personal style. Actually, on some level, she could admire the theatrical side to it. And, so long as it didn't get in the way of her fighting, she could even enjoy it. But she was in the AFW to fight, not to put on a show. That was how it was going to be.

That said, on her list of things she didn't want to get used to, this sort of thing was pretty high up there. So Valley's announcement that she ought to get used to it was greeted with a snort of disdain and a roll of her eyes as she sent the fan away with a newly signed photo.

Valley had a point. No use in denying it, but Alicia didn't want to give her the satisfaction of admitting it.

It wasn't going to stop her doing what she did either, although she'd add it to the list of reasons why she really did not want to win a belt.

She was distracted from her thoughts though as Valley promptly called to someone off to one side, a name that didn't bring anyone to mind. The British amazon turned to find the blonde had been shouting at another blonde – judging by her reaction at least – and another wrestler judging by her gear. A big one at that, taller than Alicia and well built in a way that hinted at some serious power in her frame.

Now she looked like she'd make for an interesting fight… A hungry look flashed over the redhead's features, lips curling, before she shook that mood away. Stepping forward, she offered a hand to Chris.

"Alicia," Her greeting was laconic, to the point as ever.
_________________
Friction -
Alicia Wells
- Kickboxer, Mixed Martial Artist and Scissor Queen
Friction -
Samiya Kusanagi
- Submission Specialist, The 'Schoolgirl Assassin'
And there was Chris Morgan, along with all the little feelings that accompanied the Wrestle Angel whenever she and Valley were near one another.

Attraction, from their brief tryst while she and Ace were at odds. There was definitely some magnetism there, and if Valley had reunited with Hayley and patched things up, who knew what it could've developed into.

Excitement, feeding off the two great bouts they'd had against each. Chris beat Valley once, Valley beat Chris once, and unwritten wrestling rules demanded that they have a rubber match at some point down the line, determine who was truly the better blonde between them.

Seeing her anywhere would've been a pleasant sight, but seeing her here was an unexpected treat. Valley could feel some energy sparking from it already, and good chunk of it was coming from Alicia, who looked like she would've loved to have a match with Chris right here and now.

"Fancy seeing you, here, too." Valley stepped over to Chris' side and bumped hips with her. As much as she could with the size difference. "Alicia Wells, meet my giant clone, Chris Morgan. Former Wrestle Angel champ, best lariat in the league. Chris, meet Alicia Wells. She nearly squeezed me in half during a match a few months back, almost made me tap out, rearranged some of my organs. Fun times."

And she said all of this with the sweetest, most innocent smile.
When the red haired woman stepped over to Chris, the blonde's gaze was drawn to her legs. Not in the sexual sense, although they were definitely nice to look at. But in admiration of the strength they displayed. She was willing to bet this woman could kick with a strength horses might envy.

Her manner of speaking was direct and to the point, a way she had actually encountered often in the business world, so the blonde replied in kind.
"Chris Morgan." she said. "A pleasure to meet you."

When Valley came over, a smile lit up Chris's face, and she turned herself into the hip bump.

"If I knew you were coming, we could have carpooled." the taller blonde said warmly. "We really haven't talked since that match."

There was always a cocktail of emotions whenever Val showed up. Mostly the warmth of a good friend, to be sure. Add in a bit of attraction, stir in a little guilt for said attraction being over a taken woman, especially when she was taken by a good woman that she would never dream of taking Valley from. Mix and serve.

Still, times with Valley were fun, even the times when they were beating each other nearly senseless.

When Val described her first match with Alicia, Chris gave a wry grin.
"Oh, so how most of your first meetings go, then?" the American quipped before demurring... "Also, I don't know about best lariat on the league. Top five, maybe?"

Turning back to Alicia she said "I bet she almost tapped to something involving your legs. They are magnificent! You really should share your lower body workout routine with me sometime."



Posts

: 2970


Join date

: 2008-04-26


Age

: 32



Taking Chris' hand and shaking it, Alicia was struck by the firmness of the grip. At the blonde's height, it wasn't surprising but, whoever this woman was, she was definitely a powerhouse. And, if Valley liked her, she couldn't be too bad. Yes, this was a match she was definitely going to look for.

"You too," The redhead agreed, with a nod as Valley joined them, completing the introductions but leaving Alicia a bit unsure as to how the two blondes got on. There seemed to be a bit more there than just friends… Or maybe she was just reaching.

Former champ and best lariat in the League? Now that was interesting.

Alicia barked a laugh at Valley's way of introducing her and Chris' comment about first meetings, thinking she might like the big blonde, before she slapped her thick hard thigh in response to the compliment. No stranger to glances, stares and talk about her legs, that didn't mean the redhead didn't appreciate the praise when she got it.

"Thanks and you'd be right - bodyscissors," If Alicia's look had been hungry, now her grin was downright feral, "Got her around the lower ribs. Like she said, I nearly cracked her in half before she pulled a neat trick and pinned me."

The mixed martial artist flicked that toothy grin over to Valley, that eager look dancing in her eyes again. She wanted that rematch. Oh, did she want that rematch. And she didn't mind if either woman or the fans knew it.

"Next time, I'm going for the neck."

Two could play at that game, blondie.

"That wasn't our first meeting though. She was my first sparring partner when I joined and the powers that be wanted to make sure I had what it takes. Nearly squashed her then too. If you're curious, I'd be happy to show you my routine sometime."

She half expected Valley to throw in a pun about Alicia's workout routine here – something about all the bags she'd actually scissored to death. Or all the squats she did. But the redhead was a big girl, she could take it.
_________________
Friction -
Alicia Wells
- Kickboxer, Mixed Martial Artist and Scissor Queen
Friction -
Samiya Kusanagi
- Submission Specialist, The 'Schoolgirl Assassin'
Page 1 of 10 • 1, 2, 3, 4, 5, 6, 7, 8, 9, 10



Similar topics
---
Permissions in this forum:
You
cannot
reply to topics in this forum