Who is online?
In total there are
44
users online :: 5 Registered, 0 Hidden and 39 Guests :: 1 Bot
BlueMeanie
,
Daaharu
,
LunarWolf
,
TiefBlau
,
Yori
Most users ever online was
390
on Tue Jan 02, 2018 2:02 pm
Champions & #1 contenders
Kawaii Opportunities
Sun Jun 17, 2018 3:04 pm by Daaharu
Hey, guys!
With the kawaii title match at Avalanche taking on an interesting wrinkle with the interruption by the Brat Pack, we are moving forward with the overall kawaii storyline, and at this point I'd just like to take stock of what kawaiis are out there that are interested in participating in a cohesive storyline.
Can't make any promises about titles or what exactly each girl's given role would be. We can talk a little more about the specifics of where the story is going soon, but I …
[
Full reading
]
Comments: 2
Match or RP?
Wed Jun 13, 2018 3:48 pm by Lotuswarrior
I'm just looking to do something while I wait for match replies. Really want to get some characters cemented a bit with a rival or some interactions with other characters here.
If anyone wants to do something hit me up.
Comments: 0
Match for Takeichi
Tue Jun 12, 2018 6:13 am by GrandAkumaShogun
So with my other two guys having their own matches I figure I should do something with my first character on here, Takeichi Mori. If anyone is interested feel free to post here or get in touch through a pm so we can plan it out. I can either have Takeichi remain a jobber or begin to work him towards being a more serious competitor.
Comments: 0
Page 1 of 5 • 1, 2, 3, 4, 5


Standard Match won via pinfall or submission
In the back Lucy was preparing for her match, it had been far too long since she'd graced the halls of Friction and it's locker room. Given that she and her team had been out of action since that title defence that they lost it was perhaps now time to get back into the spotlight, after all Lucy was the only one who wasn't either missing or injured. Ms Grange also had another reason, maybe with Ryan and John no longer having the belts perhaps that meant she could now get her time to shine. It was selfish thinking she knew that, but it was only natural.
Still it was John that convinced her, stop moping about and waiting for us to get it together. Go out there and show we're still something dammit! His words. Ms Grange hadn't skipped on her training, still doing runs and acrobatics and all her usual training. Just not without her usual sparring partner, but still Lucy had been able to look up her opponent for tonight's fight. Melody White. Interesting name to be certain, didn't seem like she'd done very well in her recent matches though. That boded well for the British girl then.
A stage hand told her that it was time for her to prepare for her match, Lucy simply nodded and checked her phone. No new texts, well it was time to get that out of her mind. She closed her locker and walked out into the hallway, and approached the stage entrance.
In the arena the lights dimmed out, that was except for the lights on the stage. An bright orange fog would begin to fill the entrance ramp, as the opening of Love, Fury, Passion, Energy began to blare from the speakers. Ms Grange tapped her foot to the song, and prepared for when the lyrics would hit.
"She's like a lost flower. Growing up through a crack. In the bustling sidewalk. Moving like a river so sad...."
Lucy emerged out into the arena, to a very loud applause as it turned out. It was good to know that despite her long absence from Friction the fans still knew who she was, they probably saw her on Tension as well of course given that she been a member of the UK Elite who were now former tag champs there.
With a smile Lucy promptly ran down the ramp, making sure to slap hands here and there before rolling into the ring under the bottom rope. Before promptly standing up and leaping up the nearest corner and waving to the audience, topping it off with a quick backflip from the top turnbuckle and walking to the opposite one. From here Lucy would be able to get a check on her opponent and size them up and get a plan of action in mind........
_________________
Check out my wrestlers
here
, but PM me for match requests.
Solaire of the AFW.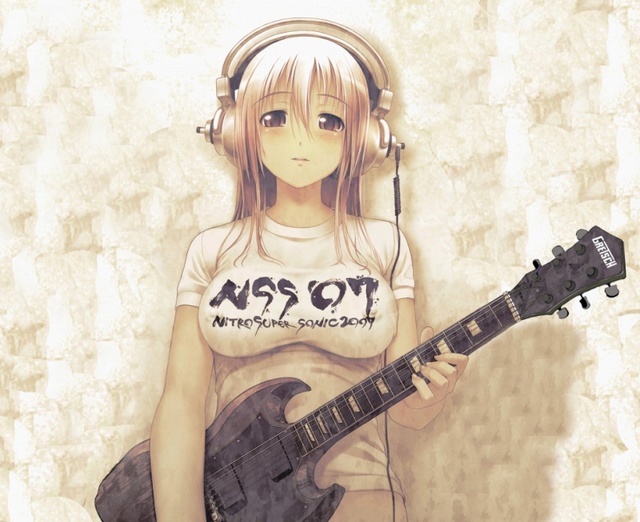 Melody waited nervously for her cue. She could peer through the curtain and see her rival. "Hmmmm" she mused, her rival didnt look big, nor that skilled. Previously Melody had been taking on much bigger rivals and had ended up flat on her back and usually struggling to keep conscious as she was smothered for the count. With her music hitting the PA she came out. Tonight wearing a very tiny black bikini set and boots. Melody had planned on foxing up her image and it was sure working. The crowd responded with wolf whistles and cheers.
Melody played up as much as she could and it helped give her some confidence. She had done her homework on this match and her rival, something previously that was lost on her. She muttered and mumbled as she entered the ring trying to remember what she had learnt
When her eyes fell upon Lucy she started on the attack almost immediately.
"Hey you are the daughter of that loser right, wasnt your dad a complete druggie? Or was that mommy?" Melody smirked slightly as even these words were a little harsh for her but she couldnt show that. She was going full heel. Or at least trying to.
Lucy stretched a bit on the ropes as she waited for the opponent, get the blood pumping for this match. It had been too long since she had actually stepped into a battle, and she'd be lying if she didn't have any nerves inside her. Was only natural after all, but Ms Grange had heard that her opponent tonight hadn't had the best success thus far. Which gave Lucy a boost of confidence.

Well Melody was certainly dressed to impress though, Lucy raised an eyebrow and smirked a little. Nice, granted Ms Grange liked guys. But even she'd admit to checking out the eye candy, it was there after all. Strange though given that this Melody chick wore a different outfit in one of her matches, maybe getting a more bold in showing off what she had? Probably.

Lucy was about to introduce herself, when Melody started talking. And it was something nobody said to Ms Grange in ages.

It wasn't really known, but Melody must have found out somehow. Lucy's Mother had been a crackhead, it was long and uncomfortable. To make said story short Ms Grange's Mom was in a care home in some god forsaken place in England and it was doubtful if she'd recognise her offspring, it brought Lucy a lot of flak back in school. And Ms Grange responded with fighting back, and it worked.

Still, this was an old and well healed wound. A jab from this unknown chick wasn't going to have the same effect as it would have back in her mid teens.

"Don't know the half of it......" Lucy said in a blunt manner with a frown, though on the inside she thought to herself with "Right, now I'm really going to win this." it took a lot to get under Lucy's skin, but she'd by lying if she wasn't just a little bit miffed.

Once the bell rung then that was it, the match was now underway. Lucy wasn't going to beat around the bush here, she had waited long enough for a match and she'd be damned if Melody was going to get away with that.

Ms Grange would take two steps forward, before suddenly bursting into a run right at Melody. She was the speedster of the UK Elite after all, and liked to start out swinging. And in this case it was going to be a straight dropkick right into Melody's chest, the Brit's legs shot out forward like pellets from a shotgun. This was the start of Lucy's first match in a long while, and she'd start with a bang.
_________________
Check out my wrestlers
here
, but PM me for match requests.
Solaire of the AFW.
Melody thought she was so clever trying to get under Lucy's skin and for a moment she felt like it worked. The expression on her rivals face was all frowny and Melody took heart from that. What she didnt bank of was two feet squarely aimed and connecting with her large soft squishy breasts. "UUGGNNNNN" she gasped and fell back to her behind her arms coming to clutch at her chest. Melody leant forward with her hair covering her face as she tried to regain her breath.

In this position she was vulnerable to all kind of attacks and it was not where she wanted to be. Melody was trying to win this match, she did not want to end up pinned for the count again. She flipped back over to her hands and knees, not thinking clearly as now she was making her round rear face Lucy
Lucy started out the match with a powerful dropkick, and she wouldn't lie. That felt good, part of wrestling came with that. Getting a feeling of satisfaction, granted Ms Grange didn't consider herself a sadist or anything like that. But she missed the good feeling that came with hitting someone that miffed you, just like in high school. Ms Grange wasn't the biggest girl, but she knew how to run and use that to her advantage. Only the fastest could catch up with Lucy, and that was a few.

Melody certainly felt that hard blow, getting knocked right on her arse as she held the targeted area. Well she was going to feel sore all over probably once this match was over, Lucy felt slighted just a tad. Again though it took a lot to get under her skin, it was still a bit. The Brit hit the mat with a thud and a grunt, but she quickly made to get back up and press her attack. With the momentum slanted in Lucy's favour.

And it seemed that Ms White was now trying to maybe crawl away on her hands and knees, fat chance of that happening. If she was trying to moon Ms Grange that was certainly being done, feeling a bit bold Lucy would take a few steps forward and make to grab Melody from behind. And then try to step back and take her to a vertical base and honour her Brother with a good old fashioned German suplex!
_________________
Check out my wrestlers
here
, but PM me for match requests.
Solaire of the AFW.
Melody was annoyed with herself, she had tried to be cocky and it had backfired badly. She was still panting on her hands and knees with her hair falling all around her cute features. She wasnt aware of Lucy until she was grabbed around the waist. "Ahhh what...?" she questioned and got her answer as her barely 100ibs frame was lifted, and tossed over straight to her shoulders for a suplex.

"UUGNNNNN" she gasped out and felt a pang of embarrasment given how she as now butt first in the air, her legs folded over her head. She squirmed and kicked but couldnt get free, and now she could feel the ref's count.. ONE!...

Melody wiggled her bottom and tried to move past the dull pain in her shoulders. Some of the crowd cheered on as they suspected the British girl do perform a clean sweep and pin Melody within minutes of the beginning, but somehow, as with all her moves, Melody managed and kick and twist, breaking at the count of TWO and flopped to her side, panting deeply. She raised her hand and slapped the canvas hard, both in frustration and feeling shamed as her large squishy breasts had almost popped free of her top.
Lucy wasn't the biggest girl around, back in school and in life she often got picked on by guys who were bigger than she was. Ms Grange however wasn't one to be cowed very easily, to put it lightly. And Melody just made it a little bit more personal, and the British girl was able to bust out this hold thanks to the height and weight difference slanted towards her. Spar with a big British guy enough times and you learn how to bust out a suplex, and Lucy was grinning as she did so. Was nice to be on this end of it for a change.

Ms Grange tried to keep Melody in place, with a perfect pin. She might be wondering just what hit her, it was a German suplex delivered by Lucy! By now when the blood was rushing to her head Melody might be feeling a bit foolish, well that was good. She may want to reconsider her life choices at this point. The ref counted to one, and then a two. Was Melody going to really be just all talk? Well least she lasted longer than Eva Marie at any rate.

But surprisingly Melody kicked out! Normally Lucy would be a bit miffed at that, but she inwardly felt some pleasure. Ms White had offended the British girl and she'd be sure to get an apology out her one way or another, undaunted Lucy would roll with her opponent and try to attack her quarry once again with a headlock from behind.
_________________
Check out my wrestlers
here
, but PM me for match requests.
Solaire of the AFW.
OOC: Eva Marie. LOL!

On her back was not where Melody enjoyed being, despite the rumors floating around the AFW locker room. As she kicked out of the pin attempt and took a moment to collect herself. Things had no started how she had thought they should, and this bothered her. She got up to her feet and wheeled around to see where Lucy was, unfortunately she walked right into her arms and the musical kawaii found herself in another dilemma. A well executed headlock.

"GAH!" Melody protested as shes struggled and pawed at Lucy who was behind her. Melody stuck out out big behind and managed to somehow wiggle so she was in a more conventional side headlock position, bent over now with her rear sticking out, she became well aware of the camera flash pops that littered the audience. It did nothing for her mood nor to quell the rising tide of embarrassment she felt.

However, she had to do something and although Melody was not the strongest girl, she reached to grab around Lucy's waist and bending her legs with a huff of excretion, she attempted to lift Lucy up, perhaps just enough to drop back and slam her rival to her back in a bid to break the headlock and gain some ground in this match.

Of course, if it failed, then Melody would be back to square one

Lucy wouldn't lie, she was feeling a tad vindictive with her actions. Granted Ms Grange usually fought to win, but it was often with a simply fight to get victory air to it all. Maybe those comments of Melody earlier had irked Lucy a little, but Lucy would probably insist otherwise. After all she herself viewed her Mother as an old and well healed wound, take more than that to re-open it after all. Regardless Lucy was keeping that lock in tight as she could, the better to set up her control in this match. Staying on the quarry was working, not giving Ms White time to get the bearings of course.

The British girl practised this hold, and kept herself in position close to Melody. That said though Ms Grange had let her mind wander ever so briefly, maybe it was just some of that ring rust. Sure Lucy had of course kept her training regime on even in spite of the state of her team, but there was the moment to moment stuff that came with being in a match.

And perhaps that led to Lucy letting her guard down, just a bit in a subconscious term. Because Melody was able to capitalise on this and tried to scoop Lucy up, granted the height difference was leaned towards Ms Grange. But she Melody would succeed in rocking the boat just enough to perform something somewhat resembling a backdrop, Lucy's eyes widened before the impact. As it usually was the case.

"Argh!" Lucy yelped out, she landed somewhat on her side there. The landing was more awkward than proper, but it served it's purpose with Ms Grange moving away a little and placing a hand on the affected area. Still she was used to taking bumps like that, though it rattled her briefly.
_________________
Check out my wrestlers
here
, but PM me for match requests.
Solaire of the AFW.
The backdrop had worked and both girls lay sprawled out on the canvas. It was however Melody that stirred quickest, seeing the opportunity the got to her knees and flopped over Lucy, looking for a simple cross body pin. Unfortuntely for Lucy, as was the case the almost all people Melody attempted to pin, her large squishy breasts were right on Lucy's face. If melody had a bit more of a heel in her, she would use this permanently, as it happened, it was an uncomfortable accident

Melody was breathing hard and could feel the adrenaline surge in her veins. She reached to grab Lucy's leg to hook it as the ref dropped to count, but she could hardly reach and it was a really sloppy in so she decided to just lay there and pray for an easy victory. "Come on stay down!" she commanded, but it was comical to hear the kawaii speak like this.

The ref meantime slapped the canvas for a count of , "ONE!"


Page 1 of 5 • 1, 2, 3, 4, 5



Similar topics
---
Permissions in this forum:
You
cannot
reply to topics in this forum