Champions & #1 contenders
Highfly Flying Out Of Town
Tue May 22, 2018 1:31 am by HighFly
Hello everyone, I just wanted to inform all I have threads with that I will be gone from this coming Wednesday through Sunday. I won't be able to post consistently if at all during this time, but I will try to make up for it next week! I am sorry for the inconvenience to everyone.
Comments: 7
The Austrailian Mudslide is Back.
Sat Apr 21, 2018 6:20 am by Softsquad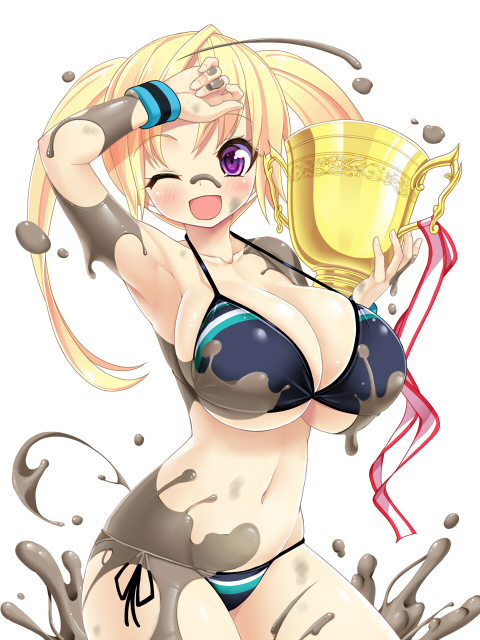 Granted that most of you won't know me or remember me, but I've had a few matches here and there some time ago. Well I think its time to become a regular around here and try to have some fun again, but at the same time keep coming back. Anyway I think its time to jump into some matches with Zoe Taylor, my mud wrestling character from Australia and get her back into the squared circle. Furthermore I will update my characters as I think some proper changes need to happen.
So if anyone would …
[
Full reading
]
Comments: 5
Page 3 of 7 •

1, 2, 3, 4, 5, 6, 7


The crowd clapped along with Mikki's stomping, quickly getting into the beat, practically daring the Black Fang to take up the challenge. A good part of the reason she had to accept the task. The Black Fang didn't surrender. She didn't back down. She was a woman of the people, and when they had her back, she was unstoppable.

Or so she thought, until Mikki quite decidedly stopped her.

"Whoa-" The Black Fang ground her teeth down hard as she was inexorable forced back, back, back. "Whoawhoawhoa!"

It wasn't a question of if she would get pushed back. That was happening, no matter how hard she tried. Mikki's grip was inexorable, and the juggernaut had little problem imposing her will on such a smaller body.

The only thing in question was what she would do about it.

For now, the Black Fang rolled with it, letting Mikki push her all the way to the ground. At the same time, though, she kept her shoulders off the mat with a deft display of agility, bridging her back, standing on her tiptoes, posting on the back of her head and turning her body into an arch.
Mikki continued to pour on the pressure, as it seemed as though Fang was buckling. The Wylde Child's head shook, causing her hair to shimmy and shiver, as her body began to fold over that of the slighter girl. Mikki's back muscles tensed and flexed, showing off the definition the powerhouse had worked so hard to obtain. The definition and muscle mass that was helping her begin to finally dominate the clever masked wrestler.

"Ha!" Mikki laughed, as she listened to Fang's reaction. It egged the Macho Chick on, her body beginning to tremble, slightly. Leaning into the test of strength like this was throwing Mikki off-balance, putting her center of gravity off-kilter. Still, with every inch of ground that Fang gave, Wylde's confidence surged. She was convinced that, any second now, she could have Fang completely dominated and driven into the mat!

Once again, however, Black Fang's cleverness saved her. The masked girl turned her body up into a bridge, preventing Mikki from managing a pinfall out of the contest! "Rrrgh!" Mikki grunted, frustrated.

"How long can you hold out, though?" Mikki shouted down, spitting the words onto her opponent from above. "How ... long ... before you ... are ground ... into ... the earth ... by the Wylde Child!" Looming above Fang's body awkwardly, Mikki continued to press downward. She was off-balance, but committed fully to the hold. She looked Black Fang's athletic body up and down, wondering how much longer she could hold out against the Macho Chick's grinding her down.
While Mikki probably wasn't trying to be deep or profound with her question, she did raise a very valid point: how long was the Black Fang going to keep this up? While she wasn't being pinned, she might as well have been from a practical standpoint. Just holding this odd little position was forcing her to waste energy she truly didn't have to waste, power that could've been better used to not be ground to dust against the massive giant she was dealing with.

A change of tact was needed here. Yes.

"How long?" The Black Fang stood on the tips of her toes, curving the arch to its highest point. "As long...as need be!"

With a well-timed - and epic, if she could say so herself - shout, the Black Fang pulled her arms down and jerked her torso forward in the same motion, jutting forward with her forehead in the hopes of striking Mikki clean on the nose.
Mikki couldn't love her position much more, at the moment. Her muscular body looming over her opponent, flexing and tensing as she overpowered Black Fang and bent her over backward, to the mat. The masked woman was too clever to let herself get pinned, but Mikki was still getting a showcase to show off her strength advantage.

Squeezing Fang's hands in her grip, Mikki flexed her arms. It didn't do much to further trap her opponent, but hopefully it would be a dominant enough display of the Wylde Child's impressive build. Give the fans something to talk about, while the watched the powerhouse lord her dominant position over the smaller girl.

"Ha!" Mikki cackled, as Fang shouted out defiantly against her. In the Macho Chick's mind, there wasn't a means of escape, from Fang's current predicament. Mikki just had to wait, and eventually Fang would tire. However, once again, the masked wrestler proved clever enough to come up with a response that Wylde wouldn't have considered, as Fang headbutted Mikki square across the bridge of her nose!

"Damn!" Mikki's already off-balance body was taken down in a sharp jerk, before Fang's headbutt sent her rocking back. Mikki reeled off of it, releasing Fang's fingers so that she could bring her hands protectively over her face. "Ggrraahhhh!" Mikki grunted, long and loud, left in eye-watering pain by the sudden strike. The big woman stepped off of Fang, leaving the masked wrestler to recover in whatever way she saw fit, from there. As soon as Mikki was able to wipe the pain out of her face, however, she fixed the Black Fang with a murderous glare, wanting nothing more than to get her hands on the Black Fang, and start working out her renewed frustrations.
From within the throngs, the Black Fang could hear some of the audience members making suggestive, lewd noises at the display going on in the ring. She could see how - with a more twisted mind - one could make less than virtuous connections about the sight of a young, lithe woman struggling while a behemoth loomed above her.

But the Black Fang was above such things. She wasn't here to titillate the audience with power fantasies. She'd come to fight. To win. And she'd be doing that, forehead be damned!

As soon as the blow landed, the Black Fang rolled off back, got to her feet, stood up quickly...then fell to her knees just as quick, as the effects of raging headache began to take hold.

Her head cleared, just in time for the Black Fang to find herself staring back at an angry giant. What to do? What would Asami do?

"When in doubt, attack!"

The Black Fang did just that, charging straight towards Mikki without a hint of pause. She dipped down and swung her arm with a sharp lift, throwing a wild European Uppercut to the Wylde Child's face.
Mikki was reeling, nursing her aching face. Her less-than-impressive curses were muffled by her hands, thankfully, but the intent seemed to carry over to the audience. For the entire match, Fang's footwork and technical skill were keeping her out of the Wylde Child's grasp. Now, the masked wrestler's hard strike had stunned the Macho Chick, halted her momentum, and the Macho Chick's frustrations were beginning to boil over!

Stumbling back, Mikki was finally beginning to wipe the sweat and tears out of eyes. Her head itself was still reeling, impossible to shake out the pain with her skull still feeling rocked by Fang's blow. The clever masked wrestler landed a suprisingly palpable hit, and if Mikki had been able to think clearly, she might have realized how her own positioning helped that impact.

By the time Mikki's eyes were mostly cleared, Black Fang was already back up to her boots, and ready to go. Damn, that woman was quick! Acting on pure instinct and rage, Mikki threw herself forward. Looming over Black Fang a moment, Mikki opted to go high, attempting to resume her dominance over her opponent's smaller body. Unfortunately, the Macho Chick wasn't prepared for Fang to be coming from down low!

Fang's strike connected with a teeth-rattled impact. The Wylde Child's head rocked back, a blur of wild hair and sweat trailing off of her. The big woman fell back, her already-rocked head not up to taking another hard impact so quickly. Mikki stumbled back, in danger of loosing her footing and going back down to the mat. Keeping upright as best she could, Mikki stumbled into the ropes, leaning into them to keep herself upright. Nursing her aching head with one hand, gripping the top rope to keep herself upright. All the while, the Macho Chick was seething with a rage that she wasn't yet in any shape to take out on her foe!
The Black Fang was painfully aware of just how close she was to the Danger Zone while she fought with Mikki Wylde, as if the woman's theme song wasn't a big enough clue by itself. One mistake, one wrong move, and whatever advantage she had could just come crashing down.

She wished she could've chalked her well-timed counter up to pure skill, but really, luck had more to do with it than anything. She'd been going low. Mikki was going high. Only one of their paths bore any fruit, and the result had the Black Fang landing a critical hit on the blonde behemoth. Not that it was without consequence, since the blow left her arm sore. Striking the Macho Chick was more like hitting a brick wall that another human being.

But it was effective. Which meant she'd just have to keep on doing.

"More than you can handle, Macho Chick?" The Black Fang couldn't resist a quick taunt as she moved in, closing in on Mikki as she staggered away, looking to follow up before she could summon her reserves and bring this rally to a painful end.  She dipped down and brought her arm up for another European Uppercut, then doubled up with another right after that, keeping the pressure on her mighty foe.
"Gaahhh," Mikki groaned, trying to massage her aching jaw. Fang's blow had left her dazed, dizzy, barely sensible enough to find her own location in the ring. The big woman was reeling, her skull getting rocked again and again by her masked opponent. Each of these strikes had been taking a toll on the woman, and each was serving Black Fang's purpose of wearing the brute down. But each one was also adding to the Wylde Child's mounting frustrations!

By the time Mikki was able to shake her unkempt hair out of her face once again, Black Fang was already on the move. The masked girl seemed to know she had an opening, and she was clever enough to not leave it unexploited. Black Fang came in with another European uppercut, aimed squarely at the Wylde Child's rocked skull.

Already nursing her jaw, Mikki brought her other arm up in a somewhat clumsy blocking attempt. Her arms ate most of the strike, even if the deft masked wrestler's force still carried through to continue punishing the Wylde Child. Fang's next strike did the same, slamming hard into Mikki's arm and further punishing her aching skull.

Mikki grimaced, beneath her arms. The big woman backed off, stumbling back toward the ropes. The Macho Chick's full weight went back to the ring ropes, bending them heavily as she sank into them. Mikki shook her head, trying to loosen the cobwebs and push through the pain. Still, the burning anger and frustration were eating away at her, burning at the base of her skull. And just as she reached the apex of the ropes' elasticity, that anger came out in a sudden burst!

Using the tension of the ropes, Mikki exploded forward. The Wylde Child lunged at Black Mask, her arm swinging out wildly. Mikki was a blur of flesh and bright colors and violence, as she swung with everything she had. The Macho Chick's frustrations came pouring out of her in one swinging, muscular arm sent careening, clumsily but swiftly, right for Black Fang's head!
Some might've been tempted to call this matchup a David vs. Goliath story. Ryoko was a deist and hadn't so much as touched a Bible out of the occasional hotel stay, but even she was familiar enough with the story to disagree with that comparison. After all, David had the good sense to sling stones at Goliath from a comfortable distance. He didn't challenge the giant to a fistfight. Though it might have made for a better story…

But there was the Black Fang throwing everything she had against the unstoppable force that was Mikki Wylde and, surprisingly, not doing that bad a job at it.

Granted, she wasn't knocking Mikki flat on her butt, but nothing less than a baseball would accomplish that, anyway. She was doing well, driving her foe as far back as possible. As Mikki bounced against the ropes, the Black Fang took a step back and prepared to throw her full weight into one, final attack.

This was her mistake. She gambled with her body, and wound up losing the bet and all her momentum. All it took was a punch, a punch that she ran straight into.

The strike landed flush on her face, a stiff shot with a resonating impact. The audience cringed with good reason, not that the Black Fang could really take much notice of it. Her head was craned upwards while she staggered back, a wide-mouthed, wide-eyed expression etched into her face.

She took a step back, then another, and finally fell flat on her back. Her arms and legs stretched out as she stared at the ceiling.

Just need a minute. Brain restart.
Mikki felt the palpable connection, as her strike sent Black Fang rocking back. The impact seemed to reverberate through her own arm, making it tingle at the sensation of the impact. It had been awhile since she'd hit someone with that kind of force, with that much intention, and it sent some chills running up and down her spine to be doing it in front of this massive crowd.

After the impact, Mikki didn't have her eyes on her opponent. She didn't see Black Fang go down for the impact, didn't see her sent tumbling by the sudden collission of arm to jaw. Instead, Mikki was left staggering a few steps away from the ropes, her trembling legs starting to get back under her. She shook her head once, twice, three times. The Wylde Child's hair shook wildly, beads of sweat flying from her head to spackle the mat. After a moment of that, however, Mikki Wylde was standing tall.

The muscle-bound woman was standing tall, looming over the body of her fallen competitor. It was the first hit Black Fang had taken in the match, but it seemed it was a palpable one. That, and a blow that had come in right after the masked wrestler had gone all-in on attacking the brute. Mikki took a moment to nurse her aching jaw, running her hand from side to side of her head.

Mikki swung a boot over Black Fang's prone body, planting herself over the fallen woman. She glared down, the light hitting her hair, making it look like a mane of fire. Still dizzy, still feeling the stiff hits Black Fang had just rained down on her, Mikki found herself struggling to keep herself upright.

Which simply meant that the Wylde Child would have to go low. With Black Fang beneath her, Mikki opted to jump up, off of her boots, a brief distance into the air. With her streaming hair and large frame, the move might look impressive, but Mikki was still going for something simple. The Wylde Child was aiming to plant her toned and heavy glutes square onto Black Fang's chest, nailing her with a seated senton, to try and knock some air out of the all-too-clever masked wrestler, hopefully before she could re-mount her fast-thinking and technically-sound offense.
Page 3 of 7 •

1, 2, 3, 4, 5, 6, 7


---
Permissions in this forum:
You
cannot
reply to topics in this forum