Champions & #1 contenders
Looking for character debut
Sat May 26, 2018 9:07 pm by Hedgehawk
Hey Guys,
So i have finished rounding the basics off my new guy
Ichiro Kuo
.
I was wondering if anyone would be up for threading with him for his debut. It doesn't have to be match, it can be some backstage stuff. Just wanna set something up to get the creative juices flowing.
Comments: 0
Highfly Flying Out Of Town
Tue May 22, 2018 1:31 am by HighFly
Hello everyone, I just wanted to inform all I have threads with that I will be gone from this coming Wednesday through Sunday. I won't be able to post consistently if at all during this time, but I will try to make up for it next week! I am sorry for the inconvenience to everyone.
Comments: 7
Page 1 of 9 • 1, 2, 3, 4, 5, 6, 7, 8, 9


Standard Match: Victory will be decided by pin-fall, submission, knockout, count-out, or disqualification
Kat's entrance music blared as Kat emerged from the back. Fans stood up immediately, cheering her on as she appeared at the top of the ramp. The song was catchy and immediately recognizable. Combined with her reasonable fame outside of AFW, Kat had already proven herself to be a fan favorite. She made her way to the ring, hugging fans and giving a few high fives and words of encouragement along the way. She slid into the ring with gusto and rand the ropes to get herself pumped and limber for the match to come!
Many would argue that Kat had her work cut out for her, tonight. It's pretty hard to find anyone i the world that's more of a pure wrestler than Rainbow Mika of all people. But Kat knew who and what she was up against. She'd heard talks of what her opponent was capable of ever since she got booked in this match. Rather than see her as a hurdle to overcome for her own sake, Kat saw her match tonight as a way to prove herself. She had already done well on a plethora of independent circuits. Tonight, against an opponent of Mika's caliber, it was time to show the AFW fans and roster alike, why she was able to be successful in other promotions, and how she'll run into similar success in this wrestling league!
Kat stood in the ring, bouncing occasionally in anticipation of her opponent's arrival!
Last edited by Winner3 on Thu Feb 23, 2017 2:21 pm; edited 1 time in total
_________________
"Winner's Full Roster Page"

Trillian - winner3
The crowd was buzzing with excitement at the prospect of the next match. Their eagerness seemed justified, as, within a few moments, a familiar Street Fighter theme began to play. There was an explosion of pyrotechnics, and Rainbow Mika suddenly strode into the arena, much to the cheering of her fans. In response, Mika smiled brightly and gave them all a V-sign gesture.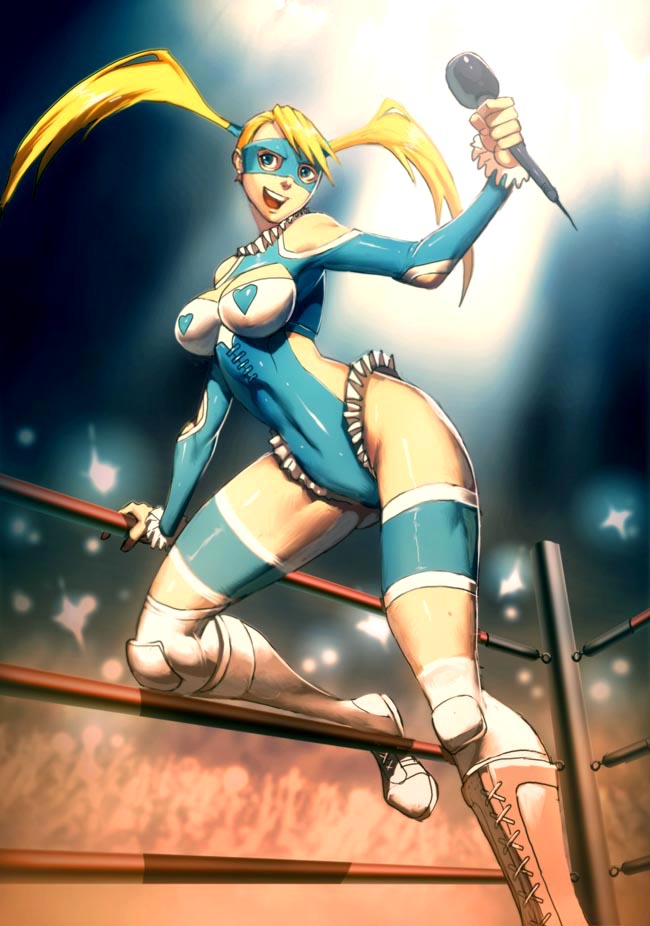 As Mika walked down the ramps, she waved to her fans, the motion causing her sizeable breasts to bounce noticeably. Breakking into a run, Mika rolled under the ropes and hopped to her feet. As usual, the former Street Fighter seemed eager and ready to take on whoever she had been paired up against today, no matter who they were.
And lo and behold, her opponent was already here. Mika got a quick look at her foe-- tall, powerful-looking, and clad in a masked cat-themed outfit that otherwise left little to the imagination, not to mention a friendly grin. Mika wasted no time in walking up to the new girl. "Hiya!" she exclaimed, extending her hand. "The name's Mika, Rainbow Mika! Who are you?"
Kat reciprocated Mika's kind gesture and gave a her firm but very enthusiastic handshake. She smiled widely as she began to make Mika's acquaintance. "My name's Katherine Hart! But everyone calls me Kat! I've heard about you! It's a pleasure to have such a popular and hyped opponent! Let's tear the roof off this place!" Kat spoke while bouncing slightly with excitement.

She stayed to see if Mika had a reply and would return to her corner afterwards and wait for the bell to sound. She seemed to be anticipating this match up every bit as much as the fans had, and was eager to get things underway!
_________________
"Winner's Full Roster Page"

Trillian - winner3
Mika's eyes brightened as Katherine mentioned having heard of her. "Ah, I'm glad to hear that! Here's hoping you make it big here as well then!" In so many ways, this new girl reminded her of herself: blonde, exuberant, friendly, and clearly more concerned about having fun than about domineering or trash-talking her opponent. Mika had a feeling this was going to be a fun bout.

Eying Katherine, Mika stepped back to her corner, waiting for the bell to sound. As it rang, Mika hopped out of her corner, watching Katherine warily, before smiling and stepping forward, putting one hand behind her back and raising the other in an obvious challenge for a test of strength.
Kat nodded in agreement and emerged calmly from her corner when the bell rang.

Kat felt similarly about her opponent. Mika had done much to establish herself at AFW and Kat knew she had it in her to do the same. Armed with a positive and magnetic personality, she sought to commence with a stellar performance and hopefully a victory here tonight! Making sure to stay vigillant of whatever her opponent had planned, Kat stayed wary of Mika's movements. She knew that Mika was a skilled grappler, but she still felt she could hold her own against her. Bearing this in mind, Kat would match Mika's raised hand with her own and quickly attempt to twist it behind her back start things off with a hammerlock!

If this was successful, Kat would transition by wrapping her free hand around her opponent's head and attempt a side headlock!
_________________
"Winner's Full Roster Page"

Trillian - winner3
Mika's grin widened as Katherine accepted her lockup. The two interlocked their hands as their outstretched arms pushed, but Katherine was quick to take advantage of their position, suddenly zipping behind Mika to twist her arm painfully behind her back. "Hey!" Mika cried, wincing a little as her arm was wrenched painfully. Before she could try to escape, Katherine had already transitioned the hold, snagging Mika's pigtailed head in a side headlock.

"Mrrf....not...bad..." Mika managed to say even as her head was squeezed. Grabbing at Katherine's arm and elbow, Mika would pull, aiming to dislodge the headlock and snag Katherine in a hammerlock of her own! If she managed this, then she would mirror Katherine's own move by trying to snag her in a side headlock in return!
Kat was confident that she could hang with Mika in the ring. Her opening combination of holds and technical ability seemed to have caught her opponent off-guard. But before she could relish in her ability to contest someone like Mika, she soon found herself countered, and with her own combination of moves, no less! Kat looked back over her shoulder to try to get a feel for what Mika tried next before soon finding herself caught in the side headlock!

"You're...not bad, yourself..." Kat responded. She would grab hold of Mika's waist and attempt to counter her with a Back Bodydrop! If this was successful, she'd immediately follow up with a body splash to keep her opponent down!
_________________
"Winner's Full Roster Page"

Trillian - winner3
Mika's grin returned as she managed to successfully reverse Katherine's hold, clamping her opponent's cat-masked head close to her bosom in a side headlock. She huffed as she gave Katherine a nice, tight squeeze. Before she could capitalize on her position to throw her opponent towards the ropes, however, she felt Katherine's arms wrap around her waist. "Whaaa--" she cried, before she was lifted back and slammed to the mat in a back body drop!

The ring crashed as Mika was slammed into it, and she winced at the impact. "Owwwww...." If Mika was one thing, however, it was durable, and she had taken worse slams. As Katherine came at her with a body splash, Mika still had the presence of mind to spin to the side, hopefully avoiding the blow.
Kat grinned as she slammed Mika to the mat. She was sure that she could live up to her moniker and pounce on her opponent like the Super Kitty she was, quickly before Mika could recover. But her opponent's veteran instincts facilitated an escape in the form of a swift roll! Kat landed on all fours and purred as Rainbow Mika rolled away.

"Hmmmm, I guess I shouldn't be surprised....I heard you were good." Kat said with a wink before rising up and assuming a stance, ready to grapple with her opponent again.
_________________
"Winner's Full Roster Page"

Trillian - winner3
Mika spun to her feet as well, arms raised in a blocking position as she prepared for Kat's renewed assault. Instead, the Super Kitty kept her distance, giving Mika a chance to catch her breath as the two masked wrestlers stared each other down.

"Heh, I'm flattered," Mika responded as she slowly circled Katherine. "What federation are you originally from? You definitely aren't new to this." Mirroring Katherine's stance, and seeing the unspoken invitation to a grapple, Mika accepted and darted in, locking her arms with Katherine's. For a few seconds, the two masked girls would push and twist, pitting strength against strength as they locked up collar and elbow.

Mika, however, would try to break the deadlock before Katherine could, pressing a booted foot up against her opponent's tummy and rolling back in a monkey flip! Mika anticipated, however, that her foe would probably land on her feet...which was why she planned to press her palms to the mat as she flipped, aiming to latch her legs around Katherine's head and take her down in a hurricanrana!
Page 1 of 9 • 1, 2, 3, 4, 5, 6, 7, 8, 9


---
Permissions in this forum:
You
cannot
reply to topics in this forum