Champions & #1 contenders
Moonhearts Promo intro thread is O p e n.
Mon May 21, 2018 4:21 am by XSirenX
Feeling brave?, lost?, or without a thread to post in?, hit up the newest Moonheart if any of those apply!
CLICK HERE
What Moon has to offer?, many things...:
Comments: 0
The Austrailian Mudslide is Back.
Sat Apr 21, 2018 6:20 am by Softsquad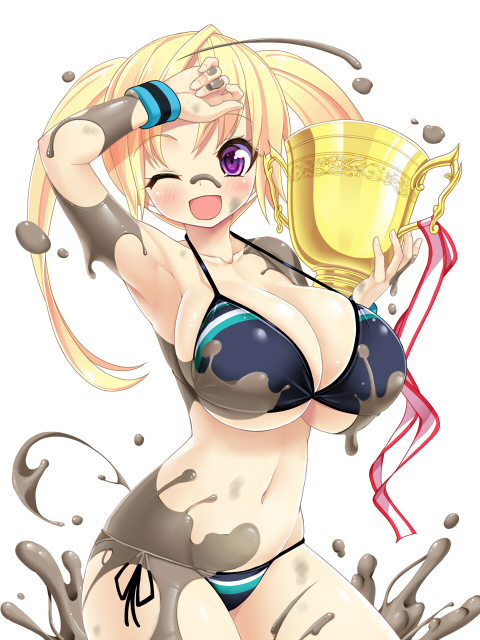 Granted that most of you won't know me or remember me, but I've had a few matches here and there some time ago. Well I think its time to become a regular around here and try to have some fun again, but at the same time keep coming back. Anyway I think its time to jump into some matches with Zoe Taylor, my mud wrestling character from Australia and get her back into the squared circle. Furthermore I will update my characters as I think some proper changes need to happen.
So if anyone would …
[
Full reading
]
Comments: 4
Page 4 of 7 •

1, 2, 3, 4, 5, 6, 7


So, Dmitri had an idea. He would freely admit that it wasn't a really good idea for a lot of reasons - she would easily be able to get her shoulders up, it would only work once if it worked at all, and it completely banked on her being surprised by something that had already done her in once.

But it was an idea. It was something to try. Considering his current state, anything seemed worth the risk, and it was certainly a step up from the useless flailing he'd been doing.

And, to his credit, it did work. Just for a second.

"One-"

It was right then that she lifted up, stomping his hopes flat, and he knew what would be coming after that. There was a moment of rest in her legs, but he knew that was just the eye of a particularly hellacious storm. "Wait, wait-"

Down came the full force as the Scissor
Queen once again showed why she earned that title. Dmitri didn't scream, but not for lack of trying. He opened his mouth for it, but his lungs were suddenly not in the mood, and all that came out instead was a hoarse, raspy wail as he threw his head back and writhed.

He'd thought that going through this so many times before would prepare him for what she could do, but Alicia excelled in introducing him Dmitri to new kinds of pain, fresh ways to hurt. This time, it felt like her legs were coming down so hard that they would touch in the middle, flattening him between them and breaking everything in their way.

Of course, Alicia would never do that. Not really. She was too good to ever do any real, serious damage. But sometimes, when those twin pillars came crashing down, it was all too easy to forget such things.
He'd tried something, kudos for that. But everything had consequences and this was the consequence to trying to sneakily pin Alicia while she had her legs around you.

Valley Doll, take note.

And all the pleading in the world wasn't going to do him one bit of good.

No, Alicia wasn't going to wait. Dmitri might as well have saved those breaths – he was about to need them and badly.

For long, long seconds, Alicia held him like that, propped up on her arms and just grinding him in her scissors grip like she was going to turn his ribs to dust. She didn't let up one bit, keeping her hold as tight as she literally dared. As it was, she was bending his ribs under the constant pressure; any more and she'd risk cracking them like a walnut.

Of course, bending ribs like that had its own downside as Dmitri would find out when the kickboxer let him go. No easing of the pressure, no gentle relaxing of the hold – she just let him go. Which meant those ribs would be snapping back to their usual place, along with anything inside him that she'd forced to move to make room.

Which… Well, as Abattoir could have told him, that hurt. Like, it really really hurt.

Alicia only did it, of course, so she could shove herself up and go to force Dmitri onto his back, pinning him down with her weight again and giving him a moment to appreciate the agonising pain for a moment (with her weight sat on those ribs) before she went on to the next hold.
_________________
Friction -
Alicia Wells
- Kickboxer, Mixed Martial Artist and Scissor Queen
Friction -
Samiya Kusanagi
- Submission Specialist, The 'Schoolgirl Assassin'
Dmitri hastened call for a pause was more of automatic response than anything. He didn't really think Alicia was going to wait when he asked her to. That wasn't her way. Even though they'd known each other for a small amount of time, he could already tell that if she wanted to do something, she did it. If she didn't want to do something, she didn't do it. Simple as that.

He could almost admire that sort of attitude, though it was a little hard to appreciate it when it led to him nearly having his chest caved in.

She powered down. Dmitri's back arched, searching for any way to relieve the pressure. They found absolutely none. His hands pushed against her thighs, looking for any way to break the hold. They, too, found none. It was made infinitely clear that the hold would only come undone when Alicia wanted it to.

Which she did, a moment later. Not that it made the pain stop, of course.

"Oh!" Dmitri's eyes shot wide as his body reorganized, making him painful away of his innards all at once. It was a strange sort of pain, brief and fleeting yet harsh and sharp, almost like his body was just giving him a warning to not get put in that sort of situation again.

Then she sat on him and straddled his chest, which wasn't the most pleasant thing, but since it was one of the few times their bodies touched without squeezing, he could appreciate it.

Dmitri took a few seconds to catch his breath, his chest rising up as much as it could with her pressing down. When he was good enough to talk, he lifted his head up, looking her way - there was still some of the fear from the first time they done, a natural reaction for any sane man, but some acceptance there, too. It was like she'd said last time: this was who she was.

"Question. A quick question, before…" He looked down at her legs, letting the sentence complete itself. "You're better at this sort of mat wrestling than me, so tell me. Once you put your legs around me like that, is there any way to get out? Hypothetically speaking."

Dmitri figured he wouldn't get much of a response if he recieved anything at all, but it couldn't hurt to ask.

...then again, yes, it probably could. And would.
The kickboxer had been in the process of deciding what to do next when her sparring partner of the night spoke up. That wasn't that surprising; she was the quiet one here, Dmitri was far less restrained. But it was what he had to say which she thought deserved a moment's consideration.

Alicia could confidently state that she'd never had that one happen before. Of course, most of the guys she'd 'sparred' with in the UK weren't even Dmitri's level of opposition. He actually knew how to fight, they'd at best been able to throw a couple of punches.

First time for everything. She still hadn't expected anything like that and she regarded him for a moment, head cocked thoughtfully to one side. It was actually a really smart thing to ask, given the circumstances and the number of girls with strong legs on the roster – even if most of them didn't measure up to her own power level.

The obvious question was why she ought to teach him anything, let alone something that'd make her own life harder. But then that was really the answer right there. True, if she wanted to make things easy for herself, she shouldn't teach him anything. But then Alicia hadn't ever been one for the easy way, not when that was probably the boring way too.

And she liked Dmitri. That earnt him a few points.

So, after a moment's consideration, the red-haired Amazon shrugged and rose off him. She didn't move far, just going to sit in front of him, facing away.

"Scoot up behind me," She told him, raising her arms up and waiting, "Scissor my waist and get me in a Full Nelson. Like the move I used on Gallium and Valley."

Yes, she was actually telling him to put her in her own finisher. Yes, she had a reason for this – if nothing else, she'd be pretty curious how well he could squeeze.
_________________
Friction -
Alicia Wells
- Kickboxer, Mixed Martial Artist and Scissor Queen
Friction -
Samiya Kusanagi
- Submission Specialist, The 'Schoolgirl Assassin'
Dmitri wasn't quite sure what to expect for a response from Alicia. Maybe she'd just chuckle, then flip him over and lock him into another killer hold. Maybe she'd just ignore him, then flip him over and lock him into another killer hold. Maybe she'd get mad, then flip him over and locked him into another hold.

He could tell that Alicia was thinking, but there was no way to know what she was thinking about. All the same, he tensed up, getting ready for more pain…

...pain that never came.

He laid there, still and blinking as she suddenly lifted of him and gave his chest full room to expand. For a second he thought she was just going to transition into some new hold, but no - she just sat down nearby, turning away from him and asking him to do one of the last things he ever expected.

"Oh. One second…" Dmitri grunted and sat up, forcing her tortured spine to comply, since making her wait too long was likely not the best idea. He scooted forward and did as she asked, mirroring the same move he'd seen her use to devastating effect before. It was a little weird, since this was really the first time he'd ever tried to lock anyone in a genuine submission hold, but he worked through it, step by step.

His legs wrapped around her waist, pulling tight. His arms snaked under her shoulder and his hands met behind her head. Fingers locked. Ankles crossed. Deep breath.

With everything set, Dmitri powered down on the hold and did his best Alicia impression, giving her a taste of her own medicine. Not a full taste, mind you - his legs lacked her raw power. But they were sinewy and strong, could exert some decent force, and he could get some good strength behind the full nelson on top of that. It wouldn't be the most painful thing she'd ever gone through, he would bet that much, but probably not something she'd care to endure for too long.

He thought so, anyway. "Is this good?" Dmitri spoke through a grunt, trying to make sure he was applying it properly.
There was a studied patience to Alicia as she waited for Dmitri to get a move on and squeeze her. A natural at the hold, she tended to be less than willing to accept that not everyone was automatically as good at being a human car crusher as she was.

But, after a moment, she felt his legs go around her waist, settling into the right place and his ankles crossing in front of her. Then he got her arms and started doing his best to actually apply her submission.

The redhead's eyes narrowed, a grunt of pain escaping her as the scissors began to bite. But she could definitely take this and the full nelson was more a nuisance than an actual submission hold in anyone's hands. Uncomfortable, yes, potentially a danger in that her arms could go numb, but not a risk by itself. Still, as she'd expect from a tae kwon do practitioner, Dmitri's legs weren't exactly weak themselves, and she couldn't quite help a wince.

"Fine," She assured him in response, giving him a moment to get accustomed to the hold, her voice slightly taut with the pain. "So, you've got me all wrapped up. All I can do is what Valley did, right? Bridge and try for the pin."

Dmitri wouldn't be able to see it but Alicia was smirking despite the position she was in. Which was probably just as well, it'd only worry him.

"Wrong."

Moving quickly, Alicia brought her own legs up and over Dmitri's. With one, she hooked her calf over her opponent's locked feet, trapping them inescapably together. Even if he'd wanted to break the hold, now he couldn't.

"Do this against anyone with MMA training and this is what you'll get."

Then she brought her other leg down, pulling both legs – and thus Dmitri's upper ankle – back towards her as hard as she could. The result would be the Achilles tendon in that upper leg would be driven against the hard shin of the other, putting instant and agonising pressure on that tendon.

Instant and inescapable Achilles lock, with all the indescribable pain and suffering that implied.

And just like that, the tables were pretty well turned.
_________________
Friction -
Alicia Wells
- Kickboxer, Mixed Martial Artist and Scissor Queen
Friction -
Samiya Kusanagi
- Submission Specialist, The 'Schoolgirl Assassin'
This was a weird experience for Dmitri. For a lot of reasons, actually.

The idea of using a submission hold was a twist for him by itself, and another reminder that he really needed to expand his repertoire beyond kicks, embrace pro wrestling in full with a more balanced moveset. He could see the utility of the move, locking an opponent down, squeezing away them, waiting for the inevitable. He didn't want to use Alicia's move specifically, but there were a myriad of similar techniques he could apply, and he made a mental note to look into. Maybe even ask Alicia for suggestions.

More than anything, it was just weird not to be on the receiving end for once. Granted, he wasn't hurting Alicia as much as she could hurt him, but he could tell there was some pain there.

Plus, if he was being totally honest, it was nice to have some small measure of revenge. Despite of the knowledge that it would be fleeting.

It was no surprise that she had a way out of this, though the exact method had never occurred to him. Suddenly, her legs had him locked up, forced him to keep the hold, but it was more annoying than anything. How would this get her out?

Well, he learned. Oh, did he learn.

Dmitri howled, his agonized voice filling the arena, as Alicia introduced him to a fresh new kind of pain, digging deep into his ankle. He held the full nelson for a moment, stubborn, but the pain got the better of him quickly. He let go of her  and flopped back, completely abandoning the hold or any attempt to squeeze on her.

Dmitri had better things to do with his energy now. Things like flailing, throwing his arms back, desperately trying to pull them both toward the ropes to break the hold. "Gah!" He pushed on the mat, sliding as much as he could with 170 pounds of British muscle holding him back. "Come on, come on-"
Dmitri's dragging wasn't having much effect, not least because Alicia was basically dead weight and pretty good at making herself dead weight. It wasn't stopping her talking though, despite it being up for grabs as to how much of her conversation the Russian was hearing.

Over the shrieking in agony.

"I got away with this before because Gallium's greener than the grass and Valley's not from a submission background."

There was something really weird about the picture for anyone not familiar with what Alicia was doing to Dmitri. She was the one wrapped up, his legs around her belly in what looked like a dangerous scissor hold.

But he was the one screaming and writhing while she just lay there, casually talking. Calm. Collected.

Totally in control.

Of course, with her legs flexing and pressing down hard against his, crunching his shin into his tendon like she wanted to leave the guy lame, Dmitri's shrieking wasn't any real surprise.

But it would have looked odd. Really odd.

"But try this against Roxy Ashworthy or someone like that and you won't be walking out. You'll lose and you'll wish you'd never got in the ring with them."

To be honest, Alicia had been taking a big chance on Valley not knowing the counter and, in future, she'd resolved to play it safe and triangle her legs instead for that move. Straight scissors from the side only or any other position where her opponent couldn't pull anything like this trick on her.

But Dmitri had asked and Alicia bet that plenty of the other scissor-happy people in AFW didn't know that one.

At last, she parted her legs, before shoving her way free of the limp remnants of the scissors and standing over him.

And that, dear friends, was how to get out of any scissors where the ankles are right in front of you.

Here endeth the lesson.
_________________
Friction -
Alicia Wells
- Kickboxer, Mixed Martial Artist and Scissor Queen
Friction -
Samiya Kusanagi
- Submission Specialist, The 'Schoolgirl Assassin'
If there was one positive to working with Alicia and being her sparring partner/test dummy, it was that Dmitri was quickly learning how to better cope with pain. After his initial yell and a few tremors after that, he managed to bite back and keep himself from straight-up bawling. That wasn't to say he was completely stoic, as anyone could tell from the anguish wrecking his face and the occasional cry, but he managed to keep from a long, sustained wail like the one he'd uttered in her apartment multiple times. Most of his focus was on escape.

Not that it helped. Alicia might as well as have bolted him to the floor, for all his struggling was accomplishing towards getting him to the ropes.

He pushed. He tried hard. But in the end, all he managed to do was make himself even more tired. His leg was still trapped, and he was a captive audience to Alicia's short lecture.

"I'll keep that in mind...if…" Dmitri tried a final burst to pull himself free and got nowhere. Exhausted, he flopped to the mat, withering under the excruciating hold. "I ever...ever...fight Roxy. Oh,man, wow.."

If it would end up like this, her seriously hoped he never did.

Thankful, mercifully, his time in the hold ended soon enough, and he was left to lay on the floor, spread-eagled and hurting, looking up as the Scissor Queen stood triumphant over him. She never ceased to impress.

As he waited for her to move on, though, his mind wandered a bit, going to a possible idea. It wasn't much, but again, he figured it couldn't hurt to ask, get some dialogue going while she crushed him. "How's your Japanese? If you don't mind me asking."

A little random, but he was going somewhere with it.
"To be honest, I don't know if she fights guys or not," Alicia mused, leaning back against his chest as she got comfortable, "But she's got a hardcore reputation from kickboxing and MMA tournaments so I'm guessing they'd be mopping you off the mat after she was through with you."

She'd often wondered how she'd fair in a match with Ashworthy, given they were the same age and had comparable amounts of experience. Quality of experience, that was another question, but Alicia – as ever – was always looking for a good fight. There were plenty of reasons to avoid the woman otherwise but the redhead wouldn't be unhappy if their paths crossed during her time in AFW – in the ring or out.

Dmitri? Well, he'd be dead meat.

Voluptuously, Alicia sprawled out on top of his limp body for a moment before she released him, and that was a laugh. His ability not to shriek was improving, that was for sure, but it was pretty clear that she'd just wrung a lot of the fight out of him. Thinking about it, it'd been a tiny bit unfair – not only was walking probably not an idea he was liking at the moment but she'd just wrecked his best weapons for the foreseeable future.

… Oops?

She hadn't yet decided what to do next, being torn between the rather more sadistic option of going back to his legs or trying something with his arms to spread the fun out a bit, when Dmitri spoke up and interrupted her train of thought quite thoroughly.

"Hmm?" Alicia blinked down at him for a moment.

"It's passable," Her answer came after a beat, slightly defensive and a bit rueful, "There's a lot of pointing involved but I get by. Why?"

He had genuinely lost her there.
_________________
Friction -
Alicia Wells
- Kickboxer, Mixed Martial Artist and Scissor Queen
Friction -
Samiya Kusanagi
- Submission Specialist, The 'Schoolgirl Assassin'
Page 4 of 7 •

1, 2, 3, 4, 5, 6, 7



Similar topics
---
Permissions in this forum:
You
cannot
reply to topics in this forum