Who is online?
In total there are
25
users online :: 2 Registered, 0 Hidden and 23 Guests :: 2 Bots
Cy_Man
,
Yori
Most users ever online was
390
on Tue Jan 02, 2018 2:02 pm
Champions & #1 contenders
Summer Splash interest in Natasha Loclear?
Mon Apr 09, 2018 11:30 pm by daemongirl
Well my girl hasn't missed a summer splash yet, would anyone be interested in a match with her? Open to just about anything match wise, just pm me!
Comments: 1
Been Out with the Flu
Sun Apr 22, 2018 7:47 pm by daemongirl
Just letting those I have threads with know I've been out with the flu since early last week, but I will be back to posting tomorrow.
Comments: 0
The Austrailian Mudslide is Back.
Sat Apr 21, 2018 6:20 am by Softsquad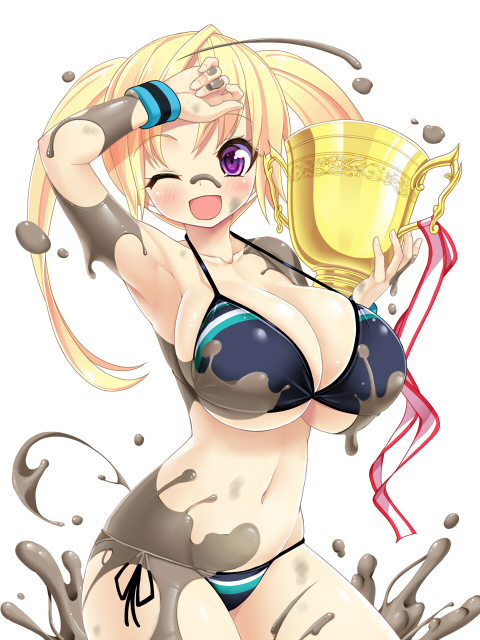 Granted that most of you won't know me or remember me, but I've had a few matches here and there some time ago. Well I think its time to become a regular around here and try to have some fun again, but at the same time keep coming back. Anyway I think its time to jump into some matches with Zoe Taylor, my mud wrestling character from Australia and get her back into the squared circle. Furthermore I will update my characters as I think some proper changes need to happen.
So if anyone would …
[
Full reading
]
Comments: 0
Page 3 of 7 •

1, 2, 3, 4, 5, 6, 7


Barreling forward, out of control, helpess and wide open, Dmitri knew this was destined to end poorly. How would Alicia take advantage of it? A kick aimed at a soft place, most likely. Or a punch, she seemed apt to break those out at a whim now, wouldn't be too suprising if she went to that well again.

If Dmitri had made a list of his expectations, a hug wouldn't have been anywhere near the top, but that was precisely what happened. He'd became quite acquainted with the feel of her body from their last encounter, but even so, the move took him off guard. For a flash, he could feel her plush chest, her solid core sliding against his, their legs mingling, her breath wiping over his face.

It was brief. A little awkward, but brief. Considering what came next, he would've like a little more of it.

Instead, he was hurled up and dropped hard, sent crashing into the mat with Alicia's considerable weight behind her. A sloppy, but not ineffective belly-to-belly, and one that left him breathless on the mat, wide-eyed and wheezing.

With her on top.

Deja vu quickly set in, and he attempted to squirm out from underneath her, feebly inching his way up. He already had a good idea how that would go, but it was better than simply laying flat and allowing Alicia to have her way. That's what he told himself, anyway.
Yeah, he really hadn't seen that one coming, had he?

Not surprising, given Alicia's use of traditional wrestling throws was almost non-existent. She was starting to pick them up from training and matches, but she was certainly far more comfortable with the MMA and kickboxing skills she'd honed over half a lifetime.

Still, elegant or not, it had worked. Dmitri was down, she was on top and even if he was trying to escape, he had nowhere to go.

Unfortunately for Dmitri, Alicia had something similar in mind and she held all the aces in this particular set-up. She was on top of him, she hadn't just had all the air driven out of her and, as their last encounter had proven, she was the superior ground combatant anyway. And she was determined to move up his body as well. Her intentions didn't end there though, nor was she looking for an MMA style mount – Alicia was already looking to hook her feet inside his ankles, preparatory to stretching his legs wide with a brutal grapevine. As for her arms, one was looking to pin Dmitri's nearer arm to the mat. The other was going for his throat, Alicia trying to press her forearm down on it with her weight behind it.

It wasn't technically an illegal move to her knowledge but it was the sort of move that, in an MMA session, would probably lead to her opponent getting ill-tempered. Here, she was having a momentary urge to display her dominance. And pinning him down with her forearm choking him as she stared him in the eye seemed as good a way to do that as any, particularly as she tested just how flexible his lower body was.

They'd get to the rest of it after that.
_________________
Friction -
Alicia Wells
- Kickboxer, Mixed Martial Artist and Scissor Queen
Friction -
Samiya Kusanagi
- Submission Specialist, The 'Schoolgirl Assassin'
Suplexes might not have been Alicia's speciality by any means, but that didn't mean hers lacked for power. Just like everything else she did, the effect was resounding and definite. On impact, a sonorous crash echoed through the empty stands, and had their been a crowd, they likely would've risen up and cheered as she finally got Dmitri down. Especially if they'd known what was coming.

Dmitri sure did, and he wanted to avoid it. In a way, he sort of did. She didn't wrap her legs around his torso or his neck like she'd done last time, and she didn't deflate his lungs, so that was good news. Didn't mean he was free of her, though, a sad fact he learned when she slid her sinewy legs around his own, intertwined, then started stretching.

Dmitri was naturally quite flexible, and he was capable of doing a decent split. That helped him somewhat, made the experience not quite as excruciating as it might have otherwise been, but it was still far from pleasant. Aside from being forced wider and wider against his will, he had her weight to worry about, bearing down on him. That made the hold she had on his arm nearly inescapable and the pressure she was putting on throat all the more effective.

He struggled. Twisted with his legs in a vain attempt to unhook them and get a measure of freedom. He tried to push at her arm with his spare hand. Didn't work. None of it. All it amounted to was feeble, useless twitching that just made him sweatier.

Even through it all, though, he managed a genuine, weakened smile. "Took longer than last time, at least." He grunted as he made another failed try to untwist his legs. "Think I'm improving."
There was a brief tussle but the outcome, really, hadn't ever been in doubt. If Dmitri had any wrestling skills in the grappling sense of the word, she'd never seen him display any. Alicia by contrast had years of MMA experience to draw upon when it came to working for position on top of all her more situational advantages.

Yeah, not a good time to be Dmitri though, to give him credit, he was still hanging in there. As she'd guessed, he was definitely on the flexible side and her grapevine, so far, wasn't testing him enough to really break him.

Hence the struggling, futile as it was. Hence the weak grin. And hence him still talking, which probably meant she hadn't got her forearm properly wedged across his neck.

Oh well. And, to be fair, in a situation where he'd got to fight back, he had done better. So maybe he was improving.

Alicia's smirk just widened gruesomely.

She pulled her forearm away from his throat. Let go of his arm. But only to plant both her hands on either side of his head. Then she pushed up, arcing her body, her spine curving back as far as it would go, her legs turning to silk-covered steel and her taut glutes flexing as she did her absolute best to take Dmitri's flexibility to its limits.

Maybe beyond.

Besides, this was her legs versus his legs, her monstrous thighs against his. Strength and flexibility versus strength and flexibility, Alicia versus Dmitri.

Cliched as it might be, winner takes all.
_________________
Friction -
Alicia Wells
- Kickboxer, Mixed Martial Artist and Scissor Queen
Friction -
Samiya Kusanagi
- Submission Specialist, The 'Schoolgirl Assassin'
Through it all, Dmitri could've sworn he heard something - maybe someone - else in the arena with him, and his gaze shifted for a second, darting out to the stands. He didn't see anyone, wasn't some guard coming to chase them out, so he figured they were still good. At least, Alicia still had plenty of time.

It was just a momentary distraction, and one he wasn't allowed to dwell on for too long. There were much, much more important things to draw his focus towards, liked the curling smile on his torturer's face. Never a good sign. The more Alicia's lips twisted, the more pain you were about to feel.

He'd been pushing against Alicia's arm, just to squeeze out the occasional breath and say the occasional word, but that came to an end when she let go. His respite was even less temper lady than he expected to be, as she stretched her legs out and made the grapevine hold far less tolerable.

Dmitri bit his teeth down hard as he felt himself getting pushed further and further to the breaking point, stretched wider and wider. Not quite in any danger, Alicia was careful like that. But there was pain. Raw, seething agony that tore through his loins as her mighty muscles exerted their relentless power.

He fought it for as long as he could fight it, then it just didn't matter anymore. He opened his mouth, and out came a long, tortured, guttural groan.

But he didn't tap. Just like last time, really. He just laid there and threw back his head, suffering as she cranked on the pressure, writhing underneath her body. He pushed at her chest, tried to moved her and mess up her balance, but nothing came of it.
As before, under no circumstances did Alicia want to injure Dmitri. That wasn't either something she was interested in doing deliberately or something she was happy to let happen accidentally. Taking him right to the edge, that she did want. But not beyond and particularly with something like this where, if she got it wrong, she could really mess up his groin.

He was definitely impressively flexible but his legs just couldn't stand up to the pressure pulling them apart. He fought for a bit, but it was useless. He couldn't get out, couldn't roll her off him, all he could do was lie there and take it until she chose to stop.

After a while, he started to moan as the pain became too much.

It wasn't Dmitri's increasingly feeble struggling that brought it to an end. He didn't tap, didn't beg, didn't do anything but lie there and writhe as best he could, his hands pushing and pulling at her body with absolutely no effect whatsoever. Alicia took him as close to the limit as she could or dared, kept him there for long seconds…

And then she let the pressure slacken off.

Merciful? Hardly.

Unhooking her legs from his, the redhead immediately went to scoot up his body to straddle his torso. Her arms went to wrap under his and Alicia would try and roll him over so that they were both on their sides. Dmitri had heartbeats to do something or she'd have transitioned straight from a grapevine into a bodyscissors.

In short, a very familiar situation for him.

And once again, Alicia wouldn't be playing around. If he didn't get out fast, he'd very definitely be feeling the pressure almost instantly.
_________________
Friction -
Alicia Wells
- Kickboxer, Mixed Martial Artist and Scissor Queen
Friction -
Samiya Kusanagi
- Submission Specialist, The 'Schoolgirl Assassin'
Once again, Dmitri appreciated Alicia's restraint. She hurt him, yeah, and she could be a little sadistic, but she always had a good idea of what was too much. It was humbling in a way, putting his wellbeing in the hands - or legs - of someone who could crush him so easily, but it never came back to bite him. She'd bend, but never break.

So close to edge. So close, right there, almost…

And then she eased up.

It was only momentary, Dmitri knew it would be, but he was glad to have even the briefest break. Suck in gulps of air, slow the breathing down, control the heartrate. Get ready.

Sure enough, she moved up his body and straddled his waist, a clear indication of what she was about to go for. Bodyscissors. Definitely bodyscissors. Unquestionably bodyscissors. The only question was what he'd do about. If he could do anything.

As she flipped over, Dmitri tried to twist around with his lower body, a desperate attempt to squirm away or at least get his waist out of her thighs' reach. It would probably only delay things for a moment, but he'd gladly take it.

In fairness to the guy, the big redhead in whose embrace he was definitely trapped wasn't giving him much time to work with.

But, as the Amazon he was struggling with rolled onto her side, Dmitri's attempt at escape quite simply wasn't destined to be recorded as an excellent choice under the circumstances.

He didn't try to resist the roll itself, instead he went to wriggle his waist out of the danger zone. But with her arms locked around his upper body, there just wasn't anywhere for him to go. He had, effectively, just enough rope to metaphorically hang himself.

All Dmitri had succeeded in doing when he was done was to turn a bodyscissors where he was facing Alicia into one where he was flat on his back with her thick thighs lashed directly over his abdomen. One where, instead of the pressure hitting his lower ribs and the space underneath, Alicia would be squeezing her adductors right into his belly.

Across from her, on the opposite side of his body, her feet intertwined with the serpentine ease of a natural expert at work. Then she took in a deep breath, propped her head up on one hand, and started to squeeze.

Gently at first, but with a slow, inexorably constricting grip. With every second that passed, Alicia drew the coils of her legs a little closer together, compressed his abdomen a little more, flexed her solidly muscled limbs a little harder.

Little by little, millimetre by millimetre, moment by moment, she tightened around him more and more.
_________________
Friction -
Alicia Wells
- Kickboxer, Mixed Martial Artist and Scissor Queen
Friction -
Samiya Kusanagi
- Submission Specialist, The 'Schoolgirl Assassin'
Dmitri, if asked, would've been at a loss to explain what his plan was at this point. It was a bit like asking a mouse what was going through its mind after the snake had already started crushing it in the coils.

Though they were more comparable in upper body strength, Dmitri wouldn't have been able to get away from her arms in time to escape her legs. That much was certain. It was really more about putting some effort into things, giving it his best try. For all his flaws, he didn't like to think of himself as a quitter. He was going all the way.

In this instance, though, going all the way brough her legs around his stomach, sliding around his midriff. He looked over his shoulder just in time to see her ankles cross, and he knew well what came right after that.

Indeed, Alicia's thighs began their legendary construction, though not quite as bad as he'd experienced before. The reason for that became achingly clear in a heartbeat, as the pressure started to mount.

A little more. A little more. A little more.

Alicia displayed expert control along with amazing power, as she gradually tightened the noose around his stomach. Methodical. Painful. Slow. Definitely not pleasant, but it did give Dmitri a faint idea, something he'd seen watching one of her matches. It wasn't too likely to work twice, but he couldn't fathom any other options.

Dmitri laid back, writhing around for a few seconds, before he suddenly kicked his legs out and tried to roll forward onto his knees. It wouldn't free him from her vice grip, but with some luck it would put Alicia down on her shoulders and start a pin

Long shot, but he worth the chance. The worst she could do was squeeze him harder, which she was going to do, anyway.

He still wasn't tapping, which was nice. Alicia was well aware that she was basically torturing him. Like the last time they'd rolled, she was using him to exercise that control, fine tune her already exemplary technique and test new ideas. He was basically her toy and, well, he didn't seem to have too much of an issue with that judging by the lack of complaining.

He was still trying to fight back. It was almost cute, if the squirming could be called fighting.

The trick he pulled though, that came out of nowhere.

If she'd reacted instantly, using her wide powerful hips to apply counter-pressure to his roll, maybe that'd have stopped him. As it was, focused on squeezing and not expecting that particular counter, the redhead swiftly found herself taken from her side to her back. Her shoulders were indeed now pressed to the mat.

It was anyone's guess what Alicia would have done if Dmitri'd tried this before her match with Valley. Or if it'd have worked even then – the situation was distinctly different with him on his knees and her stretched out to the side. His weight wasn't on her, not like Valley's had been, nor was Alicia tired from a hard match and thinking she was on the edge of winning.

No, here she thought she could win any time she chose.

But this was after her match with Valley, it was after some much needed practical experience in pins and it was a pretty damn poor pin as it was.

All she had to do was push herself up on her arms and her shoulders were off the mat. Not a position she could hold forever but it also allowed her better leverage. For a moment she eased the hold before she suddenly snapped it back on full force, Alicia's back arching like a bow until her hair nearly brushed the mat as she flexed her thighs so hard she'd swear she'd felt his ribs bend. She'd get her money's worth out of this then transition to something else.

In the meantime, she just went about cutting Dmitri into two parts – or that's probably what it felt like for the man in between her rock-hard legs.
_________________
Friction -
Alicia Wells
- Kickboxer, Mixed Martial Artist and Scissor Queen
Friction -
Samiya Kusanagi
- Submission Specialist, The 'Schoolgirl Assassin'
Page 3 of 7 •

1, 2, 3, 4, 5, 6, 7



Similar topics
---
Permissions in this forum:
You
cannot
reply to topics in this forum