Champions & #1 contenders
Highfly Flying Out Of Town
Tue May 22, 2018 1:31 am by HighFly
Hello everyone, I just wanted to inform all I have threads with that I will be gone from this coming Wednesday through Sunday. I won't be able to post consistently if at all during this time, but I will try to make up for it next week! I am sorry for the inconvenience to everyone.
Comments: 7
The Austrailian Mudslide is Back.
Sat Apr 21, 2018 6:20 am by Softsquad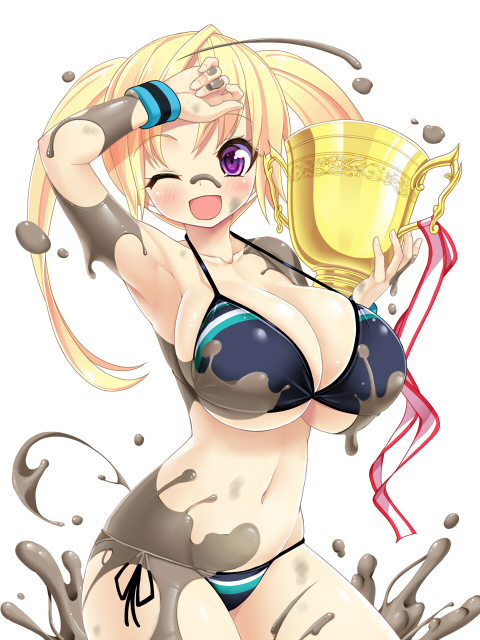 Granted that most of you won't know me or remember me, but I've had a few matches here and there some time ago. Well I think its time to become a regular around here and try to have some fun again, but at the same time keep coming back. Anyway I think its time to jump into some matches with Zoe Taylor, my mud wrestling character from Australia and get her back into the squared circle. Furthermore I will update my characters as I think some proper changes need to happen.
So if anyone would …
[
Full reading
]
Comments: 5

Victory Conditions: Pinfalls Count on any surface
Special Conditions: No Rope Breaks
Attire: Swimsuits

Makita was rather confused about the match she was about to have. Beyond telling her that pinfalls could count on any surface and telling her to wear a swimsuit, which was a white bikini, the officials didn't tell her much about the match. It added a flair of nervousness in her pre-match preparations as she tried to shake those feelings with some last minute stretches and exercises as she waited for her signal to enter the arena. She had heard stories about her opponent, Candy Cane who came from the Rumble Roses who had quite the fiery attitude. Makita wasn't sure how much she has changed since, but she was going to find out soon when she heard her theme starting to pick up.

Passing through the curtain she made her way on stage, the bright lights shining down on her blinded her as she heard the crowd cheering at her arrival. But she was more interested in seeing what the ring was like thinking that it was going to give her an idea about what she could expect from the 'special match'. To her great surprise, there was no ring. Just the ring ropes and posts set up and mats that looked like they were stuck to the floor as Makita's eyes perked up. Never before has she seen anything quite like this, usually at least the ring would be replaced with a pit for some wet or messy match up.

With just the mats, posts, and ropes made her wonder just what to expect for this match. Thinking that this match couldn't have been just what she saw, she decided to look upwards and saw what looked like a giant aquarium tank with no roof or bottom. Now the questions were really flowing through Makita's head as she arrived at the mat, stepping through the ropes she waited in one of the corners, her eyes constantly drifting between the stage for her opponent and the structure that was hanging above her and the weird set up.
Last edited by OmegaVan0 on Sat Jul 23, 2016 6:29 am; edited 2 times in total

_________________
COME HERE FOR THE COLLECTION
Candy Cane was very tempted to ditch this gig. Flip someone important off. Walk out the back door. Skip this match, because someone was just screwing with her now.

A "special match up"? They wanted to make the whole match a secret? Candy didn't like secrets one bit, even when they were good secrets. But those perverted jerks had also made a point of telling her that she should wear a bikini for this match. Oh, Candy knew what that meant. If they had booked her for another damned mud match... she was definitely going to walk out. She would just pass the ring and keep walking. Tell them to kiss her ass as she stomped right out of the other side of the stadium - that was, if she didn't leave right now.

Just as it was starting to sound like the best idea, Candy heard her music and pouted. No, she couldn't leave. Someone would start saying she had run away like a coward, and that would annoy her even more than another mud match. Plus, she did have fans... They had paid to see her.

But even as the crowd's screams rained down on her, the Candy Cane who stepped out onto the stage a few seconds too late for her usual cue was obviously not thrilled. She stopped there, hands on her hips, knowing she was going to see a sloppy, ugly mud pit down at the ring.

That was not what she found. Her expression softened in her confusion at seeing no pit, no proper ring - just a mat flat to the floor surrounded in ropes. She raised an eyebrow. What the... hell?

Now more curious than angry, Candy trotted down to the weird ring. Her opponent was inside waiting; waiting, and staring up at the ceiling. As the redhead grabbed the ropes to thrust herself through, she followed the woman's gaze up towards the ceiling, and what she found there had her gaping. A...cube?

With her anger completely forgotten for the time being, Candy continued staring up even as she slid slowly through the ropes. "Do you... know what that's for?"
The more that Makita's eyes continued to drift to up at that structure...cube thing that was above her and the mats and ropes the more she started to wonder about it. There was nothing to suggest that it was like a cage, nothing to climb up it or anything. If anything it looked like it was just meant to keep the two of them isolated and stuck with each other...and the ref girl who was dressed in a black and white striped bikini. As her curiosity grew, she noticed that her opponent, Candy Cane was heading down to the ring er-mat, joining her in the makeshift ring.

"N...no. I have no idea." she replied in similar shock. It was nice knowing that her opponent was in similar confusion about the structure hanging above their heads. But then it begged the question, if her opponent had no idea what it was then what exactly was it for? Her question was soon going to be answered as the lights began to flicker, signalling the descent of the cube of glass or whatever it was.

Soon the structure encased Makita, Candy, and the makeshift ring of mat and ropes. Now that the structure was close to investigate, her earlier suspicious of it being an aquarium looked to be closer to the point as the glass was definitely thicker, perhaps it wasn't glass at all. The open roof concerned Makita, the walls definitely did not suit neither one of them from climbing up. Was it for them to throw each other against? Not the most softest of surfaces but the glass looked too thick to break easily.

There was something that caught her eye, she noticed that something dropped from the top of the structure. Looking down, she saw what looked like a drip of water. Looking back up her eyes quickly widened when she saw what looked like a very big container of water being lowered and it suddenly opened, dropping water down into the structure.

"Aaaaah!" Makita cried out in shock as the mass of water washed around inside of the cube and swept Makita off her feet as she was forced around following the flow of water. It'd be a while before the water came to a slow and Makita was able to push herself out of the water, seeming to be about shin deep if she were to stand up. Coughing out, this was definitely a 'special' occasion she thought.

_________________
COME HERE FOR THE COLLECTION
The bikini? Bad enough. All the secrets about the match? Worse.

Someone trapping her in a weird cube for a super special mystery match while she was wearing a bikini? That really had her thinking about leaving. As a pulley system started lowering the mystery box, Candy looked over again at the other girl - Makita. "What the hell do they think they're doin'!? We supposed to be mice!?" After another incredulous glance at the box getting closer, Candy stomped over to the ref and shoved a finger into the woman's bare chest. "You! You hafta know what's goin' on! What kind of a match is this anyway!?" "It's a 'special match-'"

Candy huffed and pushed her aside before she could finish. Stopping in front of one of the walls, Candy scrutinized it. First she beat her fist against it. The whole wall rattled when she did it. So it had a little give. A little... Scrunching up her nose in distaste, Candy placed a flat palm against it. Cold to the touch - almost enough to make her shiver in her skimpy bikini. She rubbed her hand all up and down the surface. No one was going to be climbing on this, and no one was going to just be shattering it, so what was the frickin' point? It did feel like they were mice. Mice in bikinis. The thought had Candy balling up her fist to swing at the wall again.

Then she heard the squeaking from up above her; she tilted her head up to see.

Just in time for a ton of water to breach the side of a gigantic container and come cascading down towards the middle of the ring. "What the- GAH!" Candy managed to grab the ropes just in time for the water to wash out across the floor inside of the cube. The redhead was soaked thoroughly and had no footing, but her grip helped her stay upright while Makita and even the ref were washed across from one side of the ring to the other before the water settled down. Candy, eyebrows knit, stared down at herself, amazed she still had her bikini on after that washout. Disgruntled, she blew a wet hair off of her mouth and waded away from the ropes in the shin-high water.

The same finger from before found the ref's chest. "Okay, gig's up. One more surprise an' I'm outta he-" "That's it. This is the match. Falls against the wall count." As the ref turned to signal for the bell to ring, Candy was left standing and staring at her in distrust, dripping and miserable.
Makita pushed herself up on to her knees, water engulfing her from her hips down. Everything happened so fast, she did not expect a tank of water to be dropped on them with little warning like that. Luckily her bikini didn't slip off her body, instinctively moving her hands down to fix it just to be sure. Wiping her wet hair away from her eyes, Makita looked around at the setting. There was a big problem for her with all of this water. Her style was going to be completely hampered by it.

Her speed was useless as the water was going to greatly slow her down, she wouldn't be able to kick properly for the same reasons, and the only way that she could use her high flying attacks was from the posts as the ropes seemed too loose for any spring board attempts. The win condition was a little strange as well, the only pinfalls that would count against the glass walls, seemed rather....pervy in Makita's mind. The only positive that she could think of was at least that the water was going to soften all of her landings. During her attempts to recollect herself, she heard Candy Cane's loud objections to this match, which Makita agreed with. Never before has she participated in something as outrageous But as always, a match was a match and she had to abide by the rules if she wanted to win.

Getting to her feet, water dripped off her body as she pushed her hair back over her head giving her a slick look. Standing up in her wrestling stance, she wasn't sure how the match was going to go though how could she with how ridiculous it was? Wading her way through the water, she was making her way towards the center of the ring as the ref girl soon called for the bell. The match had begun.

Makita knew that Candy was a striker, or at least that was what she thought. She was definitely going to have a huge advantage over Makita and with her lack of mobility meant that she had to stick as close as possible to Candy to prevent her from swinging heavy hits. Getting in close, Makita would then attempt to lunge at Candy going in low to try and wrap her arms around Candy's waist, trying to wrestle her down into the water where she had hope it would take away Candy's striking ability.

_________________
COME HERE FOR THE COLLECTION
The ref was lucky that Candy didn't go after her given the circumstances and the secrecy; the rocker narrowed her eyes on the woman and considered it. Bah, but it was a waste of time and a waste of energy. Candy was already stuck in this stupid cube of water now; if she made her way out of this match now, even with a disqualification, she knew the whole "soft" talk was going to start up all over again. The satisfaction of dunking the ref girl in the shin-high water wouldn't make up for having to hear that crap.

So, it was with a huff that Candy turned back to Makita. Whatever brief kinship Candy might have felt from the two of them getting stuck together in this stupid, stupid match was forgotten when she found Makita diving at her. "Hey!", Candy cried out, as Makita's hands wrapped around her waist. With her body's balance completely thrown off by the water, Candy only managed to shove her palm into Makita's forehead as a defense before she stumbled and fell backwards. She would have cursed about the sudden attack if her mouth did not fill with water when she opened it, and she sputtered.
The bell rang and the match had started, Makita knew that if she wasn't going to take the initiative to start the match then she was only going to leave herself open for Candy to dictate and dominate the match. She felt a little bad taking advantage of Candy's confusion about the match, but she was a wrestler and not taking the opportunities that presented themselves was only going to put herself in a bad position.

Makita was surprised that she was able to get the drop on Candy despite how the water hampered her speed, sloshing through the water with effort. Taking down Candy as her head was being pushed back, Makita gritted her teeth as she continued to keep her hands locked around Candy's waist as the two of them crashed down into the water. Being wet wasn't a problem as they were already drenched before the match actually started as she attempted to push her face past Candy's hand as she tried to fight her way up Candy's body, trying to keep the water out of her mouth and when it splashed into her mouth, Makita immediately spat it back out. The two bikini clad beauties thrashed about, splashing water everywhere as the crowd cheered at the sight inside of the cube that held both Candy and Makita and the water that they were fighting in.

_________________
COME HERE FOR THE COLLECTION
The downed rocker spit water out of her mouth as she fought back against Makita, but it was obvious that the woman wanted to keep Candy down in the water as they struggled for position. Though Candy kept her palm rooted against Makita's chin, she quickly found out that this wasn't benefitting her any at all – Makita was still latched around her waist. Candy resorted to simply swinging her hand at Makita's shoulder, which also didn't work, before she turned to just keeping her head above water.

But that didn't work, either. The more disoriented of the two wrestlers, Candy couldn't do anything to keep Makita from getting a grip on her and stay above the water at the same time. The redhead opted for the latter, and simply shook her hips to try and fling Makita off before the woman dragged her under, or did whatever else it was she had in mind. Candy propped on her hands in the meantime, the water up to her shoulders. "Frickin'…water…"

The two of them thrashed in the water, Makita doing her best to keep herself latched around Candy Cane's waist. It was a rather difficult task to do with the feisty Candy doing her best to break out of her hold, her hand pushing against her chin despite Makita's best effort to prevent that. "Nnnnn....." Makita groaned out, making it even worse with the water splashing into her face, having to constantly spit out water that had gotten into her mouth.

As Candy's hips continued to thrash about, Makita chose to ascend up her opponent, loosening her arms around Candy in order to do so as she was now chest to chest and breast to breast with Candy. A light blush flushed on to her face as she noticed their busts brushing against each other. Because of it, Makita's balance was disrupted now that her arms were no longer around Candy as she was forced off. "Waaah!" Makita let out as she instinctively clung again on Candy, her breasts pushing up into Candy's as she was forced on to her back.

Now it was her turn to start squirming, moving her hips in an attempt to force Candy off of her.

_________________
COME HERE FOR THE COLLECTION

---
Permissions in this forum:
You
cannot
reply to topics in this forum