Champions & #1 contenders
Moonhearts Promo intro thread is O p e n.
Mon May 21, 2018 4:21 am by XSirenX
Feeling brave?, lost?, or without a thread to post in?, hit up the newest Moonheart if any of those apply!
CLICK HERE
What Moon has to offer?, many things...:
Comments: 0
The Austrailian Mudslide is Back.
Sat Apr 21, 2018 6:20 am by Softsquad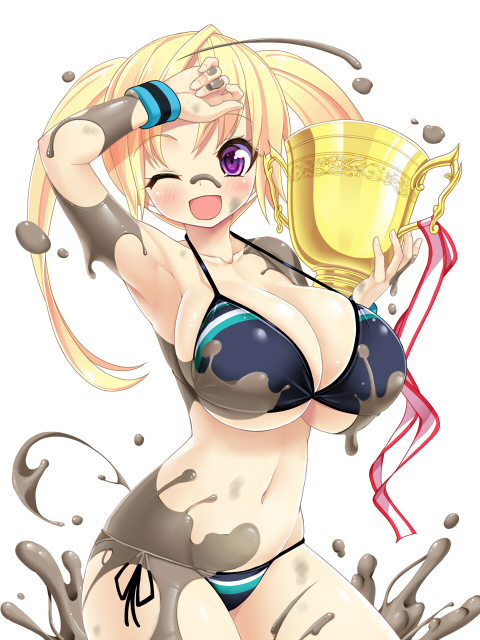 Granted that most of you won't know me or remember me, but I've had a few matches here and there some time ago. Well I think its time to become a regular around here and try to have some fun again, but at the same time keep coming back. Anyway I think its time to jump into some matches with Zoe Taylor, my mud wrestling character from Australia and get her back into the squared circle. Furthermore I will update my characters as I think some proper changes need to happen.
So if anyone would …
[
Full reading
]
Comments: 4
Page 3 of 3 •

1, 2, 3

Gabbie's comments were rather true, Friction and to a lesser extent Tension certainly had some strange folk in them. Not to mention all the odd match types, like that one time Lucy had to win by dumping someone in a big tub of egg nog. And stuff involving jello and beds and other things, yeah well Ms Grange preferred not going for those. Granted the egg nog thing was fun, but Lucy liked to fight rather than try to bonk another girl with a foamy minecraft sword. So once was enough.

"Funny enough those might be the same folks that ambush John from time to time, guess since he's not outside much they've got nothing to do." Lucy said, the master of creation talked about that. He believed it was on one of those sting shows with a hidden camera. "Anyway there was this one place I remember, oh yeah there at the corner." Ms Grange pointed at a place on the other side of the road at the end of the street.

The Brit would walk the Canadian across the road when the little green man showed up, the store was very vibrant as the arcade was. But this place had things of a different sort.

http://the.rainbowholic.me/wp-content/uploads/2012/07/IMG_8477.jpg

"Japanese candy's pretty cool, mean I still of course prefer my British shortcake. But I've gotten a taste for the stuff here. Get anything your interested by Gabbie, my treat." Lucy said as she checked the stuff in the glass window before making her way inside keeping the door open for Ms Desjardin.
_________________
Check out my wrestlers
here
, but PM me for match requests.
Solaire of the AFW.
"Ambush?"

Gbbie's eyes widened at Lucy's words. Why would super sentai heroes ambush John? That was odd! She thought about it while they walked and looked in at the candy store once they arrived. It was definitely bright in a different way than the arcade. Almost MORE bright than the neon and screens.

"I heard it's just as weird as everything else here." Gabbie mused. "I don't really eat any candy, but, if you don't mind... I guess I could try something. I mean, it's not like a little bit will hurt me plus, since I'm here, I mind as well. Um, thanks, by the way. I could get lunch or whatever. I don't mind..." She added and began looking around.

"I have no clue what any of this stuff says. I can't really even speak Japanese yet, let alone read it. Should I, um, find the one with the cutest package? I'm.. not that into cute things, ummm...." Gabbie said rather shyly. "I didn't even have a stuffed animal or Barbie doll growing up. I mean, like, after I was three, I guess." By then she was getting into what would become her life. Sometimes, very rarely, when she thought about these things, she was a little embarrassed that her childhood didn't seem very normal. She shrugged it off.

She stopped at the pockey section and began to browse. "Well, I know this stuff at least." She said aloud. "But, isn't it kind of playing it safe? Shouldn't I be more adventurous?" She asked Lucy and kept going. She breezed passed the gummy section. It didn't seem like her style very much.

As Gabbie strolled through the isles she stopped when she saw some English. it was a bag of wasabi peas, but it only said they were peas. She furrowed her brow. "Why would a Candy store sell peas?" She asked. It didn't make sense, but she was intrigued. She did like peas after all. But she couldn't understand what they meant by being "hot." Maybe that meant "candied" to the Japanese.
Lucy heard Gabbie remark on the word use of ambush for power rangers showing up out of nowhere to harass her right hand man, Ms Grange shrugged and said "Well we think it's a part of one of those sting shows, ever heard of punk'd? Kinda like that and they seem to pick on John cause he's popular in Kyoto, dunno though cause they never talk." though the next time it ever happened the cops were gonna get called.

Ms Desjardin had struck the Brit as someone who didn't indulge in sweets, though this excursion was going to be about trying out the stuff that Japan had to offer. And Ms Grange could actually be a bit knowledgeable when it came to the candy countries had to offer, with the regime that wrestlers had you could afford the odd treat here and there. Lucy simply smiled at what the Canadian stated before she checked out what was on offer, seemed that Gabbie didn't know much Japanese. Well she'd come around Lucy reckoned, spend enough time in one place and you'd pick up the lingo soon enough.

"Well I do like cute stuff, but yeah I wasn't one for stuffed animals and things like that. Growing up I was too busy running around and scraping my knees." Lucy said with a chuckle, she had been partial to some football with the lads as a kid.

Gabbie remarked on the pockey section, Lucy picked one up and checked the back of it before putting it back. "Yeah everyone knows these, get them back home. I love sour stuff myself, the bitter the better~" Lucy said, the Brit looking around for her favourites. Though it was cut off with the Canadian picking up some wasabi peas.

"Oh you don't want those Gabbie. Those'll kill your taste buds for about a week from what I'm told, some folk might like that but I prefer otherwise. I know what I'm getting, this here...." Lucy spoke with a slight wave of dismissal before picking up a couple of packets shigekix super sours.

http://www.tofucute.com/images/481_shigekix_grape_bottom.jpg

"Sour things are what I'm for, gives me the kick. Still be bold Gabbie, just don't try the wasabi peas." the Brit stated with a chuckle, it had been a while since she'd actually gone sweet hunting with someone else given her usual partners were MIA.
_________________
Check out my wrestlers
here
, but PM me for match requests.
Solaire of the AFW.
"That sounds pretty terrible." Gabbie said to John being harassed by Super Sentai. It was hard to imagine, though she tried. It was a little funny, though.

"Yeah, me too." Gabbie said, nodding to Lucy. She was still a tomboy. Even if Lucy was too, at heart, she was still pretty girly, though Gabbie didn't mind. Lucy was cute. She then mused at Lucy's words. "You like sour stuff? Huh..." It seemed odd. "I'm really not so sure. It's been a while since I've thought about taste..." Gabbie admitted. That was a little depressing. She then looked at the peas as Lucy warned against them and looked at what Lucy was getting. "You're telling me not to get these?" She asked. "My package isn't making bitter beer face though..." She said and smiled meekly.

"I'll try what you're trying too." Gabbie said and grabbed her own package. "I'll get some pockey, just in case." She said and walked back to get a box of that. "But, I'm getting the peas too. You can't jut say "don't get them. Now you've made it personal!"
Well it seemed that Lucy's words of advice had the reverse effect, then again perhaps Gabbie was feeling bold. The Canadian might have been surprised by how Lucy preferred sour things, it was this newsagent near school where she developed the bitter tooth. The Brit often went there before the day started, sometimes folks would try and get her candy. And Lucy wouldn't give it, no matter if it was a girl her size or a guy on the football team. Sure she got scrapes and bruises, but she never backed down.

Well in for a penny in for a pound Gabbie would try what Ms Grange was going for, and she gave a light chuckle in response. Even in normal days the Canadian let her bravery show, though displayed wise foresight in getting some standard pockeys. When Ms Desjardin said she'd take the peas the Brit said "Righto, let's get some water just in case....." Lucy would get a small bottle too. Sometimes a bad taste needed it.

"Good thing the retail universe has progressed to auto checkouts, though Japan's always first with technology it seems. Some stuff is just insane, anyway pass that here." Lucy said as she'd get Gabbie's stuff and pay for it alongside her own things, once they stepped out the store the Brit handed the Canadian her things and said "Let's take a wee seat eh? Best to lay back so we get no cramps after all~" Ms Grange plopped herself on a nearby bench and leaned back and crossed her legs nonchalantly.
_________________
Check out my wrestlers
here
, but PM me for match requests.
Solaire of the AFW.
Gabbie nodded at Lucy's words. Water was a good idea. She was feeling thirsty anyway and she watched as Lucy paid for the goods from the merchandise robot. She smiled softly. It was so long since she got to do something that was... normal. A normal day with a normal friend, doing normal things. Had she been missing out on this?

She looked over Lucy, getting lost in her thoughts until she was called to take a seat. "Oh, sure." She said and sat down next to Lucy. Lucy wasn't exactly normal. She was great, but her job description still read as "punching people in the face" for money. And she was a long way from home about to eat wasabi covered peas.

"Ok, let's crack these open." Gabbie grabbed her back of peas and opened it. Her eyes practically began to water when she was hit by the scent. "Wow..." Gabbie shut her eyes. "Grandepere came over from France, so we still eat a lot of French cuisine. It's good, but not exactly, uhh... it's not spicy or anything like that. It's buttery and unctuous. So, this kind of stuff is fine. I loved the food in Thailand. It had more flavor to me, even if it could get pretty spicy."

Gabbie popped a few in her mouth and her eyes instantly widened. She teared up pretty quickly and then shut her eyes. She chewed on them and swallowed hard and quickly began to open the pockey and stuffed a few sticks in her mouth, rather unladylike. She chomped at them and then took the water and gulped down a big drink and then scrubbed her eyes.

"Wow!" Her eyes were wide as she stared at the bag. "They have some kind of kick!"
Truth be told Lucy preferred not having much of a normal life, she wasn't sure if she could adapt to the standard things that occurred with a simple British woman. Perhaps it was because she got into wrestling early and when she graduated that was her taking a trip to Asia and it just went from there, kinda surreal in retrospect. She hadn't actually spent time with a friend like this since her high school days, and had been punching folks since then if they drew her ire.

The British girl crossed her legs as she sat, John said that was bad for your posture. But Lucy felt it was tame in comparison to the holds that she could be put through in the squared circle. Gabbie took a seat and opened up her bag of wasabi peas, the scent wasn't lost on Ms Grange who wrinkled her nose a little before turning to look straight ahead. Ms Desjardin was inwardly prompted it seemed to comment on the food she eat thanks to her old folks, though the stuff from Thailand appealed to her better.

"I'm too used to British stuff I think, though anything that has meat in it will be good for me. I prefer chicken out them all." Lucy said, not much calories and could go with anything. Still needed to be careful with it.

Still the wasabi peas had a kick, given from Gabbie's reaction. Lucy looked at her and raised an eyebrow with the girl saying they had a kick to them, still Gabbie was smart in using the pockeys and water as a palate cleanser.

"Heh well I'll stick with my stuff, mind can always save them for later. Might give less of a kick then you know." Lucy said, though she got into a bit of her sour sweets. Her cheeks puffed out as she savoured the taste, Ms Grange loved the bitterness of it. It reminded her she still had teeth.

Ms Grange licked her lips after saying "I remember this one place in Kyoto, they had this special drink that was sour as sin. Had a cloud around it and everything, they gave you a discount if you could down it in one. Never managed it though, Japan can have some strange stuff indeed." Lucy reminded herself of the first time of that, she and her Bro ended up having to share one cause it was that strong. Perhaps given her years in Japan though, it might be different then.
_________________
Check out my wrestlers
here
, but PM me for match requests.
Solaire of the AFW.
"Yeah, the rest of the food we eat, Canadian or, whatever, is all sorta British. Poutine feels like it's pretty British, honestly." Gabbie mused. She nodded as Lucy spoke and raised her eyebrow at Lucy's small story. "I don't know why someone would want to try and make something that it's so pungent you can't even eat or drink it. If it's too spicy or too bitter, it ruins the flavor!"

Gabbie looked in her bag. "These are pretty interesting. It's like that, but I can still taste the peas. The wasabi tastes a lot like horseradish, which I like, though it's really intense. I'm not repulsed, I kinda want moire. Maybe that's what it's like for you and sour stuff? The face you made was pretty funny though." Gabbie said, lowering her head shyly and smiling.

She was surprised she was opening up so much and talking about fairly inane things like food. She took another sip of water and sighed pleasantly. "Thanks for coming out today, Luc. I think I needed this. I never think about anything else but my next match and training for my next match. I need to unplug every once in a while. It's like taking a rest from training every so often. Let's hope it's not another six months before we can do this again, ok?"
Gabbie made some interesting remarks in the mind of Lucy, it was true. Making something too spicy or bitter was a turn off for the buds, though Ms Grange probably would have tried it regardless if was sour. Again that stubborn approach to things carried on over, throw the towel in when it was laundry day and all that stuff. The punch of those wasabi was intense according to the Canadian, Lucy would stick to her sour sweets though.

"Heh, these things might rot my teeth but I don't care they taste good. Yeah making those facial expressions was something I used to do as a wee kid, when I had innocence with me and didn't dye my hair~" Lucy said with a chuckle, making the puffy cheeks again. "I remember the first time I tried sushi here, can't say I was prepared for it. Though those instant noodles stuff is always useful." Lucy said, draping her arms over the bench in a somewhat lazy manner.

Ms Desjardin began to speak with how this was a thing she needed, Lucy could totally see where the Canadian was going with this. Ms Grange smiled and said to Gabbie "Yeah same all the way. I've been choked up with worry for both my bro and our right hand man, and it's not healthy to be like that. I know from way back let me tell you."

Gabbie spoke about how it had been some time since they managed to interact, and Lucy winked and said "Well hey, maybe we might meet soon as a tag team. With how we roll in the squared circle I reckon it'd be awesome! Heh feeling a bit of nostalgia from my indie days just now....." it was true, most of that time was in tag matches. Ms Grange trailed off as she people watched, a lot of folks in Japan looked the same. But they had intricate details to them, like the way the hair was done or the vibrancies of their clothes.
_________________
Check out my wrestlers
here
, but PM me for match requests.
Solaire of the AFW.
Gabbie's eyes widened suddenly at Lucy's words. Surely the Brit had misspoke and though Gabbie wasn't generally one for ribbing, she couldn't help herself, smiling just a bit. "Are you saying you don't have innocence with you anymore? What have you been up to, Luc!?" Gabbie lowered her head and blushed. Lucy had most assuredly meant childish innocence, but the Canadian purposefully misconstrued her friend's words for the sake of teasing and, maybe, seeing just how Innocent Lucy really WAS when compared to the quite vestal Gabrielle.

"Nnn, yeah..." Gabbie nodded when the mention of tagging came up. It sounded great and they would get to spend more time together, even if it was in the gym doing training rather than a lazy afternoon off like today. Still, the thought of getting to spend any extra time with Lucy made Gabbie feel better about it.

"I think we'd be pretty good, actually. You're a lot more stylish than I am though." Gabbie lowered her head. "That's the, uh, kind of stuff people care about? Looking good as well as being tough? I've heard it, but I don't believe it. I mean, I understand it and it's not like I think I'm ugly or anything. I think my ring attire is pretty cute, actually, but I'm there to win first and foremost. I think if the crowd understands what makes a good competitor that there doesn't need to be any bells and whistles. A good fight should speak for itself. The rest, I don't care about so much... And, uh, I don't think it's bad, uh, when I'm talking about you, but it seems like you do a little bit."

Gabbie shrugged. "Maybe I'm wrong..." She muttered. "You spent a lot of time in the indie leagues?" She asked, maybe, sort of trying to change the subject.
Page 3 of 3 •

1, 2, 3

---
Permissions in this forum:
You
cannot
reply to topics in this forum