Champions & #1 contenders
Moonhearts Promo intro thread is O p e n.
Mon May 21, 2018 4:21 am by XSirenX
Feeling brave?, lost?, or without a thread to post in?, hit up the newest Moonheart if any of those apply!
CLICK HERE
What Moon has to offer?, many things...:
Comments: 0
The Austrailian Mudslide is Back.
Sat Apr 21, 2018 6:20 am by Softsquad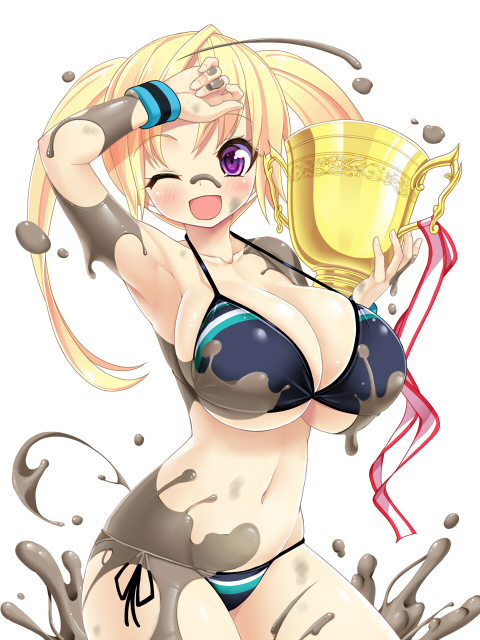 Granted that most of you won't know me or remember me, but I've had a few matches here and there some time ago. Well I think its time to become a regular around here and try to have some fun again, but at the same time keep coming back. Anyway I think its time to jump into some matches with Zoe Taylor, my mud wrestling character from Australia and get her back into the squared circle. Furthermore I will update my characters as I think some proper changes need to happen.
So if anyone would …
[
Full reading
]
Comments: 4
Page 1 of 3 • 1, 2, 3


Lucy hadn't been to Tokyo in quite a while, she had preferred it to Kyoto. Bigger and more lively, had a lot of strange and cool things. Oh and the cosplaying, Ms Grange had indulged in that in the past with her Fem!Shepard outfit in the past. Though recently the British girl didn't have the chance to enjoy the land of the rising sun, given what her wrestling group had gone through. The UK Elite had been top of the world, but Ryan and John lost their title defence. Now everything was all over the place.

Her Brother had gone missing as of recently, just a note in his study and that was it. Hadn't returned any calls or texts, not seen at his girlfriend's place, nobody in Kyoto had seen hide nor hair of him. John was holed up in his place with bruised ribs, he said he wasn't wallowing in his failure. Ms Grange hoped inwardly that was the case, she checked in with him now and then and he seemed to be doing okay. It was him that suggested Lucy do this, have a day to catch up with her friends. So Lucy decided to actually listen to him for once.

The British girl invited a girl that she'd gotten to know in the ring and out of it by the name of Gabbie Desjardin, sure Lucy had lost the fight but Gabbie fought clean and honest. When that was found it was due respect and they met again at xmas when the UK Elite did their annual gift giving, and Lucy wanted to catch up with her and see how Gabbie was getting on. And also check out Tokyo too! She was leaning on a wall near the train station, dressed in a pair of black laced shoes and a black and red tartan skirt. Her upper body had a light black jacket on with a faded Union Jack shirt, her blonde hair hanging freely down to her shoulders. Shouldn't be too long before her friend showed up, with what had been happening lately Lucy could certainly do with some relaxing interactions with someone.
_________________
Check out my wrestlers
here
, but PM me for match requests.
Solaire of the AFW.
It was rare for Gabbie to get a day off, let alone take a day off. So when Gabbie asked for one, Junko was both surprised and eager to give her a day away from the Dojo. She was happy to learn that Gabbie was going out with a friend. Although nice, it seemed like the young Canadian could be a bit abrasive. As far as Junko knew, Gabbie didn't have any friends outside of the Dojo sisterhood.

Gabbie herself was quite excited when she got Lucy's text. The two girls had become friends after their match and maintained contact, but with Gabbie almost always busy training and Lucy spending more of her time in Kyoto than Tokyo, they didn't get to spend too much time together. Gabbie was meeting Lucy at the train station, so when it was time to get ready, she put on some black jean shorts, with black and white stripped leggings, Doc Martins and a beige ROOTS t-shirt with a beaver on it.

She felt comfortable and headed to the train station in time to catch Lucy. She smiled when she met her UK companion and waved to get the blonde's attention.

"Hey, Lucy." Gabbie greeted Lucy as she walked up to her. "How was your train ride?"
On instinct Lucy checked her phone before Gabby was to arrive, just in case she said she couldn't make it or if her Brother spoke to her. She was a young woman sure, but it had felt like ages since she actually was in this sort of place. Waiting for a friend to show up, hadn't done that since her last year in high school before Lucy up and went to Asia. Then she didn't have time to make friends because she was on the road up and down, until it was decided to settle in Japan at least. Which was the best out of where Lucy had been in her mind.

Sure enough though Gabbie arrived, Lucy knew she would. Gabbie was the sort that could be relied on, plus she could kick ass and show respect where it was earned. From someone who got bred in paying her dues in the indie circuit that meant something for Ms Grange, it might not for some people in Friction. But that was more of a smelting pot, you got some stinkers here and there with it. Ms Desjardin was certainly looking the part of one aiming to take time off, and the British girl gave a warm smile to her.

"Heya Gabbie! Good to see you. My train was good, those bullet trains are insane. Back home it'd at least be longer let me tell you." Lucy said as she neared the Canadian, offering a handshake as she did. After a few seconds of looking around Ms Grange would motion for Gabbie to follow her, the Brit's eyes looking at the scenes reminding herself of what Tokyo had to offer. "So how's things been with you? Doing good in the ring?" Lucy asked, she hadn't been much up to date with what Gabbie had been doing in the squared circle. Though being active was the way to go of course.

_________________
Check out my wrestlers
here
, but PM me for match requests.
Solaire of the AFW.
"Yeah, it's good to see you too, Lucy." The Canadian greeted her British friend genuinely. "There's nothing like it back home, either. I have only ridden them a few times, but they were neat." Gabbie nodded and looked at the train as it zoomed off away from the station.

"Oh, uh... Things have been pretty crazy, actually!" Gabbie said, perking up as Lucy seemed to want to get right into it. "I've had some pretty big matches lately. and I've been training really hard for them. Not to mention that the rest of the Dojo has been pretty hectic. I kind of hope things will slow down, but at the same time, I kind of hope I don't. There's some people I have been really looking forward to having matches with but this is the first time I've gotten out of the Dojo aside from going to the arena since..." Gabbie paused. "Well, it feels like Christmas was the last time."

Gabbie couldn't help but laugh a little. "I guess if I could see you more, then I could get out more. How have you been? I feel like I haven't seen you around too much. I was hoping we could at least spar some time, but the rare times I end up working out in the AFW facility, I never see you. I look, though." Gabbie admitted shyly.
Well Lucy was glad to hear Gabbie was getting on, she didn't loaf around or rest on any laurels. The Brit hadn't followed the Friction scene as well as she ought to have, given that she hadn't been doing much actually in-ring as of late perhaps Lucy would have to do so. After all she had been wanting to do so, for too long the British girl was gone from competition. Lucy's Canadian friend referenced that time in Christmas, ah now that was great. When Lu got to wear those cute little antlers and was a rare time when she didn't have her hair dyed blonde, being instead a brilliant brunette.

Gabbie was part of a dojo too, Lucy did recall that when she had looked her up. Sounded awesome, in the past Ms Grange had considered taking up a martial art. Did pro wrestling count as one? It did in the video games at least. Sparring with Ms Desjardin did sound like a pretty good idea, that fight they had was pretty good after all. Given their similar weight and height it'd feel pretty down the middle with how it could go.

Then the Canadian asked how Lucy was getting on, and commented on with the Brit not being around the AFW facility. Ms Grange would look at Gabbie and rub the back of her head before saying "Yeah I've been in Kyoto over at Tension pretty much. Ummm......I'm doing alright for the most part I guess. It's the people I'm with that aren't. Recently my Brother Ryan and his right hand man John had a title match for the tag belts there, tornado style ladder match. Against this group called WhiteGale from Canada."

Lucy looked up at the sky, symbolic of the match type before continuing with "So it was no DQ, and to make sure I didn't try and run-in. Not saying I would, but just to make sure Ryan stuck me in the VIP booth. And well, they lost. John fell like really bad, fall from grace level bad." she looked back to Gabbie and said "John's sitting out with battered ribs, and my Brother's vanished to God knows where. Can't find em anywhere, probably trying to suplex a tree somewhere. So we're all kinda up in the air, but we'll bounce back. Bound to." Ms Grange smiled after her words as an indication of this.
_________________
Check out my wrestlers
here
, but PM me for match requests.
Solaire of the AFW.
Gabbie nodded at Lucy's words as she explained her situation, or her friends and family's situation. "That's a shame." Gabbie offered. "I know what it's like being in a match up like that. I don't really care for it. Beating each other up with ladders doesn't exactly prove to me who the better combatants are... " She frowned deeply and then shook her head.

"I'm sure he'll turn up. It probably just means it meant a lot to him. Hopefully John can recover quickly though. Injuries are the worst." Thankfully Gabbie never had to deal with anything too bad, but even minor ones were aggravating for someone so entrenched in maintaining a pro athlete's regiment.

"If you're supporting them, I'm sure everything will be fine." Gabbie added, smiling a bit. "But, what do you want to do?" Gabbie asked. "We've got all day and a pretty big city! We shouldn't waste it all at the train station."Gabbie looked around. "I really haven't much sightseeing. It's way bigger than Toronto, that's for sure. Though it seems about as big as Bangkok to me, though I guess it's still bigger." Gabbie shrugged.
"Yeah, never really did enjoy it when things got hardcore like that. Suppose it doesn't really show who's better in the ring, any chump can pick up a chair and swing it after all." Lucy said as she twirled a strand of her hair in thought, if she was offered a match like that chances were Ms Grange would decline. Weapons just muddled it all up.

Though Gabbie professed the likely prospect that Lucy's Brother would show up again soon, Lucy gave a warm smile at that and nodded "Yeah I know he's somewhere, didn't seem all that miffed when he lost. I reckon he wasn't showing it though, we were both concerned with John's state at that point. He's doing okay at least, he said I should take time off."

Gabbie remarked that she hadn't seen much of Tokyo, and truth be told Lucy hadn't as well. Kyoto was a place she knew well, here though the capital not so much. Ms Grange snapped her fingers and said "Mhm yeah, I know there was this arcade. Club Sega I think, not too far from here. Actually went on my first ever day in Japan, c'mon let's check it out." now that the sad stuff was out the way Lucy was eager to be the young perky Brit that she was.

https://www.youtube.com/watch?v=9XBNfhlQtuU

Lucy would walk and lead the Canadian to the big place, with the shining sign atop it. Ms Grange would say as she went in with "The stuff here is crazy, they got this game where the controller is a table that you flip. Then there's this punching one, and even virtual horse betting. Ryan actually beat this one really good player in a Smash Bros tournament here too." it was certainly very bright and lively to say the least.
_________________
Check out my wrestlers
here
, but PM me for match requests.
Solaire of the AFW.
"I thought the same as you, Lucy." Gabbie said and then shook her head. "And then I still ended up in them..." Gabbie shook her head. "When you have twenty thousand people cheering for you to kill yourself, pride and stubbornness can be a little annoying traits to have..." She clenched her fists and then sighed.

However, as Lucy tugged her along. She widened her eyes. "Arcade?" She said as though she didn't know what that was. "I haven't been to one of those before..." Gabbie said. "Uhhhh.... I don't really play too many games, so you'll have to help me out a bit!" Gabbie said, flashing Lucy a shy grin.

She looked at the huge building with a bit of wonder. She was used to a big city, but there was soooo much neon in Tokyo. It felt like she was on a new planet. "Whichever game you like best, I'll play."
As much as Lucy thought she was an adult truth be told that there were times she didn't feel much like it, after all Lucy was below the legal drinking age for example. It wasn't often shown either, usually because the wrestling world didn't look too well on those. But Ms Grange had her day off here, with a good like minded friend. That said though Gabbie was most certainly out of her element, which was okay. As Lucy had the sort of game in mind that the Canadian might be interested in, it was here the last time the Brit was here. But still. "You ain't been to one? I went to my first one when I went to the beach one time when I was a kid, back when I didn't dye my hair." Lucy said with a little chuckle, back then she looked so innocent and nice.

Though Ms Grange pointed at one machine, it looked old. 90's old, and had an odd set of controls on it too.

http://2.bp.blogspot.com/-A-cmrqoXycA/TwSdjCQm3CI/AAAAAAAAAZ4/IcUKVc8FbI4/s1600/P1010153.JPG

"Ah here it is! Buriki One, this one made me think of you. It's a fighting game right, but not like Street Fighter. This is kinda MMA inspired with all sorts of styles, from mine which is Pro Wrestling to Muay-Thai. Those arrows are used to move yourself and the joystick does moves. See they're doing some matches over there." Lucy said as she pointed to another copy of the machine down the aisle.

https://www.youtube.com/watch?v=P4C6wJrebLg

"I thought it was kinda innovative, reckon you might want to give this a go. Trust the Japanese to have the really cool stuff when it comes to tech am I right?" the British girl laughed a little as she checked the screen. It was of course all in Japanese, but she had a rough understanding considering the time she spent here in this country.

_________________
Check out my wrestlers
here
, but PM me for match requests.
Solaire of the AFW.
"I mean, I know what an arcade is." Gabbie said shyly. "It's not like I've never played a video game in my life!" She protested, trying to defend herself. "But for vacations, we always went camping. And I was always busy with either school or practice. I, uh, didn't have a lot of friends outside of that." She admitted.

Gabbie followed Lucy to the machine and looked it over. The bright lights and dated graphics were still interesting enough to the Canadian. She was not against video games, she was pretty much video game neutral, but she was looking forward to trying something with Lucy and was appreciative that her friend was trying to find something they both could like. She looked at Lucy and smiled and then glanced back at the game. Her ears pricked up when she heard the words Muay Thai though and her eyes widened.

"Ok, yeah, I want to play that then." She said and stepped forward. "Let's see if I'm as good a Nak Muay in the video game as I am in real life." She said and took the stick in one hand and tested out the buttons with her other. "Ok, just guide me through it once and then after that, I'll figure it out. Don't go easy on me, I want to be able to figure it out on my own after I have the basics down."

Gabbie looked over at Lucy. "So, what style would you pick?" She asked. Honestly, she would never have guessed that Lucy was a wrestler if she had just seen her out on the street. "So, uh, Lucy..." She said a little off handedly. "Why DID you get into wrestling? You're pretty and, no offense, but, uh, a little girly. If I hadn't fought you in a match, I wouldn't guess in a million years you could wrestle and I definitely wouldn't think you would like it."
Page 1 of 3 • 1, 2, 3



Similar topics
---
Permissions in this forum:
You
cannot
reply to topics in this forum