Champions & #1 contenders
The Austrailian Mudslide is Back.
Sat Apr 21, 2018 6:20 am by Softsquad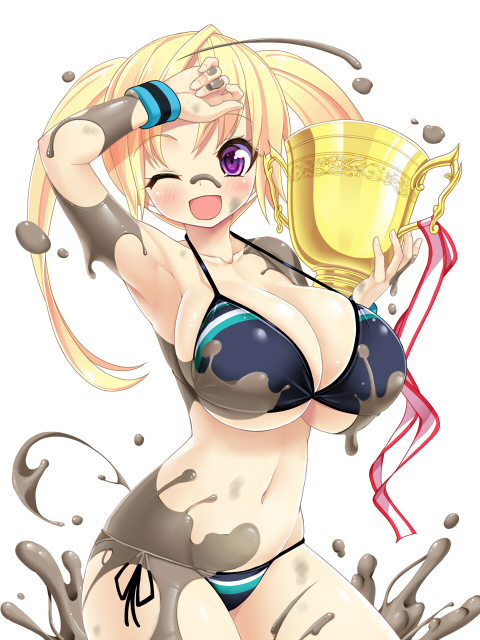 Granted that most of you won't know me or remember me, but I've had a few matches here and there some time ago. Well I think its time to become a regular around here and try to have some fun again, but at the same time keep coming back. Anyway I think its time to jump into some matches with Zoe Taylor, my mud wrestling character from Australia and get her back into the squared circle. Furthermore I will update my characters as I think some proper changes need to happen.
So if anyone would …
[
Full reading
]
Comments: 4
Looking for debut thread.
Sat May 12, 2018 9:28 pm by Hedgehawk
Hello All.
I am looking for a debut for my girl Trinity (http://www.afwrpg.com/t18107-trinity-cordova#495678).
This doesn't have to be a match, it could be a gym battle, interview or anything else. I just want something to help get Trinity off the ground. If you wanna plot feel free to reply to this message or fire me a PM.
Many thanks in advance and thank you for reading my message,
Hedge
Comments: 0
Page 1 of 6 • 1, 2, 3, 4, 5, 6


It was Promo Day at the AFW Dome in Tokyo, where various wrestlers, from main eventers to mid carders, arrived in costume and filmed various promotional material. Such material ranged from promoting various public events involving AFW stars both local and for international markets, ads for the AFW Network, and promoting the various business sponsers that partnered with AFW.

Given that it was a big deal, the league always had Promo Day a few days before the next weekly show, to give the talent chances to rest up, and generally avoided inviting the more...crazy and disturbed heels of the league, to avoid fighting in the halls.

Wrestlers waited in the cafeteria area, the largest free area to hold them, waiting to be called by name into one of the various filming rooms to cut their promos. Among the waiting crowd was the pink haired wrestler, Teddy Cat Hori, known for being cute and adorable, more powerful, speedy, and versatile than expected, a true lover of kitties...and weird as fuck sometimes.

Clad in her ring outfit, a skimpy top and bottoms that barely covered more than a bikini, as well as her pads and boots, the admittedly bored kitty girl was playing around, doodling on a piece of paper as she waited for her name to be called. The catgirl had only had a couple matches in the league so far, and despite both being quality matches, had lost them both, so between that and being new, she figured she wasn't exactly one of the "priority" promo girls. Still, at least she was getting the chance, and goodness knows her last match, against Gemma Faraday, had been super fun, Teddy blushing a little as she remembered the more...intimate moment they two had under the ring.

She hadn't seen Gemma since their match, though thankfully they had parted on good terms, Gemma even calling her a "Good Kitty" post match, something that, once combined with Gemma's incredible skill, fun personality, and incredible looks, had officially pushed the catgirl into "crush" status when it came to the British bombshell. Still doodling pictures of various kitties doing various things, she sighed, waiting and wondering if she was going to just be bored the whole time. Maybe a catnap was needed?
The stage hand offered Santa Tigresa a bottle of water, and a towel. A morning spent under bright filming lights had produced a thin sheen of sweat over the woman's tanned skin. It was nothing to compete with the sun and heat of her native Mexico, but the Tigresa hadn't been home in quite some time. Fortunately, she hadn't lost a beat in her native language; for far too long this morning, the masked wrestler had been in-studio recording promotional material for the AFW's promos for the Mexican market. Perhaps one of the reason that the promotion had been so eager to take the luchadora onto the roster, helping them get into other markets.

Dabbing some sweat off of her shoulders, the Tigresa took a swig of water and mulled things over. She felt strange. Firstly, for being in her full ring attire without having a match to even prepare herself for. Which was part of her next problem: she'd gotten dressed up to sell the AFW. She wasn't even cutting a promo for an upcoming match. After her last match, a loss that had left her inconsolable for awhile, Santa Tigresa hadn't had another. She was good enough to offer her linguistic skills to selling subscriptions, but was her wrestling skill still enough to get her into the ring?

Santa Tigresa tried to ward off her doubts with a vigorious shake of her head. Once her thick black hair settled back down, the Tigresa exchanged a nod with the director to confirm they were finally done with her. Then, she stepped out into the cafeteria area. The masked woman cut a fairly impressive figure, as she exited the door. Fairly tall and buxom, Santa Tigresa's golden-colored ring gear hugged her figure tightly, showing off her generous curves and taut abdominals. Long raven hair flowed down her back wildly, all extending from the fierce golden tiger mask that had been her family's signature for decades.

Taking another swig from her water, Santa Tigresa made the room. She walked in confident, sashaying steps toward a vending machine. Along the way, she tried to take in the faces of those around her. Seater were many of the AFW "undercard" performers- newer wrestlers, or those that had yet to break from the pack. Almost none that she recognized, really, though it wasn't any of their fault. The truth was, Santa Tigresa hadn't really met or taken the time to get to know many other members of the roster. Her protege, Vida Fenix, was the one of the only members of the roster Santa Tigresa had truly befriended- and the youth had followed her from Mexico!

The Tigresa looked over the machine, looking to get herself something to eat after the long morning. As she did so, she tried to find something to focus on. Anything that wasn't her bit of a drought, since her last match. Or her protege Vida's recent, total losing streak ... Really, anything else would do!
Teddy let out an adorable yawn and put her head down, bored as a stump. Gemma was either not invited (How dare they not invite her!) or busy already cutting promos of her own, leaving the friendly, yet surprisingly friendless, kitty alone and bored, wondering if she could just take a catnap until her name was called.

Hearing some footsteps come close, the bored cat lover looked up out of general curiosity, having sat near the vending machine in case she got hungry. The first thing she noticed was the woman's impressive figure, and absolutely beautiful body and sexy outfit, which got a low whistle of appreciation from the single and bi-sexual Teddy Cat Hori, but it wasn't until her gaze made it to the top of the girls turned head, eyes falling on her golden mask, that Teddy stared in earnest.

It couldn't be...the golden colored mask, the pointy ears...that was...she was...

"*Gasp*...KITTY!"

With wide, excited eyes, Teddy Cat jumped up and grabbed Santa Tigresa in her arms, giving the luchadora a big hug, while jumping up and down excitedly!

"Kitty! KittyKittyKitty!"

Teddy yelled, in a super excited, and somewhat idiotic, way, hopping a little before finally letting the no doubt disturbed woman go, before clapping and hopping again.

"You're...You're...You're Santa Tigresa!"
Santa Tigresa sighed, as she looked at the strange vending machine. Despite all her time in Japan, she was still no closer to being able to read the language. The collection of foodstuff behind the glass seemed like a collage of weird colors and shapes, very little of it jumping out at her as "a thing you can totally eat." Just another adjustment she was having to make, in her new home ...

The masked luchadora was shocked out of her reverie, however, by a sprightly young voice that seemed to cut straight through the room. Eyes widening in shock beneath her mask, the Tigresa spun around just in time to see a sprightly, remarkably fit, young girl in cat-themed garb come rushing up to her. Before the masked latina knew what hit her, the effervescent young cat girl latched onto her! Arms sinking around the Tigresa's amply hippy frame, squeezing some of the air out of her, even as the young girl bounced up and down against her. "ACK!"

On sheer instinct, Santa Tigresa returned the hug, patting the cat girl on the back gently. However, even beneath her mask, the luchadora had a clear look of bewilderment, on her face.

"I-I am," she stammered, after the girl had released her. The Tigresa's chest swelled against her top a bit, as she tried to take in enough air to replace what the young newcomer had squeezed out of her. Shaking her hair out, a bit, Santa Tigresa gave the young girl a good once-over.

"Always nice to meet a fan ..." she said, with a genuine, and utterly baffled, smile. The greeting was sweet, if maybe a bit too enthusiastic. For the life of her, however, La Santa couldn't place the young woman. She felt like she should be able to, given the girl's distinctive cat motif and her bubbly attitude, but with a roster that seemed to grow constantly, Santa Tigresa struggled to keep up with every face in the building. This girl seemed friendly- possibly exceedingly friendly- but the Tigresa wasn't eager to say anything to change that. "Really, thank ... you ... miss ...?" she managed to say, hoping the lack of recognition would turn the meeting sour.
"Teddy! Teddy Cat Hori!"

Teddy replied, beaming with pride as she posed in her ring gear...before noticing the blank look on Tigresa's face, a clear sign that the masked woman had no earthly idea who she was.

"...F-From Wrestle Angels? Or...well...I mean, I was there for like, a year...maybe two, right when they started, then I retired...so you might not have seen me..."

Her enthusiasm died down a little, but the pink haired fighter was quick to bounce back!

"I know you though, I've watched clips of you in Mexico, and your predecessor, Santa Tigresa 3! I try to follow and watch any kitty wrestlers I can, and man, Tigresa 3 was INCREDIBLE! One of the best I've ever seen!"

Teddy went on, about to start on a rant about the matches she had seen and the history of kitty wrestlers the world over, when she stopped, recalling that Tigresa IV, much like herself, hadn't exactly had the best record in AFW...and hadn't had that great a record in Mexico either, come to think of it...

Blushing a little, the neko rubbed the back of her head.

"I've seen your stuff too Tigresa, you're really good! I bet that Fenix girl learns a lot from you!"

She said, hoping her fangasming over the older woman's predecessor hadn't been a terrible faux pas!
A frown tugged at the corner of the Tigresa's mouth- she could tell she hurt the little one's feelings, at least for a moment. Fortunately, the girl bounced back pretty quickly. It was a good quality. Disappointments came hard and fast, in this sport. Being able to deal with them was key to survival.

The tentative frown was completely lost, however, as Teddy's enthusiastic attention got her going in another direction, talking about the Tigresa's career, and pedigree. The masked luchadora blushed, a bit, at Teddy's compliments. It wasn't that often that those she met in Japan (fans or fellow competitors) made reference to the fact that she was a fourth-generation competitor. This kid really knew her stuff!

"Yes," Santa Tigresa said, when Teddy gave her the chance, "my predecessor was an incredible woman. I wouldn't be where I am today without her guidance. Hopefully, someday, I can live up to her name, too!"

The mention of Vida Fenix, however, changed her mood, a bit. Having just been ruminating on the recent losing streak of her young protege, Santa Tigresa recognized that it was a bit of a sore point that she might be too sensitive, to. Still, she couldn't help but get self-conscious. "Vida is a great girl," she said, after a pause, "who trains hard and is eager to learn. I hope she ... That is, I know that she has much to learn about competing, but she has heart and enthusiasm. Hopefully, that will be enough ...

"What about you, Teddy?" Santa Tigresa asked, changing the subject. "You were with Wrestle Angels a few years, you said. How long have you been here? How is the AFW treating you?"
Teddy had been nodding in response. She had seen a couple of Vida's matches, as part of her obsessive following of kitty wrestlers and anybody allied with them. The girl was talented, full of vigor and ability, but sadly Teddy had yet to see her get a victory...something the kitty could sympathize with.

The follow up question made Teddy blush a bit, as she twiddled her fingers.

"Oh...well, I've been here about a year...should be a year next week. It's been alright. I've only had 2 matches...and uh,...I lost them both."

She blushed a little brighter, rubbing the back of her pink hair and crossing her legs, giggling a little before brightening up.

"But I fought hard, and those girls earned both wins the hard way, which isn't bad for a girl with 5 years away from the ring. The first was Valley Doll, who has like, over a decade of experience, and the other was another new girl like me, Gemma Faraday. I'm actually hoping to run into her here. She's great! Really talented, and skilled, a fun personality and beautiful body, and great hair, and nice legs, and a good smi"

Teddy "eep!"ed, and covered her mouth, looking around to make sure said Gemma wasn't around and hadn't overheard that. While she certainly wanted to consider the British woman a friend, (and had a few thoughts...as well as a dream...of an erotic nature about her) she thought it might be awkward if Gemma heard her singing her praises like that, especially given what happened under the ring, something the two had to discuss at some point.

Nervous, Teddy reached and grabbed the paper she had been doodling on out of boredom, holding it up to show Tigrea the many tiny cute kitties she had drawn, doing various adorable things, like playing with yarn, napping, and chewing on a mouse toy.

"Um..You have like, the sexiest outfit, you know that? You look REALLY hot and...uh...uh....I uh...I drew kitties! See!?"

She said, holding up the not-half-bad artwork, hoping to distract the woman, both out of embarrassment for basically saying "I have a crush on Gemma" aloud.
Santa Tigresa's head nodded rapidly, as she tried to keep pace with the enthusiastic cat-girl. Santa was impressed with the girl's energy and enthusiasm. If she brought half of that to the ring with her, the Tigresa figured that Teddy had the potential to be a great competitor.

Still, she listened to Teddy's story, and was visibly saddened to hear that the poor girl had been struggling to keep pace with her opponents. Something about the cat girl was inherently, deeply sympathetic. At the very least, it seemed a couple of early setbacks weren't keeping her down too badly.

Santa Tigresa snapped out of it, slightly, at Teddy's loud "eep!" It was taking the Tigresa some getting used to, but the more ... open gender preferences of the people she was meeting in Japan was something she was becoming accustomed to. She wasn't sure if it was especially common to AFW, but it was clearly more common here than in her Catholic orphanage, or the arenas that trained her in Mexico. La Santa hoped that her mask would hide her raised eyebrows, when Teddy complimented the way her own outfit, an inherited design that was meant for a woman with a bit ... slighter frame, than the current Tigresa.

Santa Tigresa smiled, though, when Teddy held up her drawings to show off. "I know who to contact when I need a design for my next tee shirt!" The Tigresa grinned, looking over the sketch paper. Santa Tigresa gave a sincerely approving nod, going over it. She gave Teddy a smile, not knowing how to address some of the ... other comments, the young girl made. For all of her life experience, there were still a lot of things the Tigresa had no idea how to address.

"And don't you worry about those losses," she added, wanting to say something to help preserve the rookie's confidence, if she could. "It sounds like you had some pretty tough opponents. You can't let a few losses early on get you down, or you won't get back up. The important thing, is figuring out what you can learn from those losses, and what you can do about that!" The rookie seemed like a good kid, and Santa Tigresa wanted desperately to help her out, if she could. Of course, all things considered, who was she to be giving out advice? Santa Tigresa winced, as she thought about it- who had her meager advice really helped, thus far?
Teddy nodded her head with enthusiasm, hanging on Santa Tigresa's ever word, before letting out a squeal of delight and hugging Tigresa a second time, hopping up and down.

"Thank yoouuu! That's so nice of you to say! See, THAT is what you do, that's why YOUR Santa Tigresa! With so many crazy people around here, it is AWESOME that a veteran like you is willing to help younger talent like me. Your what kitty wrestlers should always be about!"

Teddy replied, a glimmer in her eye, before she stood tall, and raised her arm, pointing at Santa Tigresa, the clearly insane cat girl speaking loudly.

"That settles it! Santa Tigresa! I respectfully challenge you to a match in the ring, one kitty versus another! I would consider it an honor to test my skills against yours and see if I can match up to your veteran prowess!"
Santa Tigresa's eyes bounced up and down behind her mask, trying to follow the energetic cat girl. The younger woman was a spitfire- if she could harness that kind of energy in the ring, Santa Tigresa imagined she'd really be a force to be reckoned with. All the luchadora could do in response was stand back, arms crossed beneath her chest, and let the kitty-themed little dynamo go.

The Tigresa found herself blushing at the compliments. In truth, she was simply happy to help- she'd spent her life trying to encourage young women. And if she hadn't had some of that repaid when it was time for her to take up the mask, she wouldn't have been able to take her career all the way to Japan. Even if the jury was still out on wether or not that move had been the best one, career-wise ...

Still, it was strangely heartening to think of a "kitty wrestler" community, as Teddy seemed to imply. The Tigresa grinned, watching the manic cat girl go on. Any time she could have an interaction with a member of the roster that didn't dissolve into, for lack of a better term, a full-on catfight, was massively refreshing. Even when the subject changed, and Teddy issued her challenge, Santa Tigresa was gobsmacked with how impossibly polite, it was.


Santa Tigresa's chest swelled over her crossed arms, as she took a deep breath. Really, she knew there was only one answer. "I would be honored to meet you in the ring, Teddy!" The Tigresa might have put a little more bass in her voice than usual, there, Teddy's enthusiasm bringing out a little melodrama of her own. "Besides, if I can keep up with someone like you in the ring, it might prove to some of my critics that I'm not over the hill, just yet! I'd be eager to see what I could learn from an encounter like that!" And beside- the girl, with all her youthful enthusiasm, reminded the Tigresa enough of her protege. There really might be something for the both of them to learn, from this.  Squaring her shoulders, Santa Tigresa offered her hand as a sign of respect, to seal the deal on the match.
Page 1 of 6 • 1, 2, 3, 4, 5, 6



Similar topics
---
Permissions in this forum:
You
cannot
reply to topics in this forum