Who is online?
In total there are
35
users online :: 10 Registered, 2 Hidden and 23 Guests :: 2 Bots
IndigoDragon
,
Iron Soldier
,
k0hryuu
,
Kelsea
,
Lobo
,
mnpinner
,
Mystery Dragon
,
SleeperAgent94
,
Vcom7418
,
xalex
Most users ever online was
155
on Sun Oct 09, 2016 8:33 am
Champions & #1 contenders
Belated Apologies
Sun Mar 26, 2017 9:58 am by Clobber Jobber
So, I'm not super fond of doing non-match threads because it messes with my organization, but I feel I owe everyone an apology. I just kind of up and dissapeared for, what, a few months? With the exception of one wave of posts, I've been super quiet, and a lot of threads have been held back because of me. So, I'm sorry to everyone about that, and I'm going to at least get another wave in.
To explain myself a bit, I've had a few things going on that slowed me down. For the first couple months, …
[
Full reading
]
Comments: 2
I'm starting my new job soon, so I'll be more free
Tue Mar 28, 2017 9:24 pm by TheWamts
Yes, I know that sounds fucking stupid, but with only one thing to focus on instead of 5 subjects and 5 groups, I should have more time to spend on the site, and so I'm open for new matches, send me a pm or I'm me on Trillian (same name thewamts if you don't have me already) if interested.
Comments: 0
Lucy's Debut
Tue Mar 28, 2017 8:11 pm by kagestar
Well what can i say really?
After the warm reception here i am looking for my first Character
Lucy Kage
to have her debut.
This doesn't have to be in the form of a debut match, though i am not going to say no to that of course, but it could even be that she appears at the end of another match etc. I want Lucy to arrive, not with a bang per se, but with more of a determined swagger.
I want her entrance to pretty much be believable, sellable but also meaningful. It sounds snobbish, especially …
[
Full reading
]
Comments: 0
Page 1 of 7 • 1, 2, 3, 4, 5, 6, 7

Standard Match: won by pinfall, submission, or count-out
Shido emerged from the back and darted towards the ring, running into it and sliding in beneath the bottom rope before many fans could even notice. The poor guy had been at AFW for a while now, yet he still had no entrance music. That was alright by him, though. He saved the flashy moves and technique for when he actually competed. Donning his blue wrestling trunks, he would run the ropes and then wait in his corner, eagerly awaiting the chance to throw down. He was all about trying to bring out the best in himself and his competitors, and he was eager to meet his opponent!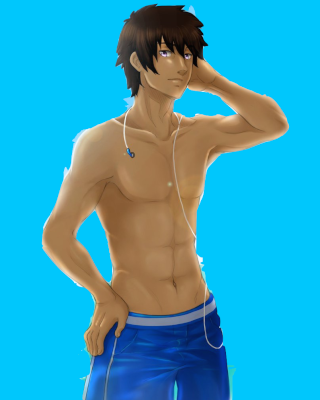 Tsumi was waiting for the signal to make her entrance as while she would not admit it but she was nervous for her first match in the AFW. So when she heard hard out their by Lilly Allen coming out of the speakers she knew it was time to make her first appearance for a AFW crowd. So as she walked out onto the ramp and towards the ring while wearing a blue shorts and a green tank top. ''Now making her way to the ring from Yokohama, Japan weighting around 150ibs it Tsumi Ama'' was heard as the announcer would introduce her while Tsumi would slide into the ring
Shido waited in his corner as his opponent into the ring. She seemed to be a woman that was reasonably fit, just what you'd expect from someone who wrestles as AFW. Still, it struck Shido as a surprise that he had never heard of her. He made it a habit to research most of his opponents before they faced each other in the ring. So he made an assumption and approached her after she slid into the squared circle.

Extending a hand to her for a handshake and smiling at her, he'd introduce himself. "Hi! Nice to meet you! My name is Shido. Is this your debut match? Let's make it an awesome one!"
Tsumi would just look around the ring as she head the crowd reacted to her debut as she would wave at them as she tries to calm herself down. So at first she did not notice her opponent getting closer towards her until he spoke and she would quickly grasp his hand and shake it as she did not want to show her hand before the match had even started.

''Well nice to meet you and my name is Tsumi. Yes this is my debut match and i hope to win my first match tonight''replies Tsumi as she would release her opponent hand and step back as she would do some stretching before the match would begin.
Shido was pleased to meet Tsumi. At a glance, she looked fierce, at least to him. The face paint and fangs might put off some people but he knew not to judge by appearance alone. "Good luck to you! Looking forward to having a great bout with you, Tsumi!"

Shido went back to his corner. Since he was already warmed up, he had no need to continue stretching. He waited for the bell to sound and thought to try his best. He was trying to strategize, but he had very little information to go off of. Tsumi didn't seem built like a brawler and there was no way of knowing her background in the ring or what her strong suits were. Shido was just going to have to wing it and see what he could learn.

When the bell sounded, he'd approach her while holding up both arms, assuming a stance and offering a chance to lock up with her. "So how do you plan on winning, tonight I wonder. he said as he simply spoke his mind.
Last edited by Winner3 on Fri Jun 17, 2016 2:41 pm; edited 1 time in total
''Wish i could saw the same to you but i want to win so hope you won't get lucky today''teased Tsumi as she would check her opponent out trying to figure out what kind of style he would use from his appearance.

So as Tsumi saw her opponent go back to his corner Tsumi would do the same as she would do some more stretching until she got a signal from the ref and then walked towards the center whit her hands up in the air. So as soon as the bell would ring Tsumi would circle around while trying to look for a opening as she saw that Shido was offering a chance for a lock up and she took it as she would just smirk at her opponent. ''Thats for me to know and for you to find out Shido''teased Tsumi as she answered her opponents question and would try to place her leg behind his and then push him over it.
Shido appreciated his Tsumi's teasing. It was lighthearted enough that he knew she meant no real harm, yet competitive enough to let him know she meant business. He smiled at her response before finding himself tripped up by her leg, which she placed behind his! He began to fall, but reacted quickly. By throwing his arms behind his head and kicking up as he met the ground, Shido would kip up and bounce back to his feet near instantaneously!

Upon making it back to his feet, he'd give her a dopey smile and then take a moment to resume his stance. If he wasn't countered and Miss Ama didn't pounce on him as soon as he got back up, he'd resume his stance and trying to dash towards her quickly, hoping to wrap his arms around Tsumi and lift her for a quick, effective bear hug!
Last edited by Winner3 on Wed Jun 15, 2016 9:29 pm; edited 1 time in total
AS Tsumi was locking up whit her opponent she did not expect it to be this easy to push him over but when it did happen she was about to take a step back when he just kip up and bounced back onto his feet. ''Seems you won't be easy to keep down Shido''replies Tsumi as she would take a step back and keep her distance.

So while Tsumi would be trying to keep her distance it seemed that Shido already had a plan and would rush towards her and attempt to wrap his arms around Tsumi and then lift her up as she was trapped in a bear hug for now.
Shido was able to shift things up in his favor early on, despite being tripped earlier. After closing the gap and lifting Tsumi for a bearhug submission, he'd respond to her earlier comment. "Haha, yeah sorry about that. I don't like to stay down." He would take this opportunity to up the pressure and squeeze Miss Ama's waist! She felt sturdy and fit, leading Shido to believe she was either a grappler or just all-around good at most things in the ring.

Regardless of what he could or couldn't learn, he would need to sieze this opportunity to do some damage. Flexing his arms and continuing to hug, he'd continue their conversation. "You have to admit, it'd be pretty boring if I stayed down so easily, no?"
Tsumi would try not to show any reaction of pain as Shido adds more pressure to his bearhug as he keeps their conversation going. ''Your right Shido it would be boring if you stayed down that easily but in my book any kind of victory is beter then defeat'' replies Tsumi as she hopes to keep her opponent talking as she would move her head backwards and then slam it against her opponent as she hoped the headbutt would allow her to get free.

If the headbutt worked Tsumi would likely roll towards the ropes to recover from her earlier actions while getting some distance from her opponent.
Page 1 of 7 • 1, 2, 3, 4, 5, 6, 7

---
Permissions in this forum:
You
cannot
reply to topics in this forum