Champions & #1 contenders
Highfly Flying Out Of Town
Tue May 22, 2018 1:31 am by HighFly
Hello everyone, I just wanted to inform all I have threads with that I will be gone from this coming Wednesday through Sunday. I won't be able to post consistently if at all during this time, but I will try to make up for it next week! I am sorry for the inconvenience to everyone.
Comments: 7
The Austrailian Mudslide is Back.
Sat Apr 21, 2018 6:20 am by Softsquad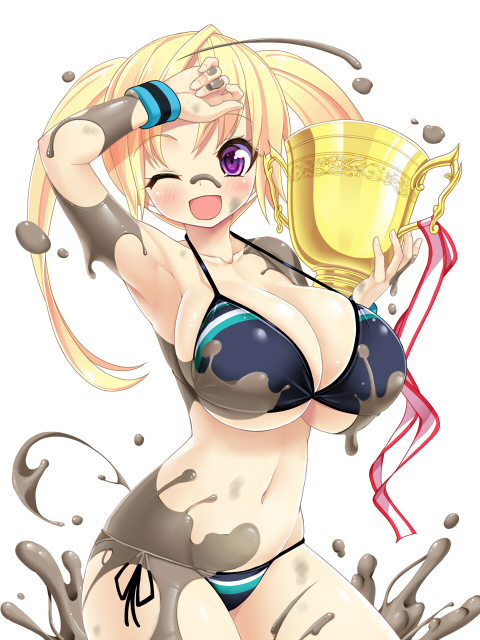 Granted that most of you won't know me or remember me, but I've had a few matches here and there some time ago. Well I think its time to become a regular around here and try to have some fun again, but at the same time keep coming back. Anyway I think its time to jump into some matches with Zoe Taylor, my mud wrestling character from Australia and get her back into the squared circle. Furthermore I will update my characters as I think some proper changes need to happen.
So if anyone would …
[
Full reading
]
Comments: 5
Page 1 of 3 • 1, 2, 3


"Gh!"

Gabbie's knee slammed hard into the heavy back in front of her. She had been training fairly ruthlessly once she found out she had a match at Summer Slam against some very familiar opponents. She took a step back and kicked the bag high as if she were trying to kick it off its mounting. She was always focused but she seemed particularly fired up today. Aside from the match, Julia's sister Jesse had shown up in the facility. The girl didn't seem very pleasant to be around from the brief exchanges they had had so far and Gabbie just assumed that Jesse thought that no one else was in the gym when she came and when she found Gabbie just didn't want to be rude.

While that alone didn't bother Gabbie, the young Canadian couldn't help but take any second she could to give Jesse a pretty mean stink eye. She had seen the girl's debut match against Alicia Wells and it had been a total disaster that ended in a knockout. Gabbie had pinned Alicia as someone who seemed to be one to watch and she thought she at least knew her stuff when it came to the art of the kick, but the way Jesse went down, Gabbie had almost been insulted. Of course she had seen it before, she had done it before, but those were always against girls who thought a few classes of Cardio kick boxing from Rodrigo at the local gym meant they were professional kickboxers. Jesse had claimed, or so Gabbie had thought, that her proficiency lie in kicks and, particularly, in Muay Thai striking.

What Gabbie had seen was an offense to her senses as a professional Nak Muay and as the two of them continued to share the same space it was growing harder and hard to hold her tongue.

"Rnnnngh!"

Gabbie kicked the heavy bag so hard she felt it in her shin and then suddenly stopped and pivoted. She looked at Jesse and marched over her, looking at the older cowgirl. "What... what the hell was that match you were in?!" She barked, scowling at Jesse. No doubt she was going to get reemed by someone eventually for her performance but if anyone deserved to have a part in it, Gabbie was sure she should be.
This morning had been Jesse's first time utilizing the Higurashi dojo's film room. She'd watched her debut match against Alicia Wells a few times, to see where things had gone wrong. Jesse had fought hard, but there had been a clear point when Alicia had taken firm control, and the blonde had been helpless to stop redhead's momentum from snowballing to the point that she was simply overwhelmed. Jesse had made a lot of mistakes leading to that point, but at the same time Alicia had simply been one of the best fighters she'd ever gone against, if not the best. The bruises on her face, ribs and leg were all testaments both to Jesse's mistakes, and Alicia's skill.

After feeling like she'd racked her head enough over it, she'd gone into the gym area to clean some of the equipment. She was pretty sure no one would be in there, so it'd be a good way to kill some time and clear her head a bit. In theory, at least. But as it turned out there was someone there already. Gabbie was giving the punching bag the beating of a lifetime. The loud smack of each strike echoed through the gym like a clap of thunder. Well, it wasn't going to be quiet after all. But Jesse could live with it.

So she set about to the nearest bench press station and started rubbing the leather bench over with a wet cloth. Jesse occasionally glanced over Gabbie's way, only to have a sour glare sent her way just about every time. What's her problem? Jesse thought to herself, but decided not to make an issue of it. She could guess at a few reasons Gabbie might be in a bad mood, but none of those guesses involved her. Maybe she'd just wanted to train alone, and Jesse was intruding..? Whatever. Jesse just needed to finish giving the gym a once over then she'd be out of here.

Just as she'd finished cleaning one bench and started moving on to the next though, she stopped and looked toward the ring as a crash louder than all those before it rang out through the room. The next thing she knew, Gabbie was marching right toward her. When the girl yelled at Jesse she was caught off guard to say the least, particularly because it seemed Gabbie's anger was related to Jesse's match.

"The hell're ya talkin' about?" Jesse asked, unsure why Gabbie was in such a foul mood over that match.
Gabbie sucked in a breath and tightened her fists so she wouldn't be inclined to gesticulate rudely at the cowgirl. She also didn't want to yell, but it was hard to control her distaste at the scene of Jesse laid out on the canvas that she had burned in her mind.

"I saw your match." Gabbie said sternly. "I can't believe you let yourself get set up for a knockout kick with one knee to the gut! It's like... you've never even fought before!" Gabbie chewed on her words and shook her head, trying really hard to reel it back. "I heard you had some Muay Thai training and I was excited. I saw your match and... There's no way you've studied Muay Thai."

Gabbie lowered her head, her eyes falling to chest level with Jesse. "What happened?"
Jesse listened as Gabbie spoke. She felt awkwardly moved that the girl had been excited to hear she had Muay Thai training, only to immediately feel like she'd been slapped in the face with the very next comment. Jesse wasn't immediately sure what to say or do in response.

When Gabbie asked what happened, Jesse sighed and set the cloth down on the bench, then crossed her arms in front of her. "You don't know how strong that girl's legs were. It was...unreal," she said, looking down toward the ground as she recapped what had gone down. "She wore my ribs down a bit with a scissor hold earlier. But after that knee hit, I couldn't breathe at all. I thought a lung might've collapsed. Saw the kick coming, knew how to deal with it. But in that moment all I could will my body to do was put up an arm. Three head kicks later, I was out."

Jesse paused, then looked up at Gabbie again. "Look, I'm not going to sit here and make excuses, alright? I gave way too many openings to a girl who had at least twenty pounds on me and enough leg power to put a mule to shame. That's on me. But don't try to tell me I've never studied Muay Thai just because of that. It's just one match. I'll learn from it and get better. It's no big deal."
"I know how strong her legs are." Gabbie retorted plainly. "Because I know how strong mine are. That's what a Nak Muay does. Going for the shins is pointless, but working the body... that's just the basics. It doesn't matter how tough they are if they can't catch their breath. That's when you set up the KO kick." The steps were practically mechanical to Gabbie and she couldn't believe she had to explain it to Jesse.

"It IS a big deal!" Gabbie said when Jesse was finished. "Of course you learn and not everyone wins all the time, but that... I don't care how much power someone has, you don't go down from one Knee strike! Even if you do, you had to know what was cling afterwards. Dodge, block, something!"

Gabbie shook her head. "It was painful to watch." Gabbie said finally. "That's what upsets me. There was nothing in that match that showed me you knew one bit of Muay Thai. You let her bully you around like you stood no chance."
Jesse rolled her eyes as she listened to Gabbie. "I get how it works! And if you really knew how strong her legs were, you'd know one knee strike is all she needs. I did know the kick was coming. I tried to block it, but the best attempt I could muster then wasn't enough to help."

She groaned a bit and rubbed her eyes with her thumb and forefinger. She didn't want to admit it, but part of her had quickly figured out in that match just how much of a disadvantage she was up against. Jesse was a confident girl, but even she wasn't sure she'd stood a chance. If she did, it wasn't a very strong chance. "I tried. I fucked up. What do you want from me, an apology? Fine. Sorry. Happy now?"
Gabbie's reply was easy. "I want you to be good enough so it doesn't happen again. If you're here, you're part of this dojo and if you're part of the dojo then what you do in the ring reflects against all of us. If I don't make sure you're the best when I have the skills, then it's my failure too."

It might have seemed weird for the young Desjardin to be scolding the older Rogers but Gabbie seemed comfortable.
Last edited by Tatyina on Tue Jun 07, 2016 8:21 pm; edited 1 time in total
Jesse sighed again as Gabbie spoke, though it probably sounded more like a groan. It hadn't been her idea to try to work with the "big leagues" to fix their family's issues, and now that she was here she was suddenly expected to be a reflection of one of the most famous training grounds in wrestling. It gave her a headache just thinking about it.

She started opening her mouth to retort, but stopped when Gabbie's words put a new thought into her head. A peculiar one, but now that it was there Jesse couldn't ignore it. "Are you offerin' to train me?" she asked. Even if Gabbie was younger, she still had more experience than Jesse. It would be a sting on her stubborn pride to ask for help, but by Gabbie's analysis of her debut match, it seemed apparent Jesse needed it...
Gabbie nodded. "I will, if you can handle it. It won't be easy." Gabbie said. "You're my kouhai after all. It's my job to make sure you succeed!." It kind of felt good to say that, but she wasn't trying to rub it in. She stepped forward and took Jesse's hand and pulled her to the center of the mats.

"Are you ready now?" Gabbie asked.
From the way this conversation had started out, Jesse never would've guessed she'd feel so...accepted by the end of it. She knew Junko had been happy to help them out, but actually integrating to the point of genuinely becoming one of the dojo girls hadn't seemed all that likely to her before. But here Gabbie was, addressing her as a kouhai. Jesse didn't really know what exactly a "kouhai" was, though the context helped her put two and two together well enough.

After she was pulled out to the mats, Jesse briefly glanced back over to where she'd left the wet cloth. She'd only just started cleaning, but then again it seemed like only Gabbie had made use of the gym so far. So there wasn't much that needed cleaning, and she could just dump it on Josh later if absolutely necessary. So, she looked at Gabbie again and nodded. "Yeah, I'm ready," she replied.

Suddenly the eldest Rogers sibling found a twinge of eager anticipation running through her. A moment ago everything Gabbie said was just further annoying her. Chances were that wouldn't change much before the day was over, but Jesse now felt like she had a stronger sense of purpose. It made her excited to see what Gabbie had in store for her.
Page 1 of 3 • 1, 2, 3


---
Permissions in this forum:
You
cannot
reply to topics in this forum