Champions & #1 contenders
Moonhearts Promo intro thread is O p e n.
Mon May 21, 2018 4:21 am by XSirenX
Feeling brave?, lost?, or without a thread to post in?, hit up the newest Moonheart if any of those apply!
CLICK HERE
What Moon has to offer?, many things...:
Comments: 0
The Austrailian Mudslide is Back.
Sat Apr 21, 2018 6:20 am by Softsquad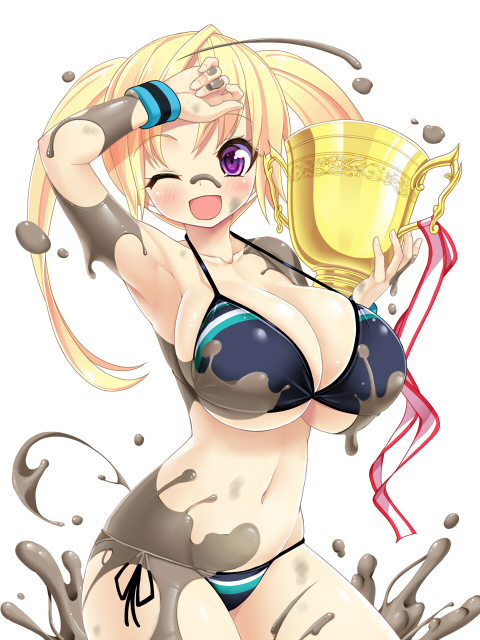 Granted that most of you won't know me or remember me, but I've had a few matches here and there some time ago. Well I think its time to become a regular around here and try to have some fun again, but at the same time keep coming back. Anyway I think its time to jump into some matches with Zoe Taylor, my mud wrestling character from Australia and get her back into the squared circle. Furthermore I will update my characters as I think some proper changes need to happen.
So if anyone would …
[
Full reading
]
Comments: 4
Page 3 of 4 •

1, 2, 3, 4


Delicious.

Cindy had only landing one blow in the entire match so far, and already she could tell that she would greatly enjoy beating obedience into the rebellious upstart. Alicia's generous chest made the perfect target for her shins, soft and welcoming, along with a worthy, sonorous crack to accompany it.

But that wasn't the best part. No, the crown jewel, the piece that held the whole thing together, was the look on Alicia's face, the gaze of burning, undying hatred. She coveted that, and what Cindy coveted, she wanted more of. Much more.

She took in Alicia's measure as the redhead tried to rise up, slinking around the ring and keeping just out of her striking range. She could already tell their styles had some similarities - Cindy was also proficient with her legs and she'd often been known to put them to similar uses. Alicia's were obviously more powerful by a grand degree, though, and she couldn't keep a bit of jealousy mixing in with her worry. All the more reason to keep her low.

As strong as those thighs were, they were also somewhat convenient. They told Cindy exactly where to strike.

She allowed Alicia to start standing up, then quickly stepped in and dashed to her side, trying to make it to the kickboxer's flank. From there, she threw out a quick, low kick, aimed at Alicia's hamstring, designed to bring her down again and target her great weapons.
Just because Alicia knew what Cindy was doing didn't make it ineffective. In some ways, it made it worse as she waited for the next hit to come in. She knew the other woman wasn't going to let her get to her feet. It was just a question of when she'd strike and where and every nerve of the redhead's body was waiting, tense and ready, to feel the sting of that next blow.

Would it be the head? Her chest again, which was still stinging from the abuse it had taken so far?

She didn't know, couldn't know, and the best defence was to get back on her feet as fast as possible.

Alicia did her best, but she still wasn't solidly on her feet when Cindy came scampering in. She tried to turn, almost managed it, only for her leg to give out under her – dropping her back to one knee as the smaller sister's foot hammered into the back of her thigh. She didn't make a sound otherwise, but now the redhead knew she needed to do something sooner rather than later.

Too many hits like that and her leg would start to cramp. She'd be willing to bet that Cindy Won knew that and she wouldn't be at all surprised if she was doing exactly that – looking to demolish Alicia's legs. Well, better women than her had tried.

Growling, she started to climb back up again, only to abandon the attempt half way up in favour of shooting forward in search of a double leg takedown that'd do plenty to even the playing field.
_________________
Friction -
Alicia Wells
- Kickboxer, Mixed Martial Artist and Scissor Queen
Friction -
Samiya Kusanagi
- Submission Specialist, The 'Schoolgirl Assassin'
"Scream, dog!"

Cindy's blow landed squarely and clean, did all that it needed to do. Alicia was clearly hurting, so she was going about the right tactic. While the redhead was a threat, a kickboxer without her kicks would be notably less intimidating. A good start on the way to make her dead weight and forcing Mikayla to drag her along.

An admirable effort, but unsatisfying. Alicia refused to make the noise Cindy craved. A dog should yelp when struck, after all. No dignity. No grace.

"Did you not hear?" Cindy began to stalk around her prey once more, zeroing in on the target with a hungry wolf's gaze. "I said-"

Before her order could be completed, Alicia surged forth with new life and crashed into her, taking her down with a swift double leg takedown. Panic immediately set in: Cindy was no waif, but Alicia was a good deal larger and stronger overall, with more weight to work with. She'd been informed of the horror stories from the gym, as well, and knew that this was hardly a position to be envied.

Eager to escape, Cindy scrambled underneath and tried to push her off enough to deliver a couple of quick elbows in the face. With any luck, it would give her enough room and time to slide her way out and get back up. Well-earned freedom.
Oh, Alicia had very definitely heard every word – including being called a dog, again.

That did a good deal towards fuelling her switch back to the offensive, leading to the extremely satisfying feeling of catching the Won Sister off guard and slamming her back to the mat with authority.

That felt good.

Now she just needed to capitalise.

Cindy needn't have been as panicked immediately as she seemed to be – going to the ground with Alicia on top of her was definitely not a position that most wanted to be in with the powerfully built redhead, but there were decidedly worse places to be. The key thing was that, while the takedown did indeed set one of them up to immediately pull guard, it was actually Alicia who was in the cradle of Cindy's thighs. Had the other wrestler stopped to think, she could have easily slapped a bodyscissors on Alicia or tried for something else.

For Alicia to scissor her, the redhead would have to move up to a mount position and then roll them over to snare her legs around Cindy. She'd done it dozens of times to the point it was basically a reflex action for her, but it still took that time to move up and over.

Not that the Chinese woman would have been advised to stay put but she could have done things differently. Perhaps should have done. As it was, it was a race between Alicia trying to shoot up and pin the smaller woman under her bulk while Cindy scrambled to get out of the way before that happened.

The elbows to the face, rocking the redhead back, did a good deal to sway the outcome. Before the kickboxer could get past Cindy's guard, she took one shot, then another, rocking her back and giving the Won Sister a chance to make her escape.
_________________
Friction -
Alicia Wells
- Kickboxer, Mixed Martial Artist and Scissor Queen
Friction -
Samiya Kusanagi
- Submission Specialist, The 'Schoolgirl Assassin'
No, this would simply not do. Not at all.

Cindy and Bridget did their best work standing, or at least on top of their opponents. In particular, Cindy thrived when she had control of a situation, could dominate her foe at will and set the pace. Alicia was bucking that trend, however, with her sudden burst of energetic offense. Such passionate comebacks could prove troublesome.

There was a tense moment of panic, as Alicia rushed to take advantage of the position and Cindy rushed to take said advantage away. This time, the Won Sibling was a little quicker on the draw. Just barely.

The elbows were inelegant, but effective, and served their purpose well, creating a temporary opening that Cindy eagerly employed to slip out of Alicia's grasp.

Freed, but still on her back, she sought to put some more space between them by shooting her leg out and hitting Alicia square in the chest, then quickly grabbing the ropes to pull back up to her feet and reset. All the while, she tried to maintain her composure and dignity, but keeping the panic in her eyes hidden was no easy task.

Shaken as she was by those elbows, Alicia wasn't in position to stop Cindy making good her escape. The Won sister scooted back, before lashing out with a kick that took Alicia right in the chest, earning the woman a hiss of pain as it melded with and reawakened the earlier stings.

It also rocked the redhead back onto her haunches, then onto her curvy butt – the angle and such had taken a lot of the force out of the blow, but equally Alicia was far from in the best position to take it. Thus, while it hadn't hurt that much, it had very definitely put her out of position to catch her slippery opponent.

Still, she'd put the fear of her into Cindy and got her off her back for what Alicia hoped would be long enough to get back on her feet. And then it'd be an entirely different ballgame. She'd already made Bridget scared, now she was planning on doing exactly the same to her sister as well.

So, while Cindy pulled herself to her feet, the kickboxer quickly rolled away from the sisters' corner, because that was a bad place to be. Instead, she did her best to move towards a free corner, where she could use the ropes to get to her feet.

She'd taken a few hits, but she was still very much in this match and she meant to prove it.
_________________
Friction -
Alicia Wells
- Kickboxer, Mixed Martial Artist and Scissor Queen
Friction -
Samiya Kusanagi
- Submission Specialist, The 'Schoolgirl Assassin'
Freed, Cindy grabbed the ropes and pulled herself up, taking a moment to straighten her hair and breathe easy as she did. A small part of her wished Bridget had been the one to come in second instead. This sort of roughhousing was always more her speed. Always the hardier one between them.

She had little time to contemplate it, however, before Bridget drew her attention. ["Sister,"] She called out. ["The corner, the corner!"]

Cindy didn't even need to look behind her to know what Bridget was on about. Alicia was getting up in the corner - a simple move, but one that left her more open than she might have realized. A golden opportunity was showing itself, a way to continue hammering their chosen target.

She spun around and dashed towards Alicia as the redhead was pulling herself back up. Instead of running straight into her, though, Cindy ducked down and slid under the ropes beside her, grabbing Alicia's ankle as she passed to try and trip the bigger woman up.
Unlike Cindy, Alicia didn't bother straightening her hair; one of the other perks of short cut locks.

Instead, she did her best to get back up as fast as she could, although the time it took her to get to the corner dragged that out a bit longer than she'd have liked. Still, she was making good progress.

More or less on her feet, the redheaded amazon readily saw Cindy making a beeline for her. And made the wrong guess, bracing herself and bringing one boot up in an attempt to shorten the Won Sister by a head. Which she could well have done if Cindy hadn't – rather elegantly – gone into a baseball slide that took her well out of danger as she ducked.

And that would have been bad enough if the kickboxer hadn't promptly felt a hand snag on her ankle. Cindy's. With a good deal of speed and momentum behind it.

Ah. She had just enough time for a look of shock to cross her features, one that would doubtless warm the cockles of Bridget's black heart, the only Won sister in a position to see it.

Caught with one foot off the ground and her stance in a state that'd have her tutors facepalming heavily, Alicia staggered then toppled forward like a giant tree falling to its doom. The best that could be said about her landing was that she managed to turn her head to the side, avoiding smashing her nose into the mat, and took some of the shock on her hands. Otherwise, she lay there for a moment, groaning, adding yet another reason to her list of why she was going to break this woman.
_________________
Friction -
Alicia Wells
- Kickboxer, Mixed Martial Artist and Scissor Queen
Friction -
Samiya Kusanagi
- Submission Specialist, The 'Schoolgirl Assassin'
From ringside, Bridget egged her sister on with another cheer, glad to see they were still on the same wavelength. This was the typical way matches went, with the two of them using their unique skills and unbreakable cohesion to fluster less experienced enemies. Individually, they might not have been able to overcome their opponents, but like a bow and arrow, they were deadly together.

...though they had lost before, yes. Such things were in the past.

In the present, they were dominating, as Cindy clearly showed from her deft move. To Alicia's credit, she fought to keep her balance, but gravity had its way with her all the same and dropped her flat into the canvas. Embarrassing enough by itself, but Cindy was far from finished.

"Come along, dog," Cindy hissed and grunted as she tugged Alicia's tree trunk of a leg outside the ring, bringing it next to the ring post. "I have a lesson to teach you."

With a gleeful smile on her face, she pulled Alicia's leg to the side and prepared to ram the side of her knee into the metal post, a move that was gauranteed to change the dynamic of the entire match in the Won Sibling's favor.
Down on the canvas, Alicia was busily pulling herself back together again after the shock of the fall. It had chiefly been the surprise that shook her, because she'd been able to cushion her head from the worst of the blow, but she'd still been taking a continued beating without much time to get herself back in the game. Her leg was sore, her breasts still stung, her hair felt like Bridget had been trying to rip bits out and there was still that deep ache in her groin.

None of it was even that debilitating by itself, but all of it added together was certainly starting to slow her down.

Let's just say that the redhead wasn't exactly being snappy about getting back to her feet, shall we?

Of course, Cindy might just have had something to do with that, her hands still claiming Alicia's ankle as their property.

To be honest, she wasn't quite sure what the other woman had in mind. But her imagination could conjure up some thoroughly nasty ideas – slamming her knee into the post. Grabbing the other ankle and pulling her so the ring post slammed into her already abused crotch. She'd seen a match where someone used a ringpost as part of a figure four leglock. None of them appealed at all.

Even taking a metal post to the knee would be a decidedly unpleasant experience.

Dazed Alicia might have been, but she wasn't totally out of it. And her leg was still in great condition – she wanted to keep it that way too. Before Cindy could change that, the kickboxer yanked her trapped limb back towards her as hard as she could, in an attempt to introduce the Won Sister's skull to the steel ring post instead of her knee.
_________________
Friction -
Alicia Wells
- Kickboxer, Mixed Martial Artist and Scissor Queen
Friction -
Samiya Kusanagi
- Submission Specialist, The 'Schoolgirl Assassin'
Page 3 of 4 •

1, 2, 3, 4



Similar topics
---
Permissions in this forum:
You
cannot
reply to topics in this forum