Champions & #1 contenders
Highfly Flying Out Of Town
Tue May 22, 2018 1:31 am by HighFly
Hello everyone, I just wanted to inform all I have threads with that I will be gone from this coming Wednesday through Sunday. I won't be able to post consistently if at all during this time, but I will try to make up for it next week! I am sorry for the inconvenience to everyone.
Comments: 7
The Austrailian Mudslide is Back.
Sat Apr 21, 2018 6:20 am by Softsquad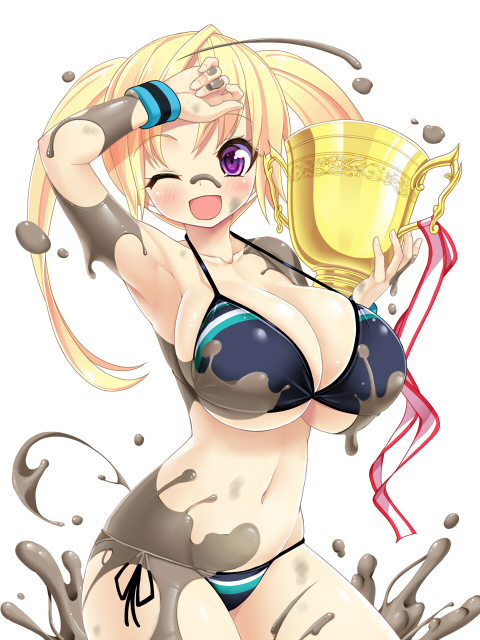 Granted that most of you won't know me or remember me, but I've had a few matches here and there some time ago. Well I think its time to become a regular around here and try to have some fun again, but at the same time keep coming back. Anyway I think its time to jump into some matches with Zoe Taylor, my mud wrestling character from Australia and get her back into the squared circle. Furthermore I will update my characters as I think some proper changes need to happen.
So if anyone would …
[
Full reading
]
Comments: 5
Moonhearts Promo intro thread is O p e n.
Mon May 21, 2018 4:21 am by XSirenX
Feeling brave?, lost?, or without a thread to post in?, hit up the newest Moonheart if any of those apply!
CLICK HERE
What Moon has to offer?, many things...:
Comments: 0
Page 4 of 8 •

1, 2, 3, 4, 5, 6, 7, 8


Nobody'd told Army what Alicia's style of fighting had been before they'd started to go at it, but he was getting a feel for it in a hurry. She was definitely a step above the recruits and walk-ins they tended to get off the street. Good jab, and most of the newer girls would've steered clear of his jabs rather than trying to parry them. She had good reflexes. She'd been in a boxing ring before, and she'd probably done pretty well in it.

A ladyboxer. Nice to meet another one besides Carmen, but nothing he couldn't handle.

When she started to move around his flank, he got his shoulder up, getting ready for a strike upstairs. Alicia came knocking at the bottom, though, with a swift kick that landed right on the side of his knee.

Quick. Crisp. Sharp. A ladykickboxer, then. That could be more of a problem.

Army hopped away with a hiss, taking a hot second to bounce his leg and test it out. The blow stung, but it could've been worse. Not that he wanted to know just how much worse it could be - too many strikes to a spot like that could mess him up all over. Had to keep things close, force her to work in his style, not hers, and maybe - just maybe - get a hold of her, if he could. If that worked, things would get really interesting.

For now, he gave his leg a quick shake, then moved back in, trying to close in as fast as he could with a long, powerful stride. He threw out another jab towards her face, but this time he mixed it up - before it could hit the target, he ducked down and threw out a right hook, targeting her ribs with a fierce body blow.
The thing about fighting boxers, Alicia had found, was that… Well, when you were a hammer, everything looked like a nail to be hammered down. That was basically it in a nutshell. They were used to throwing punches so, when they got into a fight, they initially assumed everyone else would be as well. A smart boxer wouldn't keep doing it but, just like Army, there was that temptation to think it'd be a fist coming your way. And that was one of the reasons Alicia thought she'd be able to slip a kick through.

And she'd been right – Army had brought his shoulder up, thinking she'd go for the head again, and her foot had flashed in below and hit him square in the side of the knee. She hadn't been able to wind up properly, hadn't been able to put everything into the blow, but the backwards hop and pained grunt were plenty enough of a reward. His leg almost certainly hadn't liked that one.

She was going to want to do it again, for different reasons for when she fought Valley. With Valley, it was the blonde's speed and dangerous legs that Alicia needed to neutralise. Her own speed was her big physical advantage here, so slowing him down would just make it easier for her to pick him apart.

Not that Army seemed inclined to just let her do that, and a moment later he was coming right at her again. Alicia backpedalled again, looking to keep away from that jab, but it proved to be a feint. The one headed for her ribs was the real attack and the best that the redhead could do was twist, spinning on one foot and planting the other behind her to minimise her profile.

So, while she took the hit, it wasn't as bad as it could have been. It was still bad. Army hit like a truck, there was no other way to put it, and she was going to have to make sure he didn't land anything like that to her head or she was probably done.

As it was, the kickboxer staggered back, her ribs cursing her with every breath. Eyes narrow, smirking through the pain, counting on Army wanting to follow up, she swept her leg up and in with a fearsome roundhouse kick aimed at his ribs in turn – two could play at that game.
_________________
Friction -
Alicia Wells
- Kickboxer, Mixed Martial Artist and Scissor Queen
Friction -
Samiya Kusanagi
- Submission Specialist, The 'Schoolgirl Assassin'
Army swung out, aiming for Alicia's ribs, tightening his fist for the impact, and wound up hitting what he was looking for. Sort of.

Whiffed it. An irritated grunt escaped his lips as she managed to move just in the nick of time, taking away some of the power from the blow. Sure, he got some of it, managed to make some damage, but he almost would've preferred to just miss the blow entirely. A punch that didn't land right was like a song that ended half way through. Felt wrong.

But, oh well. He could always follow up and make it worse. If, at first, you don't succeed…

Army moved in, right as a crack of thunder shook the building, and started to reel back for a right cross. "Can't run for-"

Big mistake. Bringing up his arm left his flank open, and in that flash of a second, her leg came up and tagged him right in the ribs. He'd taken plenty of hits there before, more than he could count from heavy hitters, but those had all been punches. This was harder. This was a kick. A fast kick. A hard kick. A lightning strike of a blow.

Army had a short yelp and threw out his right cross anyway, going for her chest, but it was mostly to make her back off while he jumped back and and winced at the fiery ache in his side, taking a moment to deal with it.
Alicia had expected Army to try and land another hit. Because he was a boxer, a fighter, and he'd want to follow up on the advantage. She hadn't counted on him being as aggressive as that and it made sure he walked right into her kick. He'd even brought his arm up, meaning he had absolutely no chance of blocking it at all.

Fantastic. Alicia hadn't been able to spin to get the most momentum behind the kick but it still slammed home with plenty of force and speed behind it. Right into his ribs and his reaction was exactly what she'd expect. That yelp – he hadn't expected that one at all. He still followed through on his attack but it was rushed, half-baked, and the big redhead hopped back herself getting out of the way.

And then she came right back in again, unwilling to let him recover and start pushing again without at least giving him another taste of her kicks.

Sliding in fast and hard, Alicia twisted as though she was building momentum for a full roundhouse. But, as her foot came across her body, she used that to chamber her leg back and snap it out in a side kick aimed at his ribs again.
_________________
Friction -
Alicia Wells
- Kickboxer, Mixed Martial Artist and Scissor Queen
Friction -
Samiya Kusanagi
- Submission Specialist, The 'Schoolgirl Assassin'
Army had only taken a couple of kicks from Alicia so far, but he was already fairly certain he'd live a happy, productive life if he never had to take one again. Which was kind of a shame, since he was also fairly certain that he'd be taking quite a lot more before they were through.

Like that one. The one coming towards his ribs. Because Alicia wasn't the type to waste a good opportunity. His sort of woman.

To his credit, he managed to get his arm down in time to block her roundhouse kick. To her credit, she wasn't really trying to hit him with a roundhouse kick, but a sidekick, which went around his guard and landed, anyway.

Damn it.

Army stumbled away from Alicia and would've stumbled further if not for the ropes, getting in the way. A little reminder on how close he was to the edge and how good she was at making him lose real estate. That had to end. Soon.

Army smacked his fists together and soldiered through the growing pain in his ribs, moving backwards Alicia once more. His fists were still up, looking for all the world like she intended to go with the same strategy, but he had more options than people gave him credit for.

Options like, say, a kick. Not his speciality and damn sure not something he'd rely on much with this fight, but he found they were a good way to shock opponents who thought his only tools were above the waist. That was what he was counting as he suddenly pulled back, brought his leg up, and shot it out with a push kick towards Alicia's stomach. Simple. Blunt. Effective, if it hit. Wouldn't have the grace or speed she could probably put on that kind of move, but the element of surprise might make up for it.
And that'd be another hit to the ribs. It was a good solid hit too, a nice start on the strategy Alicia always liked to follow. Keep working the ribs, wear them down, soften them up for the kill. Not that she needed to and she could adapt as Valley had found out, but it was a good starting point while she worked out what she needed to know about a given opponent. Particularly one like Army – take out his legs and stop him breathing and suddenly all that strength wouldn't help one bit.

Too bad about the ropes, she'd really have liked to have a bit more room to work him over. Oh well.

This time, she moved in to meet him, contemplating a knee to those ribs. Except he got there first.

Alicia's violet eyes had been firmly fixed on Army's hands, raised for another punch she'd bet. He'd not thrown anything but punches. He was a boxer. So, while she'd flicked glances down at his feet, she'd been looking for signs about what he was planning. She certainly hadn't been expecting him to kick and she paid for that complacency when the Latino boxer did just that. True, her stance let her get an arm in the way and – as kicks went – it wasn't a very good kick. She could have done it much better, done much more damage.

It still knocked the wind right out of her and left her staggering back in turn, that blocking arm clutching at her stomach as she wheezed for a moment. It wasn't as bad as it could have been but it certainly left her off-balance and trying to regroup before he hit her again.

Oh, and vowing he wouldn't catch her off-guard like that again.
_________________
Friction -
Alicia Wells
- Kickboxer, Mixed Martial Artist and Scissor Queen
Friction -
Samiya Kusanagi
- Submission Specialist, The 'Schoolgirl Assassin'
Carmen noticed the silence more than anything else. She was so used to the chatty fights and the road of a crowd that she'd almost forgotten how quiet a match could be. Just the sound of feet tapping against the mat, racing along the canvas. She could hear each hot breath puffing out of their mouths as they started to ramp things up, their bodies getting ready to move past the initial phase and get into the meat of the fight. Good stuff.

She checked her watch and held up a finger. "One minute down."

If Army heard her, he didn't show it. His eyes were locked on Alicia as she stumbled away, giving him a precious opening, ripe for the taking. The only question was what he'd do with it.

He could punch her. Might even connect. Might even knock her for a loop...for a moment, anyway. And then she'd recover and go right back to kicking him in the bones. His poor tender, aching bones. No, he had to do something to take her legs out of the equation, make it more about the upper body. He could put her down with a couple of good punches, he knew it, he just had to land the damn things.

Army had an idea, and like all his ideas, he gave it a nanosecond of deliberation before he put it into action. While Alicia was moving back, he charged forward the second his foot touched the mat again, closing with a long stride. He could've thrown a punch at her or tried another kick - he didn't. Instead, he tried to lock up with her and force her into a clinch, with the intention of pushing her into a corner.

The theory was that he could trap her there, work her over and not have to worry too much about her kicks battering him about. Of course, just because an idea sounded good in his head, didn't mean it would follow through in practice.
For her part, Alicia was too busy sucking vital air back into her lungs and getting her breathing back under control to pay much attention to Carmen on the outside. Bad technique or not, Army hit like a tank and that kick hadn't done her midriff any good whatsoever. So there was that. And getting her breathing back into rhythm was a much-underrated but vital part of a fight.

She was also busily worrying about how he'd follow up, because she knew she'd be following this up and Army seemed to be just as aggressive as Alicia herself was. She knew how she'd follow up, because she'd have already been throwing the next kick, but Army? Well, that was the question – she was half expecting a punch, so she kept the arm not cradling her belly in a mid-guard to ward off any of those.

But the British amazon wasn't kept waiting for long before she found out. Almost before she knew what was happening, he was coming right at her. Her blocking arm came up to intercept the punch, followed by the other, but he wasn't trying to punch her. Instead, Alicia found herself in a clinch, Army starting to shove her back before she managed to get her feet under her. Even then, it was only a matter of seconds before he started pushing back again.

Well, if he insisted.

She let him push him back on one side.

But she was just setting up her counter.

Twisting hard at the hips, Alicia brought a knee up and curved it in at his ribs right where she'd just been kicking him. She didn't need the distance she'd have needed for a straight knee and he'd probably be expecting that anyway. But if she could catch him in the floating ribs…

Well, she'd keep on doing it.
_________________
Friction -
Alicia Wells
- Kickboxer, Mixed Martial Artist and Scissor Queen
Friction -
Samiya Kusanagi
- Submission Specialist, The 'Schoolgirl Assassin'
Army's little experiment had some mixed results.

On one hand, it was a solid idea in theory, and the first part of it had worked well enough. He managed to lockup with her, just like he wanted, catching her with a tight clinch. Maybe if they were closer to the corner, he could've even gotten what he wanted. Press the size advantage a bit, muscle her back and trap her.

If he had another chance, he'd try it again. Assuming he didn't wind up wallowing on the floor while he nursed his battered ribs, of course. As she fought back against him and started to twist around, he wasn't too sure on that point.

He knew she was going to go for his ribs. It was what he would do, if he was as big into kicking and kneeing and using his legs as Alicia clearly was. He knew she'd hit the same spot she'd targeted before, and he knew it would suck. Royally.

Knowing didn't help. Not one bit.

Her knee came into his ribs, and the pain was like raw voltage coursing through his innards. Nothing broken yet, but the potential was clear, and it was making this clinch less and less of a good idea. Another fiery knee to his side reinforced that notion. Even if he could get her to the corner, he'd be too aching to take advantage.

But they were doing this freestyle, and while Army was a boxer, he wasn't just a boxer. Not anymore. Digging into his toolbox had worked out well with the kick, so...

After the second knee struck, he started to slide down Alicia's body, as if the blow was taking its toll - which it was, goddamn it was, but that wasn't the reason he was dropping. He wrapped his arms around her body and pulled her in close, squeezing her tight for a second, and then he exploded upwards, lifting her up off the ground.

Army arched his back, jerked upwards with a mighty yell, and tried to send Alicia up and over with a catch-and-release belly-to-belly suplex. She was heavier and more solid than his typical opponents, but he was sure he could get some decent hangtime if it worked, tack on some decent damage.

Plus, it would be funny.
One knee, two knees…

Alicia didn't really pause between her strikes, she just reset and kept them coming as Army started to slump.

Which struck her as odd because she'd pegged him as tougher than that but she didn't have much time to think about it before his arms looped around her waist, pulling her up flush against him.

The squeeze, right where she'd just been kicked, earnt him a breathless hiss as Alicia's ribs groaned but as it turned out that was the least of her worries. It only lasted for a second and then her feet just left the ground and Alicia was airborne. Given her relatively light wrestling experience, she did her best to counter – going to hook her leg around his – but she was out of position and more importantly she'd had to think about it. By the time she remembered what she needed to do, it was too late.

The lights flashed above her. The pressure around her waist vanished. For a heartbeat, she flew.

Then the big redhead slammed into the canvas, shoulder first, flopping onto her back.

That hadn't been fun at all. The part of her brain not occupied with everything hurting again was pretty impressed though. Given she'd just driven four hits right into his ribs effectively, that had been some pretty good lift he'd put into that.

And she really needed to learn how to stall suplexes.

Despite that, she was still fresh and, despite the aches, Alicia hadn't any intentions of staying where she was any longer than necessary.
_________________
Friction -
Alicia Wells
- Kickboxer, Mixed Martial Artist and Scissor Queen
Friction -
Samiya Kusanagi
- Submission Specialist, The 'Schoolgirl Assassin'
Page 4 of 8 •

1, 2, 3, 4, 5, 6, 7, 8


---
Permissions in this forum:
You
cannot
reply to topics in this forum