Champions & #1 contenders
Summer Splash interest in Natasha Loclear?
Mon Apr 09, 2018 11:30 pm by daemongirl
Well my girl hasn't missed a summer splash yet, would anyone be interested in a match with her? Open to just about anything match wise, just pm me!
Comments: 1
Been Out with the Flu
Sun Apr 22, 2018 7:47 pm by daemongirl
Just letting those I have threads with know I've been out with the flu since early last week, but I will be back to posting tomorrow.
Comments: 0
The Austrailian Mudslide is Back.
Sat Apr 21, 2018 6:20 am by Softsquad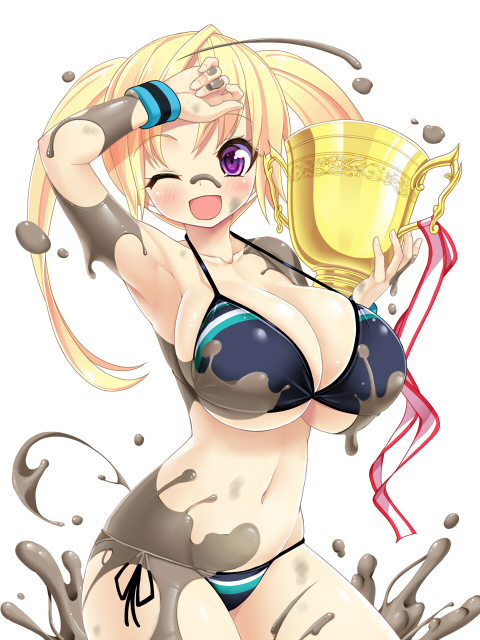 Granted that most of you won't know me or remember me, but I've had a few matches here and there some time ago. Well I think its time to become a regular around here and try to have some fun again, but at the same time keep coming back. Anyway I think its time to jump into some matches with Zoe Taylor, my mud wrestling character from Australia and get her back into the squared circle. Furthermore I will update my characters as I think some proper changes need to happen.
So if anyone would …
[
Full reading
]
Comments: 0
Page 3 of 4 •

1, 2, 3, 4


Eka blinked. She could not imagine a hardcore match, let alone winning one. Ashura and Mariam and Cecilia did enough damage enough without weapons and the Georgian girl could not imagine what it was like to be hit with a baseball bat. Eka could never swing a baseball bat in anger, not even to win a match. She wondered if that was why she was on quite the losing streak for exactly that reason. Her eyes were cast downwards as she reflected on her losses. A certain disquiet pervaded her. She was young and jovial and giddy and carefree. Perhaps it was time to get more serious. But did it mean cheating? Her code of honor was uncrackable, at least she thought.

"I, uh, have never cracked anyone's ribs. There was one time, when someone tapped and I didn't see it, but if I had seen it I would have let her go, but what can you do?" What can you do? The question rang, full of pithy sadness. The quiet joy of just a minute ago faded. She shifted in her chair to try and comport herself and tried to make eye contact a few times. After a few attempts she made it and held it. "How did you beat Silver Ace's protege? Silver Ace is quite good." Alicia would not be blamed if she thought Eka was trying ot scope out the competition, but her genial tone was more of curiosity. She had not yet thrown herself into the lore of AFW but she knew Silver Ace, and how good she was. So her protege must have been pretty good.

Three wins and a loss was pretty good, and about as good as she could get. Valley was another experienced woman, and one who Eka would surely lose to. There was no coffee to hide behind anymore and she was beginning to regret throwing it away. "Congratulations. On the three wins. I haven't won that many in seven matches."

"What is your number?" She pulled out her phone lest she dwell on all of her losses. The grades she checked so often were on the screen and Eka paused for a second and thought about checking them again before she pulled up the keypad. There was still a chance she could learn something.
Alicia as it happened had cracked ribs before. That said, Eka had a point there. If people didn't tap, then whatever happened to them was on their own heads. Ok, it was her responsibility to let them go if they tapped but, if she didn't know, it wasn't her fault.

It also sounded really like a rhetorical question to her, so she didn't bother answering. If there was an answer. She wasn't sure there was.

The question about Gallium though, that she could answer pretty easily.

"Definitely," Alicia agreed entirely. Silver Ace looked a solid opponent, one she'd like to go up against herself sometime, "I've watched some of her matches. This girl though wasn't – I think this was like her second match, she didn't have a clue about how to fight a striker and…" She shrugged, running a hand absently over her hair. "From the sounds of it, you wouldn't have had any trouble with her either. Like I said, it was a squash match. You can probably find the video online or something, if you really want to see. But there wasn't anything special about how I won."

"Thanks," the redhead added with a slight grin at the Georgian's congratulations. "It's not really winning that matters anyway. So long as I get a good match, I'm happy. Honestly, my match with Valley was the best, and I lost that one."

As she spoke, she was pulling out a notebook and pen from her backpack and scrawling her number across the page in bold numbers. Done, she tore it out and passed it over to Eka.

"There you go. Truthfully, I'm looking forward to this."

She hesitated for a moment.

"And don't worry about it. There's no shame in losing to Cecilia Northman and if this Bunny girl had to cheat to beat you, well… She's scum and not worth thinking about. Plus two that sound like mismatches. It's more booking's fault than yours, surely."
_________________
Friction -
Alicia Wells
- Kickboxer, Mixed Martial Artist and Scissor Queen
Friction -
Samiya Kusanagi
- Submission Specialist, The 'Schoolgirl Assassin'
Eka happily accepted the phone number and quickly put it in her phone along with the dozen numbers already in there. When she finished her task she looked back up at Alicia and nodded as if she had been listening. The Georgian girl doubted that she would have very little trouble with Gallium Heart as she had lots of trouble with a woman whose main profession wasn't wrestling. It was good that the redhead was looking forward to it as Eka began having second thoughts. This woman was pretty good and Eka did not want to get embarrassed in a spar the same way she had gotten embarrassed in regular matches. She certainly did not want to get squashed.

She did not quite know how to react to Alicia's statement about winning and losing. One had to win with honor of course, but one still had to win. If you were just going to wallow through the muck and the mire of a hundred losses why would you wrestle? It wasn't even fun anymore. It was just a job and one that was surely less worthy than a job in academia.

Eka was getting frustrated with herself. "I am a professional. This is the biggest wrestling league in the world and there should be no mismatches. I should be..." 'better than that' were the words that Eka wanted to say until her voice trailed off. Her arrogance had gotten to her again, this time not about her intellect but her wrestling prowess. Or lack thereof. "I should be better prepared to face big girls. Or cheating girls." Eka threw her hands up in angst, feeling like the words she said and the words she wanted to say were too distant.

"But you did not come here to hear me whine, yes?" Eka made one last stab at trying to be ok emotionally for a little bit.
It was hard for Alicia to know what to say, if she was honest. She didn't know Eka very well at all for one thing. They'd only just met, after all. She didn't exactly agree with what the raven-haired wrestler was saying, because there were definitely mismatches. She didn't like it any more than Eka did, because she hated being on either side of a squash match, but they definitely happened and Valley had told her that management tended to like them. So, whether they liked it or not, both Alicia and Eka were probably going to find themselves in them again before they were done with AFW.

Probably multiple times.

And sometimes, all the preparation in the world couldn't help if you were up against someone who was just plain better than you.

But telling Eka that probably wouldn't go down to well and there was a seeming fragility to the Georgian that made Alicia think the best option was to steer away from that topic at least until she'd had a chance to watch those matches herself. That seemed to be what Eka was after, so blunt by nature or not, she was probably best off letting it go. For now.

If they had this chat again, she wasn't pulling any verbal punches.

As it was, she thought the best option was to move the conversation along a bit.

"I'm guessing you're here for the AFW though? I mean, studying Soviet history would be easier in a former Soviet republic."

Truthfully, Alicia couldn't imagine doing her undergrad work abroad and she was curious about what it was like.
_________________
Friction -
Alicia Wells
- Kickboxer, Mixed Martial Artist and Scissor Queen
Friction -
Samiya Kusanagi
- Submission Specialist, The 'Schoolgirl Assassin'
Eka considered the question. It was a fair question after all. "Well, when I was very little, my parents moved from my home country to Alabama. I did Greco Roman wrestling at my school. One of my friends showed me professional wrestling, and I got the hang of it very quickly. I wish I had brought my costume with me. I sewed it together myself and it looked completely hokey." She reminisced and her quondam glory brought a smile to her face. "But a scout talked to me after a show when I had a match. They told me that I could wrestle in the big leagues, and I was honored that they thought I was good enough. It is quite a lot to take in for a young girl, yes? My parents were fine with me moving as long as I get an education while I am here. And perhaps you are right, it is easier to learn about these things in former Soviet states. But broadening one's horizons is never easy, yes?"

Truthfully, she liked Japan. The people here were nice and she was learning a lot in her classes. The Japanese language proved pretty elusive but with concentrated study she was making headway. "So to answer your question directly, I am here for AFW. But there are many things to do here, yes?" A long strand of hair fell across her face and she brushed it aside elegantly. It had been a long time since she had to reckon with her past and it felt sort of odd. No one was that curious about her history despite the fact that she stuck out like a sore thumb here, there, and everywhere in this country.

"What is your story?" Eka asked. Simple politeness necessitated returning the question but the Georgian girl was genuinely curious about what the redhead would say. She rested her head on her hand and looked at her new friend with focus, maybe a little bit too much focus. It wasn't as if she were back in the lecture hall or anything and there would be no pop quiz. Alicia had just piqued her interest quite a lot. Her eyes were narrow and her lips were almost pursed.
Well, that was an interesting tale – Alicia was glad she'd asked.

"Georgia, America and Japan?"

She whistled, clearly impressed.

"I hadn't really left Europe before I came here. It's not been an easy change to make, but it's worth it so far. Like you said, there's a lot to do here." The redhead offered her new friend a conspiratorial grin. "Lots of people with common interests, for one. Oh, and I'd definitely like to see that costume sometime. I just wrestle in sports bra and shorts myself. I'm not so much into the theatrical side of things."

She'd thought that'd be the case though. If studying history was her priority, there had to be better places to do that albeit with less famous or infamous wrestling promotions. But as far as wrestling went, the AFW was the top of the game at the moment.

"My story?"

Alicia sat back, seemingly untroubled by the focus she was now on the receiving end of. She probably ought to have expected the question really, but it wasn't something she minded talking about either. It wasn't something she was embarrassed about.

"It's pretty straightforward, really. I used to get in a ton of fights as a kid, started a lot of them. So my mum and dad thought it'd help if I had a way to channel my aggression. So that was kickboxing classes, then MMA – all through school and uni. Just local stuff, they didn't want me on any of the teams but I could have been if they'd let me. So, when I was done with my undergrad degree, I went looking for somewhere I could earn a living from it and wound up here."

True, that was the Cliff Notes version but it covered the important bits.

She pursed her lips thoughtfully. "So far, I'm mostly liking it and there are some cool people about. Valley Doll's been really helpful for one thing."
_________________
Friction -
Alicia Wells
- Kickboxer, Mixed Martial Artist and Scissor Queen
Friction -
Samiya Kusanagi
- Submission Specialist, The 'Schoolgirl Assassin'
Eka leaned back a little bit. There were many things to love about wrestling, but the sheer aggression was not one of them. If Eka could end matches without harming her opponent, she would. The only times she had to fight growing up was when she was picked on by bullies, and even then she avoided it all she could. The Georgian girl was a bit of an outcast so dust-ups happened with some frequency, but Eka never ever escalated. To hear that her new friend was often the one starting fights was somewhat disappointing, but Eka supposed she could forgive it as youthful folly. She had made her fair share of mistakes, too.

Valley Doll. That name surfaced again. It sounded like she was important to the redhead and Eka surmised that they were friends. The Georgian girl had never had any run-ins with her and would like to hear more about her. "Tell me about this Valley Doll. She is quite good, yes?" Eka posed the question with a sense of earnestness. Alicia seemed more and more forthright, and Eka admired that and wanted to mirror it.

"The theatrics are fun. For me at least. I feel like without it, we are no better than brawlers. To me, wearing leather pants is a bit tacky, but playing along is worthwhile. You cannot be at the top if you are not over-the-top, yes?" Eka philosophized idly. "There is honor and dignity in gyms at high schools in Alabama, but there is no glamour to it. Fundamentally, no one cares. I am not so vain to need attention all the time, but the glitz of professional wrestling, is just...is just..." Eka was a smart girl but she could not find any words. She took a second to think. "Wonderful." She ended on a high note.

"Plus, here, I have opportunities I could not have had anywhere else. Back home I may have been studying in Tuscaloosa or Auburn. I would have gotten my degree, but I would just have been complaining about dumb sorority girls and fooling around on the internet. Life is more than that, yes? At least I hope it is." Her grin matched Alicia's, both in terms of profundity and the capacity to achieve conspirational mischief.
"Valley Doll…" Alicia grinned, "Oh, she's awesome. Really helpful and that match was just amazing. If you give her the chance, she'll run rings around you. She's a real high flyer. And just… Well, nice. She was the first wrestler I met here, and she said I could call her with any questions or if I needed anything."

That covered the important points, she felt.

"If you'd like, I can introduce you sometime?"

Alicia wasn't sure if Eka'd want to meet Valley or not, or if she'd rather do it on her own terms – she wasn't about to take offence either way. But it seemed worth throwing the offer out there to let the Georgian make up her own mind.

Either way, she wasn't entirely sure she agreed with her new friend's thoughts on the glitz and glamour of the thing. Clearly, a certain amount of showmanship was important. She didn't think of herself as just a brawler and would take insult at being called such. But, equally, she was there for her own fun, not particularly to entertain the fans.

But if that was what Eka found fun, fair enough. Alicia didn't care what the fans thought but if others were there to put on a show, fine – so long as they either didn't get put in a match with her or could hold their own regardless.

"I'll let you keep the leather pants – I like my gear," She joked with a grin, deciding that was the best thing to say. "And I definitely hope there's more to life than that. Don't get me wrong, I like fooling around on the net as much as the next girl – but I'd much rather be in a wrestling ring with a good opponent."
_________________
Friction -
Alicia Wells
- Kickboxer, Mixed Martial Artist and Scissor Queen
Friction -
Samiya Kusanagi
- Submission Specialist, The 'Schoolgirl Assassin'
Eka nodded along. She ate up Alicia's words like she had the most ravenous hunger for knowledge. In fact, she did. "Yeah," she said, "I would like to meet this Valley Doll. That is a stage name, though, yes? I cannot imagine what it was like to grow up and introduce yourself as Valley. But there are many different people all over the world." She wasn't quite sure if she was being rude but Valley Doll was a simply bizarre name. Guramishvili was odd, too. She frowned.

She shifted in her seat a little bit. Her leather pants could get quite hot and she did suffer sometimes from the glitz of it. That was something that would have to be reconsidered. Just like everything else she had done so far. "I don't like any of that hentai stuff." Eka asserted. "I have not done those matches and never will. That is a little bit too glitzy, yes?"

The Georgian girl intertwined her fingers on the table in front of her. She cocked her head to the side a little bit and looked at Alicia curiously.
"It's a stage name," The redhead agreed with a nod, "But that's how I met her so it's just how I think of her, I guess. Like… I don't know. Everyone thinks of Batman as Batman, not Bruce Wayne. That sort of thing. But great, we can work something out."

Exactly what or where that might be, Alicia didn't know. Although the idea of inviting Valley along to watch them sparring seemed like one option, on second thoughts it might just end up embarrassing Eka. She'd have to think about that one.

At the mention of hentai matches, Alicia's lips twisted into a grimace and she glanced down at her own hands where they lay on the table.

"I'm not sure I'd call it glitzy," She offered after a moment, "But no, I don't like it either. Sex is one thing, fighting is another – I don't mind losing but I really don't want someone sticking their hands down my shorts for the whole of the internet to see. So, yeah. I'm never signing up for one of those either."

She shook her head firmly, glancing back up to meet Eka's gaze again.

"I'd rather quit."

And she would. Alicia, so far as she was concerned, would never fight in a hentai match so long as she had even the slightest bit of say in the matter.
_________________
Friction -
Alicia Wells
- Kickboxer, Mixed Martial Artist and Scissor Queen
Friction -
Samiya Kusanagi
- Submission Specialist, The 'Schoolgirl Assassin'
Page 3 of 4 •

1, 2, 3, 4



Similar topics
---
Permissions in this forum:
You
cannot
reply to topics in this forum