Champions & #1 contenders
Summer Splash interest in Natasha Loclear?
Mon Apr 09, 2018 11:30 pm by daemongirl
Well my girl hasn't missed a summer splash yet, would anyone be interested in a match with her? Open to just about anything match wise, just pm me!
Comments: 1
Been Out with the Flu
Sun Apr 22, 2018 7:47 pm by daemongirl
Just letting those I have threads with know I've been out with the flu since early last week, but I will be back to posting tomorrow.
Comments: 0
The Austrailian Mudslide is Back.
Sat Apr 21, 2018 6:20 am by Softsquad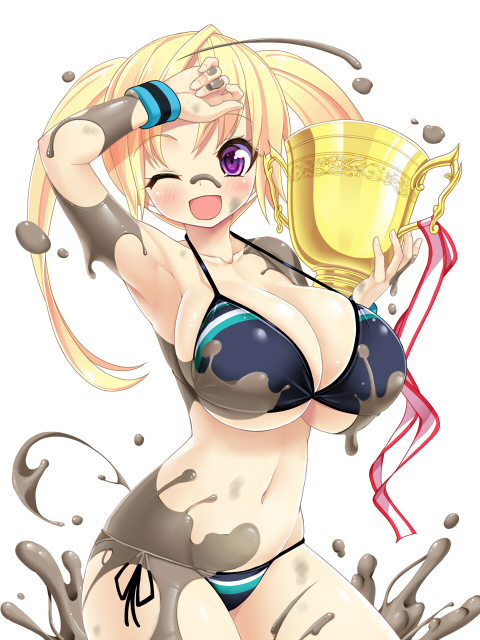 Granted that most of you won't know me or remember me, but I've had a few matches here and there some time ago. Well I think its time to become a regular around here and try to have some fun again, but at the same time keep coming back. Anyway I think its time to jump into some matches with Zoe Taylor, my mud wrestling character from Australia and get her back into the squared circle. Furthermore I will update my characters as I think some proper changes need to happen.
So if anyone would …
[
Full reading
]
Comments: 0
Page 4 of 6 •

1, 2, 3, 4, 5, 6


Truthfully, even Abattoir was a little surprised that move had worked.

She was less surprised that, despite the damage she'd inflicted on Liberty, she'd done a number on herself too.  Her upper body had splashed right into the barbed wire alongside the brawler - a natural result of the move - and the coiled points clung to her shoulders, poking and slicing from the force of her landing.  The real problem was that a length of wire stuck in the top of her head had managed to get some of her hair tangled around it, although she didn't realize this until Liberty rolled off, pulling part of the board with her, which in turn made the barbed wire pull hard at her hair and scalp.

Abattoir yelped in pain despite herself, scrambling to stay in contact with the board and maintain proximity until she could get herself untangled.  A few seconds of thrashing and clawing followed, during which the wire pulled all the harder, causing her to drum her heels on the floor in impotent pain.

At last - which really translated to 'after about five seconds', since there wasn't exactly a lot of time to spare before Liberty started recovering - she let out a hiss of agonized frustration and settled for simply jerking forward, tearing herself loose and leaving a few hairs (and some skin) behind in the process.  For whatever ridiculous anatomical reason, this hurt way more than all the glass and tacks had, and she spent a very long moment cringing in pain and clutching at the back of her head.

Ow.  Ow ow ow ow ow. That was why it was 'high risk'.  Sometimes even if you landed it, you managed to fuck yourself over.
Liberty would've loved to sit there and laugh at Abattoir, as she struggled to free herself from the barb wire's clutches. She would've liked to mock her a bit, and intermittently kick her in the face while she dealt with it.

She would've loved to, if not for the fact that she was in unholy, unimaginable pain and agony at the moment. She'd been hurting since minute one of the fight, but this was a new level.

It was fortunate that Liberty landed the way she did, with her back onto the board and her hair flopping over her face. That meant that most of it was spared from getting tangled in the barbwire, and the audience was spared from having to watch Liberty spend all night picking her hair out of the stuff while Abattoir continuously pounded on her. It also meant that she got out of the mess a little early. She left a few pieces of her back on the board when she pulled out, but nothing that wouldn't grow back. Stitches, at the worst.

Now she needed a weapon. Liberty had the powerful urge to choke Abattoir out, but she would need something long, something failry strong and hard for it...

Oh. That would do.

Liberty crawled over behind Abattoir, reached over her head with the metal baseball bat, and proceeded to pull it back against the nak muay's throat, bringing it up hard against her windpipe in a wild attempt to just choke her right out. "Go. The fuck. To sleep."
Abattoir had just managed to stop wincing at her escape from the barbed wire board when a baseball bat looped over her head, seizing her by the throat and hauling her back into Liberty's crushing embrace.

It sucked. Being choked was one thing - she was deeply familiar with blood chokes and less technical strangleholds, having been subjected to both (especially the latter) most of her life and it wasn't exactly a new sensation - but the feeling of the metal bat jammed up to her trachea, crushing at it relentlessly, was agonizing. Her swearing was unintelligible through the mask as she thrashed against Liberty, trying to break herself free. The power disadvantage was way too much, though; she wasn't going to muscle her way out of this one.

Black spots, the first signs of hypoxia, were starting to appear in the corners of her vision. She was going to have to loosen Liberty's grip quickly - she didn't have to escape altogether, but if she didn't at least get some space around her throat she would be unconscious very, very quickly.

Abattoir got her feet under her and jumped.

It was probably the last thing anybody was expecting, judging from the surprise of the crowd, but she hopped into the air with the bat still around her, kicked off the ring apron, and slammed the two of them back into the wall of the cell with every ounce of strength in her legs. It was almost definitely enough force to warp the wall, assuming the chainlink could even hold up to their combined impact.
This was good. Maybe even better than good. Great.

Liberty and Abattoir had put on a good, hard match so far, but judging from the copious amounts of blood and flesh they'd littered the ring with, this could only go on for so long. At this point the former champion would feel most satisfied with a KO. She didn't want Abattoir to givee up and she didn't want to put her shoulders on the mat for three seconds. After everything they done to each other and tried to do to each other, the only fitting way for things to end would be with this bitch on the floor. Unconscious, broken, and beaten.

Abattoir was well on her way to making that a reality, too, when the strangest thing happened: She started to move upwards.

Every logical cell in Liberty's head told her that made no sense. That would mean that Abattoir was pushing up while her weight had been bearing down on her. She knew the nak muay had good leg strength, she'd seen what those kicks could do. But this startled her. Where was this strength and drive coming from?

Unfortunately for her, thinking something was impossible did nothing to stop it from happening. Regardless of what her brain thought should happen, the reality of the situation had her getting lifted up, then thrust backwards into the cell well, with enough force to knock her out of the structure.

Somewhat.

The links snapped with the hefty impact and Liberty's upperbody went out of the cage, with the metal scratching along her ragged back for an added bonus. Her lower body was not so unfortunatue: it was stuck inside the cell.

Liberty was stuck one of two choices: slide her way back in and shred her back even further, or slide up and cut up her legs, too. Decisions, decisions.
Last edited by acuya on Wed May 25, 2016 9:33 am; edited 1 time in total
Liberty's feet had not actually left the floor at any point during the counter; it'd mainly just been Abattoir getting her legs off the ground and desperately gathering some momentum.  Thankfully, it'd worked before she blacked out, and now the nak muay was on the floor coughing and trying to regain her equilibrium.

Her throat was killing her - not like her voice could get much hoarser, but the bat had definitely bruised up her windpipe.  Sweet, sweet oxygen filled her lungs, stinging the damaged tissue all the way down.  Abattoir heaved for breath on her hands and knees, eyes squeezed shut, blood weeping from the gashes in her face and torso.  The cut on her forehead earlier had been strategically placed, but as it tended to do in these kinds of matches, the blood had ended up getting everywhere anyway, burning her eyes and dripping into a steadily-spreading puddle underneath her.

Abattoir swiped at her eyes to clear them out (and instantly regretted it; there was a thumbtack embedded in her gloves.  Ow.), then braced herself and shoved her way upright.  By the time she was on her feet she'd finally had enough of an opening to wonder why Liberty hadn't attacked her yet, and upon turning around, discovered the reason: the former champion was stuck half-in and half-out of the cell.  What a shame.

Abattoir snorted, despite herself, and instantly, visibly winced at the pain from doing so.

"Mmm.  Caught in the briars."

Her hand emerged from one pocket, holding a chrome Zippo with a leviathan cross emblazoned on the side.

"You know how an animal in a trap will chew off its leg to get loose?"

Click.  A spark ignited the lighter, settling into a steady flame.

"You should probably start thinking about that."
Someone was laughing at Liberty as she laid there, stuck in the cell, dealing with the overwhelming pain and anguish from her war-torn body. She had no idea who it was. Couldn't be Abattoir, since she didn't quite seem to get the concept of 'laughing' and 'being happy'. The referee was too horrified to do much more than whimper and issue a three-count.

Whoever it was, the temptation to find them and wail on their skull was strong. She might've, too, if not for the whole situation with being stuck, and the psychopath she was currently dueling with.

Luckily for her, though, Abattoir seemed more interested in talking at the moment. Which was rare for her. Which probably meant that something extremely unpleasant and critical to her health was about to occur.

She sat up. Looked at lighter burning in Abattoir's hand. Looked at the weird, extremely flammable stuff set up around the ring. Put two and two together, then…

"Really?" She groaned and threw her head back. "God damn it!"

The crazy fuck. As much as Liberty hated giving her what she wanted, there wasn't much way around this. She clenched her teeth hard, Liberty slid her way back inside, creating fresh cuts along her back and chest, ripping her shirt to tatters along the way.

Not pleasant. She couldn't resist a piercing shriek as she came in, rolling over into a bloodied heap. Still, far better than the alternative, though how long she could avoid getting roasted in her current state was up for debate.
Liberty scrambled free just in time to avoid disaster.

The gasoline-drenched ropes threaded into the chainlink formed an extensive, intricate web, and could only catch fire so quickly.  So when Abattoir first tossed the lighter in, it started relatively small - not too bright, not too hot, not too impressive.  And then more of the wall started burning.  And then more, and more, and then the ceiling, and then the other walls, and by the time one minute had passed, the cell was one stop short of a two-story oven.  It wasn't just hot, it was stifling.  The blinding inferno roaring around them sucked the oxygen right out of the air, making the inside of the cell feel like it was underwater.  It took effort just to breathe, let alone fight with anything measuring efficacy.

Abattoir trained obsessively in pulmonary resistance masks.  Hell, Abattoir was used to fighting with half the air of a normal person; she had cardio for days and the diaphragm strength of a sherpa.  Even so, with all the blood she'd lost, she felt herself wobbling in place woozily as she rolled back into the ring.  

It was a hell of a feeling, all light-headed and dizzy, almost drunk.  Kind of ecstatic, really.  A giddy rush of sensation raced down her spine and the nak muay found herself lost in the moment.

The mask was half-shattered anyway from the glass shard and the impact of the baseball bat.  She unbuckled the strap and tossed it off to one side, then rolled over onto her back in the center of the ring, arched her spine lewdly, and made eye contact with the dazed Liberty outside the ring.

She was covered in gleaming thumbtacks, steadily leaking from several gashes on her face and many more on her shoulders and arms, and covered forehead-to-boots in gore, but the AFW audience's tastes were just depraved enough that, as Abattoir's blood-smeared lips parted and she flicked her forked tongue at Liberty, ten thousand camera flashes went off simultaneously.  Anybody checking the front page for Summer Splash bikini pictures tomorrow would probably be in for a very unpleasant surprise.
When the cage lit on fire, turning into a glorious blaze the likes of which the AFW had never seen before and would almost certainly never see again, there were mixed reactions throughout the building.

The fans closest to the blaze were quick to back the fuck away, gladly sacrificing their expensive seats if it meant not getting caught in the inferno.

The fans farther away were getting into it. Even though some of them disapproved of the match's unapologetic brutality, they couldn't deny the rarity of what they were seeing here.

The referee was busy scrambling around the ring, trying to find a way back inside that didn't require her to get closer to the blaze than she already was, and didn't require her to get stuck with thumbtacks along the way.

Liberty, on the other hand, wasn't quite sure how she felt about it. Not right away. Not exactly.

Physically, she was a wreck. Her next week would certainly be spent on a hospital bed.

Mentally, though…

It was terrifying. She was stuck inside a burning metal cage with a lunatic, who was currently gyrating in the ring like some taunting she-devil. It couldn't not be terrifying. But, at the same time, there was a part of her that realized how important this was. Liberty was always telling people how she represented real hardcore wrestling, how she was one of the few willing to make that style of wrestling mean something. This was her chance, her best chance, to prove she wasn't utterly full of shit.

Breathing heavy, gaze focused on her hellion opponent, Liberty reached inside the ring and grabbed her gym bag. She fumbled around in it for a moment before her fingers found what they were looking for. Cool. Hard. Blunt. They slipped around her chosen methods of annihilation and gripped them tight.

When Liberty's hands came out, they were decorated with a matching pair of knuckle dusters. "Let's play."

She slid inside the ring, ignoring the pinpricks, and stood up to face her rival. As much as she could stand with her bones aching and the blood loss beginning to take its toll. She was hunched over, knees bent, a wild, feral snarl across her face. A bloody, dangerous beast.

Without a word, she beckoned Abattoir on. Time to finish this.
It was worrisome that the times like this - beaten to within an inch of her life, oxygen-starved, woozy from blood loss - were the times when Abattoir felt the most alive.  In the unlikely event that anybody remembered her when she was gone, at least there was absolutely no chance of anybody denying she took a profound joy in her work.

Wonderful.  Sublime, even. The world was engulfed in fire and death, and just this once, she wasn't the only one who could see it.  The crowd's horror was sort of a guilty pleasure for her, a sort of cruel frisson.  Even charged with duty as she was, it was impossible to wholly subdue the thrill she felt at their incredible (and totally understandable, given how miserably hot it was in the first few dozen rows) dismay.    

She rolled over and skittered, spider-like, back towards her corner as Liberty slid under the ropes.  All things considered, despite...well, despite everything, she had to admit her hated enemy was acquitting herself pretty fucking well.  If anything, she was standing head and shoulders above most of the competition, who likely would've fled shrieking into the night by now instead of getting angrier and beating the shit out of Abattoir like Liberty had done.

Pulling herself upright, the nak muay banged her fists together, almost like she expected sparks to fly from them.  Liberty had the knuckles, sure, but Abattoir wasn't particularly interested in evening those odds for the moment.  In the time it'd take for her to grab an equalizer, the other girl would be bearing down on her.  No, it was time to charge into glory.

A face-splitting jackal grin crossed her expres​sion(opening the glass-induced cut on her lower lip even wider), and she offered a brief nod in response to Liberty's salute - the closest thing to a show of respect they'd ever had.  "Let's."

She hit the ground running, with a shining cloud of brass kicked up behind her, and blitzed forward into a superman punch aimed right for the former champ's jaw.  Not a huge jumping Roman Reigns winger, either, a real superman punch.  It was like a sniper shot, pinpoint in its precision and shooting straight forward. More of a distance-closer than a true knockout blow, aimed to get her well within the 'dead zone' of effective punching.
Liberty was in a large, burning, metal structure. She had enough thumbtacks in her body that she could probably  lay down without actually touching the floor. She almost definitely had a concussion, and there was a weird little pain in her back whenever she bent over too much. The sort of pain that would only get worse in the coming weeks.

Despite all that, the possibility of dying only occurred to her as she got ready to face Abattoir once more, standing there as the inferno made their shadows stretch across the ring. Strangely, the thought didn't bother her as much as she thought it would. Few people got to die doing what they loved, after all. It was a rare pleasure.

Yeah. Bring it on.

Abattoir came at Liberty full tilt, so the former champion knew she couldn't do any less. She charged across the ring with all the grace and subtlety of an enraged rhinocerous, making the brass bounce with each pounding step. A war cry came bellowing from the depths of her lungs and she wound back for a punch as they neared, looking to decapitate her wicked little rival…

Abattoir was faster, that was the problem, even taking their rapidly failing bodies into account. Her punch hit before Liberty's could even get to the halfway point, rocking her head to the side and turning what would've been a devastating shot into a wild, sloopy, swing of the arm.

Liberty fell to a knee, shaking off the effects of repeated head trauma. Lovely day.
Page 4 of 6 •

1, 2, 3, 4, 5, 6


---
Permissions in this forum:
You
cannot
reply to topics in this forum