Champions & #1 contenders
Moonhearts Promo intro thread is O p e n.
Mon May 21, 2018 4:21 am by XSirenX
Feeling brave?, lost?, or without a thread to post in?, hit up the newest Moonheart if any of those apply!
CLICK HERE
What Moon has to offer?, many things...:
Comments: 0
The Austrailian Mudslide is Back.
Sat Apr 21, 2018 6:20 am by Softsquad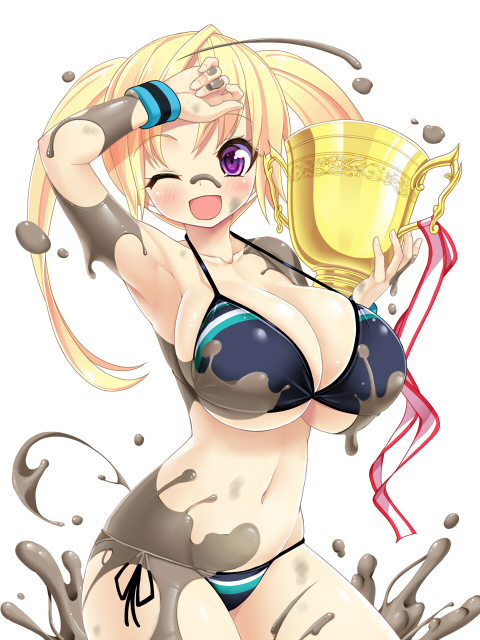 Granted that most of you won't know me or remember me, but I've had a few matches here and there some time ago. Well I think its time to become a regular around here and try to have some fun again, but at the same time keep coming back. Anyway I think its time to jump into some matches with Zoe Taylor, my mud wrestling character from Australia and get her back into the squared circle. Furthermore I will update my characters as I think some proper changes need to happen.
So if anyone would …
[
Full reading
]
Comments: 4
Page 1 of 5 • 1, 2, 3, 4, 5


Today was something of a rare free day for Akino Sanada. Or, somewhat free, at least. She wasn't scheduled for any matches, and she'd been hard at work in the gym during a good portion of her spare time throughout the week. So today she was going to occupy her time with a good swim. Still qualified as a workout, but it did much more than a lot of other things to put her mind at peace, which she could really use right now.

A local gym, unaffiliated with AFW, had a rather large pool in it, so that's where the one-eyed maiden had gone. Clad in a shiny black bikini, she removed her eyepatch and put it in her bag, which she then set aside before moving to the edge of the pool. She looked out over the water silently for a moment, then took in a deep breath and dove into the water. Immediately the strokes of her arms began to quickly take her down the length of her lane, then she kicked off the wall at the other side and swam right back, stopping only once she returned to her starting point. How many times Akino repeated the process, even she wasn't quite sure. But eventually after finishing a lap, the bluenette glanced up at a clock along the wall and saw she'd been swimming for close to an hour now. Her breathing was heavy and her body tired. Still, for the moment it felt like all the stress in her life had washed away somewhere in the water.

Satisfied, she climbed out of the pool and dried herself off with her towel, which she then wrapped around her waist, before reaching into her bag to fetch her eyepatch again. Once it was back on, Akino walked out of the pool area with her bag and began the trek back to the locker room where she could change back into her normal clothes. This meant she had to walk all the way around the weight room, where she felt more than a few glances and stares directed at her. Regardless anyone had recognized her as an AFW wrestler, or if it was because of the eyepatch, or her body, none of the looks were returned. At the moment, she was merely intent on going about her own business without giving any unnecessary attention to anyone else.
Alicia didn't spend a lot of time working with weights, perhaps to the surprise of those who'd felt how strong the big redhead was. Some of that was just natural power, the luck of the genetic draw: some people were destined to be stronger than others, and Alicia just happened to be on the upper tier for people of her height. On top of that, a lifetime's worth of kickboxing had an obvious effect as did years of regular running and gymnastics and other more general athletic activities. Alicia did a lot of things that honed her whole body and particularly her brutally powerful legs, but also her hips and her back and her glutes.

Weights generally weren't among them. After all, she'd never really needed help building strength and she didn't want to overdo the muscles. As far as she was concerned, the taut-but-curvy physique she'd built over the years was more than ideal and the big redhead had always had a low opinion of bodybuilders whether male or female. They all seemed to have more muscles than brain and lacked flexibility into the bargain, none of which really made her think they'd be any good in a fight. And they generally weren't usefully strong either. So no, the last thing Alicia wanted was to do that.

And yes, she knew there was a difference between weightlifting and bodybuilding.

Still, there was a time and a place for everything and this was both. Alicia had found her way to one of the local gyms, where she was… well, she stood out even worse if anything. Japanese gyms weren't known for featuring lots of nearly-six-feet tall English redheads and she couldn't really help but stand out. Not that she cared. Dressed in a simple black leotard, she was coming to the end of her workout and had spent the entirety of her time in the room ignoring the rest of its inhabitants with complete disinterest.

Mostly, she'd been looking to hone her arms, core and upper body strength but her entire body was pleasantly aching as she set the weights back on the rack. Letting her breathing return to something resembling normality, Alicia mopped her forehead with her towel before picking up her water and taking a long drink. The liquid was cool and sweet as it trickled down her throat, incredibly refreshing after twenty minutes of working out.

Wiping her brow again, the kickboxer leant back and took another gulp as she pondered her options.
_________________
Friction -
Alicia Wells
- Kickboxer, Mixed Martial Artist and Scissor Queen
Friction -
Samiya Kusanagi
- Submission Specialist, The 'Schoolgirl Assassin'
No matter how many eyes fell on her, Akino never looked back at any of them. And as she headed toward the locker room she fully intended to continue ignoring everyone else in the building. That is, until her ears caught a barely audible conversation between two men, with one telling the other to "check out that fine ass." She rolled her eye at the comment. Perverts.

But when the other replied, "That redhead over there?" Akino became a tad more curious. She was glad to know it wasn't her ass those two moronic pricks hadn't been observing so intently, though part of her mind wondered who it could be. There weren't many women around, from what she could tell.

Curiosity led Akino to look up and in the direction the two men had been staring, and her eye quickly spotted the redhead. Lo and behold, she'd seen this woman before. Alicia Wells. Technically she'd never seen her in person, but Akino had watched her compete before. She was good. Really good. Legs of steel, laser sharp focus. The way she carried herself, you'd never guess she'd only recently surfaced in AFW, especially considering the people she was already fighting on par with.

For reasons not entirely known even to Akino, she found herself wanting to meet the young upstart, and started walking over to her. Whether it was because of the similarities she and Alicia shared in their wrestling styles, the interest she had in the girl's matches, or just because the redhead was damn good looking, Akino just wasn't sure. The closer she got, the more the formerly divided gazes in the room began to converge toward a central point. But once again Akino had gone back to pretending none of them existed. She was going to meet a new colleague, and everyone else around them could drop dead for all she cared.... Well, maybe that was a bit much, but still...

When she was close to Alicia the one-eyed maiden stopped and folded her arms under her ample chest.

"Hey."
Alicia's mind had been anywhere but in the present, the redhead giving a slight start as she realised that someone was actually talking to her besides the general background hum of voices she'd been tuning out. Turning, the tall kickboxer found herself face to face with another young woman, one who'd definitely been getting her money's worth out of the gym judging by her sinewy arms and the definition of her midriff in that black bikini. Which she filled out nicely, Alicia might add. She couldn't see much of the other's legs as they were swathed in a towel but, really, that wasn't the important point.

It certainly wasn't what she recognised, although it was very clear that – whoever this was – she took care of her body.

Even in AFW and with Alicia's limited experience around the place at this point, there couldn't be that many Japanese women with blue hair who wore an eyepatch and who'd be approaching her at random.

"Hey," she returned, curious as to what had brought Akino Sanada over to say hello. She'd seen a couple of the other wrestler's indie matches and been impressed in all sorts of ways by some of her moves, particularly the hanging figure-four headscissors she'd used to win. Alicia would love to be able to try that one out sometime, but it just wasn't to be, not with her build, unless they threw her in a match with Hercules or something. And watching her work submissions? Well, that was just a thing of beauty.

When she'd first joined, Alicia'd not thought she'd be bothering researching but she was glad she'd changed her mind. Apart from anything else, it was just a lot of fun seeing other wrestlers at work, particularly when she got to learn something into the bargain.

Capping the bottle she still held and putting it down, she offered Akino a polite grin.

"Sorry, daydreaming. You're Akino Sanada, right?" Not that she really had to ask. It occurred to her to offer her own name but the smaller woman had to have some idea of who she was, or why would she have wandered over? Well, either way, Alicia supposed she was about to find out.
_________________
Friction -
Alicia Wells
- Kickboxer, Mixed Martial Artist and Scissor Queen
Friction -
Samiya Kusanagi
- Submission Specialist, The 'Schoolgirl Assassin'
Alicia stood about half a foot taller than Akino and probably had about twenty or thirty pounds on her. But from what she'd seen of the redhead's matches since coming to AFW, she'd learned they used relatively similar styles, particularly in their affinities for scissor holds. Akino couldn't help briefly glancing down at Alicia's legs. They were every bit as thick and toned as she'd thought. Perfect for squeezing the life out of unfortunate victims of almost any size. Akino had seen her demonstrate that quite effectively too. She hadn't been a fan of Alicia choking her debut opponent out after the bell, but aside from that this girl had really been quite impressive.

"Yeah." Akino answered. "And you're Alicia Wells, yes? Nice to meet you." She extended a hand to offer a handshake to the redhead. "You've been making quite a name for yourself since you showed up." she said, fully meaning it. People like Valley Doll and Liberty Vella were pretty high profile opponents, particularly for someone who was new around. But Alicia hadn't just competed against them. She beat Liberty and came within a hair's breadth of doing the same to Valley. Impressive. Very impressive.

"I don't usually see other wrestlers come here to work out. Most of them just use the gym at the arena. What brings you here?" Akino asked. The easy answer was obviously a workout, but she was quite curious why Alicia was opting to do it here specifically.
"That's me," Alicia agreed, taking the offered hand and giving it a firm, polite shake with a lopsided grin, "And thanks – it's great to meet you too." Akino had been someone she'd been interested in running into, though she really would never have guessed it'd be here. What next? Was she going to run into the world champion doing her grocery shopping?

"I've been watching some of your matches," She added, "I like your style." Which was unsurprising, given they both did have a deft hand – or leg – with the scissor hold.

Alicia shrugged slightly, her gaze breaking from Akino's to sweep the room around them; some of those staring promptly made themselves busy elsewhere. Others just kept on staring, though the redhead wasn't even really looking at them. It was a fair question. The arena gym was just as well equipped as this, so far as she'd seen, better in its provisions for sparring in its various forms.

"If I say a workout, you're going to punch me, right?" She shook her head, "I just thought a change of scenery would do me good. And it's closer to my apartment."

There was a brief pause. And then she carried on, her eyes snapping back to Akino with a wry grin.

"It does come with a bunch of idiots drooling over my ass but I guess I'm used to that. How about you? Here for the pool?"

It seemed a safe guess. She was dressed for it and Alicia knew this place had a pool.
_________________
Friction -
Alicia Wells
- Kickboxer, Mixed Martial Artist and Scissor Queen
Friction -
Samiya Kusanagi
- Submission Specialist, The 'Schoolgirl Assassin'
Akino had no idea what to expect Alicia to be like. In the ring the girl was quiet, but deadly. But what about outside the ring? For all the one-eyed maiden knew, she could be a violent psychopath, a kind saint, or virtually anywhere in between. At the very least, she did appear to be polite. The handshake was returned, and Alicia complimented her wrestling.

"Thanks." she replied, before Alicia looked away at the prying eyes around them. Akino didn't look to see how many stopped staring, but it she almost instantly heard a lot more footsteps and voices in her surrounding. Apparently Alicia's sweeping gaze had repelled a good number of the onlooking perverts. Nice.

Akino couldn't help but chuckle slightly at Alicia's initial response to her question. It wasn't like it was the funniest thing she'd ever heard, but it was nice to see the redhead at least had a sense of humor.

"I see... Yeah, that's right. I suppose the bikini gave it away?" she asked semi-sarcastically. "Used to wish they'd put one in at the Friction gym, but knowing the roster, someone would probably end up trying to drown me in it sooner or later." she said with a shrug.
"You're welcome," Alicia added as she glanced around.

Suffice it to say that, in Japan in particular, being substantially over the average height and built like a powerhouse had its advantages. Nobody wanted to be caught staring.

"That and the chlorine," Alicia was still grinning – she'd smelt that stuff all over herself enough times back in her school days to recognise it anywhere. Akino was close enough that she could catch the faint odour coming off the other wrestler, so she'd have been able to guess regardless. "And I really don't see that ending well for whoever's stupid enough to try it."

Certainly, anyone who tried that with her would end up regretting it. Fighting was fun, being drowned in a pool not so much.

If it wasn't Akino or Alicia though, it'd be someone else who might not be so able to defend themselves at all. Having seen Abattoir and Liberty – the crazy twosome – and their approach to a hardcore match, it was basically guaranteed to end in tears.

"So, call me curious, but mind if I ask what brought you my way? I didn't think I was that famous."

Some people might have added a 'yet' to that statement, but it didn't really occur to Alicia. Being on people's radar – given how long she'd been in Friction – wasn't something that really occurred to her either. Apparently it was happening though. More importantly, she wanted to know and it wasn't in her nature to beat around the bush if it wasn't necessary.
_________________
Friction -
Alicia Wells
- Kickboxer, Mixed Martial Artist and Scissor Queen
Friction -
Samiya Kusanagi
- Submission Specialist, The 'Schoolgirl Assassin'
"Ah, I see." Akino replied, returning the newcomer's grin, before chuckling a bit at Alicia's comment. "I suppose not." The mental image she'd painted in her mind a moment ago of a bunch of sadistic bitches trying to attack someone in a pool was replaced by one of her holding one of said bitches underwater in a tight rear naked choke. Perhaps not much less violent than the former, but certainly more entertaining.

When Alicia asked why Akino had come over, the one-eyed maiden had to pause and think the answer over herself. Why had she come over here? Sure, Alicia was the new kid on the block and already turning some heads, but what was Akino hoping to accomplish at the moment? Truth be told, she wasn't quite sure herself. She just found something about the girl interesting, enough so that it had even drawn the typically-reserved bluenette over to introduce herself. She wasn't about to say that of course, but maybe she could try wording it a little less...awkwardly.

She shrugged. "Guess you can call me curious too. I saw and recognized you, figured I should introduce myself and get to know you a bit." It was a bit vague, but at least it was true. Akino then decided to put the focus back on the subject of her curiosity. "So, now that you've got a few matches under your belt, how do you like things here?"
It was fair to say that Alicia liked Akino's grin. It hinted at the thoughts passing through her own head about what'd happen to anyone who tried anything while the blue-haired woman was swimming. Bad things.

Alicia waited patiently through the pause, letting the other wrestler get her thoughts in a row and not wanting to rush her answer. It was surprisingly straightforward but then Occam's Razor probably applied here as well as to history. The simplest solution was usually the best.

Fair enough, she supposed.

"I'm glad you did," Alicia said, with a considered nod, "I'd hate to think I'd have missed out on meeting you and never known it." True, then she'd never have known but still, it would have been a real shame. It was also quite good for her ego to know that she was well enough known for a Tension star to be curious about her. Curious enough to wander over and talk to her deliberately at that.

As for how she liked 'things here'… That was a good question.

"On balance, so far I like it," She said, after a decent pause to give the question the thought it deserved (in her opinion), "I'd kill not to have any more squash matches like my first. But fighting Valley was amazing, even if I should have won that. The hardcore match…"

The redhead shrugged, waggled her hand in the air. "Two tough, fun opponents. But if I never see another staple gun in a match, it'll be too soon. I could do with some tougher trainers too. But yeah – so far, so good. How'd you like my matches?"

If Akino wanted to talk about Alicia's time here so far, she figured the submission specialist could at least give her opinion on her short career to date.
_________________
Friction -
Alicia Wells
- Kickboxer, Mixed Martial Artist and Scissor Queen
Friction -
Samiya Kusanagi
- Submission Specialist, The 'Schoolgirl Assassin'
Page 1 of 5 • 1, 2, 3, 4, 5



Similar topics
---
Permissions in this forum:
You
cannot
reply to topics in this forum