Champions & #1 contenders
The Austrailian Mudslide is Back.
Sat Apr 21, 2018 6:20 am by Softsquad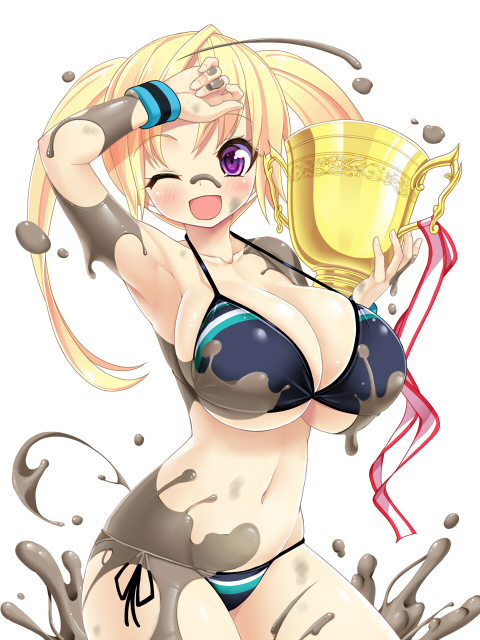 Granted that most of you won't know me or remember me, but I've had a few matches here and there some time ago. Well I think its time to become a regular around here and try to have some fun again, but at the same time keep coming back. Anyway I think its time to jump into some matches with Zoe Taylor, my mud wrestling character from Australia and get her back into the squared circle. Furthermore I will update my characters as I think some proper changes need to happen.
So if anyone would …
[
Full reading
]
Comments: 5
Highfly Flying Out Of Town
Tue May 22, 2018 1:31 am by HighFly
Hello everyone, I just wanted to inform all I have threads with that I will be gone from this coming Wednesday through Sunday. I won't be able to post consistently if at all during this time, but I will try to make up for it next week! I am sorry for the inconvenience to everyone.
Comments: 5
Moonhearts Promo intro thread is O p e n.
Mon May 21, 2018 4:21 am by XSirenX
Feeling brave?, lost?, or without a thread to post in?, hit up the newest Moonheart if any of those apply!
CLICK HERE
What Moon has to offer?, many things...:
Comments: 0
Page 4 of 16 •

1, 2, 3, 4, 5 ... 10 ... 16


Nero responded to Jean's showing off with a wolf-whistle, though his grin was just simply replaced by a small smile as Jean leaned into him and wrapped that arm around him. When he began to speak about escaping holds, Nero gave a small nod. "All right. Just means you're gonna have to put me in as many submissions as possible!" he replied with a dramatic sigh, but he grinned right after. He wasn't even quiet about the fact that he got off to them; he didn't care who knew about it, to be honest.

The idea of being trapped in another one of Jean's headscissors was enough to get Nero a bit frisky again. "Are you sure about it being bigger? I think I need to check." He quickly moved to slip a hand down and tried to grope at Jean's crotch, giving a thoughtful look as he tried to squeeze it. "Y'know, for science."

When he pulled his hand away, whether Jean batted it away or he had enough of the scientific groping, he couldn't help but give him a small smirk. "Though let's face it, you would not be able to escape one of my headscissors, and you sure as heck wouldn't wanna. I mean, have you seen these thighs? Same goes for any schoolboy pins I get you in." He reached up and traced along Jean's back lightly, before his smirk faded. "How's your back? Do you need ice or something?" So caring. It was almost enough to make one throw up from the cute.
"Science better buy me dinner first!" Jean laughed out loud and moved to intercept Nero's hand before he could be groped, lacing their fingers together as he tried to overpower him. It was a futile effort if Nero really wanted it, though he'd be able to tell that Jean was just being playful as well. That was another thing he admired about him, he had all this power over Jean but he never tried to force him into anything.

When Nero pulled his hand back, Jean would untangle their fingers and re-settle himself against the man's chest, his face warm with the amusement and sudden exertion. "Is that a challenge I hear? I know it's obvious, but you and I are soooo gonna have a rematch" he mused with the sudden thought of facing off against Nero again. How would he fare a second time? Would Nero go all out, or would he pretend and let Jean win again? He'd kick his ass if it was the latter, going easy on him didnt help him improve whatsoever.

Jean clicked his tongue softly when Nero's hand found it's way under the hoodie, lightly rubbing his back up and down in slow motions. However his noise wasn't one of pain, but of someone surprised at the sensation of so tender a touch. He quickly became used to the feeling and it began to comfort him, so he let out a relaxed sigh and some of the tension in his body became more slack. "I'll be fine, I can take and have taken harder hits before. I probably just pulled a muscle or something, it only really hurts when I twist a certain way." Jean closed his eyes and let the world fade away while Nero stroked his back, feeling utterly content to let him continue for all eternity. "Mmmm don't stop" Jean purred as he nuzzled his face into Nero's chest. The soothing feeling was actually starting to put him to sleep, despite the hunger in his belly.
Nero couldn't help but laugh loudly at the comment, lacing his fingers in with Jean's as he grabbed it in order to block him from the grope. He gave a playful huff, shaking his head, as if disappointed that he couldn't grope Jean. But he still had a smile on his face, still pleased with the way it worked out. His hand lingered in Jean's a little longer than he expected, but he still pulled away.

"Of course it's a challenge," he replied simply, giving him a grin. "Though I think we should have a little more…ah, little more fun." He winked at him, as if there were a few things that he already had in mind. He was a bit surprised that Jean didn't put up more of an argument about the whole "letting him win" in the end, but Jean did already make a few comments about it.

Nero could feel Jean's tension slipping away as he rubbed at his back, and he worked at it a bit more. "All right, tough guy. Guess that means we should hold off on the backbreaking, earth shattering sex for tonight?" When he purred and nuzzled into his chest, Nero wanted nothing more than not to stop; he was happy to stay there forever.

But the intercom rang, and Nero gave a small huff and his face screwed up in a look of disdain. "Of course, that's when the food comes. Go figure." It would be the first time Jean actually saw Nero getting upset over something. He shifted slowly, trying not to disturb Jean's back as he got up and walked over to the intercom, mumbling a few things before leaning against the wall.

When the elevator doors opened, and it was clear what Nero had gotten for dinner -- pizza. Just like Jean commented earlier. Paying the delivery man, Nero brought the pizza over and set it on the table. "Hope you don't mind, I wanted to surprise you so I didn't ask what you liked on it. A quarter is covered in various meats, half is plain, and a quarter is pepperoni." He looked at Jean sheepishly, hoping that the Frenchman would be happy with the decision.
Jean smiled wider when Nero told him they'd have to lay off the earth-shattering sex, and his throat made a humming sound akin to a laugh. He let himself slowly drift further and further away from consciousness with each passing moment, but the sound of the intercom had him jolt awake a bit comically. He noticed an true annoyed look on Nero's face as he trotted over to the door to intercept the pizza. He'd seen him happy, mischievous, solemn, focused, but never really upset like that.

Jean sat up and decided to stretch his back out, grunting slightly as he twisted both ways and raised his arms above his head. Nero came back fairly quickly with a pizza box that made his stomach growl on command. "Smells great, excellent choice" Jean nodded as he sat forward on the edge of the couch, his fingers wiggling and eager to dig in. He wasn't too crazy about the meat lover's section, but he'd definitely dig into the pepperoni first. "Fairly tame choice for pizza in Japan though, they have all kinds of crazy toppings. I dunno bout you, but I'm fine with cheese and pepperoni over caviar and wasabi pizza"

Pulling a slice free of the others was easier said than done however, and Jean ended up stealing half of the cheese from the slice next to his. It was still piping hot when he started to bite in, causing him to 'ooh ohh' and fan his mouth. He was smarter about the subsequent bites and blew them off first. Regardless of the temperature, he was so hungry that each bite elicited a small 'mmm' of pleasure. "So good!" Jean grinned sheepishly and shrugged his shoulders, a man didn't rule his stomach, his stomach ruled him!
It wasn't often that Nero got upset or angry, but it happened a lot when he was interrupted in the middle of…well, most anything. There were only rare occurrences where he didn't flip out on someone who interrupted him, and they tended to all be people he was sleeping with. One of the few things that still held over seom his time before.

"Oh? I'll make sure to get that next time, then," he replied, giving him a soft smile, a complete rebound from the annoyed/pissed look he gave the intercom when he was interrupted. He went in for the meat-lover's section, looking quite pleased with the result -- though then the heat hit him and he ended up doing the exact same thing as Jean. He was too blinded by food to notice!

He looked over at Jean, giving him a small grin. "You somehow look cuter with food in your hand. Or maybe it's just my own hunger." He blew on his slice -- before chowing down, practically inhaling that first slice before going for the second. "Though I must admit, you do taste better." He gave him a wink.
"Oh I look good huh? Even good enough to eat?" Jean winked as he finished off his slice. Nero was back to his smiling self again with food, so he wrote it off as just hunger pangs then. Nero, it seemed, have a higher tolerance for hot foods as he was already half-way done with his second by the time Jean took the piece he'd savaged just before. He very nearly choked on his food when Nero remarked that he tasted better, caught between laughing and coughing his lungs out.

"You're such a flirt" Jean remarked with a slight shake of his head. It was by no means a bad thing, a conversation with Nero was never going to be boring, and he'd always find something to brighten Jean's mood should it be sour. He narrowed his eyes in a 'dont you dare' as he cautiously took a large bite of his slice, in case Nero said something humorous mid-bite and he spray chunks all across his fabulous living room.

"Mmm, I saw your bed, what's the deal with the teddy bear? He's adorable" Jean remarked as he covered his mouth with the back of his hand. It wasn't like he had any food in his mouth when he was talking, but it was just a reflex. "From your childhood perhaps? Maybe a first crush? Or could it be from your secret lover?!" he asked with a wiggling eyebrow.
"Well, of course you're good enough to eat." Nero cast him a grin before he went back to diving into the slice; he had quite the appetite, clearly! Already, he was about to finish the second slice and diving for the third one. He was used to his own impatience; he couldn't count the many numbers of times he burned his tongue going after hot food.

He was going to make a comment about being a flirt -- but Jean shot him that glance, and he couldn't help but let out a roaring laugh, falling back on the couch and grinning widely at him. Nero liked Jean. A lot, already. When he asked about the bear, his grin faded for a moment, falling into a more nostalgic smile. "Yes, my childhood. Couldn't get to sleep without holding onto something." He paused for a moment, taking a bite. He covered his mouth before speaking again. "As time went on, I ended up getting other…people to fill the role. But I keep the bear, just for those few nights when I end up…alone."

Nero fell silent for a few moments, finishing the slice. He bent his head, lost in his thoughts. "I am sorry. Took us to a bleak place for a moment." He bit his lower lip, before giving a smile to Jean. "I'm not lonely tonight."
Jean smiled as Nero admitted it was one of his childhood favorites, it was in remarkable shape! The thought of a tiny, chubby Nero clinging to the bear as he nodded off to sleep warmed Jean's heart, he'd definitely have to ask to see baby photos at some point. But then Nero mentioned that he often got other people to take over that role for him, and Jean was curious. "So having bedmates is a regular occurrence for you then?" he asked, eyeing him with as little judgement in his eyes as possible. There was clearly some emotion that Nero was working through as he trailed off, perhaps a recent event that he was still dealing with. And if it was enough to get Nero quiet, then Jean knew it was important and he wouldn't pry further. He finished off his second slice and went for a third and final piece, a nice plain slice of cheese to polish off his palate.

"Believe me, I'm no stranger to that sort of....lifestyle, I'm just curious is all. There's no shame in living life the way that makes you happiest. Please, don't answer if you're not comfortable with it, I'll understand."
Nero shook his head as Jean tried to rescind the question, turning and giving him a smile. "No, it's…all right. I just end up a bit lost in my own head." He didn't take another slice of pizza, instead leaning back and thinking. His arms went over the back of the sofa, staring up into space, as if trying to think through the best way to answer it.

"Since I left home, yes. I've been trying to explore a bit more, and that meant exploring myself as well." He had meant the comment about having people in his bed more as a joke than anything, but it did give him a bit of personal insight. "They haven't much helped my loneliness, though. They were just around for a bit of fun, not much more. Which is what I was looking for too, of course. But…perhaps I need something more. A friend."

He chuckled softly, looking back at Jean. "Like I mentioned, I didn't have many friends. Just…people who did my bidding, really." He paused for a moment, before leaning forward. "I know we just met today, but…do you mind if I tell you a secret? You'll have to promise me you won't tell anyone." His eyes glittered for a moment at the prospect of telling someone; it was…remarkably early to tell anyone, but he felt as if he maybe had a friend in Jean, and he just…didn't want to start it off with a lie.
Ahhh, so his was a journey of self-discovery? Jean could certainly understand wanting to find yourself if you were surrounded by yes-men all the time, or if your environment did nothing to help you grow as a person. For some people, they were completely fine stagnating and never desiring a change, but for others like Jean and Nero, they weren't content just accepting things they way they were.

"Sex friends then." Jean said simply, nodding his head as he finished off his last bites. "I'm no stranger to the concept. My last relationship started that way, then became more. It didn't end up working out." There were no napkins nearby, so Jean took it upon himself to pop over to the sink in the restaurant worthy kitchen. He used plenty of soap and lathered his hands well, even splashed a bit on his face to clean up any grease or sauce residue. He began drying his hands on a neatly hung dishtowel when Nero asked if he could tell him a secret.

Jean was intrigued, but also puzzled at the same time. Nero looked to be very....energized about what ever he had to say, if not somewhat uncomposed. At the same time, Nero looked to be eager to share and somewhat concerned about the outcome. Jean figured he better take this seriously, and returned to sit on the couch next to him. "You can tell me. Whatever it is, I promise not to freak out. Unless you're a werewolf or something, because I draw the line at fictional monsters" he grinned, trying to lighten the air and make Nero more comfortable for whatever he was about to say.
Page 4 of 16 •

1, 2, 3, 4, 5 ... 10 ... 16


---
Permissions in this forum:
You
cannot
reply to topics in this forum