Who is online?
In total there are
57
users online :: 2 Registered, 0 Hidden and 55 Guests :: 2 Bots
TiefBlau
,
Yori
Most users ever online was
390
on Tue Jan 02, 2018 2:02 pm
Champions & #1 contenders
Summer Splash interest in Natasha Loclear?
Mon Apr 09, 2018 11:30 pm by daemongirl
Well my girl hasn't missed a summer splash yet, would anyone be interested in a match with her? Open to just about anything match wise, just pm me!
Comments: 1
Been Out with the Flu
Sun Apr 22, 2018 7:47 pm by daemongirl
Just letting those I have threads with know I've been out with the flu since early last week, but I will be back to posting tomorrow.
Comments: 0
The Austrailian Mudslide is Back.
Sat Apr 21, 2018 6:20 am by Softsquad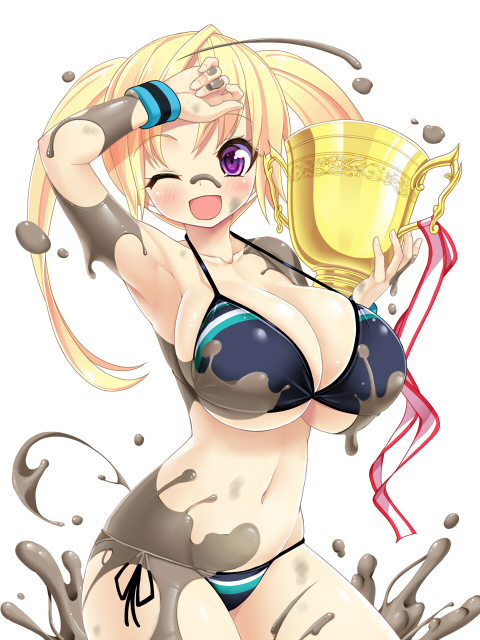 Granted that most of you won't know me or remember me, but I've had a few matches here and there some time ago. Well I think its time to become a regular around here and try to have some fun again, but at the same time keep coming back. Anyway I think its time to jump into some matches with Zoe Taylor, my mud wrestling character from Australia and get her back into the squared circle. Furthermore I will update my characters as I think some proper changes need to happen.
So if anyone would …
[
Full reading
]
Comments: 0
Page 8 of 9 •

1, 2, 3, 4, 5, 6, 7, 8, 9


Well, there went that hope. One of the reasons that Alicia didn't dislike Mitsuru was that she had a brain behind the squeaky voice and cute face. Unfortunately, right now things would be a lot easier if she was as dumb as a box of rocks but life was what it was.

"If you're sure," She answered anyway, "Because it'll be a long list."

But she wasn't going to be able to distract her neighbour that way and they both knew it. It was time for a new plan.

If Alicia was the sadistic bitch she'd been accused of being or the slasher movie villain she resembled in the ring, this would be where she invited Mitsuru in, added her to the sparring roster and hid both her and Dmitri's bodies in the bins. Possibly after chopping them up like firewood. But, even though it would have made this conversation so much easier and a lot quicker, Alicia was neither.

Clearly, Mitsuru was not about to let this one go. Dmitri was doing his very best to make enough noise to draw her attention and all Alicia needed was someone else walking past to really make this mess complete. That meant she needed to think of a plausible lie quickly, one that Dmitri wouldn't later feel the need to correct and that would cover all the obvious holes in her story.

Yelling and banging… She could think of one story immediately but… Well. It wasn't ideal.

"It's a guy I met for a date," Alicia explained matter-of-factly. "I brought him back for some fun but…" She leant in conspiratorially, smirking, dropping the bluenette a wink. "…Let's just say his stamina wasn't up to much."

The big redhead straightened up, relaxing against the frame and deciding she wasn't going to end Dmitri after all. Hopefully at least he could hear her, she thought, her smirk widening.

"I was a bit much for him to handle."

And there. All perfectly true, but Mitsuru was more than smart enough to connect two and two and come out with five. It'd explain Alicia's state of undress, the slight glow of sweat and exertion, the noises… Perfect. And, well, if anyone saw Dmitri limping out, they might be good enough to assume that she'd just ridden him until he couldn't stand straight.

Assuming Mitsuru was a gossip. Maybe she wasn't but best to take all the angles into account.
_________________
Friction -
Alicia Wells
- Kickboxer, Mixed Martial Artist and Scissor Queen
Friction -
Samiya Kusanagi
- Submission Specialist, The 'Schoolgirl Assassin'
Mitsuru's sense were tingling a bit here. Couldn't quite explain what, but something seemed a little off. Maybe it was just her imagination, but Alicia seemed a tad nervous. Which wouldn't be all that off putting, except that everything she'd seen of the towering redhead told Mitsuru that being unsure of herself was far from a common thing. When you can literally kick the butt off of 99% percent of the world, why be hesitant about anything?

Something was up. And while Mitsuru wasn't about to barge on in - as if she could get an inch past Alicia on the best day of her life - her curiosity was steadily mounting, and would need sating.

Fortunately, Alicia was about it. As she told the story to Mitusru, the blunette listened. Then snickered. Then had a full-on laugh.

"Oh, wow!" She put a hand to her mouth, trying to keep the giggles down. Alicia had worn some poor guy to the nub? Yeah, that sounded about right. "Man, you make for a really rough date."

She almost asked if she could join in, but had a second though at that. Three was a crowd, and the last thing any sane person wanted to do was voluntarily get on a mat with Alicia. She gave her friend a playful punch in the side and stepped back, still smiling. "I'll leave you to it, then. Take care, catch you later." She started to walk off, then leaned back to yell in the room. "Stay strong, dude! You can take her!"

With one final laugh, she was off. Dmitri, who was close enough to hear it all, was still banging his head on the mat. Now, though, it was for an entirely different reason.
"Trust me, you have no idea," Alicia's wry reply was more than a little relieved because she really did not have much of a fall-back position if that went wrong. Fortunately, though Mitsuru hadn't quite grasped what the redhead had been aiming for, the nosy neighbour's curiosity had apparently been satiated enough to keep her from trying to get in. Which would not have worked but would have been awkward to deal with.

So she could laugh along with the blue-haired girl, taking the push in the spirit it was meant, though her grin sharpened considerably towards the end.

"You too – I'll see you later," She offered as a farewell, before chuckling low in her chest. "And no, not on his best day."

Interruption dealt with, she shut the door on Mitsuru's departing back with a sigh before clicking the lock closed again. And she'd managed it without blowing up a nascent friendship or inviting anything worse than having to sit through Gladiator again.

She enjoyed it but, for the record, the inaccuracies irked her considerably – though what could you expect of a Ridley Scott film? Kingdom of Heaven had been worse… She shook her head.

Now, to deal with her rude house guest, who had nearly outstayed his welcome. Her quick steps took her back into the sparring room, where she closed that door too before turning a cool gaze on Dmitri where he was still lying exactly where she'd left him.

But, in common with her behaviour before, Alicia didn't say a word. Instead, she stepped over him, settling back down on his hips as if he was the most comfortable seat possible. Gently this time, in contrast to the brutal butt-drop she'd inflicting on him beforehand, those big thighs pressing against his sides to hold him firmly in place but no more.

Given the punishment she'd inflicted on his ribs and organs, that was probably quite enough, of course.

Casually, her hands went to his shoulders so she could pull him up to face her more directly. With one finger, Alicia tilted his chin up so that they were looking into each other's eyes.

"That was pointless."
_________________
Friction -
Alicia Wells
- Kickboxer, Mixed Martial Artist and Scissor Queen
Friction -
Samiya Kusanagi
- Submission Specialist, The 'Schoolgirl Assassin'
Yup, so much for the miracle. Nobody up there was looking out for him, but someone below was certainly on Alicia's side.

"хуёво. Блядь. глупый." Dmitri muttered a string of Russian curses, punctuating each one with another bang of his head. There was just no way he could be this unlucky. No way he could've gotten himself so thoroughly screwed. He'd been so close to escape there, or at least getting someone to help him out. That was his only chance, and it had just walked away, giggling at him.

And now he was alone again. With Alicia.

He couldn't really hear her walking around the apartment because of her bare feet, but somehow, he knew when she was entering the sparring room. He could feel her presence nearing, and he shuddered. Her frigid stare gave him the chills.

He thought she'd be mad. He thought she'd wrap him up and break his ribs, one by one, taking her time with each one. He thought she'd place those mammoth thighs around his neck and just squeeze away until something broke.

But she didn't. She just sat down on him, reclaiming her throne. Hardly the most pleasant thing for his weary bones, but really, it was about the softest form of contact she could've given him at this point. Dmitri shuddered at the quick burst of pain, then settled down.

He put up no resistance as she lifted him up, because he had no more resistance to use. She was in his face, close enough to smell the coffee on her breath. He sighed when he spoke, then furrowed his brow and spoke with the last bit of spark he had.

"This was all pointless."
It seemed that, with Mitsuru's departure, the last hope and resistance had ebbed out of Dmitri. He'd thought rescue was at hand and, with it now seeping away, he had nothing left at all. That only reinforced Alicia's decision to end it here and now. She'd beaten him, totally, anything further would be about as fun as beating up a workout bag and she could do that without the risk of being prosecuted.

He was wrong though. None of it had been pointless. He just didn't understand. None of them did and she really didn't see the point in explaining it to him. She didn't see the need either. She didn't owe him an explanation or understanding. As for what she did owe him…

Well, she paid her debts.

For a long moment, Alicia just considered Dmitri, her free hand sliding around to cup the back of his head. Her eyes played over his face, taking in every detail as though she was trying to commit the exact tilt of his nose or the shape of his jaw to memory, as though this was the last time she expected to be seeing him. He looked much the same as he had before. His colour was rather more ashen, his eyes still a little bulgy. Then her lips twisted, though her eyes didn't change. She shrugged slightly.

"Guess we'll just have to disagree."

With that and no further ado, the big redhead plunged him face first into the abyssal darkness of her cleavage, doing her best to swallow his head between her hulking breasts. Alicia wasn't possessed of the greatest endowment in Friction – some were simply ridiculous and hers were well-proportioned to her solid frame. But they were still more than large enough for a devastating smother as she and more than one of the boys had learnt back in her later school days; Dmitri was not the first to go out this way.

So far as she was concerned, there was precious little more humiliating for a boy or a man than to be sent to sleep by a woman's tits.

Wrapping her arms around his neck to pull him in deeper, the pressure of her biceps pushing her rack closer together and thus covering still more of his features in warm flesh, Alicia rested her cheek on top of Dmitri's skull and settled in to wait for the end.
_________________
Friction -
Alicia Wells
- Kickboxer, Mixed Martial Artist and Scissor Queen
Friction -
Samiya Kusanagi
- Submission Specialist, The 'Schoolgirl Assassin'
Dmitri sat and listened and stared back at Alicia as held him close, manipulating him like he was her own, personal toy. For all intents and purposes, he was - there was nothing to stop her from doing whatever she pleased to him. Maybe there had never been any barrier, but especially now. She'd made he couldn't even really voice his displeasure. Totally at her mercy.

Only one question remained: what now?

He wasn't going to go to the authorities with this. Aside from the embarrassment, they likely wouldn't believe the story, finding it just as outlandish as he would've an hour ago. She'd taken care to not break anything permanent, so he felt safe to assume that, even though this could take a macabre turn, she wasn't that twisted. And, while she certainly could keep him captive for any length of time, he doubted she would go through the hassle that kidnapping involved.

So, what next? What hold was she going to put him through now? He'd ran out of extremities for her to torture. She couldn't do anything more to him.

What happened next confused Dmitri more than anything else during this day. A big statement, all by itself.

Suddenly, Dmirti was close to Alicia's chest Intimately close. The acrid smell of her sweat filled his nostrils, her heaving chest blocked his vision, and her taste was all over his tongue. It was like being laid against a soft, fleshy pillow, and while he didn't understand why she was doing it, he hardly cared. He'd gladly take all the relief he could get.

That was, until he tried to inhale and couldn't. Tried to breathe through his mouth, but couldn't do that, either. He tried to turn his head left and right, one of the few remaining motions he was capable of, but her grip held him in place. It was then and there that the reality of the situation dawned on him: a breastsmother. She was going to knock him out with her chest.

A low moan - what might have been a scream when he still had the throat for it - rumbled through Alicia's chest, as Dmitri sucked away on her shirt with a gaping mouth, trying to get air that simply wasn't there to be taken in. He knew what was going to happen, he could already feel things getting hazy, but he had no way to escape this fate. At this point, it was inevitable.
Unlike her scissors, her bodyscissors in particular, Alicia wouldn't ever claim to specialise in breast smothers. She knew the technique and was physically capable of it, but she'd only ever done it on opponents she'd already beaten and who weren't much of a match for her to start with. Anyone particularly familiar with the hold or who wasn't beaten to a pulp would probably be able to find a way out. She was perhaps best described as a gifted amateur.

Fortunately, Dmitri qualified on both grounds and, if he'd ever been able to get out, he certainly couldn't with two ruined arms, battered shoulders and her sitting on his lap.

That meant this was really just a question of how long he'd last before the inevitable oxygen deprivation set in and, given his breathing hadn't been the best before, that probably wasn't going to take too long. She could already feel the familiar sensation of his mouth moving over her sports bra and the skin it bared, suckling at fabric and firm flesh alike in a search for a gap that simply wasn't there.

Something rumbled through, an attempt to make some sort of sound, but she didn't know if he was trying to talk or scream or what.

Alicia just did her best to pull him in still deeper, pressing his head against her as though she was trying to drown him in her satiny, sweaty orbs. Once again, Dmitri would be able to hear – feel? – the slow, regular thump-thump of Alicia's heart drumming away in her chest. It was probably the last thing he'd be hearing.

The redhead stared at the wall opposite her, her expression almost bored. It wouldn't take long now before the feeble tugs on her breasts to wane, then disappear entirely. It'd been a while but this was like riding a bike – she'd never forgotten how it felt.
_________________
Friction -
Alicia Wells
- Kickboxer, Mixed Martial Artist and Scissor Queen
Friction -
Samiya Kusanagi
- Submission Specialist, The 'Schoolgirl Assassin'
Dmitri had seen women using breastsmothers in the AFW before, but he always thought it was some sort of gag. Something that could only happen to the smaller, less skilled men on the roster. There were more than a few guys in Tension who he strongly suspected only joined up for the possibility of having something like this happen to them.

Dmitri didn't think of himself as a great wrestler, or even all that good of one, but he considered his skills above that level, at least. And, yet, here he was, with his face in between Alicia's sweaty breasts, well on his way to dreamland.

At least he had the excuse of not being able to defend himself in any way, shape or form. About the only thing he could've done like this was bite her, and there was no way he'd go down that road again.

The moans tapered off into nothingness as Dmitri accepted his fate. It could be worse, after all. She could've wrapped those thighs around him skull and dragged him into unconsciousness the painful, excruciating way, but instead she was making it relatively pleasant. He wasn't sure what spurred on this act of mercy, and he didn't much care. He'd take it.

So now came the plunge. His thoughts became hazy, and he could feel his slowing heartbeat keeping time against Alicia's. It was a steady pounding against his head, but it was becoming weaker and weaker everytime he heard it. Drifting off. More distant. Farther away…

Thump-thump

Thump-thump

Thump-thump

Thump...
And that, as they said, was that.

Dmitri wasn't even trying to struggle. He just sat there, arms limp at his sides, legs flat on the floor, as Alicia patiently deprived him of the last shred of dignity – except for his clothing, that was. To an uninformed observer, there would probably be something almost tender about their embrace. It wouldn't have been out of place if Alicia'd been humming, though the British amazon's ability to carry a tune was non-existent.

But it didn't look like a potentially deadly wrestling hold. It looked like a young woman hugging her boyfriend to her. Only if you got close enough to see Dmitri's nose and mouth pressed into her flesh might a watcher realise what was actually happening.

It was all so peaceful

His breathing slowed. Slowed.

Stopped.

The big redhead held him for a few more moments, waiting to make absolutely sure that he wasn't faking. And then she released him, gently easing his limp form down to the mats.

Ding, ding. And here is your winner – Alicia Wells. She chuckled at the thought, before rising to her feet and eyeing Dmitri's body thoughtfully. He'd be out for a minute or two at the least, given what his body had been through. Plenty of time. She rose to her feet and padded out into the main apartment.

A tap turned on. Water gurgled. Cupboards opened and closed.

And by the time Dmitri woke up, Alicia was back in the room, sat with her legs drawn up in front of her, arms wrapped around them as she patiently watched him. She'd thrown an old, comfy sweatshirt on over her sports bra, her hair slightly dampened from the water she'd used to splash her face. That hadn't been the only thing she'd done – she'd stuck an old pillow under his head while she was at it and made some effort to arrange him in a sensible, comfortable position.

Curled up and off to one side, she watched and waited.
_________________
Friction -
Alicia Wells
- Kickboxer, Mixed Martial Artist and Scissor Queen
Friction -
Samiya Kusanagi
- Submission Specialist, The 'Schoolgirl Assassin'
Dmitri's sleep was short, but surprisingly peaceful. The smother really was a good way to go to sleep, as he was filled with this warm, fuzzy sensation. He felt weightless, like he was drifting in the clouds - almost an out-of-body experience. Not an honorable way to go down, but the idea of keeping his respect was so far gone, now. Frankly, he wouldn't mind doing it again.

Maybe without all the pain and torture that preceded it, though.

Things were quiet when he came to, and as his eyes slowly opened, he realized that he was still in Alicia's room. That was...surprising, actually. He wasn't sure what she was going to do with him after he was knocked out, but he'd wagered it would involve getting him out of her apartment. He wasn't sure how she'd do that without attracting attention, granted, but she'd clearly thought this all through. Had to be part of the plan.

Whatever the case, her certainly didn't expect to wake up with his head on a pillow, laying like he'd just taken a blissful nap.

Dmitri stared up at the ceiling for a moment, getting his breathing back in order. Now that it wasn't constantly taking abuse, his body was starting to get some feeling back. He managed to move his arms, got them up a few inches before he had to let them fall. His legs twitched. He rolled his shoulders, hissed at the sharp bursts of pain, decided not to do that again.

But it could be worse. He had to keep that perspective.

Dmitri had just started to settle down when he finally noticed Alicia sitting over to his side. Just staring at him. Watching. Waiting. She had a sweatshirt on now, so he was reasonably sure that she didn't plan on starting back up, but he couldn't be sure. Nothing was for certain with this woman.

After a terrible awkward moment of staring at her with tired, weary eyes, he finally spoke. "Hello." Couldn't think of much to say in this situation, really. "Thanks for the pillow."
Page 8 of 9 •

1, 2, 3, 4, 5, 6, 7, 8, 9



Similar topics
---
Permissions in this forum:
You
cannot
reply to topics in this forum