Who is online?
In total there are
25
users online :: 9 Registered, 1 Hidden and 15 Guests :: 2 Bots
axe2029
,
bricktown
,
Harrier
,
Hedgehawk
,
Lobo
,
Mystery Dragon
,
Old_Man_Tai
,
scorn53
,
Yori
Most users ever online was
390
on Tue Jan 02, 2018 2:02 pm
Champions & #1 contenders
Highfly Flying Out Of Town
Tue May 22, 2018 1:31 am by HighFly
Hello everyone, I just wanted to inform all I have threads with that I will be gone from this coming Wednesday through Sunday. I won't be able to post consistently if at all during this time, but I will try to make up for it next week! I am sorry for the inconvenience to everyone.
Comments: 7
The Austrailian Mudslide is Back.
Sat Apr 21, 2018 6:20 am by Softsquad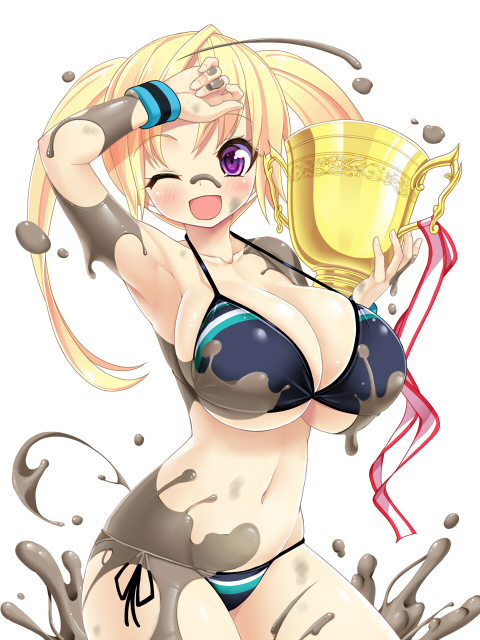 Granted that most of you won't know me or remember me, but I've had a few matches here and there some time ago. Well I think its time to become a regular around here and try to have some fun again, but at the same time keep coming back. Anyway I think its time to jump into some matches with Zoe Taylor, my mud wrestling character from Australia and get her back into the squared circle. Furthermore I will update my characters as I think some proper changes need to happen.
So if anyone would …
[
Full reading
]
Comments: 5
Page 6 of 9 •

1, 2, 3, 4, 5, 6, 7, 8, 9


She really wished he wouldn't scream. Not that she cared either way but there was always a part of her worrying that somebody would hear it and come to check. Alright, fine, probably not but it was a complication and distraction she could do without even if it was a sign she had the hold on perfectly.

This was why practice like this was so important.

She did give the hold an extra wrench after she caught him looking at the door, just on principle. He wasn't leaving until she let him and he might as well get used to that.

The short-arm scissors wasn't going to be something Dmitri had to endure for too long though, luckily for him. Aside from the agonising pressure of having his bicep crushed (as the name suggested) against the bones of the upper arm, the hold put insidious pressure on the elbow joint, risking pulling it apart if Alicia had kept at it for too long. So, once she felt she'd tenderised it enough, the hold came apart and the big redhead swung herself back astride Dmitri's belly before scooting up into a casual school-girl pin, looking to pin his shoulders to the mat with her knees.

It wasn't a move she ever used, so he'd likely be able to get out of it…

Yeah, right. He didn't stand a chance at this point, did he?

Which was why Alicia had chosen it. The pin would give her a chance to consider her next move. He still had an arm and a leg that were entirely open for moves, but she was wondering if she'd beaten most of the fight out of him at this point. He'd still be struggling but there was struggling and there was thrashing around in agony because the body didn't know any better. The latter was boring. It wasn't even entertaining to work around, it was just dull.

And, given how much fun Dmitri had proven to be, Alicia didn't want their time together to end on a downbeat. With one hand splayed across the bold curve of her hip, she rubbed the forefinger of her other across her lips pensively, looking down at his face framed by her thick thighs.

She could ask him but that assumed he actually knew any holds worth doing. Decisions, decisions.
_________________
Friction -
Alicia Wells
- Kickboxer, Mixed Martial Artist and Scissor Queen
Friction -
Samiya Kusanagi
- Submission Specialist, The 'Schoolgirl Assassin'
No small surprise, but Dmitri's scream wasn't all that loud, coming out of throat that had been constricted and bolstered by lungs that had been flattened. They were enough to fill the room, but it was a small room to begin with. Not terribly difficult.

It was a loud whisper, the gasps of a man who was making noise to make noise. He didn't think anyone would come. He didn't think he could really make an escape with one working leg. Faint hopes, but they were all he had to cling to.

In a time like this, he needed that. Ragged fear seized him as he could literally feel his arm coming apart at the seams. So far, Alicia hadn't done anything to him that would require a hospital stay. Oh, he would certainly be lying in bed for a week and walking funny for weeks after that, but it was nothing he couldn't come back from eventually. He assumed that was by design. He assumed that she didn't want the trouble of calling an ambulance and explaining to the police what happened to this broken pile of bones that was once in the shape of a man.

Then again, he'd also assumed that when Alicia said she wanted a spar, she hadn't been talking about an extended torture session. So much for his assumptions.

Thankfully, she did ease up. Soon enough to save his arm from destruction, not soon enough to save it from useless. It wasn't numbed like his leg, though he wished it was. That would've saved him from the pain every time he moved it, relieved him of that horrid sensation as the bones clicked around.

Alicia wasn't done, though. Of course she wasn't done.

He groaned as she sat on his stomach again, then moved to his chest, one of the few parts of his body that she hadn't twisted into oblivion. This was the most peaceful hold she'd put him in so far, but also the most degrading. It was just a schoolgirl pin. Something that he would've been able to get out of in a second if he had four functioning limbs. Even just three.

But like this? He shot his leg up, tried to kick her, but, flexible as he was, he could just barely tap her back with his one good leg. His remaining workable arm wasn't much better, as he ineffectively swatted at her massive thigh. He attempted a bridge, couldn't budge her. He even tried to hit shoot his head up and hit her legs with it.

Nothing. Just nothing.

"God…" He let his head fall back and took a moment to catch his breath. He knew she'd start up again so, but until then, he might as well enjoy the rest. "Stop and talk, please. It doesn't have to be...Jesus, just say something. Anything."
If Dmitri was dispirited, it likely wouldn't have helped to know that Alicia barely even noticed his attempts to get out. His kick – not hard enough. Same for his hand beating against her thigh. Bridging her? With one dead leg? It was about as effective and noticeable as if he hadn't bothered. She didn't have to ride out his struggles because at this point there were barely any struggles to ride out – hence her deliberations. And she still couldn't make her mind up.

Arm. Or leg.

There were ups and downs on both sides of the argument.

He was down one of each and she was fairly sure she could sink any hold she chose at this point.

So. Arm. Or leg. Or knock his ass out and leave out for the rubbish. That was an exaggeration of course but it was an option. End it now…

He was talking again.

Alicia ignored him, shifting her position slightly to get more comfortable. It occurred to her though – did he realise he hadn't tapped? Not that it mattered as his intentions had been fairly clear on multiple occasions, but he had never strictly submitted. Probably not. Somehow, she doubted that he remembered the details. It was just one of those random thoughts that crossed her mind as she considered her options.

Actually, Alicia was being very rude – he was a guest and she wasn't even listening to a word he was saying. And at that moment a solution to her dilemma occurred to her.

Calmly, the big redhead regarded him for a moment, still tapping her finger against her lips, her head tilted slightly to one side as she considered something. Then…

"Arm or leg?"

She raised her eyebrows at him inquiringly, clearly waiting on his response as she rested her hands on her thighs. It seemed a simple enough question, after all. Arm or leg. He got to pick. She got to pick the hold. She was in no hurry. He was the one pinned to the mats, her weight pressing oppressively on his ribs. He was the one with his head in the perfect place for another headscissors.

And he had wanted her to say something.

Anything.

Alicia's lips peeled back in a smirk that a horror villain would have been proud to call their own.
_________________
Friction -
Alicia Wells
- Kickboxer, Mixed Martial Artist and Scissor Queen
Friction -
Samiya Kusanagi
- Submission Specialist, The 'Schoolgirl Assassin'
As weird as it surely sounded, Dmitri could actually enjoy Alicia sitting on him like this.

It was embarrassing, but then again, he'd never been a creature of pride. Yes, having such a solid weight bearing down on his chest was far from comfortable, but compared to what he'd been going through and would surely be going through when Alicia figured out her next step, it was heaven. This was the closest thing to a break he could get, and-

...wait, did she speak?

Dmitri had gotten so used to the haunting silence that her voice made him jump, as much as he could jump with a living Amazon using him as a chair. At first, her words confused him, but it was only a matter of seconds before he figured it out. Given her nature, there was only one thing she really could mean.

"What?" He blurted out, spilling an exasperated sigh. "You're serious? I want nei-"

He cut himself off midsentence, as a warning came from the part of his brain that told him not to touch hot stoves. Dmitri had little experience being snarky. This was probably not the time to experiment. She wanted him to chose, so he had to chose, unless he wanted to find out what she'd do if he didn't. Simple.

Arm or leg.

While Dmitri was fond of kicking and running and just being able to stand without a crutch, he also liked being able to grasp things. He would be okay if he had to use assistance to walk around Tokyo for a little while. Not being able to write or type or eat properly would be...troubling.

From that standpoint, the hard choice wasn't so hard.

Dmitri sighed, took a deep breath, then sighed again, before he forced the answer out. "Leg."

His toes curled, calf tenses, knee drew up, anticipating what was to come.
It was just as well for Dmitri that he rethought whatever he'd been about to say. However he'd been planning to conclude that thought, and she had a sneaking suspicion on that front, the redhead had been about to rise up on her haunches preparatory to dropping her weight right back down again. But Alicia settled back down as he brought his sentence to an abrupt halt, back to waiting with predatory patience.

He sighed, thought about it, sighed some more as if sounding pitiful was going to change anything and made his choice.

Leg it was. And the time he'd taken to decide had given her a chance to decide on what move she was going to use.

She didn't keep him in suspense long. As soon as he'd – reluctantly, grudgingly – made his choice, Alicia rose up to stand over him; her eyes flashed him a warning. She took two quick steps back before dropping down to sit just below his feet, taking one with her hands as she slid up towards him with her legs pointed towards him, surrounding his with the promise of the same treatment as its mate. Except that wasn't what she had in mind at all. While the big redhead did wrap her lower limbs around his thigh in a loose triangle, she just secured Dmitri's.

She wasn't squeezing, just holding, not putting any pressure on with her thighs. The real danger was coming from her arms. His foot was held underneath one, which she had looped around it and braced with her other arm, his toes caught up in her armpit. She had her forearm, the boniest, hardest part of her arm, wedged against his Achilles tendon. And, when Alicia leant back to rest her shoulders against the mat, only raising her head to see Dmitri's reaction…

Well, now she was doing all sorts of nasty things to his foot and ankle. Just like the short-arm scissors, her forearm was putting sadistic pressure on that tendon, pressing against it in a way nature hadn't ever intended. That would be painful. Very, very painful. Oh, and the same move was simultaneously pulling her foot down over the fulcrum of Alicia's arm – risking hyperextending the ankle joint with all the lovely intended risks of damaging it.

For the record, Alicia's thighs? Still not squeezing.
_________________
Friction -
Alicia Wells
- Kickboxer, Mixed Martial Artist and Scissor Queen
Friction -
Samiya Kusanagi
- Submission Specialist, The 'Schoolgirl Assassin'
Dmitri had tensed up when she suddenly rose like that, threatening to drop her weight on his chest. It was a scary moment, a brief flash of fear, and there was no way to describe how relieved he was when she simply decided to settle down on his chest, instead of using the firm rear end of hers to drill him into the mat.

Relief was a commodity that Dmitri was learning to cherish.

He lost it again as Alicia went into motion, moving down to his leg and giving him a warning glare. Why? Was she afraid he might try to kick her? That hadn't worked out so far, he didn't much see the use in it now. Dmitri tried to move his other leg, hoping there might be some circulation there, that he could do...something with it. The best he could do was wiggle a couple of toes. It was asleep, and not waking up anytime soon to help its brother.

The waiting was the worst part. He had to sit there as she went through the mechanical process, getting his leg into position with practiced eased. The careful placement. The methodical moves. The slow pull, further and further back, until…

"Graaah! Gah!" The pain came quick and hard, starting in his ankle and spreading from there. His body went through the usual motions, spasming all around, desperate for any relief, and Dmitri tried to find something, some way to make her let go. He could feel tendons starting to tear, getting pulled to their breaking point, risking an injury that might follow him for the rest of his life. He had to try.

He still had one arm, and he tried to put it to good use. With her legs wrapped around his, her foot was fairly close. Dmitri tried to grab it, hoping to grab a toe and twist away.

...not likely to work and probably not a good idea if it did. But he was low on options. A bad idea was better than no idea.
Achilles Hold secured, Alicia worked it as best as she could. Again, this wasn't a technique that she knew inside and out, but she knew it well enough to make good use of it here. If she'd really wanted to make him scream, her go-to would have been the kneebar but she was feeling adventurous at the moment. And, with that leg, she just had that much more control with which to apply and test holds.

Dmitri had been struggling but it had been as futilely as she'd predicted.

Something tried to grab her foot.

Alicia jerked it away, raising her head up instinctively to confirm what she already knew, because there was only one thing it could be. Dmitri, trying his futile best to force her to break the hold. Glowering at him – because this was exactly why she'd given him that look before – she went to nudge it away with her foot, unwilling either to relinquish the hold yet or put more force into it. She'd got it at the limit of where she was comfortably sure she wouldn't injure him and upping the torque risked tearing a tendon.

Damaging the ankle.

Pulling the ankle apart.

Making sure he wouldn't be walking any time soon. And that wasn't an option as far as she was concerned, whether she did it or he did it by twisting the wrong way.

If he tried again, Alicia would shift her inner leg, pulling it back so that the ball of her foot was resting against his inner thigh; more specifically, right next to his crotch. Then she raised a pointed eyebrow at him, her dark gaze going from him to her foot to his groin and back again. He shouldn't have any problems connecting the dots there.

Not that she intended to follow through but, in her experience, men tended to quieten down significantly at the merest threat to that particular bit of their anatomy. It was sacrificing part of her grip but, to be honest, with one leg neutered he wasn't likely to try pulling free. She still had the leg she was working fully extended and she was nearly done anyway. So, as long as he just sat still for a little longer, there wouldn't be any permanent damage.

Except, perhaps, to his pride but it was a little late for that now.
_________________
Friction -
Alicia Wells
- Kickboxer, Mixed Martial Artist and Scissor Queen
Friction -
Samiya Kusanagi
- Submission Specialist, The 'Schoolgirl Assassin'
There wasn't much sense in Dmitri's actions, and he realized that. Even if he managed to get hold of something, there was little chance that Alicia would stay still long enough for him to do anything. Even if she stayed still long enough for him to do anything, there was a smaller chance that she'd break the hold because of it. Even if she broke the hold because of it, there was absolutely no chance that she wouldn't find some way to punish him for his impertinence.

But he was laying on this mat, being bent and abused, squeezed and squashed, systematically picked apart. He was tired of being hurt, but more than that, he was tired of feeling helpless. He just had to try.

His brief burst of bravery didn't gain him much, though. Alicia didn't let him get past the initial phase, moving her foot away, quelling his feeble attempt at rebellion. What was more, that same foot came to rest along his inner thigh, and when he looked down at it, he also saw that burning gaze in her eyes, with the unspoken threat.

Through all of this, as bad as it had been, Alicia hadn't targeted his weakest point. If he wanted that to continue, he needed to lay back and take it.

Message received. "Okay, okay!" Dmitri brought his hand away and laid his remaining good arm to the side, making sure his compliance was clear. He could lay there and suffer like a good little chew toy.

And suffer he did. The pain in his ankle was reaching that burning point, making his leg envious of the fate his other one had indured. Getting squeezed into numbness was bad, but this torture was bringing him so close to the breaking point. The fear was always there - Alicia hadn't broken anything yet, but the terrifying thing was that she could. So easily she could. She knew exactly how to bring him to the point of no return, and he had no way of knowing if she might push him over at a whim. His life was in her hands. Or legs, more likely.

For now, all he could do was moan and scratch away at the mat with his remaining good arm, waiting for it to end and hoping it would be soon.
And just like that, he was back to being a meek little lamb. Contempt wasn't exactly the right word for what Alicia was feeling, but it was still amazing how easily men could cave with just the threat of violence at their weakest point even the ones who weren't afraid of pain otherwise.

Regardless, to show that she had noted his compliance, she pulled her foot back once he'd clearly given up the ghost. And then she kept working that ankle and tendon until she felt certain that both his legs were fully neutralised. Calmly and methodically, she kept the pressure at agonising without ever letting it tip over to where it might injure him. And that meant Dmitri was going to enjoy another minute, perhaps two, of her tender attentions before Alicia decided enough was enough and released him.

Scooting back, the redheaded Amazon barely paused before she stood, circled around and nudged him over onto his back with a boot. She still had one arm left to deal with and, into the bargain, she had to admit to some curiosity about just how flexible those shoulders were. Dmitri had seemed to depend more on speed and agility than pure power, which left Alicia curious along those lines.

So she dropped down, immediately going to secure his uninjured arm between her legs. Again, having squeezed one into paralysis, she didn't bother repeating old hits. Instead, she just went to hold it good and tight, keeping it firmly back at an angle that would force Dmitri's shoulder towards the centre of his back. Laying herself over his back, his other arm went up and over and under Alicia's upper armpit – having exactly the same effect there.

Planting her free hand on the mats for leverage, Alicia looked down into those black eyes and wrenched back on both arms, pulling Dmitri up off the mats and forcing his arms and shoulders towards each other as far as she could get them to go.

Another hold she barely used but, in his state, resistance wasn't just futile – it wasn't even an option. But this should certainly stop him flailing at her any longer.
_________________
Friction -
Alicia Wells
- Kickboxer, Mixed Martial Artist and Scissor Queen
Friction -
Samiya Kusanagi
- Submission Specialist, The 'Schoolgirl Assassin'
Dmitri was in this hold for, about, two minutes. He knew this because he'd laid his cell phone in the corner of the room, and it would occasionally flash to life when he got an email, giving him an update when he bothered to cast his gaze towards it at the right time.

Two minutes. One-hundred and twenty seconds. Dear God, did it seem so much longer than that.

It was just one long, endless burst of pain, that seemed to go on and on, drawing out each second, making him cruelly cognizant of the passing of time. He couldn't know how long she'd do it, not exactly, but with two neutralized arms, he was recognizing the pattern. She wanted that leg useless, and useless it would be.

His groans turned into a sigh when she finally leg, living him temporarily paralyzed below the waist. One leg that had no feeling at all, another that had two much feeling. Quite a pair. But Dmitri had some small glimmer of hope - after he'd made that choice earlier, he'd harbored the quaint belief that she might spare his remaining limb, that the decision might make a real difference.

Then she came over, flipped him on his chest, and he learned how naive that hope really was.

He didn't know the name of the hold she was putting him in, but he didn't need to - when he was lying in bed for the next few days, he'd have all the time in the world to Google it. For now, he knew enough - like everything Alicia did, it was an agonizing affair that took him to his limits. His shoulders were okay, having a good enough flexibility that, while this was far from comfortable, he could endure with them for a while. His arm was another story. His remaining good one was trapped between those killer thighs of hers, and again, that was not a good place to be.

Resistance was futile, but he still made a good of it, pulling his shoulders forward to try and alleviate the strain, gritting his teeth down hard and hissing with the effort. Somewhat. Likely wouldn't last for long, but he was at a point where he'd take whatever he could get.
Page 6 of 9 •

1, 2, 3, 4, 5, 6, 7, 8, 9


---
Permissions in this forum:
You
cannot
reply to topics in this forum