Champions & #1 contenders
Highfly Flying Out Of Town
Tue May 22, 2018 1:31 am by HighFly
Hello everyone, I just wanted to inform all I have threads with that I will be gone from this coming Wednesday through Sunday. I won't be able to post consistently if at all during this time, but I will try to make up for it next week! I am sorry for the inconvenience to everyone.
Comments: 7
The Austrailian Mudslide is Back.
Sat Apr 21, 2018 6:20 am by Softsquad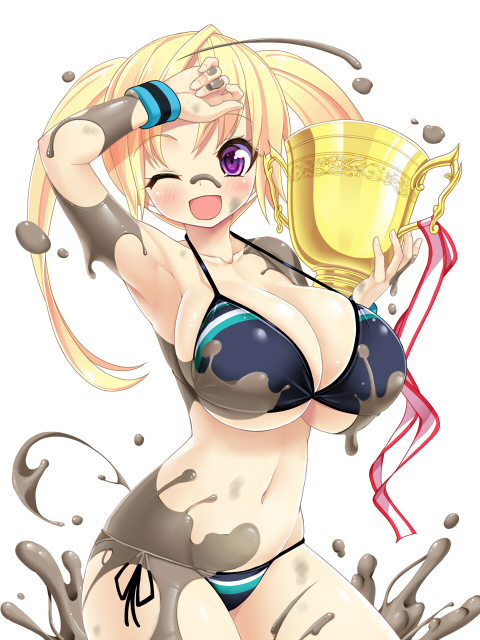 Granted that most of you won't know me or remember me, but I've had a few matches here and there some time ago. Well I think its time to become a regular around here and try to have some fun again, but at the same time keep coming back. Anyway I think its time to jump into some matches with Zoe Taylor, my mud wrestling character from Australia and get her back into the squared circle. Furthermore I will update my characters as I think some proper changes need to happen.
So if anyone would …
[
Full reading
]
Comments: 5
Page 1 of 6 • 1, 2, 3, 4, 5, 6


Tombstone match: Outside the ring, tombstones are placed. One has Josey's name, and another has Valrie's name. In order to win the match, one of the competitors must hit their opponent with the tombstone bearing their name on top of their grave. No disqualification.
If Josey were smart, she would have stayed at home for a while. Her recent match with Cecilia had been an absolute barn burner. Even though she had completely mentally and physically recovered, some of the more timorous members of the medical team warned her against this. She was going against an opponent having one of her first matches at AFW, which made her very much an unknown quantity. After all, she could be seven feet tall and weigh three hundred pounds, with corpse of the previous girl still in her teeth...
The Outlaw just laughed. She didn't fear anything at all. Her black casket outfit looked good on her as she reclined in her chair. Her top barely covered her healthy chest just as her long stockings and small bikini bottoms gave her a look of danger. The ever present cowboy hat was black as midnight and rested square on her head. A sad song, almost a dirge, erupted from her harmonica as she closed her eyes and tried to mentally prepare herself for her upcoming match.
As she got to her feet, the song belting from her harmonica got a little bit more lively. It mirrored the uptick in her feelings, in her energy. She would be damned if anyone at AFW thought she was afraid of anyone. Part of her hoped that the woman she would be facing look like a monster. She was in the mood to put someone in their goddamn grave, and if she had to smack someone with a tombstone to do it, she absolutely would.
It was go time. She placed her harmonica in a little pocket in the cape and bounced a little bit. A certain feeling of looseness pervaded her and she felt ready. All of her muscles cried for combat, and Josey was going to give them massive servings of it.
The wailing harmonica of her intro music portended her appearance. The crowd had not grown to love her but Josey didn't give a damn. As she made her way to the ring she noticed its rather macabre appearance. The area of the ring was adorned with numerous small graves, and she was told one of them had her name on it. The tombstones above all four corners gave the ring a deathly appearance, and Josey smiled. She was going to have a good time tonight.
A quick hop up got her in the ring, and Josey stood right in the center of it. Her gaze was focused on the entrance ramp.
Bring out your dead
, she thought.
Last edited by LtLukas on Wed Mar 30, 2016 5:59 pm; edited 1 time in total
Once Josey theme music had died down, Valrie them song, Reaper Reaper, would start to play.  A song that Valrie wrote and sang herself.  But this time, the Canadian rock star was nowhere to been seen on the ramp.  Instead, an arm would suddenly appear out of the ground that was near one of the gravestones.  Then suddenly another arm would appear out of the ground before a zombie looking wrestling sat up.  It was now looking as if the living dead was now rising from the grave.  The audience would cheer at the sight as then found out that it was Valrie, the Canadian rock-star who pretended to be a zombie.
Valrie would now take a moment to look around as she then brushed the dirt off herself.  She wanted to see how her opponent to reacted to someone literally coming out of the ground.  After all, she and her staff had spent a large amount of time and money setting this up.  She wanted this to be a match that no one would forget, something that would send down shivers to everyone in AFW and would make everyone in Friction fear her.
The Canadian wrestler would then slide into the ring while keeping her eyes on Josey, looking at her like she was prey, something to be devoured.  The zombie looking rock-star would then start to get up on her feet, still keeping her eyes fix on her American opponent, trying to intimidate her.  In fact, this entire ring could be considered a form of intimidation.  The wooden tombstones acting as turnbuckles and the entire graveyard theme.  This was effectively her home.  "I hope you fucking like it here, cause this is going to be your grave." stated Valrie to her opponent as she then licked her lips, indicating she intended to bite her opponent.
Josey was an experienced woman. In fights, in the bedroom, in the ring. She had seen and done it all, and was quite proud of that fact. What had just happened came from so far out of left field that Josey could hardly believe her eyes. While she was fixated on the focus ramp, an unearthly woman rose from one of the graves, an event the crowd went absolutely nuts for. By the time Josey had gotten her bearings she was more or less free from the prison of dirt, and the cowgirl watched intently as Valrie made her way to the ring.

For a second, her eyes got wide. She was not particularly superstitious of any stripe nor was she particularly intimidated by the woman in an of her strength. Even to a girl such as Josey, the 'entrance' deserved quite a few accolades. But Josey wasn't here to play nice and give compliments. She was here to fight and win, and that is precisely what she was going to do.

The Outlaw shook off the surprised expression with some haste and stared at Valrie, hoping to match her intensity. Was this girl honestly implying that she was going to bite her? Josey raised her eyebrows. "Heard that before." Josey threw her cape and her cowboy hat off with a flourish. "Probably going to hear it again." Despite being pretty well flapped, Josey felt like she had to pretend she was unflappable.
Despite Valrie unusually entrance, she didn't get much of a scare out of her opponent. At best all she got was to get her opponents eyes to go wide for a moment. She wasn't sure if that was from fear or just being impressed by how strange her entrance was. Aside from that, Josey seemed to remain confident. Valrie had hoped her entrance would have done more but at least, the fans seemed to enjoy it, so it wasn't like it was a complete loss.

Hearing her opponent comments would result in a smirk appearing on Valrie face as Josey then threw away her hat and cape. "Oh, you're going to turn into a fucking zombie as well when I beat you? I fucking hope not as that my gig, bitch." stated Valrie in an arrogant tone, indicating that she planned to bury her opponent here.

The bell would then ring, indicating the start of the match. Not wasting any time, the Canadian rock star would start to slowly make her way towards Josey, extending her arms forward, as if challenging her opponent to a test of might.
Josey dug her heel in. After sizing the girl up briefly, she saw that Valrie had a certain strength to her and was only a little bit shorter than herself. She tried to come off as really intimidating with the whole freak show vibe, but it did seem like she wasn't all bark. There was some power in the arms extending towards her, and there was some purpose in the slow ambling. This wasn't going to be some squash match, either way, and the Outlaw prepared herself for war.

Never one to sit back and let life come to her, Josey advanced forward towards the shambling terror. The Cowgirl favored starting off matches with tests of strength. First, to show her opponent exactly how strong she was and the brutal beating that would inevitably befall them. And second, to show that the Outlaw had no fear in the ring. When pushed, Josey pushed back.

"Dead girls tell no tales..." Josey threatened as she began summoning all her strength forward. This girl would know her might.
The two wrestlers would lock hands as they attempted to overpower one another.  A smirk would appear on her face when her opponent made such a comment.  She didn't have any sort of witty comeback and thus, would now attempt to overpower her opponent with all her strength while still trying to remain confident.  Yet the two seemed to be evenly matched but Josey did have the size and weight advantage, thus, slowly but surely the zombie girl was starting to get pushed back.  

It was only then when she realized she was being overpowered that she came up with some kind of comeback. "Don't fucking underestimate me, I am one of a kind!" stated Valrie as she attempted some kind of comeback to Josey earlier comment.  She continued to try to push forward but was still slowly being pushed back.  It would be only a matter of time before she was on the ropes or the turnbuckle.  That being said, if she was pushed back that far, the referee would come and try to break it up and during that moment, the zombie rock star would attempt to get a cheap punch aimed at her opponent head.
This felt good. Josey felt like she had been shown up so far with Valrie's breathtaking entrance and all, but now she was getting something back. Many wrestlers here in Tokyo overvalued the crowd's opinion, but there was something to be said for reputation. As long as Josey had the reputation of being one of the strongest, baddest girls at AFW, she was fine. It looked like that notoriety would continue as Josey found herself very much on the winning side of the contest of strength. She gained more and more ground until she nearly reached the ropes.

Then the little twat of a referee came over. The fuzz had never been particularly kind to Josey and Josey looked to the small woman as she warned the duo not to get too close to the ropes. When she turned back to her opponent, she got socked right in the jaw.

The Outlaw was flabbergasted. She was the one to use dirty underhanded tactics against her opponents, not the other way around. It worked, as Josey was forced to take a few steps back but did not fall. The blow stunned her for a second, before enraging her- Josey charged towards the zombie with a hard right loaded in the chamber, launching it when she got the right distance!
Valrie hated the fact that she had been overpowered and was forced to the ropes. Yet when the referee came in, she managed to get a cheap shot in that would result in several members of the audience booing but the Canadian rock star felt good for getting the shot in. A smirk would appear on her face as she was about to taunt her opponent only to then be hit back with one of Josey punches, making her take a step to the side as she grabbed the ropes for support.

"You... fucking BITCH!" stated Valrie in frustration. Not wanting to be outdone, the zombie-like wrestler would charge back and attempt to hit her opponent in the jaw with her own punch, attempting to start a punch off between the two wrestlers. She knew that her opponent was slightly stronger than her but if it was a punch off perhaps she could outlast her opponent as there was more to punching than just strength. If worse came to worse, then perhaps she could use some kind of dirty move to gain the upper hand.
Something clicked in her brain. She had seen this woman before. Not in the ring, but on TV. She was the lead for one of the biggest rock groups at the moment. It wasn't so obvious why it occurred to her at that particular time, as punches are wont to distort memory rather than clarify it, but Josey knew who this woman was now. She was a bona fide rockstar, and a paragon of rock. The Outlaw found herself more in the country camp, but she knew this woman's face.

And now she knew her fury. A punch and an insult flew towards her. Josey hoped she was more creative with her music than she was with her comebacks, as this one fell decidedly short. The Outlaw had figured this zombie woman as more or less the straightforward type and correctly guessed what was coming next. She quickly ducked to the right to find the punch sailing past her.

Her thick Texas drawl was rarely heard amongst the crowd, but Josey knew that her opponents always heard it. "Gonna have to try harder, sweetheart..." The Outlaw sent a vicious uppercut with her weaker lefthand skywards.
The Canadian rock star attempted to swing her fist at her opponent, attempting to pay her back. Yet to her surprise, her opponent duck, and her fist hit nothing but air. This left the zombie rock star totally open, something which her opponent took advantage of. Valrie was hit in the chin by a brutal uppercut but not before being taunted by her opponent. The attack would send the zombie-like wrestler back a few feet. The only reason she did not fall to the ground was because her hand was on the ropes. That being said, she was still stunned by the attack and totally open to a follow up as she was still trying to regain her balance and attempting to recover from the attack.
Page 1 of 6 • 1, 2, 3, 4, 5, 6


---
Permissions in this forum:
You
cannot
reply to topics in this forum