Who is online?
In total there are
22
users online :: 4 Registered, 0 Hidden and 18 Guests :: 2 Bots
axe2029
,
Harrier
,
Hedgehawk
,
LunarWolf
Most users ever online was
390
on Tue Jan 02, 2018 2:02 pm
Champions & #1 contenders
Highfly Flying Out Of Town
Tue May 22, 2018 1:31 am by HighFly
Hello everyone, I just wanted to inform all I have threads with that I will be gone from this coming Wednesday through Sunday. I won't be able to post consistently if at all during this time, but I will try to make up for it next week! I am sorry for the inconvenience to everyone.
Comments: 7
The Austrailian Mudslide is Back.
Sat Apr 21, 2018 6:20 am by Softsquad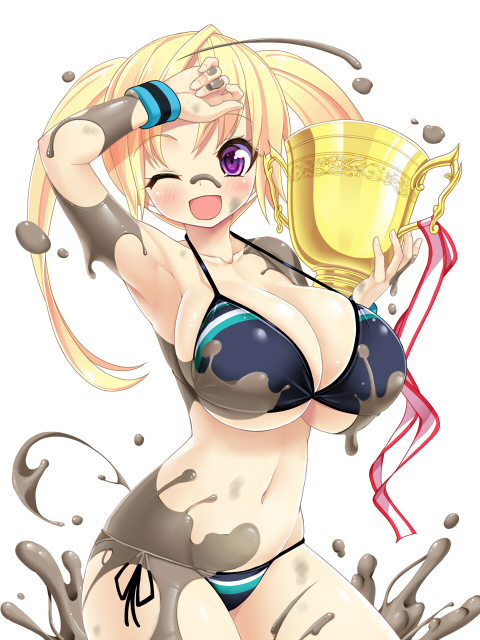 Granted that most of you won't know me or remember me, but I've had a few matches here and there some time ago. Well I think its time to become a regular around here and try to have some fun again, but at the same time keep coming back. Anyway I think its time to jump into some matches with Zoe Taylor, my mud wrestling character from Australia and get her back into the squared circle. Furthermore I will update my characters as I think some proper changes need to happen.
So if anyone would …
[
Full reading
]
Comments: 5
Page 1 of 5 • 1, 2, 3, 4, 5


It was a Saturday - a drab, rainy Saturday - and Valley found herself in the Friction lockerroom, gearing up, getting dressed. Not for a match, no - she was going for her sparring equipment. Her favorite Van Halen t-shirt, her white shorts with the pink trim, her sneakers, her white gloves and kickpads. Humming a little Paul Rodgers as she went about getting laced up.

"It's all part of my rock and roll fantasy...it's all part of my rock and roll dream..."

It was training time, but not with her girlfriend, Haley. Today, she was working with a new girl. She'd been specifically requested to do a sparring match with a new recruit, Alicia Wells, and Valley wasn't quite sure how she felt about it.

On one hand, she liked new talent coming into the AFW. New serious talent, which management assured her Alicia was about. There was always room for more on the AFW's ever-expanding roster, and she liked getting the younger ladies acclimated. Without solid support, Valley might never have gotten off the ground, herself. It was good form to pay it forward.

On the other hand, she hadn't had a match since Avalanche, and while she did have a few things in the works, it was a bit troubling that this was the second time she'd been called to do some sort of orientation. She was thirty-two. Most female wrestlers called it quits after a decade, she'd been wrestling for that plus two years, and being a high-flyer put some extra baggage on it. She'd seen it before: management trying to ease the older talent into a training position, whether they wanted it or not.

She pushed those thoughts aside as she made her way out of the locker room and started on down the hallway, heading towards the Friction gym with her head held high. Whatever issues she had going on, she didn't have to let them get in the way of this. She'd go to the gym, have a fun little sparring match with the rookie, and hopefully get home before the rain really picked and she wound up drenched. Fun day.

Valley made her way into the gym and went straight for the practice ring, waving to the few women who were training as she went. She still had a little time before Alicia showed up, so she hopped into the ring and started doing a few leg stretches, getting nice and limber while she waited.
Alicia had been looking forward to this since it had been booked.

This was why she'd joined the AFW – well, not this exactly because while, spars were still fun, they weren't exactly a good chance to cut loose. But it was a major step towards an actual match. And that was why she'd joined the AFW.

Still, a sparring match was still a sort of match and it was a better way of spending her Saturday than getting bored or even than the research she'd have been doing otherwise. And, rookie or not, there was still something pretty damn awesome about being in a professional locker room, getting ready to go into a professional gym and throw down with a professional wrestler.

Taking advantage of her last minutes of privacy, Alicia took the time to limber up a little. One of the officials had seen her in here and given her directions to the gym before vanishing, but they were straightforward enough. Down the hallway, round a corner or two and into the gym. It was, to her eyes at least, relatively empty though she still found it worth a glance around, eyeing both the equipment and potential opponents as she did so.

After a brief glance around though, her gaze soon focused on the practice ring that – to her – dominated the room and the woman stretching inside it. Apparently she wasn't the only one eager to get started. The first hints of a smirk curling her lips, the tall redhead strode towards it, subconsciously tugging at the omnipresent gloves she wore. She was looking forward to this. Her first fight in the league. Her chance to show she had what it took to make it here.

Might as well make a good – no – a great impression. She might not be a pro yet, but she had an idea about how these things worked.

Unlike the blonde in the ring, the newcomer was all in black – sports bra, cycling shorts, shin guards and sneakers. It was more or less the outfit she intended to wear in her matches, just with the addition of a black t-shirt over the top, with the slogan 'vae victis' emblazoned across her chest in silver. Not that she particularly agreed with the sentiment, as beating up someone she'd already beaten was not her idea of fun, but it sounded cool.

Slipping into the ring, Alicia walked towards the other wrestler, extending one gloved hand to offer a handshake as she did so.

"Valley Doll, right?" Despite being a rookie, her voice was confident, even impatient, her dark eyes glinting with her eagerness to start. "I'm Alicia."

This was going to be fun.
_________________
Friction -
Alicia Wells
- Kickboxer, Mixed Martial Artist and Scissor Queen
Friction -
Samiya Kusanagi
- Submission Specialist, The 'Schoolgirl Assassin'
Valley hadn't been given a description of Alicia and she hadn't seen a picture, but nonetheless, she was easily able to pick her out the moment she stepped through the doors. It was all in the eyes.

The girl - woman, really - had the look of someone that was itching to prove herself, even if it was only to Valley and about seven or eight other wrestlers. She was bright. She was vibrant. She practically radiated energy. She was also quite tall, as Valley quickly noticed when she stepped in the ring and put them both on the same plane. While Alicia was far from being the tallest woman in the AFW, she was still noticeably bigger than about 90% of the Friction, and probably a large chunk of Tension.

Oh, and her legs looked exceptionally powerful. She was solid all over, but especially below the waste. Curious...

Valley stood up straight as Alicia boldly strode towards her. Just from the look on the newcomer's face, you would've thought they were about to have a real match and she wasn't sure if her being so intense about a spar was a good thing or a bad thing.

The Slamazon was expecting her to start off with a taunt, boast about how she was bigger and how'd she throw Valley around the ring and the way she was going to dominate Friction and all the other sort of nonsense that rookies liked to spew before they knew any better. Instead, she got a handshake.

"Oh." It took her a moment to register the gesture, but when she did, she reached out and gave Alicia a firm, hardy shake. "Yeah, that's me, one and only. Nice meeting you."

Valley pulled away and started bouncing on her toes, getting into her groove as a light smile started to move across her face. "You're looking real anxious over there, aren't you?"

Now that she was closer, Alicia was able to get her first proper look at Valley Doll. She'd only been told the name of her opponent when she got there, so she hadn't been able to do any research beforehand – which was probably the point. They didn't want her going in with a game plan, they wanted to see how she dealt with a curve ball or two. The name had her guessing she'd be a blonde, and she'd been dead on the mark there, but Alicia wasn't underestimating anyone here. Valley had the easy confidence of someone who'd done their time in the ring and she hardly looked like a pushover.

The short-haired blonde was a couple of inches shorter and had to be giving up some pounds in muscle. But that didn't make her weak and her legs looked pretty well-built too. Another kickboxer maybe? Alicia was just going to have to find out the fun way.

Really, she'd never been the obsessive research type when it came to her fights. Sure, she liked to have a basic idea but fighting was meant to be fun, not work. Spending what would be hours now pouring over archive footage and trying to work out how to counter stuff – she'd rather be training. Sparring.

Well, fighting basically.

Making sure her own grip was as firm as the vet's, Alicia's smile widened. She didn't know what Valley had been expecting but clearly not that. "You too," The redhead returned, hoping that concluded the pleasantries.

She took a step back in her turn, taking a last chance to stretch out her legs, first one then the other. Valley's question had her eyebrows rise – seriously, wasn't everyone here to fight? Why wouldn't she be eager? – before the newcomer shrugged her shoulders nonchalantly.

"It's why we're here, isn't it?" Casually, she settled into a kickboxer's stance facing Valley, one foot back and knees a little bent, arms up to shield her face. "To have some fun."

By the last word, her grin had widened into a full blown smirk. But she held her ground, waiting patiently for Valley to signal the start of the bout.

She'd never understood people who jumped the gun.
_________________
Friction -
Alicia Wells
- Kickboxer, Mixed Martial Artist and Scissor Queen
Friction -
Samiya Kusanagi
- Submission Specialist, The 'Schoolgirl Assassin'
Well, Alicia was blunt and straight to the point. There was no getting around that. She was a heck of a lot more polite about it than most rookies Valley came across, but at the end of the day, she had the same spirit - ready to get on with things. Whether that'd be a hindrance or an asset, time would tell.

She wanted to go? They would go. "Okay, then." She smirked a bit herself. "Let's have some fun."

Valley reflexively moved into a wrestling stance, getting her arms up for a lockup, but she paused and pulled back when saw that Alicia wasn't doing the same. Instead she was taking on a position that would've been a better fit for the octagon instead of the squared circle. Not all that weird, really, since it seemed like MMA and wrestling were mixing more and more these days. Valley was hip. She was down. She could work with it.

Valley brought her leg back and took her own stance. Hers was a little bouncier than Alicia's, as if she was moving to a rhythm only she could hear. She kept one arm down and the other close to her face, while she hopped back and forth on the balls of her feet. Not orthodox, but it worked for her. "Fire when ready."
Pleasantries concluded. Huzzah.

For a moment, Alicia worried she'd already messed up – nobody had told her what if any rules there were for this sort of thing and she'd just assumed she could do her usual thing. Seeing Valley going for a more traditional wrestling lockup had her questioning whether she ought to do the same but, with the blonde hitting a stance more like her own, she settled down again.

Still blanking on what she was dealing with here but presumably that'd be clear once the punches started flying. It was the bouncing that was throwing her.

"Rules?" Her question was probably a little late.

Fire when ready, huh? That she could do.

Immediately, the redhead began to close the distance, moving straight in with a practiced shuffle instead of circling. But not too close – she'd got that reach advantage, might as well use it.

She also didn't want to get in close without a bit more of an idea what she was biting into. Grappler? Boxer?

Hitting her range, Alicia feinted as though she was coming in for a punch, hoping to sucker Valley into the straight front kick she threw with her leading leg. She wasn't expecting it to work but nothing ventured…
_________________
Friction -
Alicia Wells
- Kickboxer, Mixed Martial Artist and Scissor Queen
Friction -
Samiya Kusanagi
- Submission Specialist, The 'Schoolgirl Assassin'
Oh, that was right, Valley had completely forgotten to talk about how this was supposed to go down. "Rules are-"

She'd just opened her mouth when Alicia moved, closing the distance on the Slamazon with an alacrity and finesse that few women her size in the AFW could have matched. Valley jumped back at a jab that turned out not be a jab at all - the real danger was coming from below.

The kick was a little too quick and a little too close to dodge effectively, so Valley brought her own leg up, using the kick pads to block the blow. Even still, the impact was enough to knock her back a step. Good power on this one.

She recovered fast enough and backed away from Alicia, then started to circle around her at a safer distance. "Right, rules." Valley glanced at Alicia's iron thighs for a moment, before focusing on her opponent's face. "We play it like a standard match. Count our own pinfalls."

Valley paused in the circling and started to close in on Alicia, slowly inching towards her range, keen for any attacks. "If either of us gets caught in a submission for more than ten seconds, that automatic loss - should help you get a feel for the way a real match goes around here while keeping it safe. Sound good?"
Alicia hadn't actually meant to pull that trick but she wasn't about to apologise for it either. Her feint to kick did better than she'd expected, though it was anyone's guess how much of that was Valley taking her eye off the ball to answer the question. She certainly got those pads up in time to counter, though the power of the kick still knocked her back, something Alicia noted for future reference.

Unlike a 'real' match, the redhead didn't immediately push any advantage she might have, letting Valley pull back without taking any more shots at her. If nothing else, she wanted to actually hear those rules now. But she kept her eyes fixed on the blonde as she circled around, gaze tracking her, making the minimum movements necessary to keep her in sight and facing Alicia's raised guard, that striking leg held menacingly a little off the mat.

Ok. Straight match. Count your own pins. Ten seconds automatic submissions. Easy. 'Safe' presumably meant no KOs, or Valley didn't think anyone would try for one in a sparring match and… Well, she'd stick to pins or – more likely – submissions. Aside from the basics, her pinning game frankly sucked.

Her chin came up and jerked down in a sharp nod. "Sounds good."

That was probably close enough. Taking a single step forward, this time she led with a snap kick at Valley's thigh.
_________________
Friction -
Alicia Wells
- Kickboxer, Mixed Martial Artist and Scissor Queen
Friction -
Samiya Kusanagi
- Submission Specialist, The 'Schoolgirl Assassin'
A little closer. A little closer. A little closer.

Valley chewed her lip as she neared her opponent, not quite sure how to approach this. She'd fought bigger opponents. She'd fought opponents who could match her kicking power and speed. But Alicia was a rare mix, blending speed with an excellent range. Potentially difficult to deal with. Very difficult.

As if to give a demonstration, Valley was greeted with a swift kick to her thigh, landing with pure power and precision, filling the room with an audible clap. She winced at the impact, hissed as the pain shot through her leg.

It was a good kick. Really good, actually. Valley decided Alicia deserved as good as she got.

She returned fire with an exact mirror duplicate of the kick Alicia had thrown, aimed at the exact same spot, with just as much power as the one she'd taken and hopefully just as much effect.
Purple eyes flashing as her kick landed home, Alicia was already enjoying herself. Her leg coiled back, the newcomer already eyeing up her next target.

But before she could mount any more offence, her own thigh took a hard blow from almost – no, exactly the same sort of kick she'd just thrown.

Whatever else she was, Valley definitely knew how to throw a kick. She'd need to watch for that, but it was fine. Alicia knew how to defend from kicks.

Despite the fact that had definitely hurt, the newcomer's grin remained firmly in place even if her lips thinned. She'd had worse, knew her muscular legs could definitely take worse.

And if Valley wanted to trade kicks, Alicia was more than game. Sure, that hadn't felt great by any stretch of the imagination but she was confident in her ability to stand off and swap damage if that's how the blonde wanted to play it.

And she hadn't backed off either. Big mistake.

Trading in a little speed for considerably more force, the redhead's leg came up, aiming to blast her heel right into her opponent's belly with a downright murderous front kick.
_________________
Friction -
Alicia Wells
- Kickboxer, Mixed Martial Artist and Scissor Queen
Friction -
Samiya Kusanagi
- Submission Specialist, The 'Schoolgirl Assassin'
Page 1 of 5 • 1, 2, 3, 4, 5


---
Permissions in this forum:
You
cannot
reply to topics in this forum