Champions & #1 contenders
Looking for a match.
Wed Sep 20, 2017 9:27 am by Silentcoins
As the title says, I'm looking for a match up.
I can do just about any kind of match up, though I prefer one with some hentai elements mixed into it. Wonder if there's anyone interested in a match of any kind?
Comments: 0
Taking a Few Days Off
Sun Sep 17, 2017 3:46 pm by RadiantKarna332
Well, I'm kind of burned out these days, so I'll be taking a break from RPing for a while. Maybe a few days? Sorry for the inconvenience, guys.

Comments: 16
Fright Fight Sign Up
Mon Sep 04, 2017 5:07 am by LunarWolf
It's that time again.
Fright Fight, the Halloween PPV.
Sign ups start now. As usual you may sign up here or by pm. Either just show your interest. If you have a match already decided all the better, if not we'll see if we can get you a match set up with someone that is interested.
Let's make this year a great one! A true night of Trick and Treat!
Comments: 17
Name: Grace Lewis - The Mercenary
Sex: Female
Age: 22
Eyes: Blue
Hair: Cyan
Height: 5'5
Weight: 128ibs
Nationality: American but adopted Vietnamese Citizenship
Alignment: Neither Heel or Face
Entrance music: The Call Up - The Clash
Wrestling Information
Strategy: Uses her military training to outwit and overpower a rival.
Style: Wrestling/Free Fighting.
Type: Loner. Mercenary.
Preferred Matches: Anything where she can test herself, although she finds matches like oil and mud wrestling just odd.
Favored moves: Armlocks, Sleepers, Leglocks, Various Strikes, Slams, Romero Ceiling Hold, Hurricanrana, Vertibreaker, Tarantula, Rear Naked Choke, Dropkicks, Suplexes.
Finishers:
Lock and Load: Grace gets her downed rival in a figure 4 headscissor and elevates her body for more pressure.
The Big Boom: Grace takes her dazed rival and puts their head between her legs, after some threatrics she lifts them up and slams them down in a powerbomb for the pin.
Take Cover: Grace lays on her rival in a full body pin, as if taking cover from enemy fire or a grenade. More often then not she inadvertently ends up with her large breasts smothering the face of her rival.
Characteristics
Physical Appearance: (Without the knife or weapons)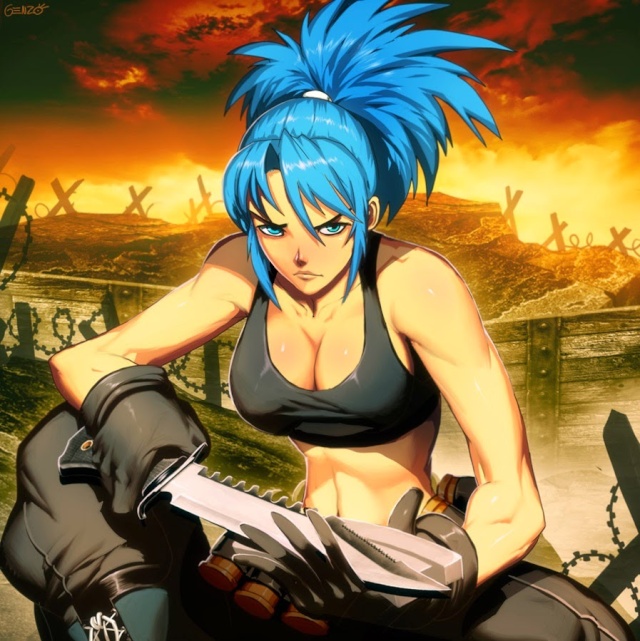 Personality: Grace lives by a strict code of rules and regulations. Grace isnt above doing anything to win, but is not sadistic and never hurts anyone more than she has to. Due to her military life amongst other females, she had developed slight lesbian tendencies and although never open about it, if the right girl pushes her buttons, Grace finds her mental toughness disappear to be replaced by her lust.
She will always respect authority figures, especially those of a military background or official capacity. Can be her downfall sometimes when she comes face to face with dominant girls.
Past/History: Grace spent her youth as a miliatry brat before enlisting. She rose quickly through the ranks and eventually was selected for a special forces unit where she would undertake covert operations. She eventually saw the futility of war and that all soldiers, male and female are alike. Going AWOL she left the unit and escaped to Asia where she became a mercenary gun for hire.
Has a soft spot for anyone in trouble who is facing terrible odds. She doesnt mind if it's someone civilian or military, if she feels the need she will help out. Most likely to be seen in a tag team match or handicap match.
Wrestling Attire: Army Combat Trousers, Black Army Boots and a Vest Top that is cut to just under her breasts
Fun Facts: Has a facination for books and poetry. She reads as much as she can. She lives alone "off grid" away from civilization deep within the Vietnam Jungle.



Posts

: 1191


Join date

: 2016-02-21




Similar topics
---
Permissions in this forum:
You
cannot
reply to topics in this forum